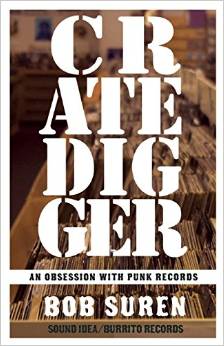 11 May 2015
Bob Suren
Microcosm Publishing
www.microcosmpublishing.com
Back before punk went to the Gap at the mall, or incredibly, on Broadway, the movement changed thousands, one by one- in small Florida towns for example. Crate Digger relates the life of Bob Suren, former owner of Sound Idea and Burrito Records as his path in life is mapped via the records and bands he encountered along the way. The book is divided by a certain album and time, and Suren relates how, for example, he was turned onto 7 Seconds Skins, Brains and Guts 7" off of a mixtape that circulated in his high school. It is this DIY ethic that opened a generation of eager ears to punk and hardcore in those early days, and for some, that way of life never left them.
Suren took his love of hardcore a step further than just listening- he formed bands, ran a record shop and distribution outlet, promoted bands and shows, and in doing so, met up with more than a few of his idols along the way. From anecdotes about becoming friends with Tesco Vee of The Meatmen, booking shows with Reason of Insanity or encountering Fabio Sampaio of the legendary Brazilian band Olho Seco while on tour in South America, Suren took his dream literally all over the world, and his memoir is full of passion for the bands that changed his life.
In his low-key manner, Suren takes us through the rise and fall of his record label, his marriage, and re-locating from Florida to Austin, and along the way the reader is given a glimpse into the underground that punk and hardcore was originally, in those days of Maximum Rocknroll and obscure punk from Italy, for example. It was all about the discovery of something new, something nobody else was hip to- Suren is partial to finding punk from all over the world- and in turn, sharing with his circle of listeners. His life has embodied the DIY ethos, and Crate Digger gives a great look at the power of punk rock and more than that, about how a life becomes enriched when you define success on your terms- not societies. And if that ain't punk rock, nothing is.