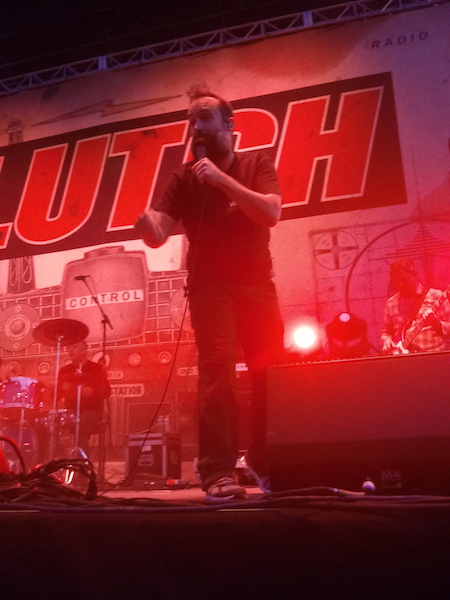 17 October 2019
Clutch – Outlaw Field at Idaho Botanical Garden (Boise) – October 14, 2019
Boise rock fans shared a Late Night with Fallon — Neal Fallon of Clutch, that is — at the unlikeliest of places on Monday night: the city's botanical gardens. Sure, Maryland's finest rock band often play a song called "Spacegrass" and cover a Cactus tune, but to see them amid irises, water lilies and roses was surreal.
"It's beautiful here," the charming, pot-bellied Fallon said shortly after taking the stage. "Keep it beautiful."
Sure, Clutch have played Idaho many times before — stretching back to at least October 1994 and most recently in October of last year — but their latest October performance in the Gem State found them reveling in the cool air as the sun set behind them. Outlaw Field had a festival-like atmosphere, without all the exhaustion, dust and swollen crowds that usually comes with them.
The sky turned from a pinkish purple to black as the band chugged through "Ghoul Wrangler," "The Mob Goes Wild" and "Passive Restraints," with Fallon authoritatively trotting across the same stage where Josh Groban recently performed.
A few months ago, drummer Jean-Paul Gaster told the Big Takeover that Clutch change their set list every night, trading off song-selection duties between band members. Indeed, the 14-song set they played on Monday contained many of the same songs they've busted out during this most recent tour with Dropkick Murphys and Hatebreed, but in a unique order.
The groove-oriented blue-collar band was eminently more laid-back than their touring counterparts, delivering just enough showmanship without bleeding into braggadocio. Fallon's lyrics often cite rock and roll, and make no mistake about it: Clutch is a rock and roll band through and through. But they are refreshingly devoid of glamour and pretension.
"This is yet another song about a car I don't own," Fallon said before diving into "Spacegrass," which revolves around a 1973 Dodge Swinger convertible. "It's a recurring theme."
Fallon — often leaning on one knee — also preached about drinking, Black Sabbath and Nancy Reagan, while his bandmates (which also included lead guitarist Tim Sult and bassist Dan Maines) remained more or less stationary throughout the performance. He promised the band would return to Boise next year.
"Y'all live in a beautiful state," Fallon said before Clutch dove into their closing cover of Cactus' "Evil." "This is a great one. Don't take it for granted."
Indeed, Boise residents don't take the outdoors for granted. Nor will they take for granted Clutch's memorable performance on Monday night.
-How to Shake Hands

-Ghoul Wrangler

-The Mob Goes Wild

-Passive Restraints

-Noble Savage

-The Face

-X-Ray Visions

-Firebirds!

-Vision Quest

-Crucial Velocity

-A Good Fire

-Spacegrass

-Electric Worry

-Evil (Cactus cover)