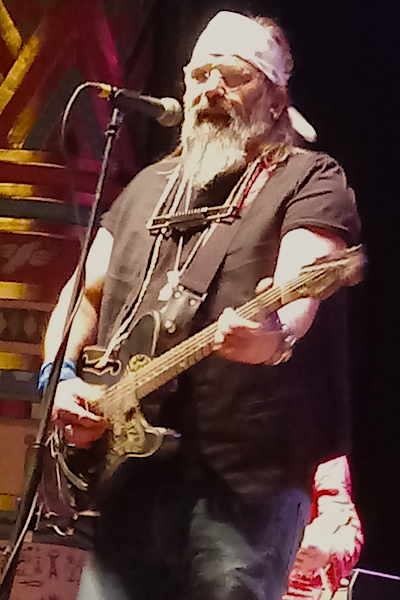 12 August 2019
Photo by Kurt Orzeck
With dates at Willie Nelson's 4th of July Picnic, the Outlaw Music Festival in Dallas and the Grand Ole Opry's showcase at the Bonnaroo Music & Arts Festival, it was no small matter that Steve Earle & the Dukes snuck Boise onto their summer tour schedule. And thank heavens he did: While the famously socialist Americana legend visits the red state every couple of years, Earle's Friday night appearance will perhaps go down as his best in Boise.
Earle and company are touring in support of Guy, his highest-profile album in 10 years and one that recently granted them a taping for PBS's Austin City Limits program set to air in the fall. Earle's 19th studio album is a heartfelt salute to his mentor Guy Clark (and marks his return to New West Records after a quick stint with Warner Bros.).
As evidenced at Boise's historic Egyptian Theatre, Earle's shows on this tour are as much about Clark, who died three years ago, as they are about the iconoclastic Grammy-winner. While he intermingled some of his of own classics into his lengthy, 20-plus-song set list, Earle spent most of the evening covering Clark songs, reminiscing about the times he spent under Clark's tutelage and giving an oral biography of his fallen Texas compatriot in between the tunes.
The two actually linked up in Nashville, after the 19-year-old Earle — a high school dropout — hitchhiked there from Texas. Earle revealed that, during the early stages of his career, Clark would decide which songs were best-suited for him to play in Tennessee.
"That's why I'm here, because Guy championed my songs when I got to Nashville," Earle said. He later added that his "single greatest accomplishment" as a musician was when Clark covered his material.
The 64-year-old Earle revisited Clark's "Dublin Blues," "Rita Bllou," "Desperados Waiting for a Train" and "Texas – 1947," among other selections. It took almost no time for some Egyptian crowd-goers (young and old) to file to the front of the stage and spark an impromptu hoedown. They spent most of the two-hour show dancing in front of Earle, his six fellow musicians (including opening act the Mastersons) and their 15-odd pieces of musical equipment.
While the concert was Clark-centric, the highlight of the evening came about halfway through the show, when Earle broke away from the tribute and let loose with a triptych of title tracks from his best-known albums: I Feel Alright, Guitar Town and Copperhead Road. Earle seemed most rambunctious when unbound from his faithful renditions of Clark's material.
The country outlaw — dressed surreptitiously in dark glasses, a headband, a long beard, a harmonica and necklaces — roused the crowd a second time with his another trio of classics: "Billy and Bonnie," "Galway Girl" and "Walkin' in LA." In typical Earle fashion, he wove in themes that were personal, political, geographical and cultural in nature — all of them from the heart.
It was a shame Earle wasn't able to sell out the Egyptian, especially after Garth Brooks drew a record-breaking 86,000 attendees a month prior at the nearby Albertsons Stadium. But for those in attendance, who value authentic country music, Earle's performance will be as memorable as his career — and Clark's.