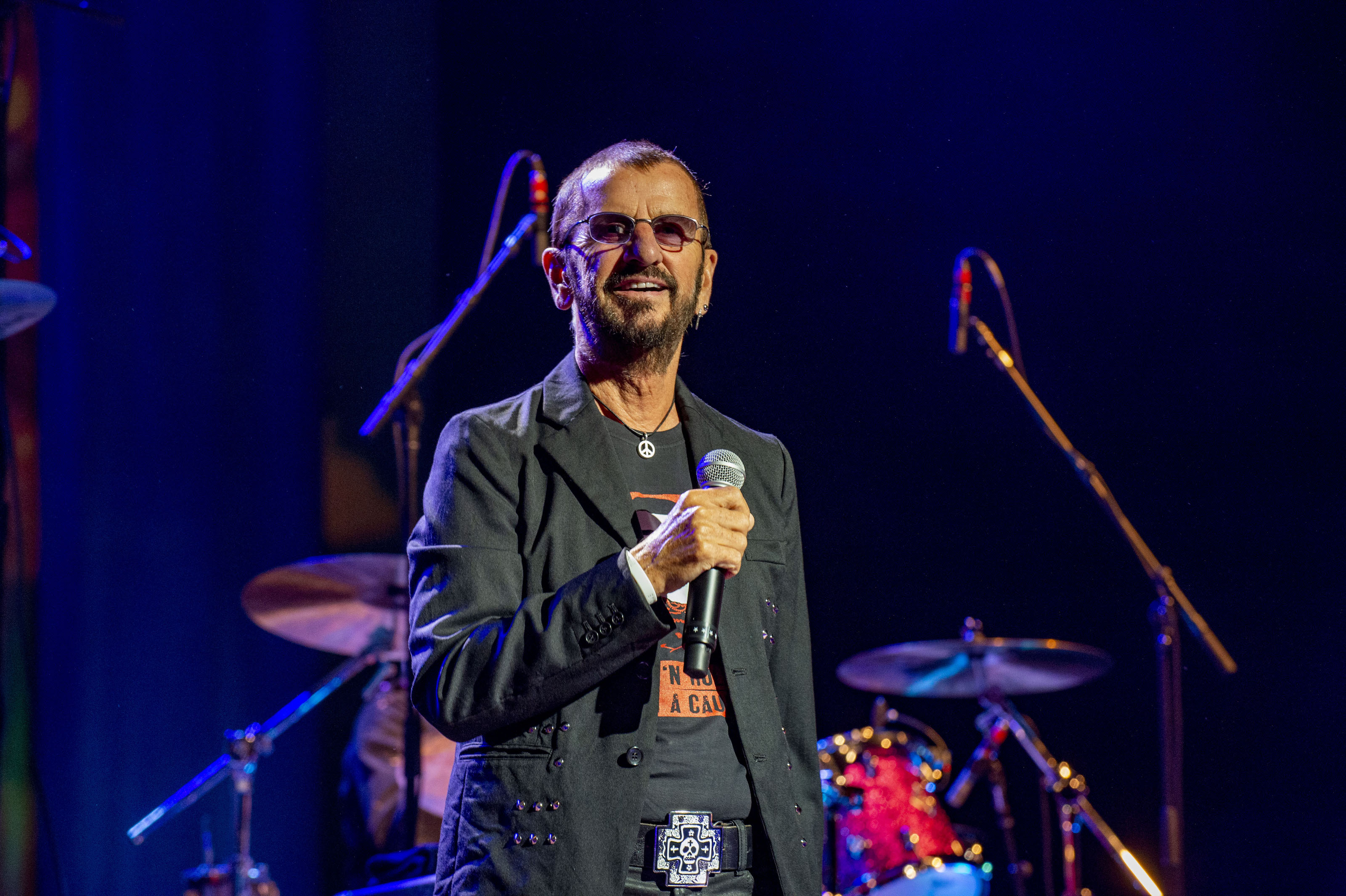 8 August 2019
Photos courtesy of Ravinia Festival/Kyle Dunleavy.
The Ravinia Festival provided Chicago-area fans with a weekend of the biggest names in classic '60s British and American pop. A pair of shows at the venue featured Beatles drummer Ringo Starr and His All Starr Band, with Mike Love's expanded Beach Boys line-up opening the bill.
More than a few local Beatlemaniacs had driven across northern Illinois to see Paul McCartney perform in June at TaxSlayer Center in Moline. Less than two months later, lucky ticketholders had a chance to hear a clutch of additional Beatles songs performed by the singer and revered drummer.
The 79-year-old Starr bounded agelessly onto the stage declaring peace and love, and flashed the first of many double peace-sign poses accompanied by his thousand-Watt smile. The first song was Carl Perkins' "Matchbox," a Ringo feature dating back to Beatles concerts from 1963.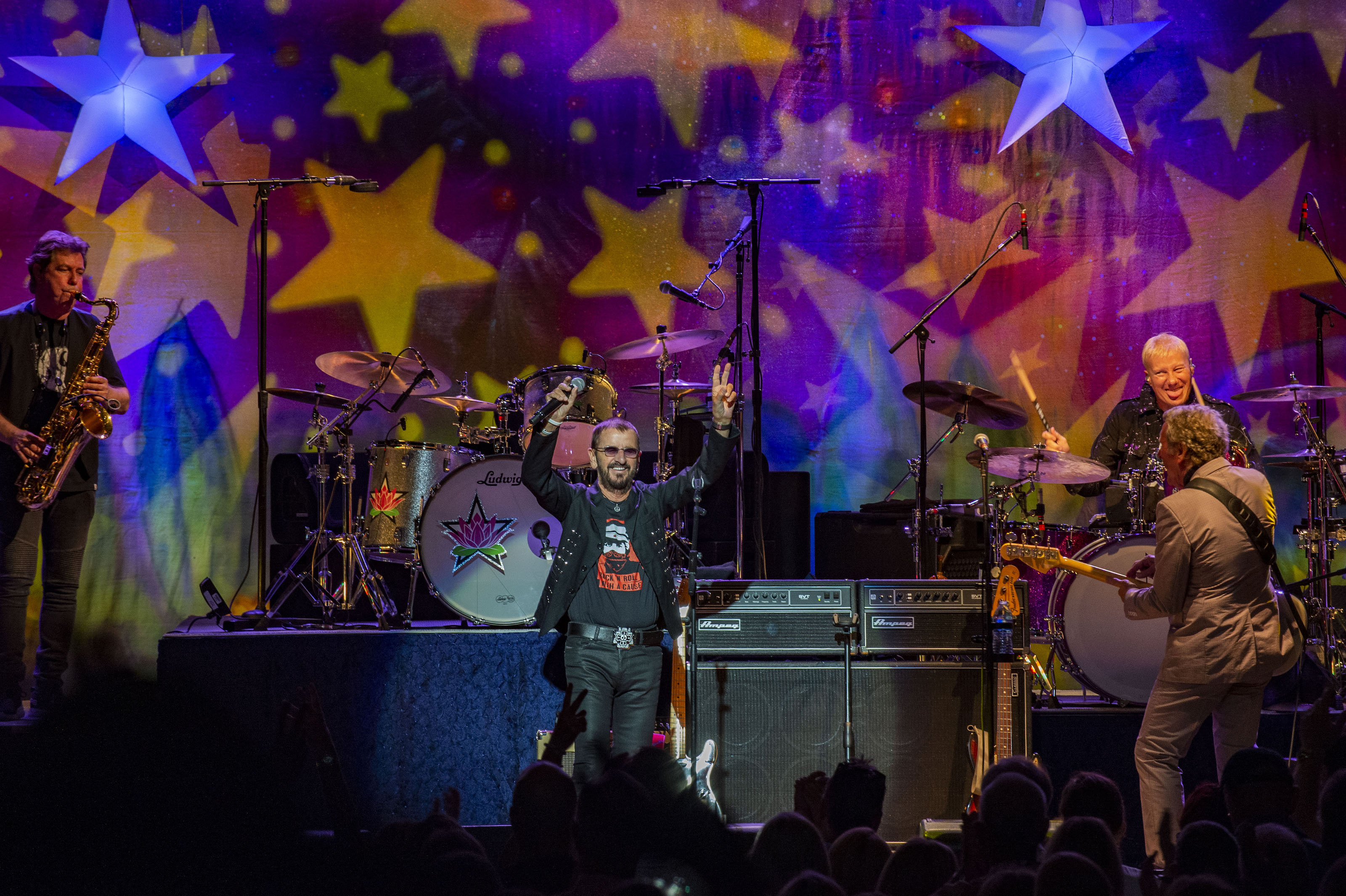 Starr was an affable host with no shortage of quips and stories throughout the evening. "I promise you this," he said as the show began. "Every one of you will know at least one song, and I hope it's this one!" The band then launched the singalong solo single "It Don't Come Easy."
"I'd like to do a number now that I used to do with another band I used to be in," teased Starr as the crowd buzzed in anticipation of another Beatles gem. "That's right – Rory Storm and the Hurricanes!," he added. Starr dove into "Boys" from his drum riser, staged next to (and just higher than) music director and fellow drummer Gregg Bissonnette.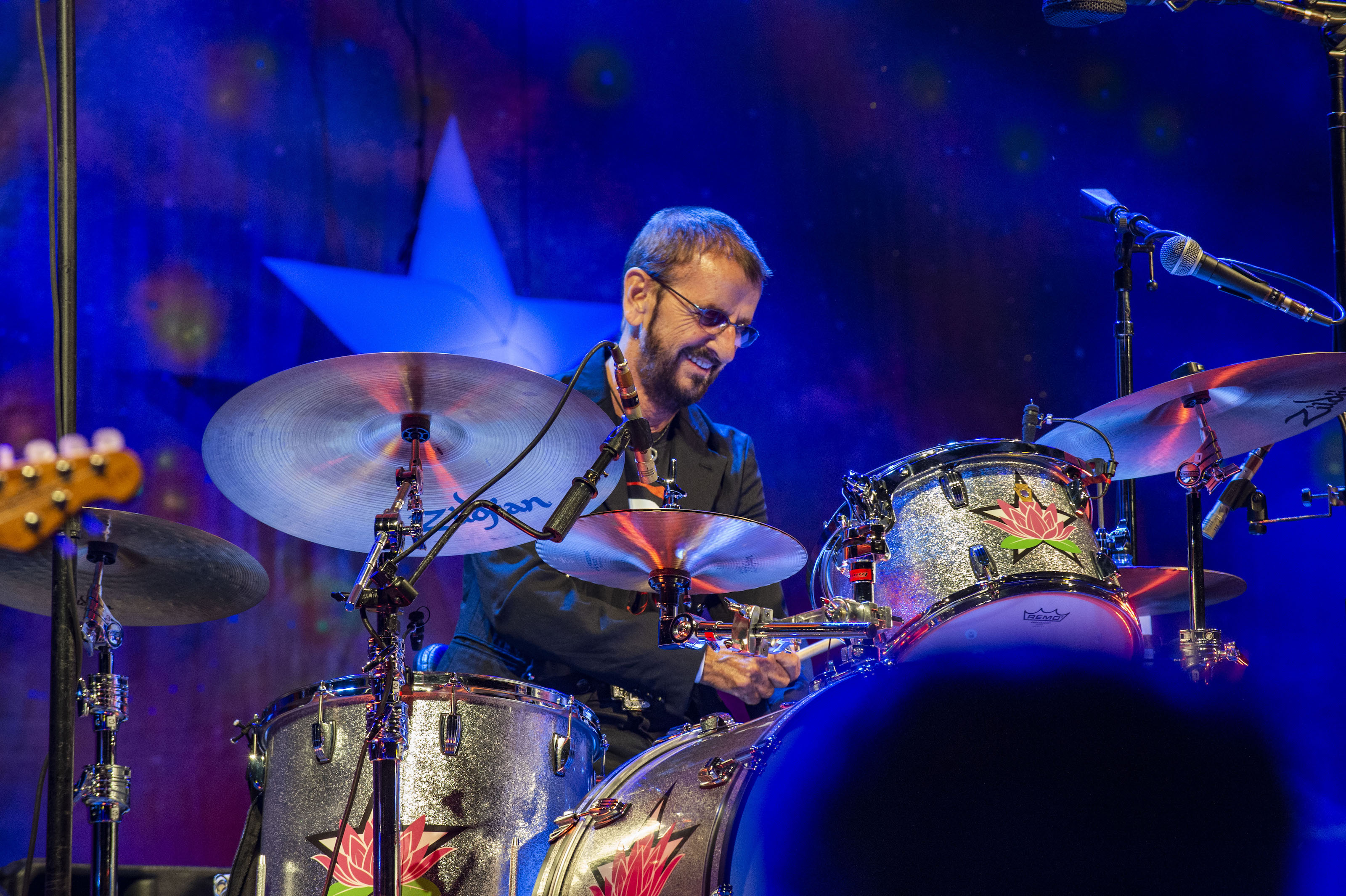 "When I first joined the Beatles, I had written a lot of songs," said Starr. The crowd laughed at the punch line, "and none of them were recorded." "… until this one," Starr added, beginning "Don't Pass Me By" with a verse sung and played at Warren Ham's piano before bringing the band along for the remainder.
The newest number was "Anthem" from Ringo 2012. The song was a plain-spoken message in support of Starr's lifelong quest to spread the idea of peace and love. "Photograph" and "You're Sixteen" were additional favorites from Starr's solo catalog.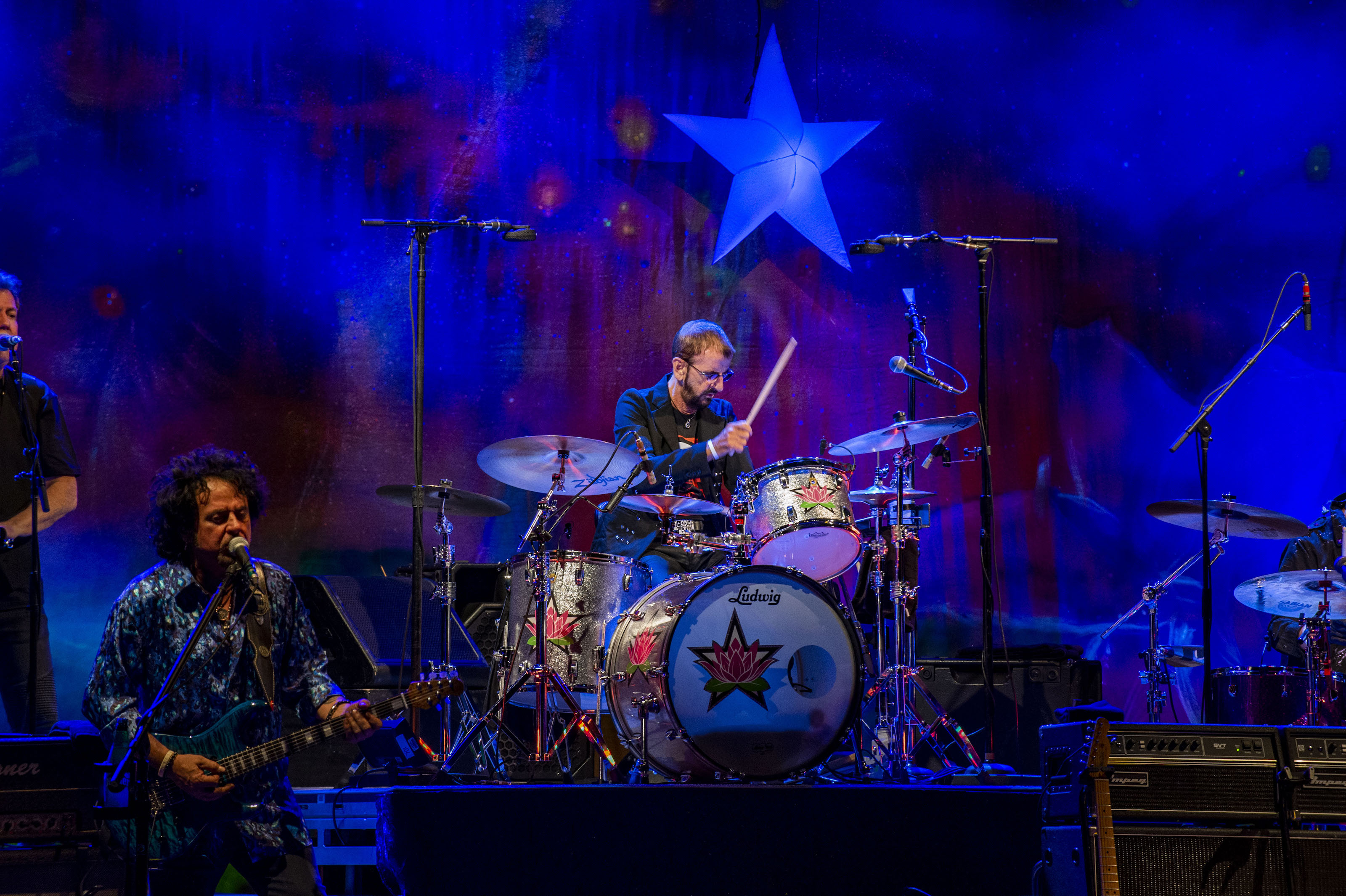 Starr took great pride in his justly-named All Starr Band, now celebrating its 30th year. Each player was given time in the spotlight, and those on the front line performed their own songs while their bandmates did their utmost to honor the hits. Santana veteran Gregg Rolie sang "Evil Ways," "Black Magic Woman" and "Oye Como Va" from his Hammond organ. Guitarist Steve Lukather fronted Toto's "Rosanna" and "Hold the Line." Hamish Stuart led the Average White Band's instrumental funk classic "Pick Up the Pieces" and "Work to Do." Serial Starr associate Colin Hay was in exceptional voice singing Men At Work's "Down Under" and "Who Can it Be Now." The latter featured Ham (no relation to Men At Work's reeds player Greg Ham) on saxophone.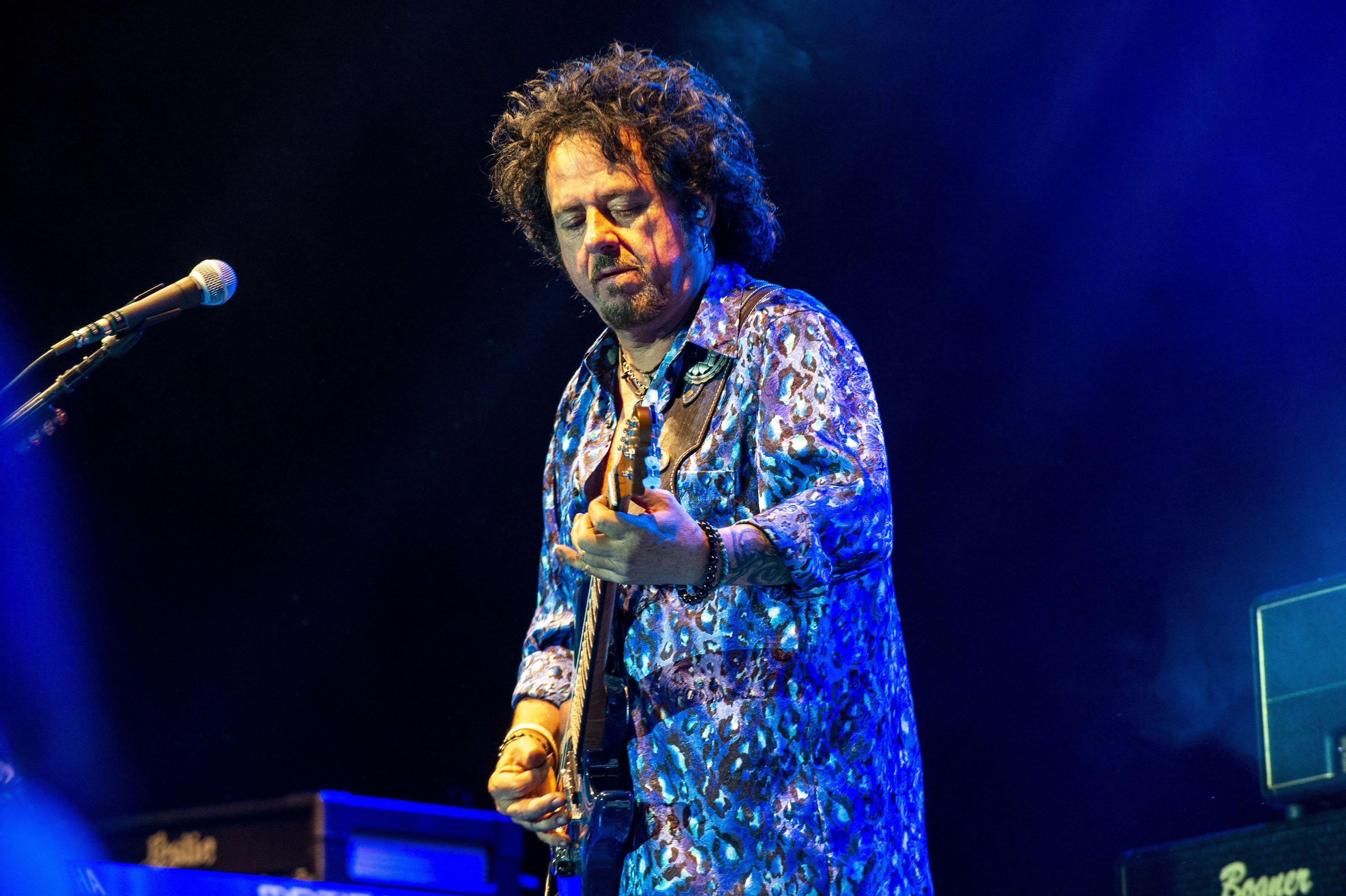 Lukather threw sparks with hot guitar solos especially on the Santana material, but Hay was no slouch with leads on rockers like "Boys" and "Work to Do."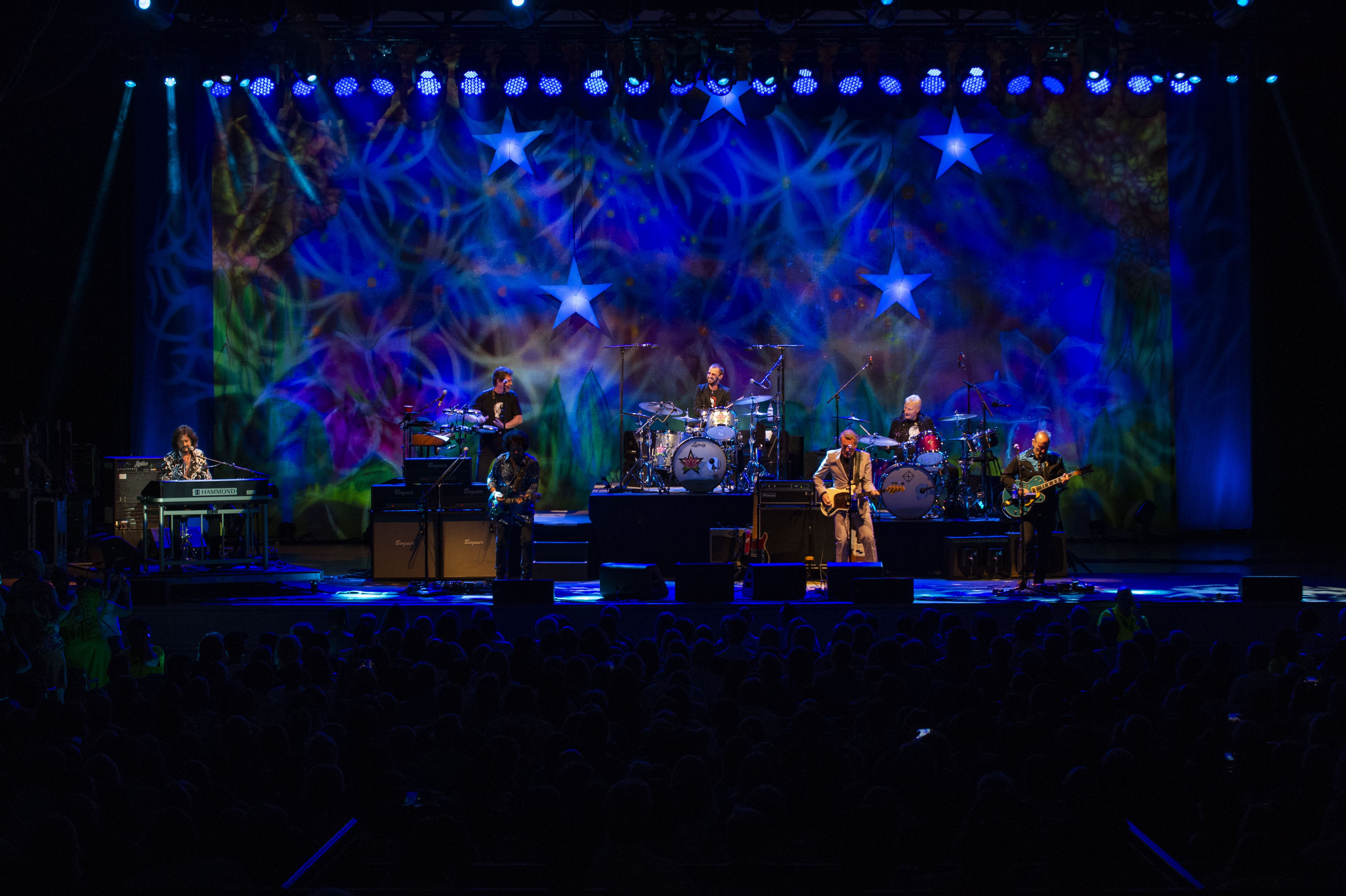 "Yellow Submarine" was an undeniable joy. It seemed like everyone sang, whether they were in the pavilion or on the lawn. "Thank you for helping," praised Starr afterward. Other Beatles fare included "I Wanna Be Your Man," the band's version of Buck Owens' "Act Naturally," and the set-closing "With a Little Help from My Friends" joined by Beach Boys Mike Love and Bruce Johnston.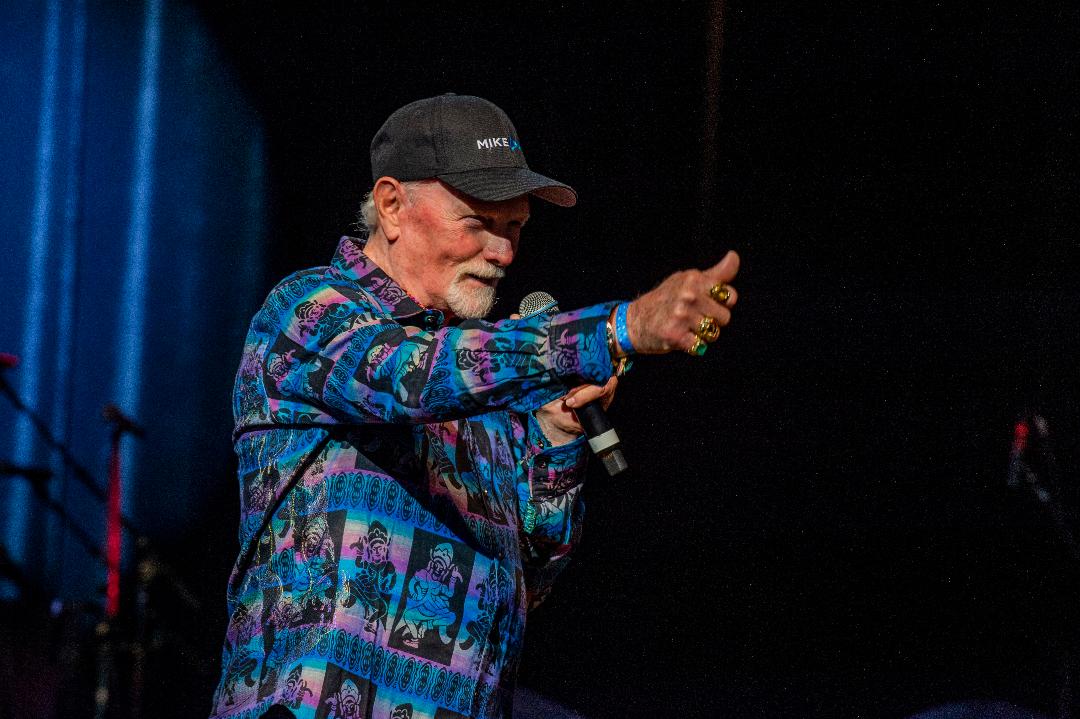 The Beach Boys' 80 minute opening set was stuffed with surf-pop hits including "Surfin' USA," "Surfer Girl," and "California Girls." Founding member Love led a band including '60s lineup veteran Johnston on vocal and keyboard. Longtime sideman Jeffrey Foskett sang the late Carl Wilson's gorgeous falsetto melodies on songs like "Catch a Wave" and "Don't Worry Baby." Actor John Stamos played guitar and drums throughout the show, and swapped saucy wisecracks with Love during "Be True to Your School." Highlights included Pet Sounds classic "God Only Knows" sung by Mike's son Christopher Love, Mike Love solo song "Pisces Brothers" in tribute to Beatle George Harrison, a cover of the Ramones' East Coast surf-rocker "Rockaway Beach," and Brian Wilson's thrilling psychedelic pop masterpiece "Good Vibrations" to end the set.
The show may have been short on edgy rock-and-roll rebellion, but it was long on fun for all ages. Starr's good-spirited message of peace and love remains well worth sharing, and the evening proved to be a great escape from the news cycle as well as a musical celebration for generations of Beatles and Beach Boys fans.