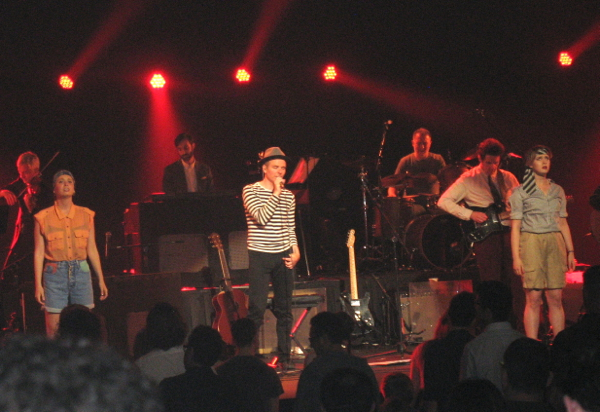 4 October 2015
Photos by Mark Suppanz
In Belle & Sebastian's interview with Jack Rabid and John Everhart in issue 76 of The Big Takeover, frontman Stuart Murdoch worried that their shows might start to become too boring as they played bigger venues. So it's no surprise the 19-year-old Glasgow, Scotland group pulled out all the stops at the historic, 6000-capacity Radio City Music Hall (their largest headlining show in NYC, though they did sell out the 3000-capacity Hammerstein Ballroom on two straight nights back in 2002), with practically every song accompanied by some elaborate visual bells and whistles.
Chris Geddes, Stuart Murdoch, Richard Colburn, Stevie Jackson

Dave McGowan, Sarah Martin

Bobby Kildea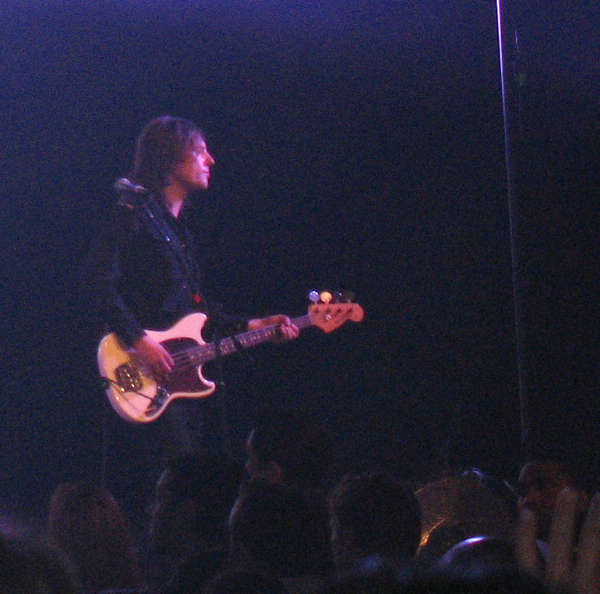 For example, new ninth LP Girls in Peacetime Want to Dance's dazzling, dramatic opener "Nobody's Empire" was backed by a slideshow of old black and white photographs. Similarly, the same LP's groovy, gyrating "Perfect Couples" (which its singer Stevie Jackson said would channel The Grateful Dead and Kid Creole & the Coconuts) featured a complexly-choreographed, one-take, nearly nine-minute-long film of 20-something socialites sashaying in an out of a '60s-furnished sitting room soiree. And Girls' hip-shaking "The Party Line" and its softer "The Cat With the Cream," as well as back-to-back 2003 barnstormers "Dear Catastrophe Waitress" and "If You Find Yourself Caught in Love," found a foursome of female dancers romping around the stage like a ragtag Rockettes revamp. More familiarly, on the main set's final three numbers, a flood of frolicking fans joined Murdoch and his mates for a festive dance party.
As eye-pleasing as those embellishments were, they still took a back seat to the group's mellifluous music. Sure, it would've been nice to see them with a full orchestra like they had a week later at Colorado's scenic Red Rocks Amphitheatre, where they were backed by the Colorado Symphony. But a five-piece string section and horn player, swelling the live ensemble's ranks to a stage-filling 13 musicians, proved plentiful. Along with the group's regular violinist/multi-instrumentalist Sarah Martin, they provided pleasant orchestral accompaniment throughout, on the majestic "Dirty Dream Number Two," the brisk "If You're Feeling Sinister," and the smashing main set closer "Sleep the Clock Around" (the latter also featured a female bagpiper).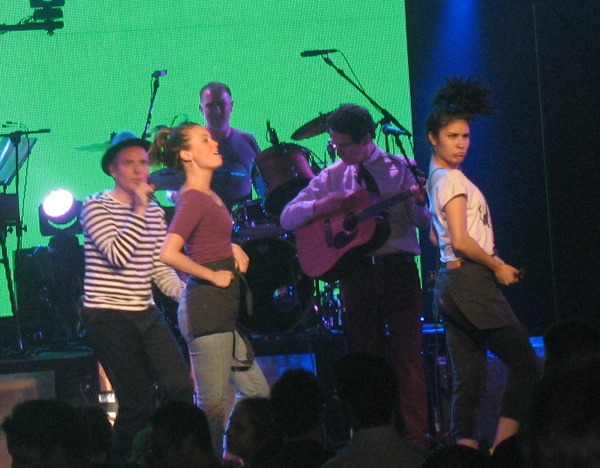 Dee Dee from Dum Dum Girls sings "Lazy Line Painter Jane"

Some of the night's mellower moments needed no added enhancements, like when Mets-fan Murdoch dedicated "Piazza, New York Catcher" to his wife in Boston, emphasizing the line, "I wish that you were here with me to pass the dull weekend." For the encore, the band was inspired to break out the rollicking, rarely-played "Lazy Line Painter Jane," thanks to a "significant other being in town" – namely, Dum Dum Girls singer Dee Dee. She joined Murdoch for a dulcet duet, capably crooning the female lead vocal part originally sung by Monica Queen on that 1997 single. They concluded the show with a jubilant version of "Judy and the Dream of Horses," with Murdoch's soft acoustic and Martin's light flute giving way to a high-spirited horn solo and a hand-clapping crowd. Murdoch needn't agonize too much; orchestral pop this exquisite will always generate elation, not ennui, even in the most expansive of venues.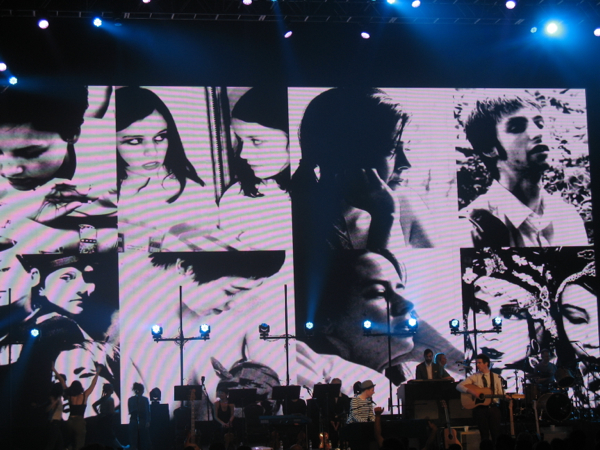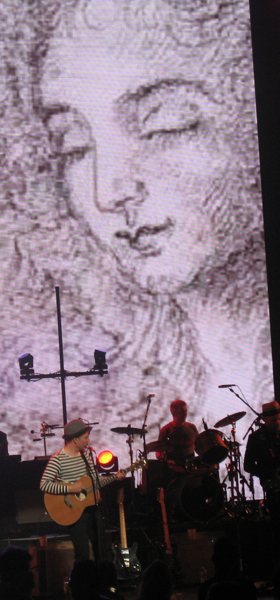 The last two times I saw Ridgewood, NJ-formed, Brooklyn-based Real Estate were at venues with 1/11th and 1/30th the capacity, headlining Brooklyn's Music Hall of Williamsburg in 2014 and Hoboken, NJ's now-defunct (in all but its name) Maxwell's in 2013. So it was strange to see them in such a gargantuan, grandiose room, looking like ants in an airplane hangar. But since they typically keep their on-stage movements to a minimum, I was content with shutting my eyes and letting their mollifying music lull me in, like I did when they played Ridgewood's outdoor Kasschau Memorial Shell in 2012 (only this time with über-comfy seats and no merciless mosquitos). Enhanced by Radio City's unblemished, reverberating acoustics, songs like newest third album Atlas beauties "Had to Hear," "Talking Backwards," and "Crime," and especially 2011 LP Days standout "It's Real," sounded as soothing and spellbinding as at any of their "smaller" shows. ✪
Real Estate: Matt Mondanile, Jackson Pollis, Martin Courtney, Alex Bleeker

More Belle & Sebastian photos…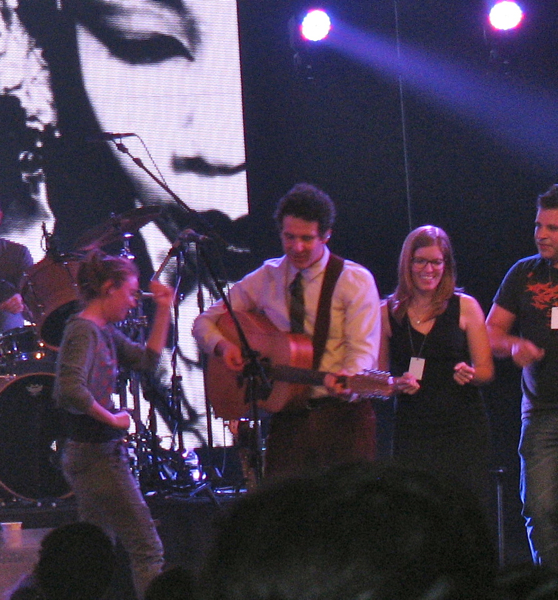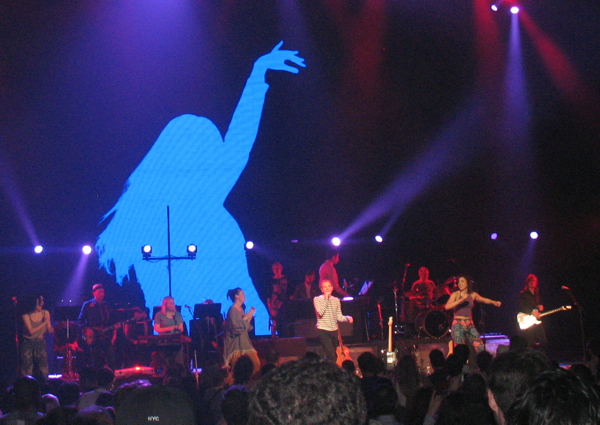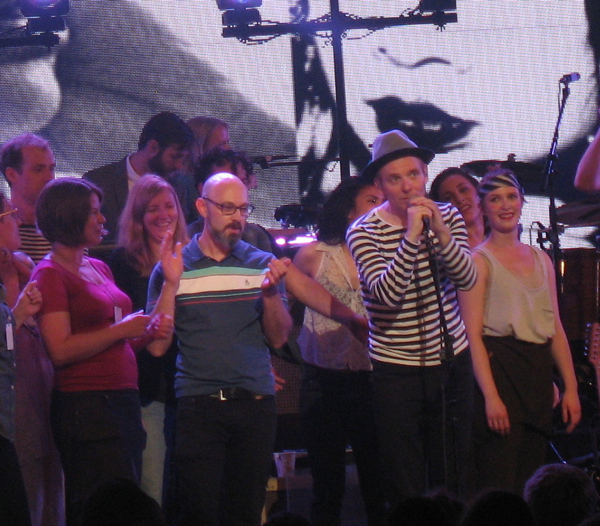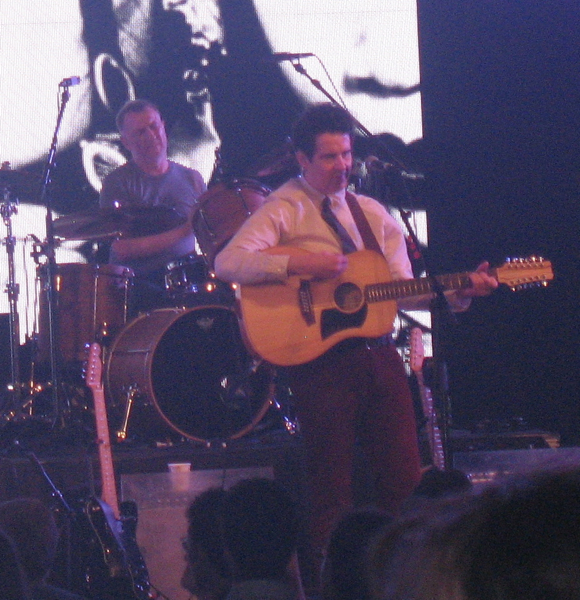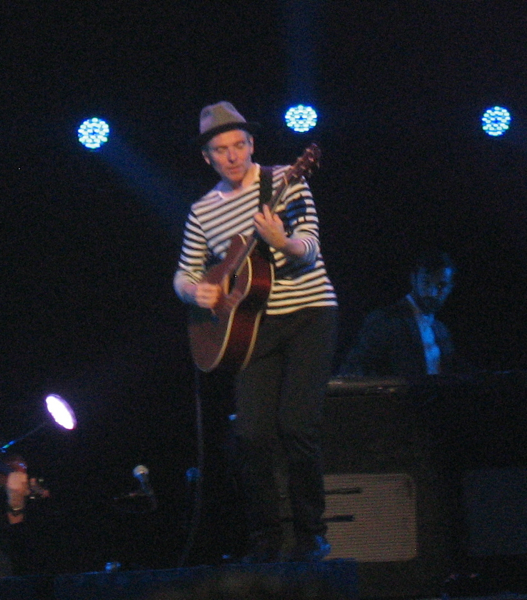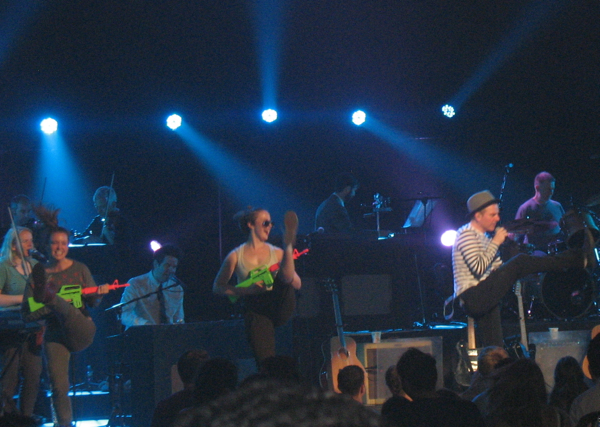 comments powered by