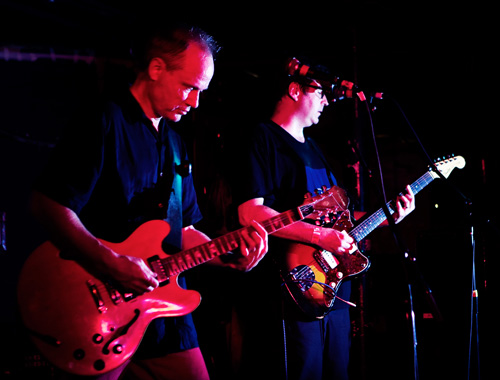 4 May 2008
The old saw that "you can never go home again" just got blasted apart last week when BIG DIPPER collectively clicked their ruby-clad heels together and landed in some sweaty, jammed rock clubs on the East Coast. I was fortunate enough to catch the tail end of their unannounced warm up gig at the Midway Café before they headed to Gotham for two shows, and also when they wrapped up the all-too brief tour on Saturday at The Middle East, one of the more joyous celebrations of local rock I can recall. Revitalized by Merge's excellent decision to reissue all their woefully out of print/non-major label releases (as well as the scrapped and heretofore unheard material which was to be their post- Slam album) all nicely bundled in a 3 cd set known as Supercluster, forces which we cannot comprehend brought the four men back together on stage. And what a great decision that was. Big Dipper were always my favorite local band after I moved to Boston post-college, and caught them on some excellent bills. Though they plied the typical 2 guitar/bass/drums configuration, they were (and as proven recently, still are) so much more than a typical indie rock band. STEVE MICHENER and GARY WALEIK's previous work in VOLCANO SUNS brought a hefty backbone and crunch to their sound, and BILL GOFFRIER's work with THE EMBARRASSMENT (truly a Midwestern cousin of THE FEELIES in the same vein of nervous, edgy, caffeine-overloaded guitar rock) brought a necessary skew to the proceedings (and a couple of songs which would be re-recorded; "Faith Healer" and "You're Not Patsy," originally entitled "You're Not You Anymore").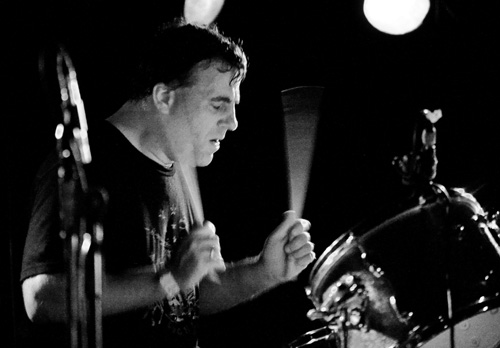 The Saturday night kicked off with locals PAPER THIN STAGES on first, and they slyly decided to devote their allotted time to interpretations of Big Dipper's self-proclaimed "bad album" (aka Slam). A guitar, sax, drums, and keyboards were used in a free-form exploration of this record, and was a marked contrast to the over-sheened product that Epic released. It was a good guessing game to try to figure out which particular song was being re-made and re-modeled, with only the cover of MOTT THE HOOPLE's "All The Way To Memphis" being obvious from the start.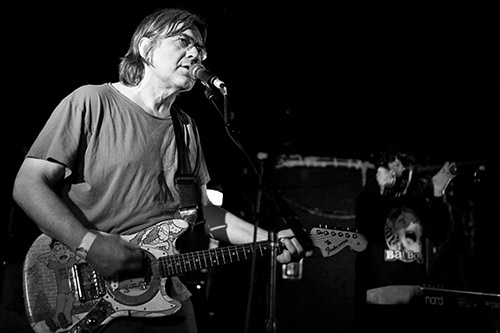 Next up was another back-in-the-day Homestead Records band, GREAT PLAINS. Leader RON HOUSE is probably best known for his storming garage/punk outfit THOMAS JEFFERSON SLAVE
APARTMENTS but as I learned early that night he knows his baseball pretty well, as we spent a fair bit of time talking about the subject at the corner of the bar before I'd recognized who he was. On stage, the band was crisp and aggressive, no signs of rust on this rust belt band, just a straight ahead plunder into the Nuggets sound. MARK WYATT's keyboards were redolent of ELECTRIC PRUNES while jumpsuit-clad brother MATT WYATT thrashed around on guitar all over the stage, long hair streaming behind him. Ron was playing a battered guitar which a quick google search confirms that it's been in service since at least 1985, and still sounds and looks great, with its heavy customization (skull and crossbones sticker on the side edge: "Keep Out Of Reach Of Children"). They wrapped up with their "Letter To A Fanzine," featuring one of the more critical and unanswered questions of our time: why do punk rock guys go out with new wave girls? If this particular song didn't influence CHUCK CLEAVER then nothing ever did.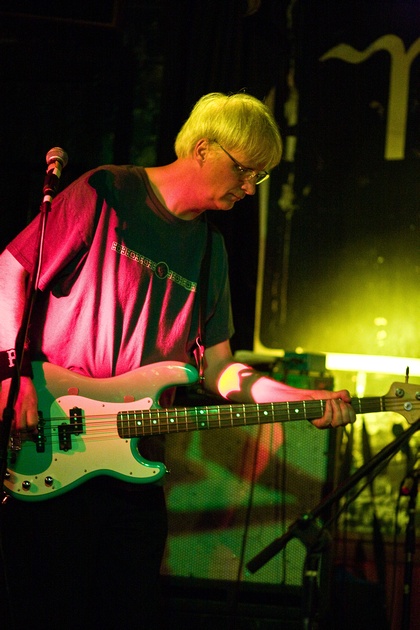 After spending all of the previous time milling about the club, meeting up with scads of old friends and acquaintances, Boston's tallest band took to the stage amid the thunderous adulation of the packed room, in a "can you believe this is happening" sort of moment. Big Dipper's certainly not among the bigger names who have been unexpectedly exhumed from the crypt, but they are among the best, a band who unfortunately never clicked with a greater audience. Tonight's performance, nay celebration, demonstrated fully that the people who did care were devotees, and the band were genuinely excited to see this, and to play to it. In a twist I'd never have guessed was coming, they opened with "Guitar Named Desire", the closing song on Heavens, but with full lyrics instead of the last snippet of verse at the end. From there, the hits flowed. Of course we got "Faith Healer," whose double guitars snake around each other, darting in and out before sinking their hooked fangs, and a pretty great run through everything, including selections of "Love Barge" and "Life In A Cemetery" from their "bad' album. Every band member took their turn at the mic, further showing the depth and reach of this band – how many four pieces can stake a claim to that sort of ability? "Easter Eve" and "Lunar Module" were expertly steered by Steve, and drummer JEFF OLIPHANT (who had a boisterous fan base shouting "Ollie" throughout the night) chipped in with "Edith." It's hard to separate the stellar parts from the merely great parts, but these would have to include "Younger Bums" (with a lyrical twist to include Mayor Menino), "Loch Ness Monster" (again a wording change, with Gary spending all of Jeff's money on some film and some oars), the local hit "All Going Out Together," the hard-charging "Bells of Love" with an angelic of ending chorus and the brilliant ballad "Bonnie."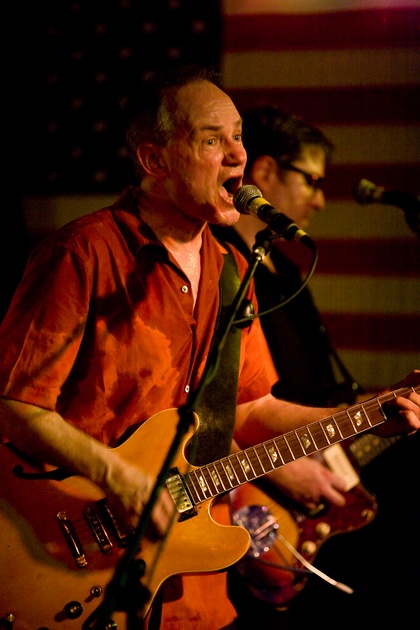 The night could certainly not exclude Dipper's legendary tale about Embarrassment bassist RON KLAUS and how he wrecked his house ("he threw the doors/out of the windows/and the windows out the doors//brought the outside/to the inside/and the ceiling to the floor") and the a hefty portion of the crowd surged to the stage on Bill's beckoning for "A Song To Be Beautiful," with a hand-held sign "The Artist Must Be Steve" allowing another lyrical departure. Spent, the band had run through a majority of its songs (and other's songs, including SHONEN KNIFE's "Bear Up Bison"), and sent a final flare into the night with a charging version of WINGS' "Jet," a song included on a old Bucketful Of Brains seven inch. Brilliant and short-lived reunion; I wish they could all be that good. If you missed out on this one, and still are curious about the band, I can't recommend Supercluster enough.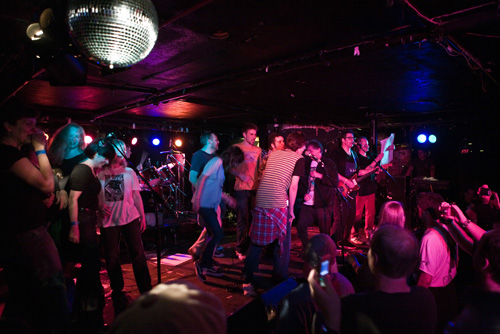 More photos of all the bands can be seen at www.tinnitus-photography.com