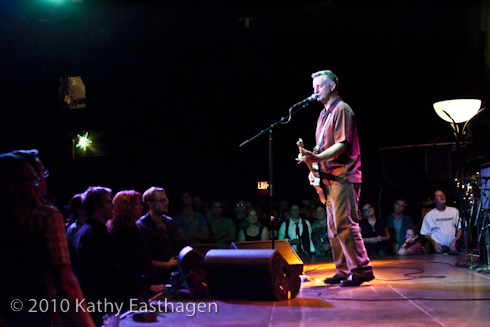 11 September 2010
Another night, another 80s veteran in concert. It seems that I'm perpetually attending shows by men 20 to 30 years my senior, and realizing that the voices that still sound so young on old records belong to men now considerably older. So do I despair that I'm out of touch with new music, or do I see these men as dynamic, vital performers whose concerts aren't just nostalgia trips but now happenings? The latter. That's easy with Billy Bragg, whose modus operandi hasn't changed much since the early 80s: love and justice in his lyrics (hence the title of 2008's Mr. Love and Justice) buttressed against supercharged electric guitar. So long as the playing is impassioned and the subject matter is relevant, he'll be in fashion. He's added full band arrangements to his songs over the years, but the stripped-down style that first found expression on early tunes like "To Have and To Have Not" and "The Milkman of Human Kindness" is the essence of his live show.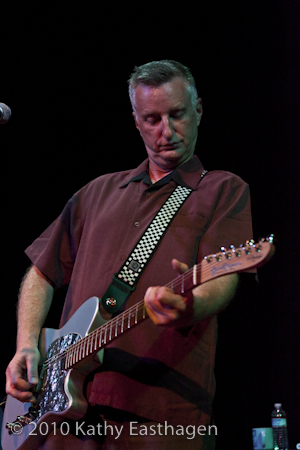 His gig at the Cedar on Wednesday night (where those two songs were major pleasers) was a redo of sorts. Bragg spoke of a previous appearance in the Twin Cities, when he arrived in town with his voice in such bad shape that he had to forsake his songs and talk to the audience the whole night. He promised to make up for it on Wednesday, and looking out at the main room of the Cedar Cultural Center (a very fine venue, looking more like a club than usual on account of a nearly sold-out standing room only crowd), he deemed the space "more of a singing room than a ranting room."
So there were many songs, spanning all three decades of Bragg's career, but there were also many rants. Sometimes the rants and songs came in pairs, as when he played some tunes from Pressure Drop, a new performance work that recently debuted in London. "Tomorrow's Gonna Be A Better Day" (complete with "ironic whistling" solo) and "The Reckoning" allowed him to expound on, in order, the cynicism of Glenn Beck and his Fox News cohorts, the similarities between the British National Party and our own Tea Party, the definition of fascism, and more. Tempting as it may be to think that the intelligent, charming, and well-spoken Billy Bragg is warmly received everywhere he goes, the response from this Minneapolis crowd was perhaps atypically welcoming. He's gone on record saying that Twin Citians "understand where I'm coming from," and it's no surprise that his last appearance here was at the Take Back Labor Day festival in 2008 on Harriet Island, directly across the river from and in opposition to the Republican National Convention.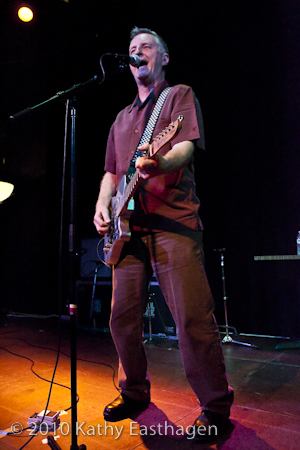 Later, the jokingly self-dubbed "sensual sexy socialist" traded his silver electric guitar for a classic black acoustic, emblazoned with the words "STRUMMER" and "THIS MACHINE KILLS TIME," to play songs from 1991's Don't Try This At Home ("Sexuality" and "Everywhere," the latter's tale of Japanese-American internment tied to the present state of Islamophobia, as Bragg dubbed it) and the Woody Guthrie-penned "Flying Saucer." The requisite encore ender was "A New England," turned, unsurprisingly, into a sing-along. You can always expect a sing-along at a show by any musician who recorded a great song in the year 1984, but this one's opening lines ("I was 21 years when I wrote this song / I'm 22 now but I won't be for long"), and simple, permanent arrangement made it quite a bit more transcendent than the average. The 21-year old who wrote that song must have known he'd be playing it for the rest of his life, though this 23-year old reviewer wishes Bragg had handled all vocal duties himself on Wednesday night. A shame, really, to not hear the man himself deliver that immortal chorus. His work done, he threw the teabag from his cup of tea into the audience, and departed the stage.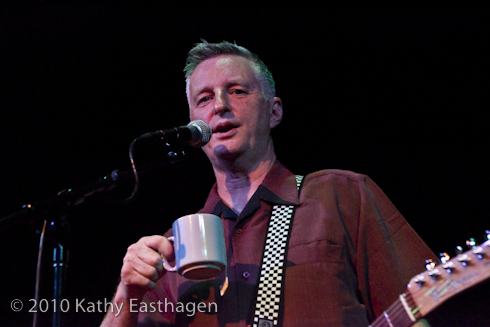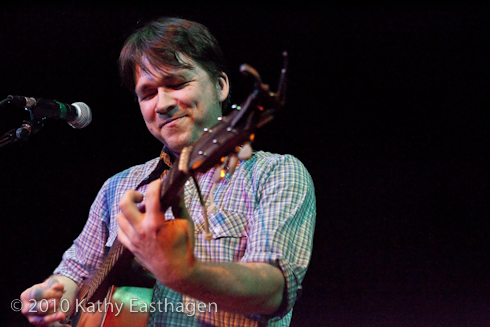 If I hesitate to call Darren Hanlon a Billy Bragg in the making, that's only because Bragg has achieved full legend status, in my estimation, and it's easy to forget that legends have humble origins. Hanlon is humble indeed, a very likable Australian (and often Grant McLennan-voiced) singer-songwriter whose songs tend toward the romantic and anecdotal rather than the political, but which are so stuffed with winning wordplay and nimble rhymes that one feels he could turn his pen to any topic. But then the Billy Bragg of "A New England" didn't want to change the world, he was just looking for another girl, so who can say that those same goals won't serve Hanlon equally well in the long run?