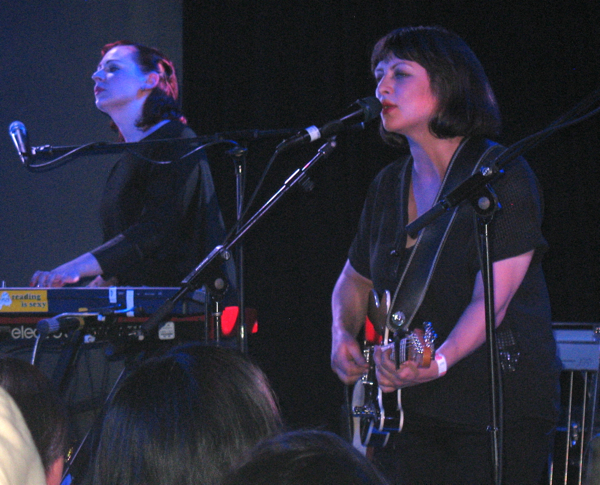 17 September 2014
Photos by Mark Suppanz
It took awhile for this Glasgow quintet (playing as a septet with guitarist/pedal steeler Tim Davidson and percussionist/trumpeter Tim Cronin) to finally get around to touring the U.S. in support of their 2013 fifth LP Desire Lines. But as singer Tracyanne Campbell explained to the sold-out crowd at this très chic Greenwich Village nightclub, there was a valid reason for the delay: she had a baby last September. As it turned out, their return was well worth the wait. Having seen the group on four prior occasions, I can vouch that their shows are as luminous, layered, and lovely as their records, so there was no reason to expect this fifth one to be any different.
Tracyanne Campbell & Kenny McKeeve (hidden: Lee Thomson)

Gavin Dunbar

With 17 of the night's 18 songs coming from the band's last three (of five) excellent albums – including seven from Desire Lines – this was an embarrassment of riches (older fans had to wait until the encore to finally hear the lone pre-third LP tune: the restful, pedal steel-flecked "Books Written for Girls," from 2003's Underachievers Please Try Harder). Even the most stodgy-legged, stoic-faced audience members couldn't help but sashay along to sunny, sprightly numbers like Let's Get Out of This Country's "Lloyd I'm Ready to Be Heartbroken," My Maudlin Career's "Honey in the Sun" and "French Navy" (done back-to-back), and Desire's "Do it Again," each one benefitting from the supple yet muscle-flexing rhythms of bassist Gavin Dunbar and drummer Lee Thomson.
Carey Lander

Tim Davidson

But it was on the slower, softer songs – like the countryish "Forests & Sands," sweeping "Country Mile," sax-sprinkled "This is Love (Feels Alright)," and glistening "Cri Du Coeur" – that Campbell's somber yet soothing voice had us sighing and swooning the most, as Kenny McKeeve's tender guitar flourishes and Carey Lander's resounding keyboards gently coaxed her along. And the encore's finale "Razzle Dazzle Rose" did indeed razzle and dazzle, with the band riding Cronin's drifting, deep-toned trumpet to a loud and majestic crescendo.
Tim Cronin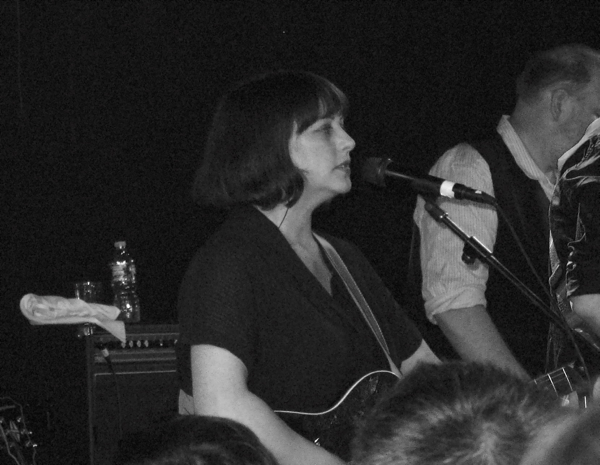 I first became acquainted with honey-voiced chanteuse Cantrell when I reviewed her 2000 debut LP Not the Tremblin' Kind in Big T issue 47. Fourteen years later the former WFMU DJ is still mining her trademark alt-country mixed with folky pop style – she even closed her set with that first album's title track. Accompanied by guitarist Mark Spencer and bassist Jeremy Chatzky, she mostly played selections from her new fifth LP No Way There from Here, including "Glass Armour," a song co-written with Campbell. As well, she paid tribute to her country music heroine Kitty Wells (1919-2012) with "Kitty Wells Dresses," an original written for her 2011 Wells covers album. Like the previous ones I've seen her do for Elvis Costello (at Newark, NJ's NJPAC in Oct. 2002) and (again) for Camera Obscura (at Brooklyn's Bell House in Mar. 2009), Cantrell's warm-up set was a tasty appetizer.
Mark Spencer & Laura Cantrell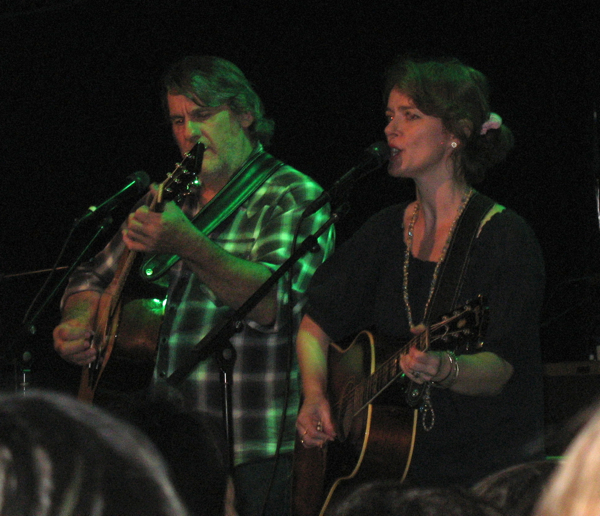 More Camera Obscura photos!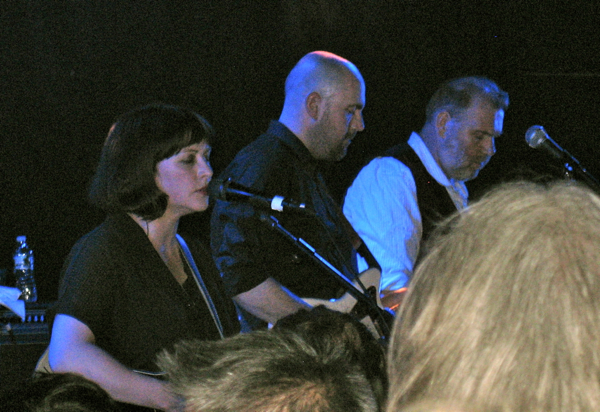 comments powered by