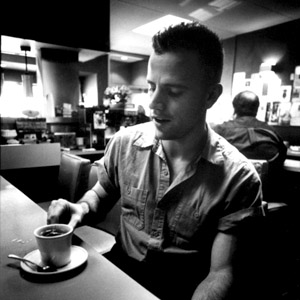 18 September 2011
When you see the empty stage at Winnipeg's still-spanking new West End Cultural Centre carefully decked out with almost a dozen guitars on racks and the vintage, if well-worn, amps you can guess this is not going to be a run-of-the-mill show for a man who says his usual venues are "dirty bars, basements and punk shows".
Of course not much about Greg Macpherson is run-of-the-mill. Macpherson owns a piece of the musical landscape so particular to him, it's almost like a Fortress of Solitude. The hard-touring Macpherson plays at punk shows and puts out records on punk labels like G-7 Welcoming Committee but there wasn't many slam-danceable tracks on the set list. Macpherson also plays folk festivals and though he spent some of this night night playing acoustic guitar, there's only a trace of the folk tradition in the songs he played. As well, while Macpherson did a blistering take on alt-country stalwart Robbie Fulks' "Let's Kill Saturday Night", few country ornamentations like mandolin, violin, dobro or steel guitar were heard amidst all the musical variations on display this night .
This show, the second of a two night home stand to celebrate the release of his new album, 'Disintegration Blues'. was booked as the 'Quiet Night' but the aforementioned stage set up promised otherwise. In fact, the electricity was flowing from the moment Macpherson entered the stage clad in simple black T-shirt and jeans picked up his wooden telecaster. Sure that trademark guitar brought to mind Bruce Springsteen and the one man with a distorted electric guitar approach was reminiscent of Billy Bragg but again Macpherson never took his musical ideas to the same place his predecessors did.
Macpherson's unusual and un-pop songs, like the slow, evocative "Churchill" or the more rockabilly-tempo'ed "Kingston" kept the words to his songs front and centre. (Of course with Macpherson's producer and partner-in-crime, Cam Loepky in the sound booth, everything sounded perfectly balanced). Thematically, Macpherson's almost rhyme-less essays on human alienation and urban desolation, like the weaving tale "Alone in the City', bring to mind the work of his fellow Winnipegger, Weakerthans leader John K. Samson, as much as any of his more world-famous influences.
The two-hour set never floundered due to both Macpherson's boundless energy as well as the constant re-rearrangement of the line-up. Besides the solo electric and solo acoustic portions of the show, Macpherson also played in an ever-changing configurations with his new band (guitarist/bassist/occasional drummer Cole Woods and most-of-the-time drummer Rob Gardner). When the whole band was going berserk on songs like "Everywhere To Go" it was enough to make everyone who dared to leave their earplugs at home for the "Quiet Show" shake their ringing head.