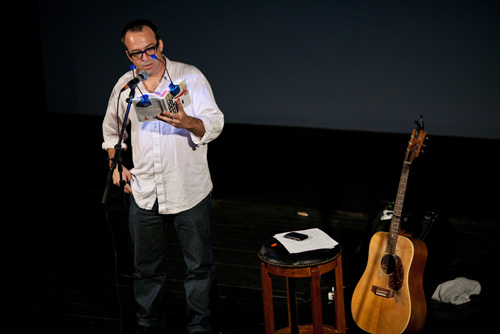 9 August 2009
JOE PERNICE is best known for his insanely catchy pop song writing ability, whether it is in its nascent form of SCUD MOUNTAIN BOYS, solo, or as PERNICE BROTHERS. He writes the kind of song that instantly sounds like a 1968 hit, breezily making its way across a beach on a hot summer day via a transistor radio tuned to the AM band. But Joe's also started another creative outlet; his entry in the 33 and a 1/3rd series of essays about seminal albums (Meat Is Murder was the one he chose, and cast it as a fictional story) was an enjoyable read, and now he's come out with his first full-length novel, It Feels So Good When I Stop.
Tonight marked the kick-off of a ~15 city date, with Joe reading some excerpts of his book and playing some of the music which came out as a companion cd. This cd is one entirely of covers, ranging from inspirational sources such as DREAM SYNDICATE ("Tell Me When It's Over"), DICK VAN DYKE ("Chim Cheree") and SEBADOH ("Soul and Fire"). And speaking of Sebadoh, LOU BARLOW makes an appearance in the book, and Joe read a passage from a fictional show at Brownie's in NYC. Joe related that he called Lou to make sure that he was ok with being portrayed in the book, and when Joe said that he'd written Lou as a nice guy, Lou said that it was ok to make him a dick if it fit the book.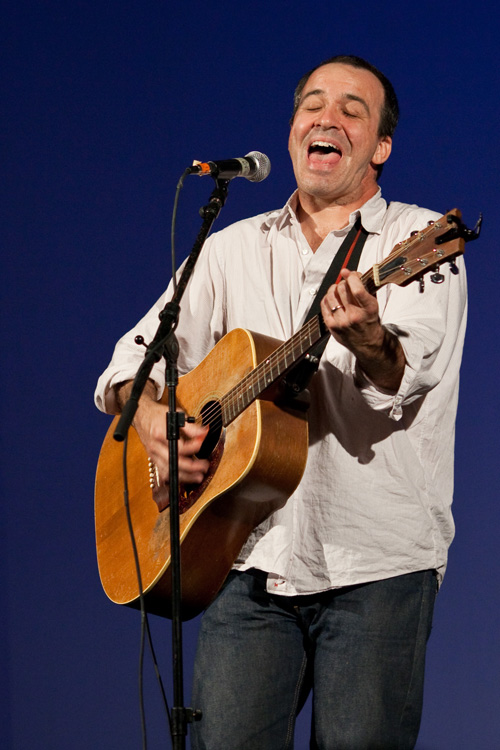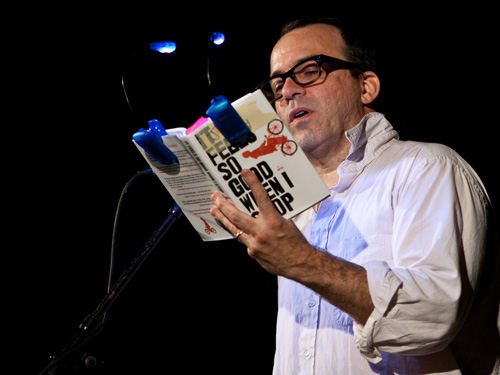 Joe mentioned that he'd previously scoffed at people who released records of covers, that it indicated a lack of imagination, but clearly he's come around, and chose some songs which really fit well with his own body of work; the Dream Syndicate song in particular sounded tailor-made for Joe, and his tender reading of "Soul and Fire" would even have moistened Lou's eyes. He closed out the evening with a few of his own songs (and why not; it'd be criminal to ignore them) including the disarmingly direct "Bum Leg," which Joe wrote about the Ruggles train station in Boston. Much like MARK EITZEL's work, the song has a really serious subject matter that's surrounded by a beautiful melody. A tricky duality to pull off. The show was a success, and the book awaits me. One last note…it struck me that Joe's looking more and more like DECLAN McMANUS (must be the heavy framed glasses and white shirt) and it can't be a coincidence that his book preface is a quote from Mr. Costello.
The opening act for this evening (of which there were two performances; I reviewed the late show) was Walsh Bros. and they were pretty damned funny. I haven't seen a lot of comedy acts, but primarily they are solo affairs. The brothers almost worked as one, filling in bits during riffs in a seamless fashion, whether it was a character role playing scene of a redneck with a magnificent mullet, talking about touching penises as youths, or referring to Joe's new book as a work of gay erotica.
comments powered by