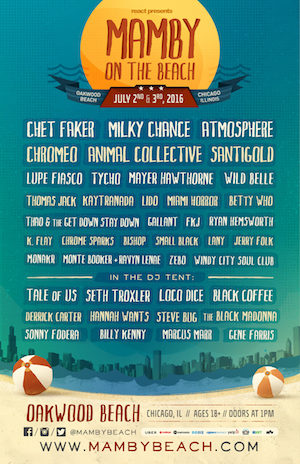 29 June 2016
A beach seems like the perfect environment for a festival, and React Media has given plenty of Chicago festival-goers the perfect festival lineup.
Mamby on the Beach returns to Chicago's Oakwood Beach on July 2nd and 3rd, and although this festival may not be a household name like its big brother, Lollapalooza, the lineup is far from small. Headliners like Milky Chance, Animal Collective, Chet Faker, Santigold, and Chicago native Lupe Fiasco will be gracing the stage just days before the 4th of July holiday.
So whats to expect?
4 stages, two main, the "Beach Stage" and "Park Stage", with two smaller tents, the DJ Tent and the "Silent Disco". We have Milky Chance and Miami Horror on the Beach Stage (Saturday, from 8:45-10, and 3:30-4:30 respectively), and Animal Collective and Tycho both playing on the Park Stage. Of course, in between that, you could head over to the Silent Disco, to dance in headphone oriented bliss, or take advantage of one of the many food trucks or activities that React has arranged. It's up to you!
Unfortunately, I won't be able to attend Saturday, as my day job has other plans for me. Sunday, however, offers just as good of a lineup, with Chet Faker, Lupe Fiasco, Thao and The Get Down Stay Down, Santigold, and many more all performing. It's a festival I haven't attended before, and if I'm being honest, one that has avoided my attention in the past few years of my almost religious live music attendance. It's one that should be interesting, a festival not far from the museum district of Chicago, in the little appreciated and often vilified South Side.
This is a festival you won't want to miss. Tickets for afterparties can be purchased here:
http://www.clubtix.com/search?con=search&search=mamby&submit_button=Search
Check out Mamby's "Top Ten" for more info and tips:
http://www.mambybeach.com/uncategorized/top-ten-tips
Finally, have this dandy link to a map, set times, and information on the official after-parties:
http://eepurl.com/b63hYb
Chicago is, and will always be an excellent place for music. Continue to grow it, and come to Mamby, you won't regret it.