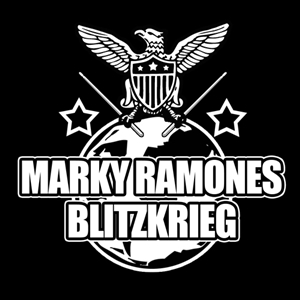 6 October 2012
Let's not ignore the long black-haired elephant in the room and just get this stuff out of the way for those who would dismiss this act. Yes, Marky Ramone is not an original Ramone. He is the living member with the longest tenure. Singer Michale Graves is not Joey. His voice is of a different nasal sort but he is a really good singer and accomplished frontman in his own right. His guitar player, Crazy Joe, lacks the violent exclusive down-strumming of Johnny but he hardly shames the songs. The real find in this band is bassist Graham Van der Veen. He may not have the tragic back story like Dee Dee (don't know, really) but he is a better singer. While it may be true that Marky Ramone is cashing in on the Ramones legacy, it's not as if he doesn't deliver.
A funny note is how Ramone, Graves, and Van der Veen are all related to the Misfits legacy. Graves was the lead singer for the initial re-boot of the 'Fits and made it far less of a bitter pill to swallow. Obviously, following a legendary lead singer doesn't faze him. Drummer in that incarnation was Dr. Chud who, upon leaving the band, formed his own band with Van der Veen. Replacing Chud on drums? Marky Ramone. Anyone who has a problem with this band can go blame Misfits bassist and malcontent Jerry Only. He'll just ignore you, counting his money, but you can air your grievances. Fans of the Ramones who were maybe too young or too unfortunate to see the band before, or even fans that miss those songs, have little to complain about Marky Ramone's Blitzkrieg. Joey, Johnny, and Dee Dee have left us, so this is truly the best you're going to get.
The Arcada Theatre in St. Charles is actually a pretty great venue. It is reminiscent of how the Congress Theatre in Chicago looked before the dolts pulled out the seats and ruined the sound. The sound at the Arcada is really good and clear. Local-based opening act, the Headspins, had some shining moments. They had some infectious tunes, all sung by bassist Julia Zap. She has a faux-British Carrie Brownstein or Penelope Houston voice. The momentum of their performance ground down when she wasn't singing. The only song she sang that didn't really work was the ill-paced cover of the Buzzcocks' "Ever Fallen In Love". If the band had a harder edge to their guitar sound, they could really be a force.
The main attraction hit the stage and nearly all the patrons of Arcada rose to their feet. With Van der Veen counting down, the band tore through "Rockaway Beach". Those familiar with the Ramones catalog need not much in the way of going down the list of classic tunes that comprised the set. It certainly didn't feel like anything was missing. The only song of theirs I truly love that I wasn't sure about, "53rd & 3rd", was played so I was happy. On that song, in particular, Van der Veen sings Dee Dee's bridge part better than Dee Dee could. His harmonizing throughout was very good. Marky can still really lay the lumber on the skins. His power back there is something to behold. Crazy Joe was adequate but nothing special on guitar. Consider, though, that he is playing Ramones songs. It's not as if there's room for virtuoso improvisation. Graves, at times, seemed like a square peg into the round, faster songs. He is at his best when extending notes, rather than staccato phrasing. Songs like "I Believe In Miracles" or "I Wanna Be Your Boyfriend", where he really gets to belt or sing whole sentences were his highlights through the main show and first encore. He not sing like Joey but Joey never did jump kicks on stage.
It seems, for his trouble, Marky gives the second encore largely to Graves. The frontman came to the stage armed with an acoustic guitar and played reworked versions of a couple of songs that he wrote for the Misfits. The rest of the band soon joined him for his 'Fits song, "Dig Up Her Bones". I have seen him perform this song three times with three different bands and this rendition was, by far, the best version I have witnessed. They then went into the lone original, the wonderful, Graves-penned "When We Were Angels". What followed was, I suppose, a tribute to Joey Ramone. They played Louis Armstrong standard, "What A Wonderful World". It was a favorite of Joey's and he had recorded a stellar version of it when he went solo. Creedence's "Have You Ever Seen The Rain" followed that. The band finished with the only classic missing, "Blitzkrieg Bop". It was a fitting end to the crowd's window to the past. The fans were satiated and that's all one can ask.