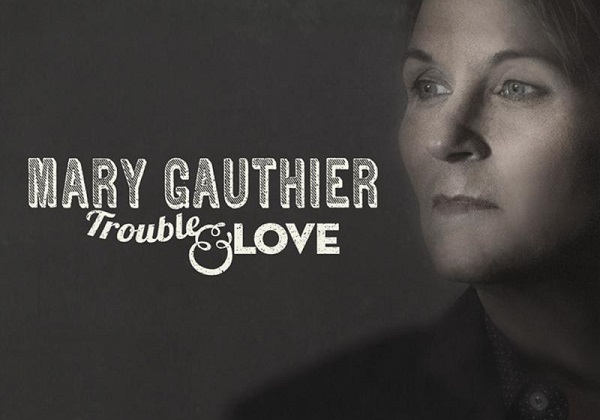 1 November 2014
"Music is just because you have to have it," Mary Gauthier said toward the end of a set of songs that doubled as a summit on her craft. She was shooting down audience requests for a collaboration with Sam Baker, the co-headliner of this summit, by drawing a clear line between songwriters and musicians. It's a useful distinction in Gauthier's Nashville (she told of a colleague who owes her many mansions to an early assignment with Taylor Swift), and one that's been replicated in every other area of pop music, and yet some people still distrust any division of labor in music that doesn't take the form of a rock 'n' roll band. But to be clear, Gauthier views pure songwriters like herself as entirely self-sufficient, not half of the process. She keeps her songs, she puts her own name on her albums, and she gives them music. 2010's The Foundling was a beautifully orchestrated song cycle; this year's Trouble & Love, another song cycle, opens with shuffling drums and a stroke of electric guitar. Still, modest arrangements, especially on the new album, don't challenge the notion that the songs need only a veil of performance to achieve their fullest expression.
Gauthier links her self-definition to the greatest fruits of her most enduring labor; perhaps only short story writers are more certain of themselves and their talents. "Fish swim, birds fly," she sings, and furthermore, songwriters, like her and Baker, write songs, and don't just merge their voices and guitars on demand. I couldn't sympathize with the audience's clamor for a duet, given the more natural way in which the two shared the stage, trading songs and respectful silence. Song selection seemed to mirror the creative process, in the way each would isolate an image or idea in the other's song, and, after fascinating convolutions of monologue and close reading, eventually work their way to one of their own songs. Gauthier's "False from True" led Baker, in the inimitable contours of his speech-like singing voice, to the refrain "you gotta choose truth or you gotta choose lies," and so on. Gauthier introduced "Last of the Hobo Kings" with the same description of its genesis that preceded the song two years ago, and she tells it so beautifully that I've come to understand her description as part of the song.
I value any window to her process, but Gauthier, a believer in luck and work, doesn't pretend to have cracked the songwriting code. Nuggets of wisdom are only as effective as the songs they help foster: (1) Before you can write a song, you gotta get the movie (advice, told to her by one of her mentors, to ground songs in visual detail); (2) Trauma is the opposite of connection; etc. Re: #2, she meant the way songwriting can be a bridge from trauma toward communication and comprehension, and then played "Halfway Home," written recently for the project SongwritingWith:Soldiers, which pairs veterans with songwriters in an effort to tell their stories. The song's lyrics suggest snatches of dialogue from her interview with her subject, repurposed, but she also sneaks in pieces of herself, particularly in the title, which cleverly reconciles the soldier's story with Gauthier's own history, by casting "halfway home" as a universal condition of transition. In the case of Gauthier and her subject, it seems, connection went both ways and killed two traumas.
In more explicitly autobiographical terms, she played a falling out of love song, "Sweet Words," and represented Trouble & Love, which interprets the lessons of "Sweet Words" across 38 minutes, with two songs: "False from True" follows a similar trajectory from blindness to clarity, but it's not until "Another Train" that Gauthier does what she couldn't do before, trusts herself and moves on. As usual, the details speak loudest, and I'll never forget that newly single Gauthier gets an apartment at "1411 13th Street." Across her past few albums she's narrowed her focus to personal revelation, as is the prerogative of the master of a form, but to end the night, she went wide, back to 2005, with "Mercy Now," a better song while it lasts than even Randy Newman ever wrote. It's her "God's Song," lacerating in its love of mankind.
False from True
Between the Daylight and the Dark
Thanksgiving
Sweet Words
I Drink
Last of the Hobo Kings
Halfway Home
Another Train
Mercy Now (Encore)