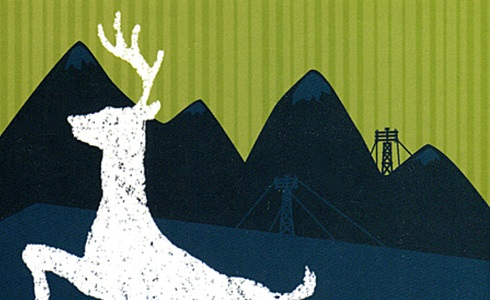 2 June 2014
Even the kind of person likely to turn up at a tenth anniversary show for Emblems, the kind of person who's been rattled by the songs or at least suspects it's possible, couldn't have expected the energy with which the highly capable current lineup of Matt Pond PA played the album in St. Paul. The band (a sextet) was more in sync, more rhythmically compelling than The Flamin' Groovies the night before, in the same space. What?! A lot of the credit goes to the cellist and the drummer, often aligned to state the rhythm with driving force at key moments (after an establishing verse of "KC"; toward the end of "Lily Two," when it seems well past its peak of intensity). The band didn't lie about the album, but they were determined to articulate every sound as powerfully as possible, as if the songs, ten years older but ten times more vivid, could be made new again. I guess I remembered it wrong, liking Emblems best for its repose, the way its most bursting moments are swallowed up by a familiar lethargy, so I was thrilled to reencounter its not-so-latent charms. And now I also remember that even its most peaceful and simple songs are poisoned by restlessness, as when Matt Pond, the leader of this band, suggests that the only way to live an idyllic life is with determination:
I'm going home back to New Hampshire
I'm so determined to lay in lakes and see my sisters
It takes all he's got, to do the "easy" thing. People often write about this guy like he has no self-awareness, even though it seems to be the only trait that can account for him. He's a showman of lacerating exactitude, and suffers the anxiety of the artist cursed to create in a certain way, endlessly. He perhaps wishes it were otherwise, loving nothing better than Marnie Stern's "Year of the Glad" (his enthusiasm for the song is obvious, though I'd encourage him to reconsider what transcending gender has to do with it), envying its creator and yet recognizing his own lot as a musician pushes him, over and over, to music of no guaranteed release. A person is rarely the artist he wishes he could be, but sometimes he can resign himself to being a better one, a situation likely not considered by all those reviewers who've tried to circumscribe Matt Pond with clusters of inapt, apparently damning lifestyle signifiers.
Anyway, the question: Is it worth it, for a man to expend so much energy on contemplative chamber pop? That's up to the listener, but the answer doesn't mitigate the energy, which is real. It's lightweight stuff, I guess, compared to Stern's guitar and vocal feats, but it's no less precise or intricate, and the way Pond combats helplessness with seriousness and artistic rigor, makes the most of a bad situation (the bad situation: the need to work; the most: work), deserves some small allotment of your sympathy, in a general sense. For three of Emblems' songs he set aside his guitar and took up the role of chanteur but still couldn't quiet his hands, which conducted the band with small, eager movements. You don't have to sanction his music to agree that Sherwood Anderson could write a story about him. Redemption comes when he calms his brain, responds to the crowd, begins to enjoy himself, and the night only got better when the band segued from Emblems to a snapshot of the subsequent ten years, a well-chosen four-song set of increasing intensity, itchiness and, a-ha, release. Less talk, more arms, per "Starting." By the time the band ended with "From Debris" I could barely track the cellist's fingers along the neck of his instrument.
Whether or not the entirety of the hardly famous Emblems was due for a revisit, Pond's live show definitely was. In 2006 I was so in love with his songs you'd have thought I was in love, for real, and I wrote about a fine show he played in Minneapolis with a different lineup of his band (a quintet). I found the article but I dare not link it here: My fair need to make hyperbolic claims about his craft caused me to elevate above all else a white, male, Western canon of pop songwriting and call for another under-recognized white male's placement in it. Gross. Somehow I failed to refer to lessons of cultural relativity. It's time now to kill my ideals, and idols, but it's still possible to love a de-centered Matt Pond, to speak about the musician's curse without acting like he's owed some greater glory. He's got plenty, and knows it; the one takeaway from '06 that's still relevant is the sincerity of Pond's response to an enthusiastic crowd. It's as if he constantly imagines a waning interest in his music as a way to derive energy from the notion's spectacular defeat. I can't remember the last time I saw a performer so overjoyed, so triumphant (and so drenched: the venue wasn't as unbearably warm as the night before, when I'd nearly fainted, but was still bad enough to melt the talent), all because he'd thought no one would come. Eventually touring artists will learn to not underestimate St. Paul on Monday nights, but maybe it's best they don't, if surprise continues to lead to such euphoric encores.
KC
Closest (Look Out)
Lily Two
Bring On The Ending
The Butcher
New Hampshire
Claire
Summer (Butcher Two)
East Coast E.
Last Song
Grave's Disease
Close (KC Two)
Halloween
Love To Get Used
Starting
From Debris