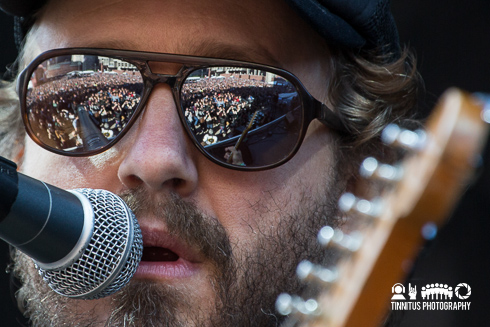 26 May 2014
The home stretch. Day three of a music festival. When your legs, feet, facial skin and liver may all be suffering from various calamities all associated with cramming in as much music as you can consume. Luckily for the 20,000+ who once again made their way to the brick and concrete gulch in the center of Boston known as City Hall Plaza, the weather cooperated nicely.
Tigerman WOAH! was the first band I saw, and if you told me they were from some dark holler in Appalachia, I wouldn't have batted an eye. What's that you said? Lynn, Mass? The city of sin? That's where they are from? Huh. Their bizarro twist on hillbilly music was a nice way to crack open the remainder of the day for me. Not too many times can you see a shirtless, tattooed guy with pigtails in overalls playing a standup bass. In fact, I think most by-laws from the Puritan days prohibit that sort of thing. No matter, they got away with and mum's the word.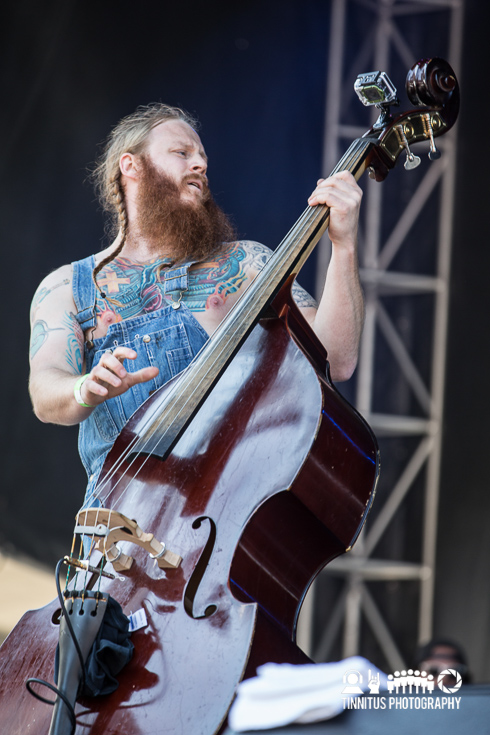 The Districts took the Red Stage and proceeded to bang out precisely the kind of snotty, raw garage rock that has built this great nation of ours. Whether or not they have the right blend of songwriting craft and vision to rise above the rest of it remains to be seen, but seeing that sort of adolescent angst close up in blazing sun always puts a spring in my step.
Kurt Vile and The Violators were next up, and while the kids just want to dance and sing along, campfire style, there are still a sizable portion of the audience who digs the loose vamping and unique guitar playing that Vile and his band play. Equally at home with acoustic numbers, bass-less songs (well, I guess the Fender IV is cheating a bit) and some saxophone skronk thrown in for good measure via Jesse Turbo ("Freak Train"), Vile's laconic drawl sealed the deal and was as smooth as a honeyslide.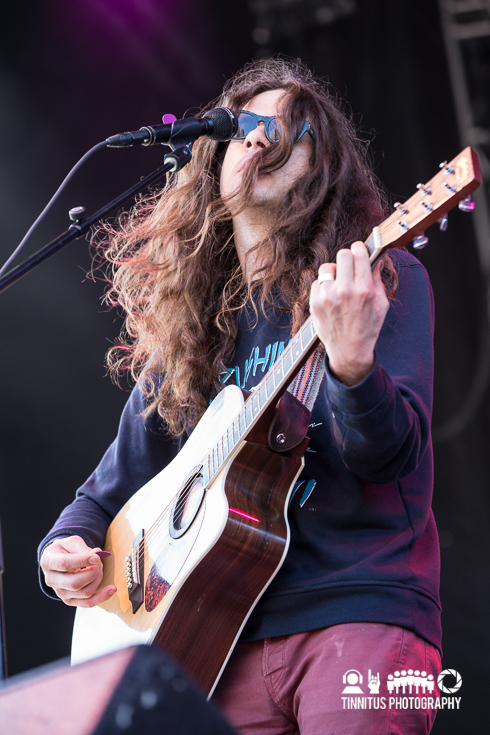 Built To Spill took on the elder statesman role of the festival, with both Brand New and Modest Mouse specifically giving props via the stage as to their influence on their respective bands. Two to three guitars blazing away negated their static stage presence, and while the music was no beach ball batting fodder, people paid attention to the well-crafted songs nonetheless. What a concept. Back at Blue Stage, Matt Houck and his band known as Phosphorescent was busy laying down some Crazy Horse-influenced songs of their own, as the decaying afternoon sun beat down on them. He's ditched the soft folk approach from when I'd seen him first, in 2008, and I'm willing to give him the benefit of the doubt that road laundry back logs made him wear a Phosphorescent T shirt on stage. Because only Morrissey circa The Smiths could really pull that off convincingly otherwise.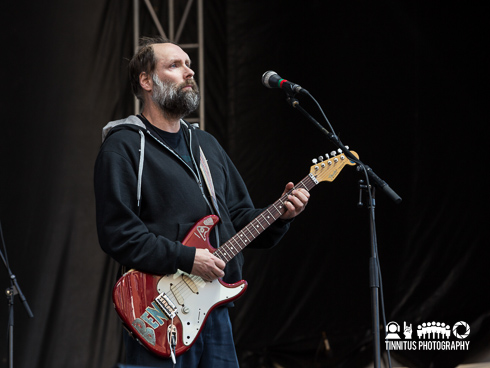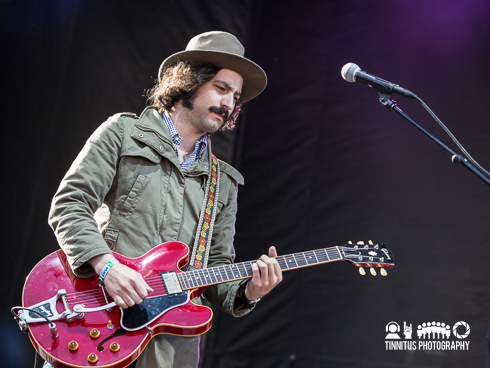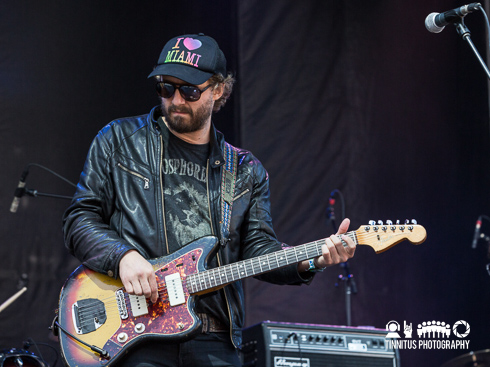 The next stretch of bands was beyond this nearing 50 year old music fan; I'd heard of all of them, but put a gun to the temple and I would be hard pressed to play Name That Tune with any of them. First up was the Canadian twin duo of Tegan and Sara, two cute pixies with angled hair cuts playing emo tunes that struck the hearts of many. Bastille, despite the Gallic reference, is a British affair, with Dan Smith creating a synth-rock (I hesitate to call it pop) that got the crowd churning. His Morrissey-like coif stood at attention at all times as he paced the stage and howled into the mic, accompanied by a bass player, a keyboardist, and a drummer who thoughtfully placed a Red Sox cap on one of his drum stands. He'd also occasionally bang on a floor tom. I'd like to know who is responsible for this bench player percussion epidemic. It's getting out of hand.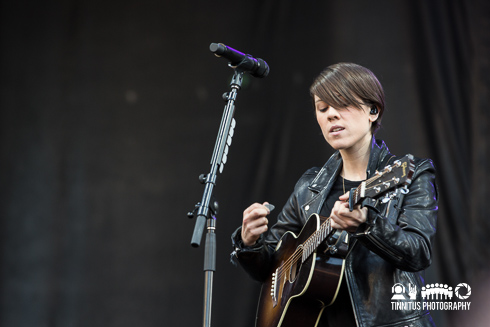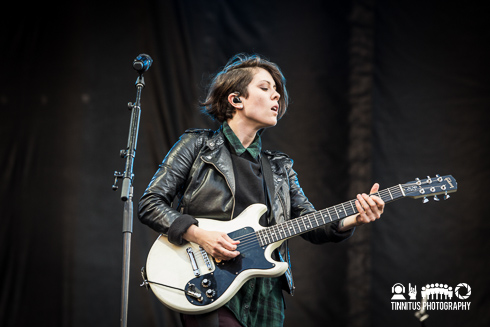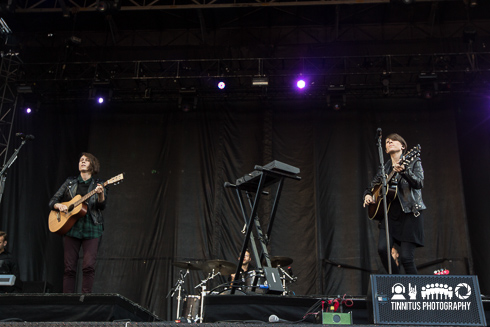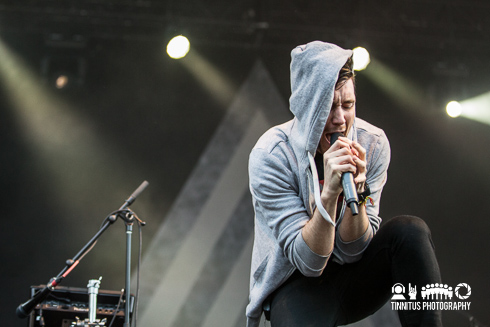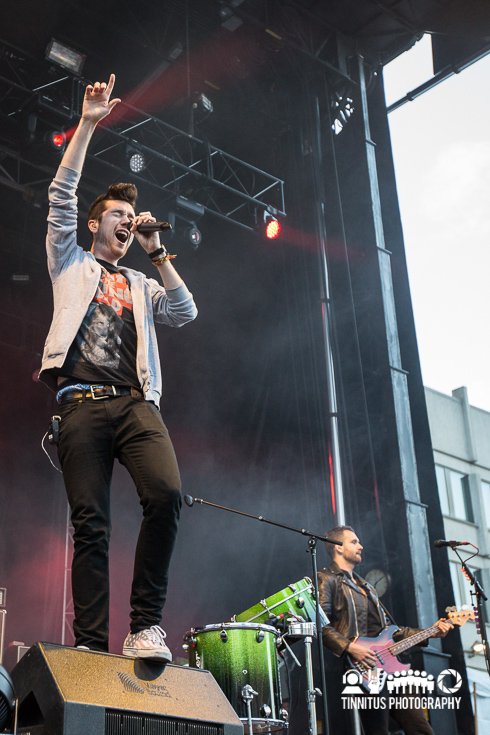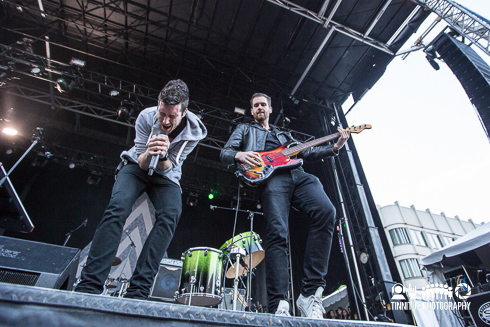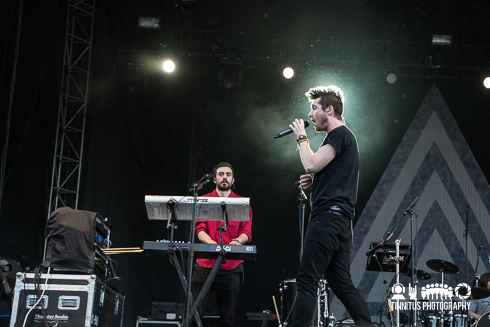 The next up was Brand New, and while they are ostensibly an emo band, they don't have the ubiquitous three name bland band name, and they also know how to put on a good show and put some crunch into it. Yeah, there were some dried flowers tucked into the mic stand and adorning the amps, and the front line of girls at the rail were screaming along note for note, but this was more in line with Sunny Day Real Estate, an emo band that I can get behind. Once I got past the Fred Durst thoughts of singer Jesse Lacey (the buttoned up shirt and baseball cap didn't help matters), I could see where they were going, and the ending closer "You Won't Know" was an absolute tour de force, a swirling song of rage and repentance that Greg Dulli would be proud to have penned. It ended as guitarist Vincent Accardi threw his guitar at least 25 feet in the air twice, catching it deftly each time. Damn. The crowd went nuts, like only a young crowd can. I can't think of any band that would get the same crowd of 40-50ish people agitated in remotely the same manner.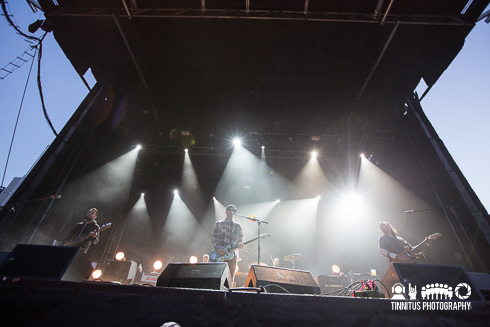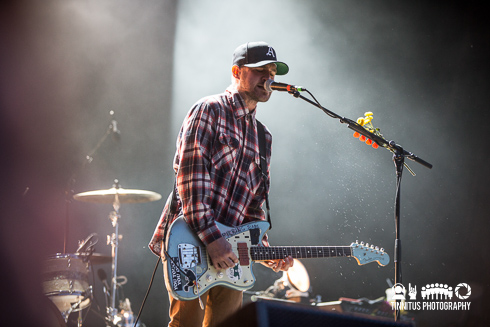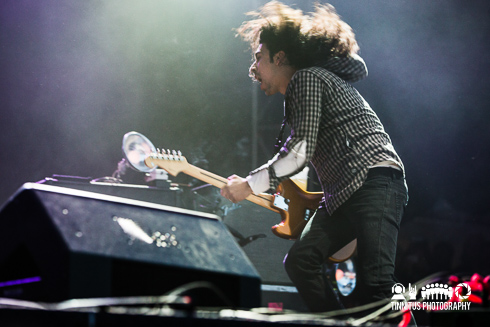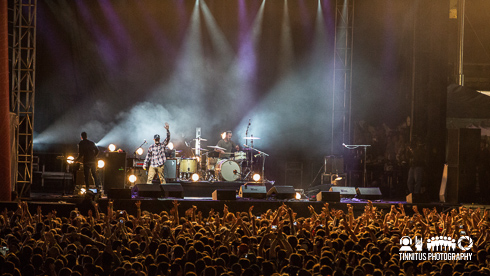 Capping the weekend was Isaac Brock and Modest Mouse. A full stage had Brock crowded over far to stage left, where he belted out his songs of heartache and soul-searching to an adoring crowd. So adoring that the crush had a couple of young girls plead and bail for safety, to be lifted over the barrier by security. "Dramamine" was a particular highlight for me, the queasy sea shanty-ness of all it all capturing the off-kilter approach of the band.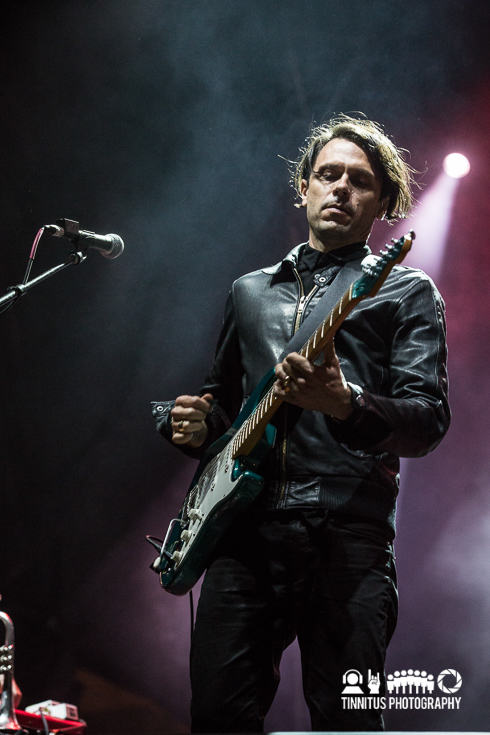 Hats off to the management and production crew of Boston Calling; you've certainly got it dialed in, and the next event's lineup looks just as good.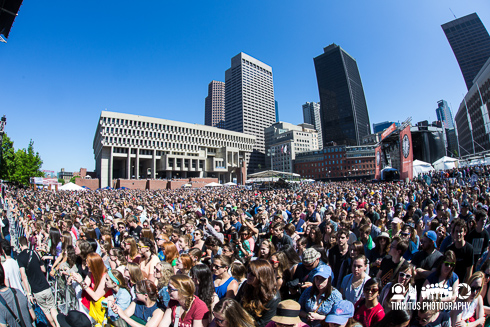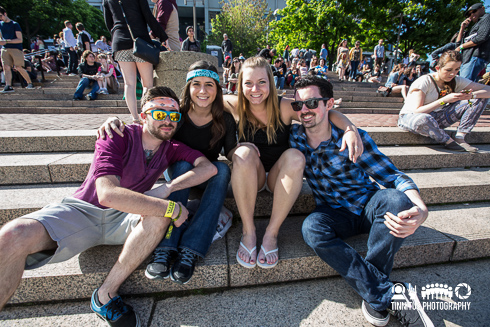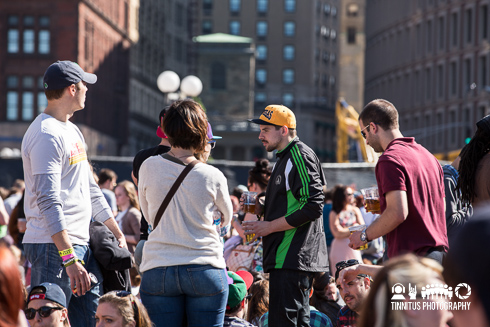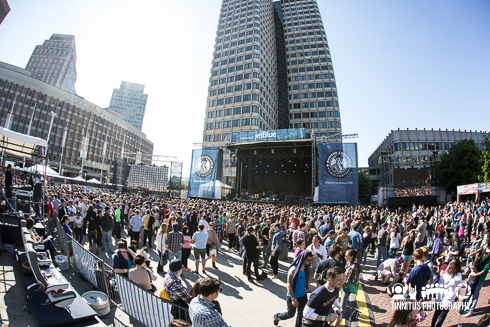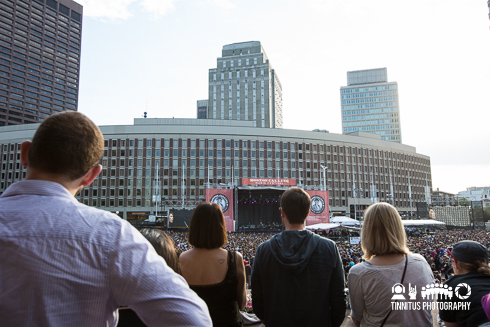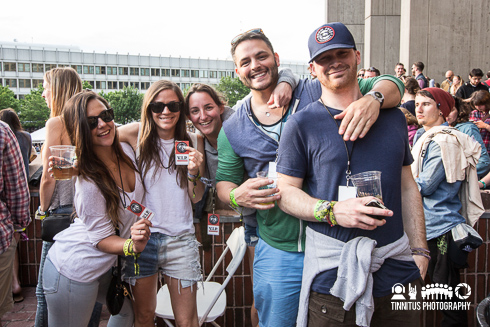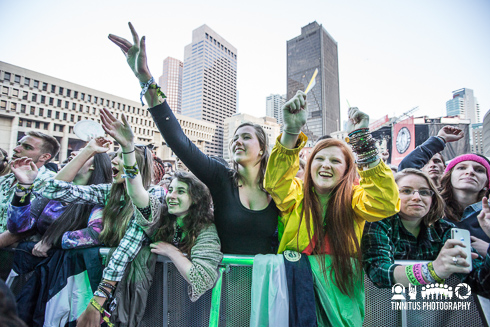 If you've got this far and haven't gotten your fill of photos, there's more over at my site