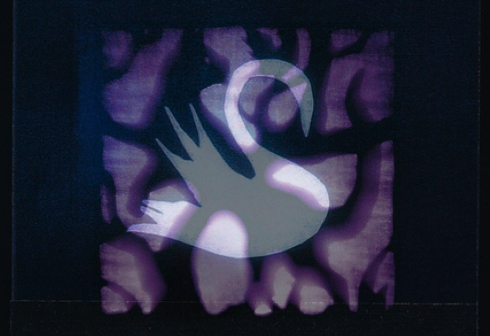 24 November 2013
A tiered wrought iron stand, the kind that might hold house plants, occupied the spot next to Hope Sandoval's eventual station on the stage, and men in caps and hoodies slowly filled its surfaces before the show: a rattle, a tambourine, candles, a glass of wine, one object per surface. Some time later, only one of the men remained, applying a keen eye to the placement of the objects and to very, very tiny adjustments of Sandoval's microphone and little cracked metal lyric stand (for poetry pages, or a Bible; the glow on Sandoval's face and her scrolling finger later suggested it in fact held a tablet). Few took notice of this sublime comedy and/or extraordinary ritual, though I suspect any listener of Mazzy Star will sense that some part of the band's magic comes from this exact kind of monumental concession to Sandoval's shyness. The shyness has remained, as much as the signature sound, and maybe that's what we mean when we say this band is immune to time. Sandoval emerged, drank her wine, and mostly disappeared into the stage's dimmed purple lights, so that what remained was not quite a disembodied voice, but a voice attached to the merest physical sliver and shine. Elsewhere under the lights, five more distinct stations: David Roback on guitar, plus four additional members, playing drums, bass, pedal steel, organ, all exquisitely subdued until the big finale.
The band's (the principal duo's) unchangingness isn't absolute, and this year's Seasons of Your Day presents a recognizably older and bluesier version of what began in 1990 with She Hangs Brightly. That album's opener, "Halah," one of the highlights of their set, is a special, early kind of sweet-sad that can't really be surpassed, by them or anyone else, so why bother, while the new songs are mortal in a more immediate and thus less obviously charming way. The sadness that lingers outside Mazzy Star's delicate suspensions of time can only become more imminent as time goes on, I suppose, but they're sometimes still able to banish it and light on really lovely, easy moments. "In the Kingdom" puts them closer to the mood of Luna ("I like this time the most," plus only the slightest ambivalence) than I'd ever thought possible. But more typical of their current state is "Does Someone Have Your Baby Now?" with Roback's expressive slide guitar improvisations at the end of each line, and stark silence underneath.
But in favor of faultless continuity, these old and new songs merged with no sharp contrast into a single perfect evening. 1993's "Fade Into You" was slipped quietly into the middle of their set with a confidence that proclaimed it as just another fine cut from their catalog, not a burdensome and inescapable semi-hit. Still, its famousness matters, at least to me. Anyone who's loved music for just over 20 years begins to have an increasing number of "if I could've seen myself now, then" moments, and the vision of myself watching Mazzy Star play "Fade Into You" on a stage in 2013 is the only version of a future I would've understood in 1993, watching MTV in Montana, even as it would've filled me with a great deal of disbelief and envy. Time tracks an incomprehensibly short distance, sometimes. It helps that Mazzy Star remain a perfect visual match for the way they appeared in the mystery box where I used to see them, and that they still exist nowhere more specific than wherever they were broadcasting from, back then.
The other two '93 songs in their set were among its other major highlights, and opposite extremes, one a showcase for Sandoval, the other a showcase for the band, contrary to the way Sandoval and Roback equally share the space of most songs. On "Into Dust," Sandoval took over, to prove that "electric" pertains as much to the voice as it does to the guitar. Super-amplified is the only name for her vocal style here, and defines the huge weight of her notes in the air, as much as any aspect of technique. Later, "So Tonight That I Might See," an updated "Heroin," returned electric to its common usage. Sort of like the way the live version of "Heroin" on Lou Reed's Rock 'n' Roll Animal inserts guitar solos and fast drumming, real ecstasy, at the points where the original holds back and buries its energy, Mazzy Star's encore-ending "So Tonight" took the album version's feedback and free soloing as an entry into a full-on squall, sudden and more truly shocking, because unexpected, than anything from My Bloody Valentine's recent show. A somewhat displaced Sandoval said good night by the time the song hit its loud peak, and, knowing she wouldn't say it without meaning it, people began leaving the venue while the band continued playing delirious exit music.
Opening act Psychic Ills inaugurated a new venue for me, the place called Mill City Nights. It's a nice space, deep and cave-like, and appropriately it opened toward coolness and mystery, a Sacred Bones act, thus formidably historical, playing heavy grooves in a '60s key. To reinforce their weightless, archetypal nature, the band's rad bassist stood with feet planted and swayed from side to side while she played, and their bony keyboard player, another awesome caricature, played with head sunk well below his jutting shoulders. And the singer produced the most muffled notes that could still possibly be called distinct. His drawl articulated a worthwhile lineage, at least.
Mazzy Star:
Look On Down From The Bridge
Cry, Cry
In The Kingdom
Lay Myself Down
Ride It On
Does Someone Have Your Baby Now?
Into Dust
She Hangs Brightly
Halah
Fade Into You
Blue Flower
Disappear
Flying Low
California
So Tonight That I Might See