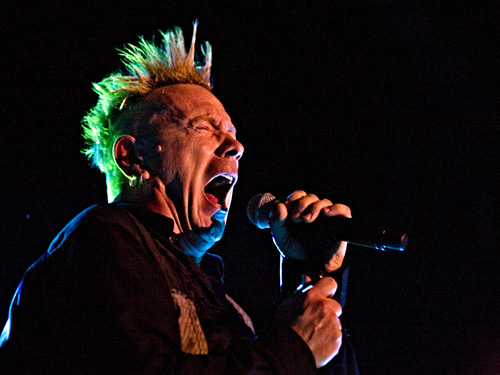 12 May 2010
Most bands are lucky to make a mark, even a slight one, in one area. JOHN LYDON made massive furrows in the musical landscape with two projects. Of course he gained the most notoriety as the fiery provocateur leading the SEX PISTOLS but he created a much richer artistic statement with his follow-on band, PUBLIC IMAGE LTD. In a marked change from the revved up pub rock origins of the Pistols, PiL created a new universe of electronics, dance beats and icy guitars, anchored by a heavy dub-influenced bass line.
This incarnation wouldn't include pivotal early members KEITH LEVENE or JAH WOBBLE but over the course the band's fourteen year/eight album span, there were nineteen people who were considered full-time band members (and not counting an additional twelve who pulled live duty) so it's a little disingenuous to assume that there was ever any sort of stability to the band other than Lydon. Not to say that Lydon just grabbed a few LA session guys; the alternately supple/pounding rhythm section of BRUCE SMITH and SCOTT FIRTH have been around for a few years, and ex-*DAMNED* guitar/saz (not a typo) player LU EDMONDS is on his second tour of duty.
The second of a two-night stand, the half-full house was noted by Lydon, alternately berating the venue for the lack of promotion, and then the physically lackluster crowd. "Did you come to just stare at me like some fucking perverts…? I rather like it." Had the two shows been combined to one, it would have added to the energy of the house, but the band was in fine form, carrying on like they were playing to a full Wembley. Starting out the show with a wallop of "This Is Not A Love Song," and quickly into two monstrous tracks off Metal Box, "Poptones" (which according to Levene, he nicked the circular guitar motif from "Starship Trooper" when he was a roadie with YES) and "Albatross."
A wide swath of PiL's discography was played with all but two records represented, and even Lydon's solo record (the ersatz title track "Psychopath" was introduced as a love song to a serial killer) and his collaboration with LEFTFIELD (a rousing disco romp of "Open Up" closed out the show) found their way into the set. Periodically taking long slugs of Hennessey as a gargle and spitting into a plastic trash can on stage, Lydon would mug, screech, pantomime and otherwise archly make his way into, through, and out of the songs. Lydon's voice is typified by his strident quaver, and he heavily accentuated this on "The Flowers of Romance" by grabbing the skin of his throat and rapidly moving it, a sound at odds with the bowed 12 string banjo notes of Lu.
The later metallic dance sheen era was wisely kept to the strongest material including the big late '80s hit "Disappointed" and a really strong reading of "Warrior" but the biggest surprise of the evening was the venomous "Bags," a vitriolic diatribe about the uselessness and massive toll that warfare inflicts.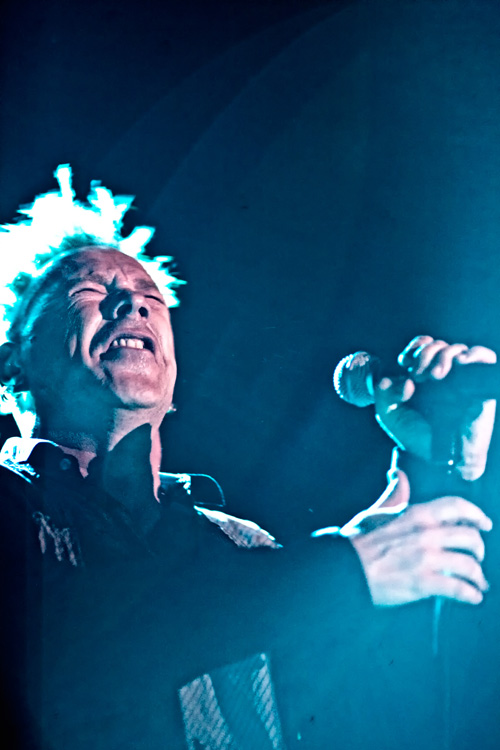 I know that Lydon endured a lot of stick over his decision to endorse Country Life butter in a televised advert, but he claimed that the sole reason for this was to garner the requisite capital to get PiL back on the road one last time, without the backing of a record label for assistance. Mission accomplished, and if he had to endure some verbal slings and arrows so that we could once again hear the rumbling bass line of "Public Image" from the stage, I have no problem concluding that he made the right decision. After all, there are two sides to every story.
As always, more photos can be found on my site