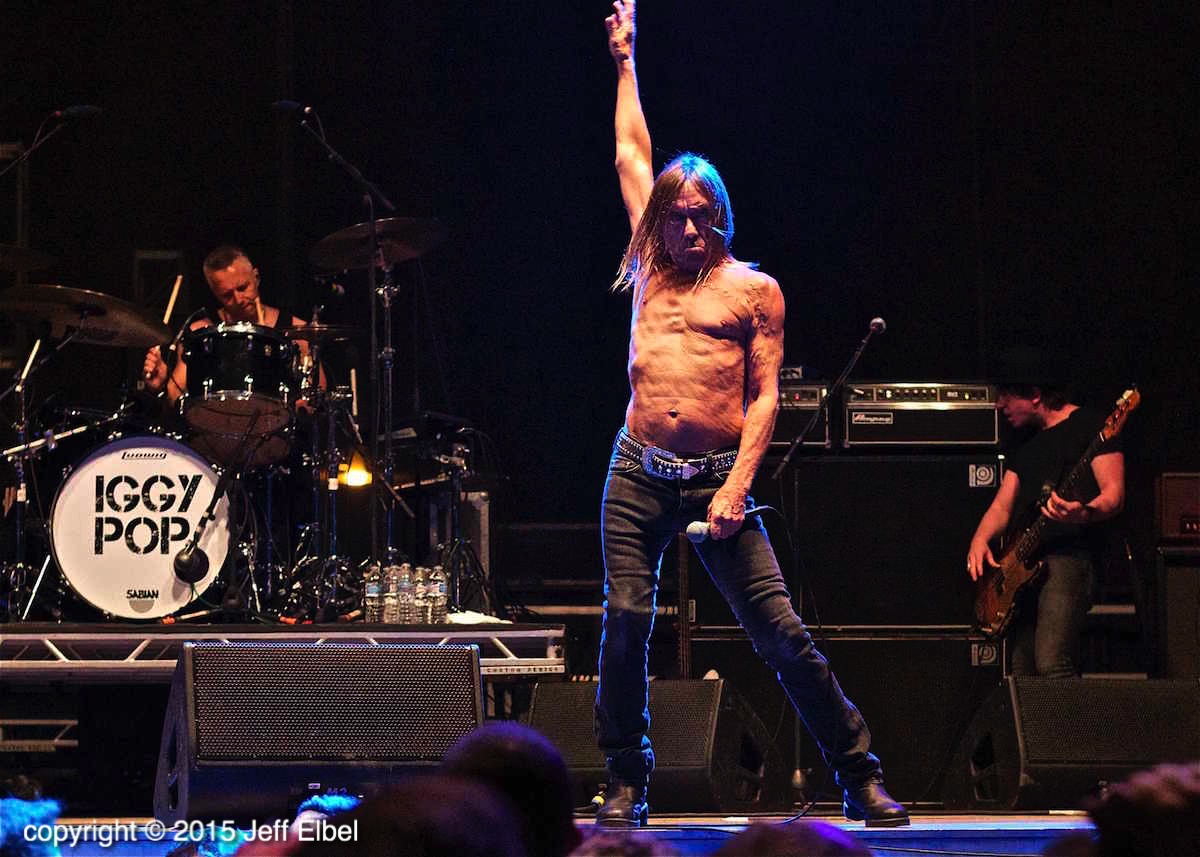 30 September 2015
Chicago is a great town for summer music festivals, and many have cited Riot Fest as 2015's best-curated multiple-day event here. Saturday's lineup made it tough to argue. The opportunity to see back-to-back sets by Echo & the Bunnymen, funk maestro Bootsy Collins' Rubber Band and country music legend Merle Haggard was too wonderfully eclectic to miss, crowned shortly afterward by a stage-shredding performance from Iggy Pop. Summaries of each of those sets and more appear below.
The day also featured shoegazer-friendly alt-rockers Swervedriver supporting their new album I Wasn't Born to Lose You, a magnificent set by The Damned in broad daylight, ferocious and glorious music from The Joy Formidable, and Chicago-based Celtic/bohemian punk heroes Flatfoot 56.
The festival had relocated to Douglas Park due to headline-making friction with Humboldt Park's alderman. The festival's commitment to investing in the Humboldt Park grounds and infrastructure wasn't sufficient to maintain good relations. In truth, the Douglas Park location was much easier to navigate between sets, and the only notable complaint with the new layout was the common festival problem of sound bleeding from one stage to another.
Considering that much of the grievance by Humboldt Park locals concerned damage to their grounds following heavy rain, Saturday morning's localized downpour in Douglas Park seemed like a spiteful gesture by the weather gods. Sure enough, the earth surrounding each main stage was an ankle-deep mud pit by early afternoon. This did nothing to faze most attendees, many of whom were equipped with knee-high Wellies. With any luck, Riot Fest's team has been able to perform corrective landscaping and will have a strong partnership with Douglas Park in the future.
The Damned



Singer Dave Vanian of The Damned made note of the weather's impact upon the churned Midwestern turf. "Has anyone else noticed it really smells of sh— 'round here?" he asked, cheekily. Guitarist Captain Sensible was resplendent in his sailor whites, while Vanian played the urban vampire under full sun, dressed in black leather, gloves, lipstick and powdered face. The band's playing was razor sharp, and its lean set featured favorites "Ignite," "Wait for the Blackout," and "Neat Neat Neat."
Sensible gave tribute to Arthur Lee before deftly tumbling into the intro for Love's "Alone Again Or." Sensible and Vanian sang the horn parts. Afterward, Sensible asked, "Can we dedicate that to Bryn Merrick?" He then announced that Merrick, The Damned's first bassist, had passed away that morning.
"Is she really going out with him?" Vanian asked, as drummer Pinch kicked off the pummeling "New Rose." The Damned finished with a furious "Smash It Up" from 1979's Machine Gun Etiquette. After executing a tricky behind-the-head solo, Sensible passed his sailor's hat in front of the crowd as he exited, playfully soliciting loose change.
The Thurston Moore Band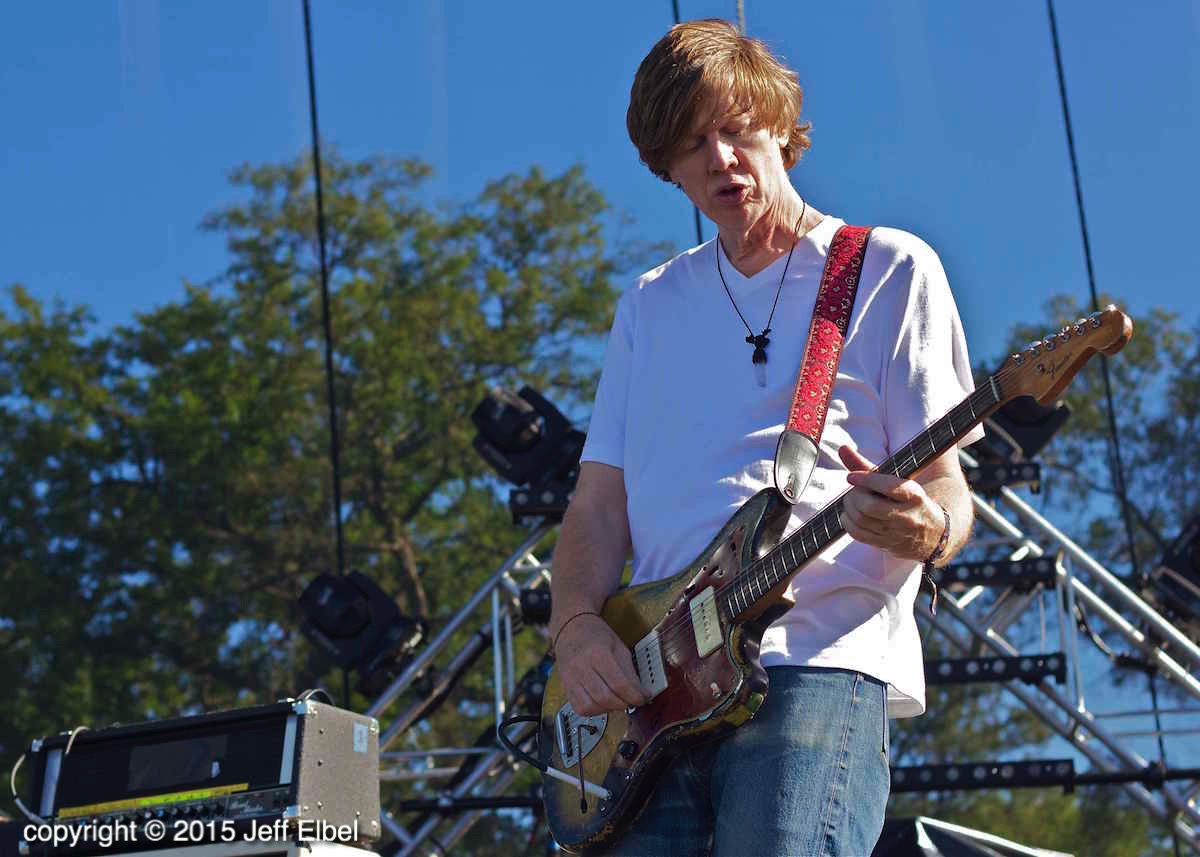 My Bloody Valentine bassist Debbie Googe squared off against Thurston Moore's former Sonic Youth bandmate and drummer Steve Shelley. The pair formed a solid rhythmic foundation for a set including songs from Moore's 2014 album The Best Day. "Forevermore" careened past ten minute of drone and glorious noise, punctuated by Moore's lyrics of intimate obsession.
"Speak to the Wild" featured the echoing clatter of Moore's and James Sedwards' twin guitars, rising to a caterwauling crescendo that dropped just as quickly to quiet, arid harmonics. The impact was a rollercoaster of intense emotions.
Moore announced "Turn On" from his forthcoming album Rock 'n' Roll Consciousness. The song featured rolling arpeggios like a classic Television track. Its slowly-building intro led to a more complicated chord progression than the single chord drone featured elsewhere during the set.
Moore played his battered hybrid Fender Stratocaster, while Sedwards thrashed his Fender Jaguar. The heavily distressed condition of the instruments and amplifiers on stage suggested they had seen a lot of mileage. As the set descended into pure cacophony, however, that battered gear didn't cry for mercy. It roared with life.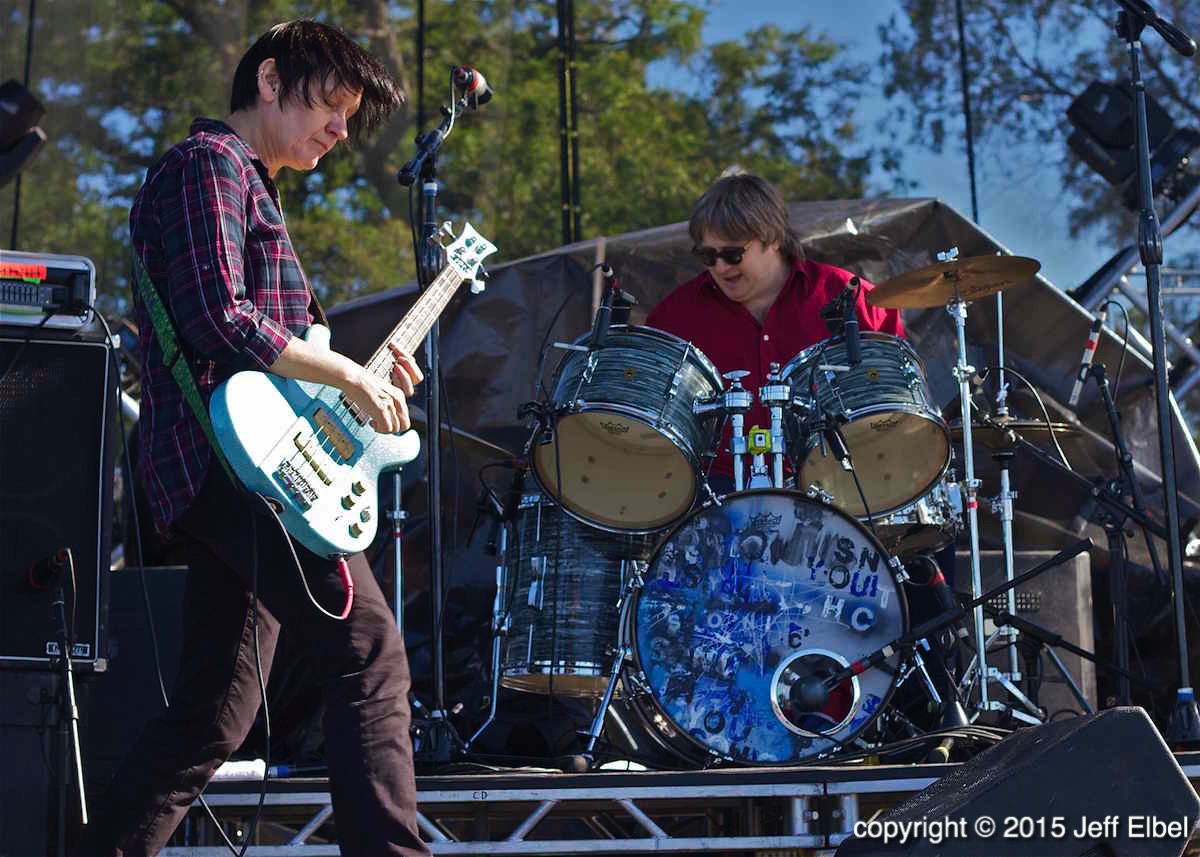 Echo & the Bunnymen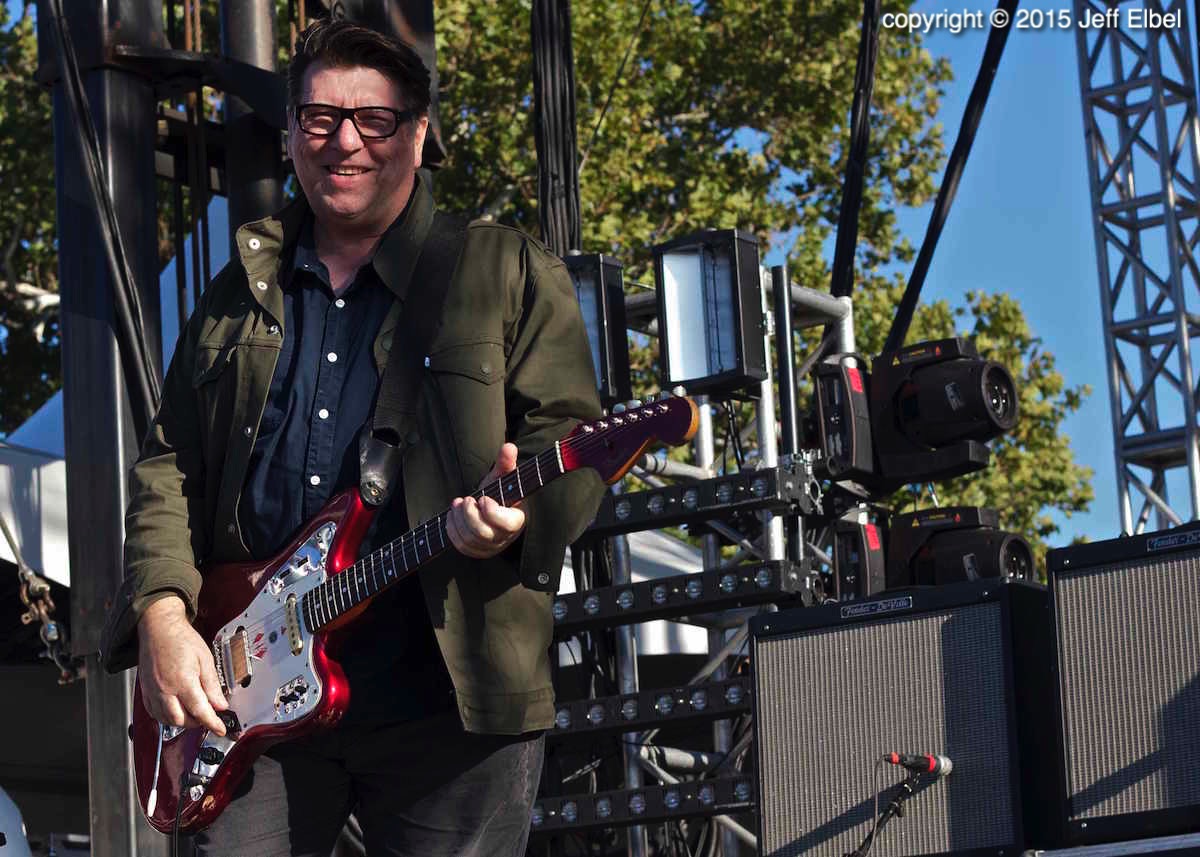 Will Sergeant experienced some technical trouble during Echo & the Bunnymen's opening number "Lips Like Sugar," but had finished wrestling with his gear and returned to action by the time the band launched into a lean and menacing version of "Do It Clean."
Ian McCulloch dedicated deep cut "Villiers Terrace" from 1980 debut Crocodiles to old local friend and Metro owner Joe Shanahan. The song gave room for McCulloch to stretch vocally as he stood shock still gripping his microphone stand with both fists. "It's just the blues I'm singing," he intoned as the song shifted into a cover of The Doors' "Roadhouse Blues."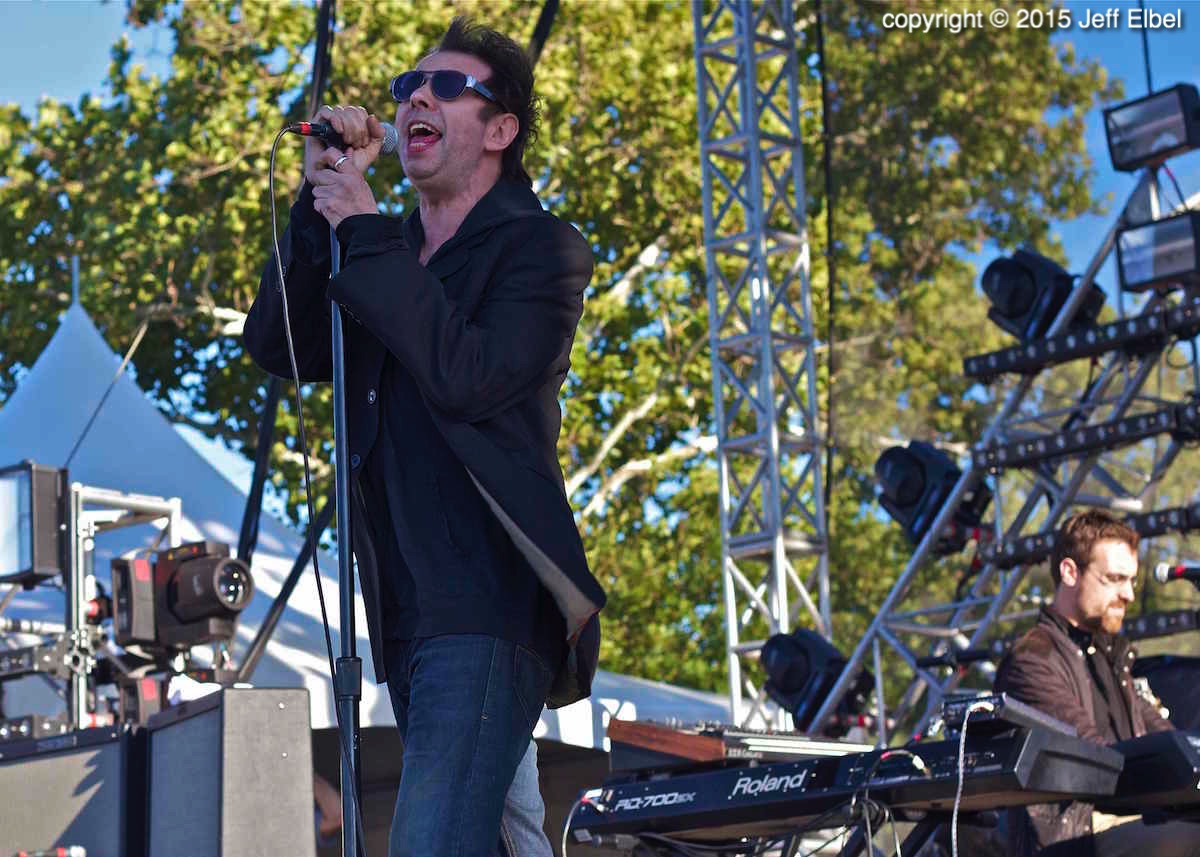 "I want it now," sang McCulloch. "Don't tell me that my ship is coming in." The song "Nothing Lasts Forever" brimmed with Sargeant's complex signature tone, ringing through his hypnotically repetitive guitar figures as the song morphed into the Velvet Underground classic "Walk on the Wild Side."
Mac the Mouth had arrived ready to stir the pot. "This is one of the songs that set us above all the shite that was going on in the shite years," he said. "Anyone on drugs is gonna love this," he added, introducing the moody psychedelic clatter of "Over the Wall."
But there was more. "This next song is the greatest song ever written," boasted McCulloch before Sergeant dug into the eastern textures of "The Killing Moon" on his 12-string teardrop-shaped Vox guitar. The band finished with the crash and bang of "The Cutter."


Bootsy Collins' Rubber Band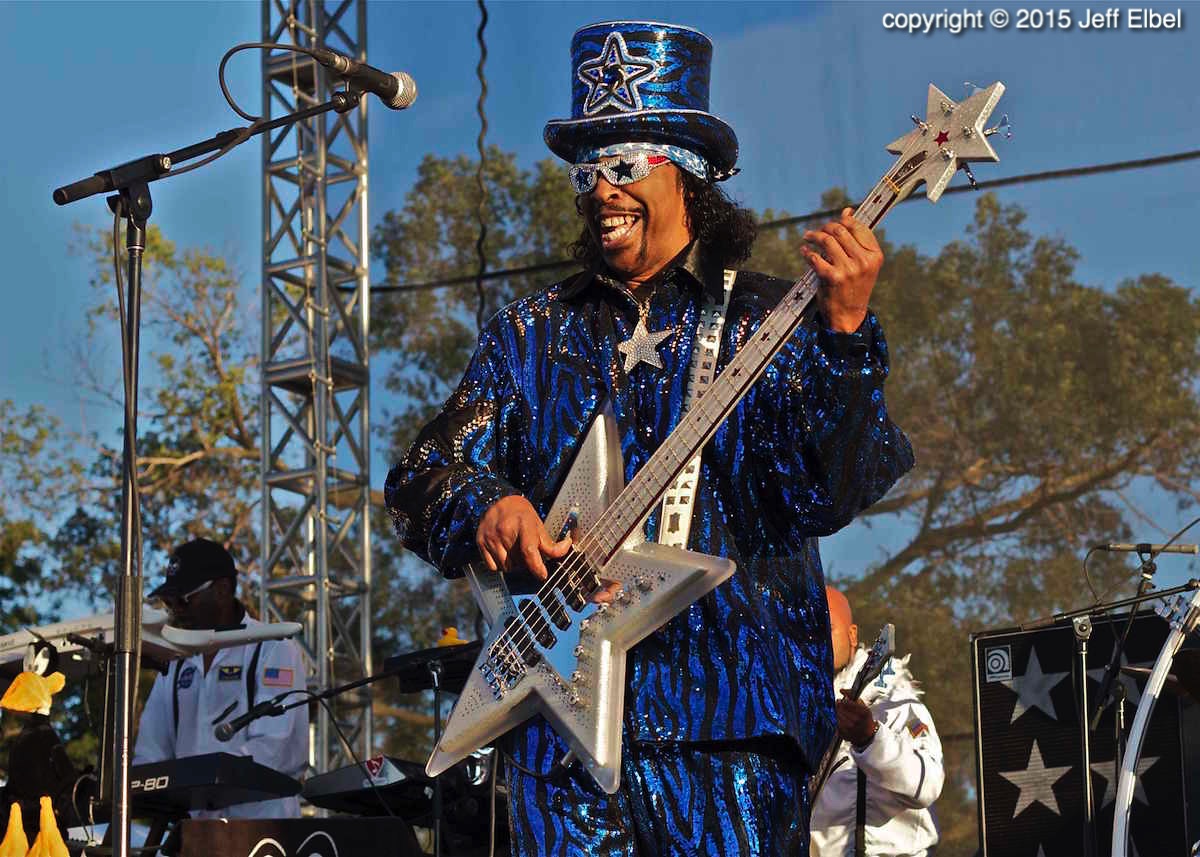 Bass wizard Bootsy Collins led an interactive set, coaxing the audience to join the fun at every turn. "It takes two to funk," he said. "So come on and funk with me." The set rolled along like one extended soulful strut, regularly stoked with good-natured bravado and a positive party vibe.
"Oh, ya'll don't know about the P-Funk," goaded Bootsy before leading the Rubber Band into Parliament classic "P. Funk (Wants to Get Funked Up)."
Collins' sprawling Rubber Band were decked in astronaut gear, while Collins sported a sparkling blue suit, white feather afro wig (later a spangled top hat) and star-shaped Space Bass on which he played sputtering wah-wah grooves and freaked out fuzz leads. It became apparent that his band represented intergalactic explorers that had visited a distant and eminently funky planet. They had brought Bootsy to earth as its extra-terrestrial ambassador of funk.
Merle Haggard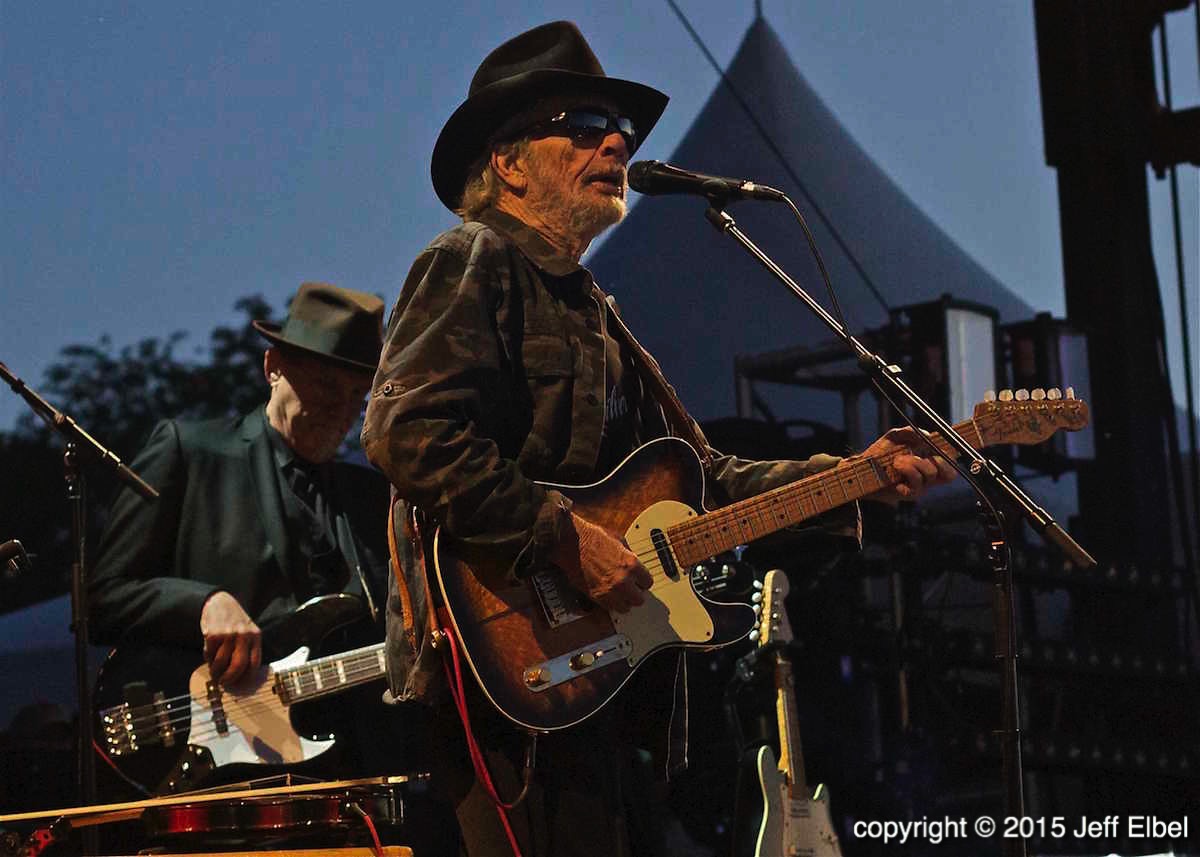 Among Riot Fest's most inspired bookings this year was Merle Haggard. Certainly, the country music legend brought fans of his own, but a sea of Riot Fest regulars including throngs of decked-out punks hung on his every note. It was a testament to the resilience and breadth of Chicago's punk rock faithful, and the notion that a great song is a great song, no matter the style.
Haggard performed Bakersfield country classics like 1966's "The Bottle Let Me Down" and 1968's "Mama Tried," a song based on the true tale of Haggard's wayward youth and prison time.
Haggard made dedications to "the ladies, soldiers, and hairy-legged working men" when introducing "Workin' Man Blues," a song which featured the spank and twang of a red-hot Telecaster solo by Haggard.
"We're gonna play you an old breakdown like maybe you haven't heard here in a while," said the 78-year-old Haggard with a wink, doffing his cowboy hat to reveal his white hair. The versatile musician then played a rowdy duet on the violin for "Fiddle Breakdown."
"This next song is about marijuana," teased Haggard, inciting wild cheers. "I didn't say I was gonna give you some," he said, adding the punchline. Haggard then concluded with a mass singalong of "Okie From Muskogee."
Iggy Pop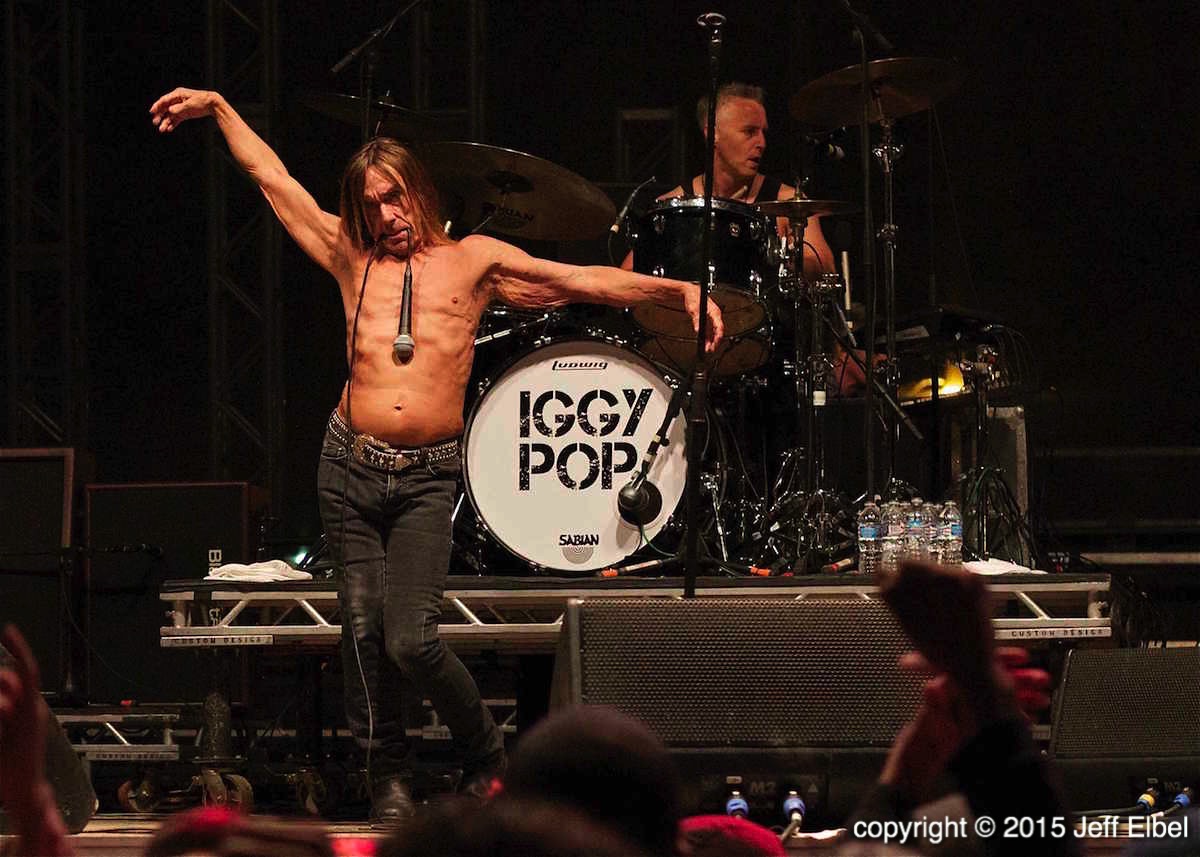 As memorable as the day had been, its crowning glory was the headlining set by reigning punk survivor James Osterberg, best known as Iggy Pop. The man simply gave it his all, burning ferociously for his entire set. "This means everything to me," he insisted. "There's not one other f—-ing thing." Pop spent his hour on stage proving the veracity of those eleven words.
Adamant about doing everything on his own terms, Pop's biggest hits were played first rather than saving them for last. A cathartic conclusion was unnecessary, since the entire hour was a raging explosion of energy. The Stooges' self-demeaning but insistent "I Wanna Be Your Dog" was followed by the mesmerizing "The Passenger." Next, Pop shadow-boxed and shimmied, twirled and kicked, winding up his band for "Lust for Life." Bassist Ben Ellis and drummer Mat Hector held the swinging beat like clockwork while pushing the energy to higher peaks, then shifted on a dime for the punishing grind of "Skull Ring."
"You wonder, is this it? Is this being alive? And then along comes one of those years," said Pop while introducing Stooges classic "1969." He spent the song howling, strutting, pounding his chest, gyrating, and heaving his microphone stand, pouring absolutely all of his energy onto the stage. His crack band knew when to step back to keep out of physical danger, but there was no escaping the most musically dangerous set of the day. It was graduate school for live performance, instructed by the bare-chested and leathery Professor Pop.
Highlights included the brooding decadence of "Nightclubbing" and the tense funk of "Sister Midnight," both from Pop's 1977 solo debut The Idiot. David Bowie's sonic influence was heard most strongly during "Some Weird Sin" from 1977's Lust for Life album.
"I know I'm supposed to calm down," Pop said. "I don't wanna calm down." Pop tore through half of "Real Wild Child" before nonchalantly dropping from the stage and wading into the roaring crowd.
Swervedriver
Aftershows on Sunday included full-length sets by The Damned at the Double Door and Swervedriver at Bottom Lounge. Swervedriver's set featured new favorites like "Autodidact" alongside vintage slices of melody and atonal squall like "For Seeking Heat" from 1993's Mezcal Head. The sonic jet swoon of "Rave Down" created a different experience under low light than it had in daylight the day before.
After weaving a tremulous solo into the metallic bite of "Mustang Ford," frontman Adam Franklin thanked the crowd "for staying out so f—-ing late on a school night." The band concluded with the enveloping bliss and beautiful density of "I Wonder" from I Wasn't Born to Lose You, drawing Chicago's wide-ranging Riot Fest weekend to a close.
comments powered by