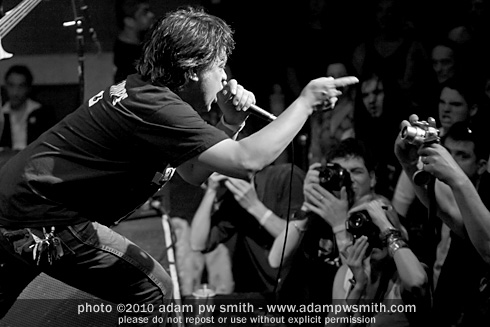 12 September 2010
A who's who of Vancouver punk rock luminaries past and present descended on the Rickshaw Theatre in Vancouver, BC, Canada for former Black Flag singer Ron Reyes's 50th birthday celebration on Saturday, July 24, 2010.
What was initially conceived as a low-key backyard affair quickly snowballed into a multi-band extravaganza at an 800-plus capacity venue, largely at the instigation of promoter, musician and free-lance facilitator Doug Smith. The Rickshaw opened its doors early as its interior was transformed into an ad-hoc gallery exhibiting works by Vancouver punk-associated artists including Mad Dog and Bev Davies. At dinner-time, immediately following soundcheck, the main hall was taken over by a "punk rock reunion" pot-luck social, including an elaborate birthday cake presented to Ron Reyes and his family.
Five bands had been squeezed onto the bill, so short sets and prompt start times were essential. At 8:30pm I, Braineater stormed the stage, led by irrepressible Vancouver artist and musician Jim Cummins. His musical appearances have been sparse recently, mostly consisting of a gothabilly-cum-cabaret act with minimal accompaniment. For this occasion, however, Jim assembled an astonishing all-star lineup of Duane Chaos (22nd Century) on guitar, Jon Card (Personality Crisis, SNFU, DOA, Subhumans) on drums, and Randy Rampage (DOA) on bass. The band blazed through the rockingest numbers from the Braineater canon, to the delight of the lucky early birds.
Next up was the aptly-named Little Guitar Army, an eight-diminutively-scaled-axe unit, plus two lead singers and a drummer. Their monstrous punky-hard-rock sound and tumultuously out-of-control live shows are quickly propelling them beyond the rank of mere novelty and will undoubtedly garner them international attention in the near future. Now if only they can survive that long…
The walls of the concrete box former movie theatre were now literally dripping with condensation as Modernettes frontman John Armstrong (formerly known as Buck Cherry) took his gang of new recruits onstage for one of their rare live appearances. The new lineup (they've just finished recording a new CD) includes drummer Doug Donut, guitarist Adam Sabla, and bassist Hayz Fisher. The highlight of their set was a show-stopping version of "Confidential" (from 1980's "Teen City" EP) that saw Armstrong joined on vocals by Nick Jones of the Pointed Sticks.
Anticipation built as the Ron Reyes Band got ready to take the stage. Hardly anyone knew what to expect from the newly assembled Reyes Experience, whose lineup included guitarist Kevin Rose (Butchers, Crash Bang Crunch Pop, Coal), guitarist Jon Doe (Rabid, the Scramblers), bassist Tony "Balony" Walker (Bludgeoned Pigs, Actionauts, Real McKenzies), and (fair disclosure!) yours truly on drums. The Reyes Band sprinkled their set with classic punk covers from Vancouver, California and beyond. Reyes kicked off the set by showing off his guitar skills on a romp through the Stooges' "I Wanna Be Your Dog." John Armstrong joined Ron for a version of the Modernettes' "Celebrity Crackup." Midway through the set, the band tore through a few Crash Bang Crunch Pop tunes (Reyes and Rose's late-eighties sub-glam punk-metal project), each one a minor heavy rock masterpiece, augmented by a bevy of female backing singers.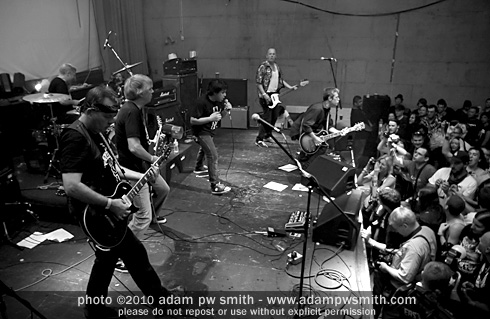 When the band launched into the first Black Flag song of the night, the walls seemed to shake with the audience's reaction. The crowd at the front was whipped into a frenzy, but it was about to get even crazier. After the second Black Flag tune, Ron introduced the "secret" special guest of the night, former Black Flag guitarist and sonic architect Greg Ginn, who had flown up from his hometown in Austin, TX just for Ron's show. First they teased (tested?) the audience with an original tune (hashed out over two rehearsals), a six-plus-minute excursion that recalled Ginn's more experimental post-Black Flag work. The punters' patience was rewarded, however, when Ginn and band quickly launched into "Revenge" and "Jealous Again." Greg departed to rapturous applause (many in the audience were aware of how rare it is to see Ginn performing Black Flag material) and the band finished off the set with the Damned's "New Rose" (featuring an impromptu appearance by Randy Rampage on vocals) and Joey Ramone's version of "What A Wonderful World."
Vancouver's hottest young guns The Jolts closed out the night in a blaze of machine-precision high-octane punk-and-roll. Old man Reyes showed he hadn't got everything out of his system yet, as he joined the lads for a spectacular version of Iggy & the Stooges' "Search and Destroy."
Ron Reyes Band setlist:
I Wanna Be Your Dog (Stooges) / One Track Mind (Heartbreakers) / Neutron Bomb (Weirdos) / Automan (Young Canadians) / Death Was Too Kind (Subhumans) / Celebrity Crackup (Modernettes) / Apologies (Pointed Sticks) / New Joe / Baby Driver / California (all 3 by Crash Bang Crunch Pop) / Gimme Gimme Gimme / Police Story (Black Flag) / Broken (Ginn-Reyes original) / Revenge / Jealous Again (Black Flag) / New Rose (the Damned) / What A Wonderful World (Joey Ramone version).