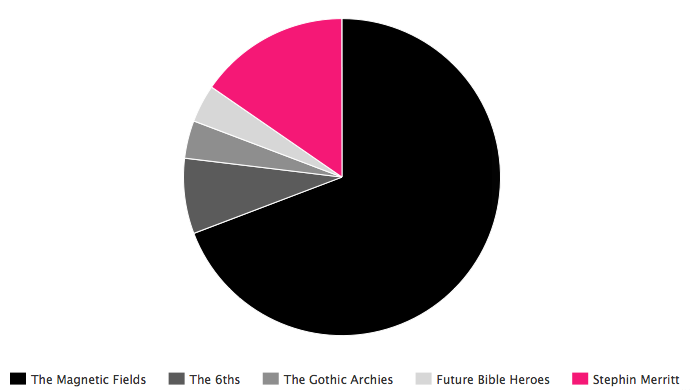 30 June 2015
Merritt's "A to Z" tour, during which he would play one song for each letter of the alphabet and nothing more, proved an effective way for a prolific songwriter to put together a workable setlist and stick to it. At first it might have seemed he was surrendering another creative act to a formula, but in fact a lot of work had gone into choosing songs that could be effectively rearranged for Merritt's ukulele and Sam Davol's cello. Here's how the setlist broke down among his various projects:
The Magnetic Fields (18)
—Distant Plastic Trees (2)
—69 Love Songs (9)
—i (1)
—Distortion (2)
—Love at the Bottom of the Sea (4)
The 6ths (2)
The Gothic Archies (1)
Future Bible Heroes (1)
Solo: showtunes and soundtrack work (4)
The entire mid-90s output of The Magnetic Fields, arguably his greatest era, was curiously omitted, and song selection tended to be odd, not obvious. It's always hard to tell if Merritt views his songs with anything but detachment or mildest affection, if he favors one song over any other, but the difference between his successes and failures is vast. Heard between "Love is Like a Bottle of Gin" and "The Nun's Litany," two songs that thoroughly develop their central ideas before ending with poignant sign-offs, the barren, unfunny rhymes of "My Husband's Pied-à-Terre" seemed especially uneventful.
So the show was hardly a greatest hits, and its charms were in the details: Davol's occasionally distorted cello approximating synth textures or Spector-ian wall of sound; Merritt's wry introduction of each song; his voice, hardened in that familiar lower range, straining beautifully upward as he took on songs formerly sung by women, from "Give Me Back My Dreams" (Sally Timms) to "Kiss Me Like You Mean It" (Shirley Simms) to "Reno Dakota" (Claudia Gonson) to, most significantly, "100,000 Fireflies" (Susan Anway). It was a pleasure to hear him sing his greatest song, at last.
Advance Base is Owen Ashworth a.k.a. Casiotone for the Painfully Alone, and I regretted not having given him more consideration before this night. He writes heartbreaking songs and performs them as a large body bent to small work, keying delicate, graceful melodies and singing with a marble-mouthed yet hyper-articulate voice. Randy Newman Sings "Benji" might come close to the candid beauty of his work. Most songs had a breaking point, a moment when they shifted from devastating narrative economy to a more uncensored approach, the social impulse irrepressible at last. The best one was about the only other girl from back home, told in a way that revealed the identity of the narrator one line at a time. The second best was about how you won't find Owen out looking for something he hasn't found, he has a family now.
Stephin Merritt:
Andrew in Drag
The Book of Love
A Chicken With Its Head Cut Off
The Dead Only Quickly
Epitaph for My Heart
Forever and a Day
Give Me Back My Dreams
100,000 Fireflies
I Wish I Had an Evil Twin
Josephine
Kiss Me Like You Mean It
Love is Like a Bottle of Gin
My Husband's Pied-à-Terre
The Nun's Litany
One Long Fairytale
A Pretty Girl is Like…
Quick!
Reno Dakota
Shipwrecked
This Little Ukulele
The Ugly Little Duck
Very Funny
The World is a Disco Ball
Xylophone Track
Your Girlfriend's Face
Zombie Boy