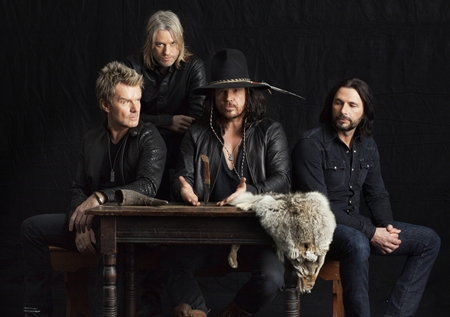 3 June 2012
A slow, tribal build preceding them, The Cult emerged from backstage. All were adorned in leather, with singer Ian Astbury donning a stretch of fur across his shoulders befitting the shamanic figure form the cover of their new album, Choice Of Weapon. Astbury's greatest weapon, his voice, would occasionally get lost a little at different points during the night. This sometimes happens at the Congress. Vocalists really have to power through. His best moments were when he really belted out anyway. Billy Duffy greeted us with the excellent lick from "Lil' Devil," and things were underway.
Energy in the building was kind of uneven in the early going, akin to the slow build the the band walked out to. It wasn't until maybe halfway through the set when Duffy began picking the ever familiar psychedelic phaser riff of "Fire Woman," that the crowd began to wake up. It was smooth sailing after that as they tore through new songs "For The Animals," and "The Wolf", the latter being the most dynamic use of dual guitars from Duffy and touring guitarist Mike Dimkich. The group really hit their stride during "Spiritwalker", from their debut album, Dreamtime. We were now fully in the trademark Cult swing. Not to let the audience catch their breath, they finished off their set with their zenith, "She Sells Sanctuary," from 1985's classic Love. Fewer musical things are more wonderful than Billy Duffy's open string riffs.
The encore can be summed up in just three words: Love. Removal. Machine., The Cult just brought the house down and bookended the show with another legendary track from 1987's Electric. The slow start was more than negated by the rails coming off at the end, in the best way possible.
Setlist:
Lil' Devil
Honey From A Knife
Rain
Lucifer
Nirvana
Embers
Fire Woman
The Wolf
Wild Flower
Phoenix
For The Animals
Spiritwalker
She Sells Sanctuary
Encore:
Horse Nation
Love Removal Machine