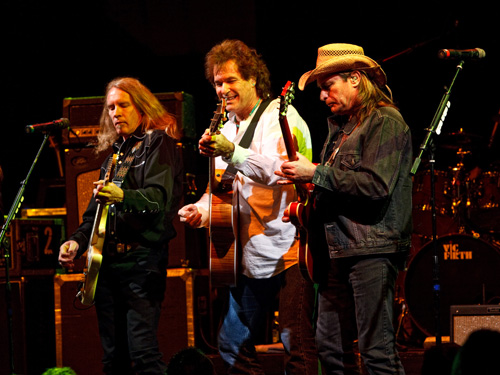 26 November 2009
PATTERSON HOOD of DRIVE-BY TRUCKERS shares at least one common experience with me, clearly depicted on 'Let There Be Rock.' "And I never saw Lynyrd Skynyrd but I sure saw Molly Hatchet," and that event for me marked my first concert experience, when I was in eighth grade and my older brother took me to see Hatchet open for THE OUTLAWS. As far as southern rock bands go, The Outlaws will forever be defined by their guitar workout epic, "Green Grass and High Tides." It's their "Stairway to Heaven," their "Whipping Post," their "Free Bird." Only the other bands also have a more than a handful of other songs which people recognize, and they aren't pigeonholed by a sole twenty minute fretboard frenzy. Which is too bad, since the band was able to put feet in both camps of fiery guitar rock and breezy southern rock moments, and wrote some pretty memorable songs in either mode.
Of the original recording members (the Outlaws were functioning almost eight years before their debut record was released in 1975), only HENRY PAUL and drummer MONTE YOHO are left; de facto leader HUGHIE THOMASSON died a couple of years ago (ironically, he was in the latter-day Skynyrd lineup), and Henry made a couple of genuine heartfelt comments about Hughie, including dedicating a new song ("The Flame," referring to his nickname) to him. Another new song kicked off the set; "Just Another Night" is exactly the kind of song that the band does so well, the twin dueling guitar lines and pecan pie-sweet vocal melody showing that band isn't just coasting on songs written three decades ago, but is a real entity, still making good music.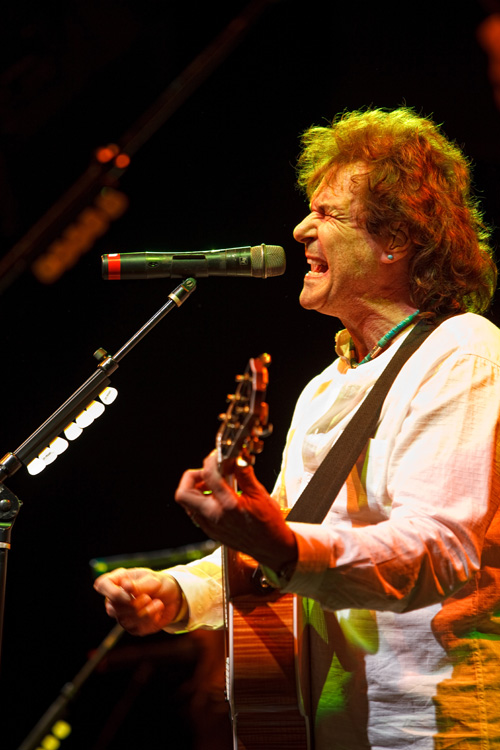 You can't have the self-proclaimed Florida Guitar Army without a bristling front line of six stringers, and replacing the late Thomasson and BILLY JONES was BILLY CRAIN (who also played with Henry in the Henry Paul Band) and CHRIS ANDERSON. They totally upheld the tradition of what this band is about, playing tighter than Daisy Duke's shorts and bringing real talent and style to straight forward rockers like "There Goes Another Love Song," the grass-in-the-teeth hoedown of "Waterhole," or the more intricate leads like the three breaks in "Gunsmoke," even bringing a distinctly Allmans-tinged flavor to the beginning of "Prisoner."
As you can tell so far, the songs chosen for the set list totally held up their side of the bargain, the band sounded great, and truly Henry's vocals helped cap it all off. I can't say that I was enough of a hardcore fan to know what songs Hughie normally sang and what Henry sang, but Henry's vocals sounded right at home no matter what particular song he was singing, full of clarity, range, power and emotion. You could tell he was having a great time on stage, and that easily translated to the full house assembled in front of him. I had no idea that southern rock still had such a dedicated fan base, but there they were, filling the nooks and crannies of Showcase Live, to see a southern rock band play its guts out.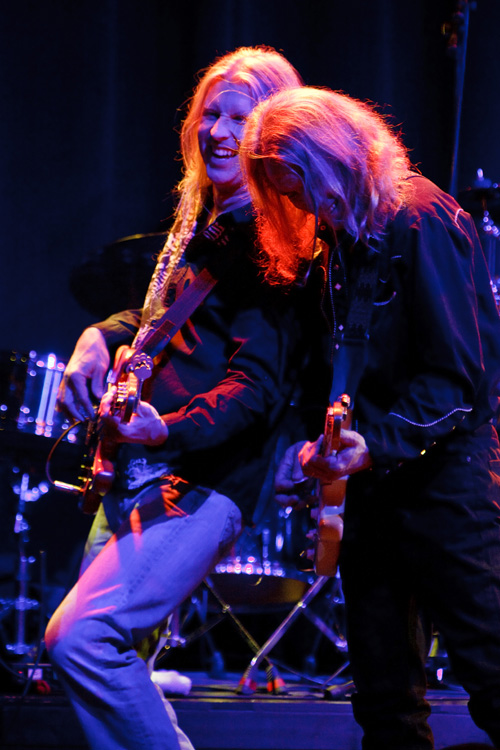 comments powered by