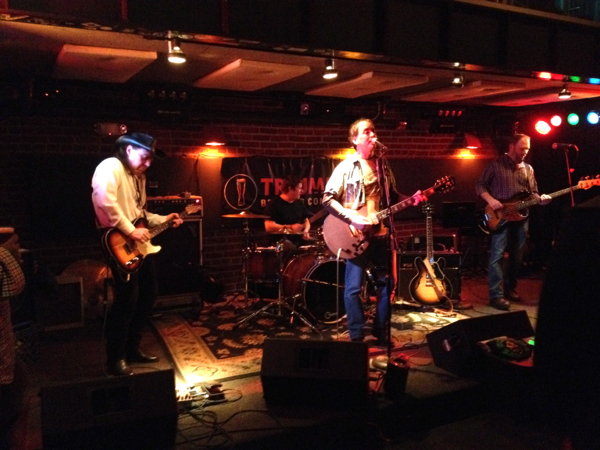 10 March 2015
Photos by Mark Suppanz
(Above: Pete Smith, Rob Martin, Mick Chorba, Ron Bechamps)
I wasn't expecting my first concert of 2015 (not counting Walter Lure and his Waldos' terrific New Year's Eve set at NYC's Bowery Electric, which started after midnight on 1/1), and the first truly great one at that, to take place in the bucolic Bucks County, PA borough of New Hope. But Chesterfield, NJ's Successful Failures made sure that my 65-mile slog south from Montclair was worth every globule of gasoline burned, by playing a blowout, 18-song opening set. Heck, this made their May 2012 supporting show for NJ's also-fab Bastards of Melody at Brooklyn's Rock Shop – one in which they played their then-new 2012 fourth LP Here I Am in its entirety – seem mild by comparison!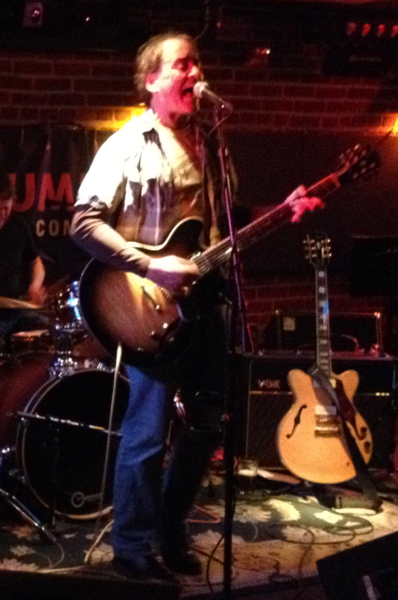 This time, they naturally focused on their fantastic new 2014 fifth album Captains of Industry, Captains of War, playing a handful of tunes from it, including the crunchy "Stagger Lee & Woodrow Wilson," the driving "John Henry," and the night's vivacious standout "Milwaukee." All of those, as well as their also-new Pine Hill EP's "Mike Malloy" – about an actual 1930s-era drunkard and a conspirators' plot to kill him to cash in on a life insurance policy taken out in his name – benefitted from high school English teacher and singer/guitarist frontman Mick Chorba's erudite, historical and literary-inspired lyrics, and sharply-dressed new Pine Hill, NJ second guitarist Pete Smith's sizzling, stinging leads (he replaced John Williams, who left to start a running store). Meanwhile, brawny bassist Ron Bechamps and sturdy stickman Rob Martin riveted their robust rhythms onto back catalog bashers like Here I Am's "Viking Heroes," 2010 Three Nights' "Armadillo Boy," and 2007 Ripe for the Burning's "All I Can Take."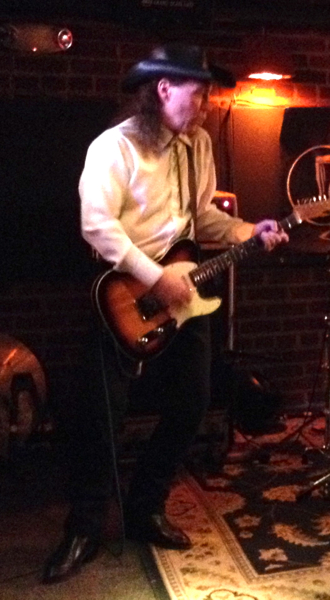 Finally, taking a page out of Bastards of Melody's playbook, the band peppered their set with six covers. In addition to their Pine Hill-included rendition of Old Crow Medicine Show's "Big Time in the Jungle" (from OCMS's self-titled 2004 LP, which hit #1 on the bluegrass album charts), the band plowed through alt-country outfit Uncle Tupelo's 1993 "Give Back the Key to My Heart," The Crickets' Sonny Curtis-penned 1960 "I Fought the Law" (also a 1966 #9 hit for The Bobby Fuller Four and recorded by The Clash in 1979), Creedence Clearwater Revival's 1971 #8 "Have You Ever Seen the Rain?" (sung by Bechamps), Hank Williams' classic, posthumously-released 1953 #1 C&W "Your Cheatin' Heart" (also a #29 for Ray Charles in 1962), and the crème-de-la-crème, a shattering set-closing shakedown of The Beatles' 1964 #1 "A Hard Day's Night." Holy mother lode, Batman!
Led by friendly, flaky frontman Brian E., Princeton, NJ power-poppers The Paper Jets were not to be upstaged by such support band spotlight-stealing. They kept the night's momentum going with their own hellacious headlining set, which at times threatened to topple the bulky beer-brewing vats perched above the stage in an enclosed room. And perhaps with a long night of imbibing Triumph's tempting and tasty brewskis beginning to take effect, some frenetic female Jets fans mobbed the microphones to mirthfully mangle the last couple of songs. On that note, your satiated scribe bid adieu and meandered back to Montclair… ✪
comments powered by