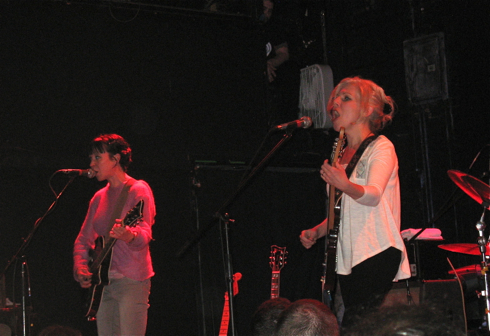 21 May 2014
The last time I saw this veteran trio was in August 2006, supported by singer Kristin Hersh's other trio 50 Foot Wave. While that show also took place at this venerable Lower East Side venue, and featured the same lineup, tonight's gig was much different. That '06 show came three years after their self-titled 2003 ninth LP, and with no album to support they played a more career-spanning set. By contrast, this show spotlighted their new 32-song tenth LP Purgatory/Paradise, with twelve of the night's first 13 songs coming from it (the lone non-Purgatory song was the intense "Mississippi Kite," from Hersh's 2010 solo album Crooked).
And while the band was blasting and propulsive eight years ago, tonight they fashioned a leaner and more grinding post-punk attack. In that regard, this felt more like Hersh's April 2007 solo show at Bowery Ballroom (without the McCarrick siblings' strings), the only one of her seven solo gigs I've seen backed by her Muses mates. Bassist Bernard Georges and drummer David Narcizo dug in hard on the groovy "Slippershell" and the tribal "Milan," while Hersh – with her trademark devilish gaze and ornery growl – sounded Linda Blair-possessed on the spooky "Lazy Eye."
This show also set itself apart by having Muses co-founder Donelly, who left in 1991 to play in The Breeders (later forming Belly and embarking on a solo career), join her half-sister Hersh on stage for the main set's final five numbers. Donelly's appearance evoked memories of my first two times seeing the band while she was still a member, in September 1989 opening for R.E.M. at Rutherford, NJ's Brendan Byrne Arena (now The Izod Center), and in February 1990 headlining Neptune, NJ's long-gone Green Parrott.
While it was nice hearing her do backing vocals on four of those five tunes – including The Real Ramona's clomping "Red Shoes" and Hunkpapa's shuffling "Devil's Roof" – we've become accustomed to hearing her sing her own songs. Thus, I was lulled most by her lilting lead on the mysterious "Green," the one tune she wrote from the Muses' 1986 (also self-titled) debut. Three more older Muses songs (sans Donelly) comprised the encore, with Limbo's gnarly "Shark" and a slowed-down yet slashing version of University's "Bright Yellow Gun" ending the evening with a bang.
Donelly opened the show with a lovely eight-song set that focused on her Belly and solo work. She was joined by her guitarist/percussionist husband Dean Fisher, cellist Sam Davol, and guitarist Russell Chudnofsky, while Breeders/Ed's Redeeming Qualities violinist Carrie Bradley joined for the set's one Muses number, The Real Ramona's "Honeychain." (Bradley was limited to backing vocals due to a finger injury, however.)
Like her October 2011 show at nearby Joe's Pub, Donelly's sweet and strapping voice impressed; she sounded spooky on Star's "Low Red Moon," comforting on This Hungry Life's "Littlewing," playful on King's "Red," and contemplative on her new Swan Song Bandcamp EP series' "Meteor Shower." And if that Swan Song title is any hint that Donelly's retirement from music is imminent, it's one more reason not to miss her when she comes around, Throwing Muses bill or otherwise.
comments powered by