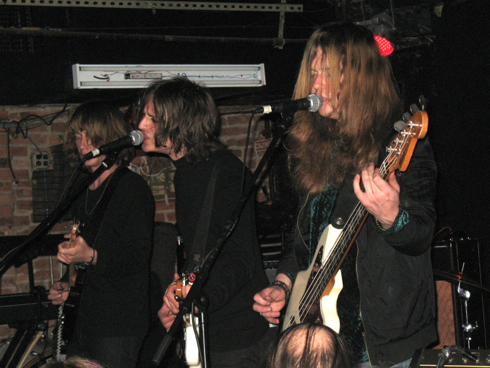 2 August 2014
I missed London's Toy when they played this superb-sounding tombstone store turned music venue back in January, so I was grateful to have this chance at redemption four months later. Both of their LPs, 2012's Toy and 2013's Join the Dots, are awash in elongated yet entrancing psychedelic, post-punk, and krautrock, so I was hepped up for what I hoped would be a hypnotic happening. Sure enough, all five of those albums' seven-minute-plus songs (plus a sixth, their 2012 non-LP single "Left Myself Behind") were trotted out on this night.
Guitarists Dominic O'Dair & Tom Dougall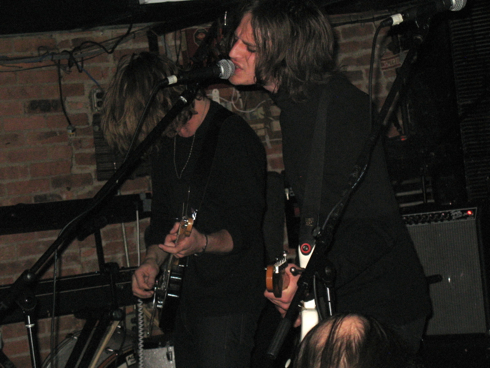 Bassist Maxim Barron

Keyboardist Alejandra Diez (hidden: drummer Charlie Salvidge)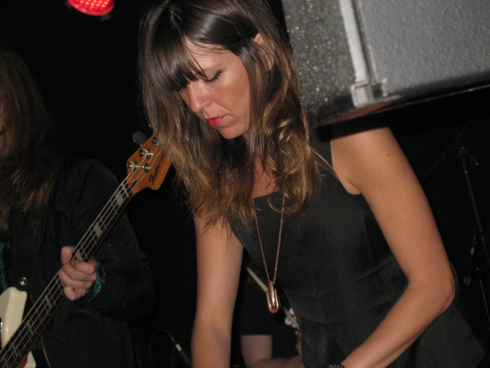 Four of the five band members lined up along the stage's front edge like a full court press, all intently and intensely bashing away on their instruments in unison. As expected, it was easy to lose oneself in a head-bobbing haze, so absorbing were first album stormers like the spacey opener "Conductor," the motorik-inspired "Dead & Gone," and the kinetic "Kopter." And the aforementioned "Left Myself Behind" benefitted from Alejandra Diez's spooky, swirling keyboards, as did the buzzing dark psych of Join's "Fall Out of Love," which culminated with a slow-building, driving coda.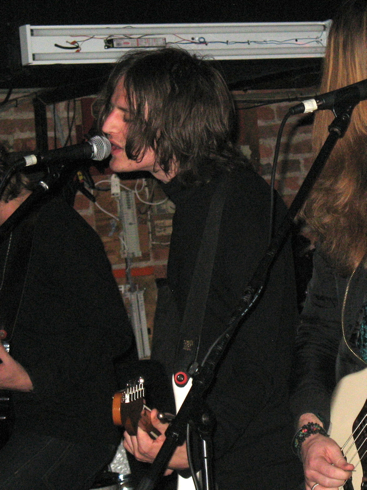 But it was two of the eight tunes from that second LP that impressed most. The catchy "Endlessly" was the set's killer, powered by the potent rhythmic crunch of bassist Maxim Barron and drummer Charlie Salvidge. Meanwhile, the monstrous, engulfing closer "Join the Dots" had me plastered to the back wall, as black-clad, tousle-haired guitarists Tom Dougall and Dominic O'Dair navigated with shrieking, dueling guitar squalls.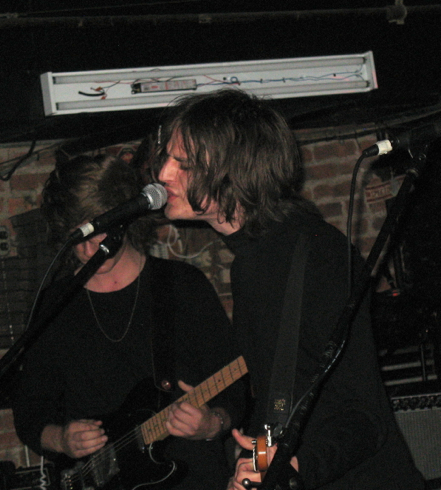 To continue the night's theme of commonly worded band names that are hard to search for on Google, NYC's Heaven opened the show. I'd seen them twice before, on choice support slots in 2012 for Swervedriver and Adam Franklin & The Bolts of Melody. (At each of those gigs, Heaven's walloping drummer Mikey Jones also beat the skins for the headliners; as well, their singer Matt Sumrow played second guitar for The Bolts of Melody.)
Heaven

Barely visible through dim, pink and blue fluorescent stage lights, the group plowed through an eight-song set of darkly enticing, Jesus & Mary Chain-esque numbers from their 2013 debut Telepathic Love (the plodding, potent "Colors in the Whites of Your Eyes" was a highlight), a few presumably new songs, and an excellent cover of The Kinks' 1965 UK #10 "See My Friends." In all, this double bill was an ideal way to bliss out on a Tuesday night in Manhattan!
comments powered by