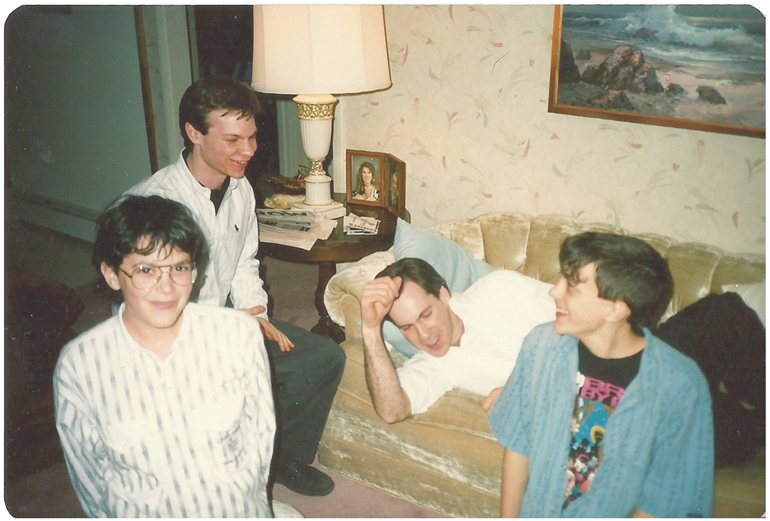 19 April 2016
Friday April 19th, 1991. Twenty-five years ago today. L to R: Steven, Jeff, Larry and 14 year-old me watching Parker Lewis Can't Lose before going into the city.
Pt. 1 – A Night In Historic Greenwich Village Revisited
Somehow, Steven and I had convinced my stepbrother Larry to take us to this comedy benefit show for WBAI 99.5 at PS41, a school in Greenwich Village. Then on the way home we got sushi and went to CBGB's. I remember all of this because Steven wrote about it in his zine in May 1991 and then when Lynn Samuels died a few years ago he posted the article on his Facebook and it was awesome to read it and remember that night. According to Wikipedia, Samuels later became the call screener for Matt Drudge. But yeah, this is what we did for fun at fourteen years old: torment radio personalities.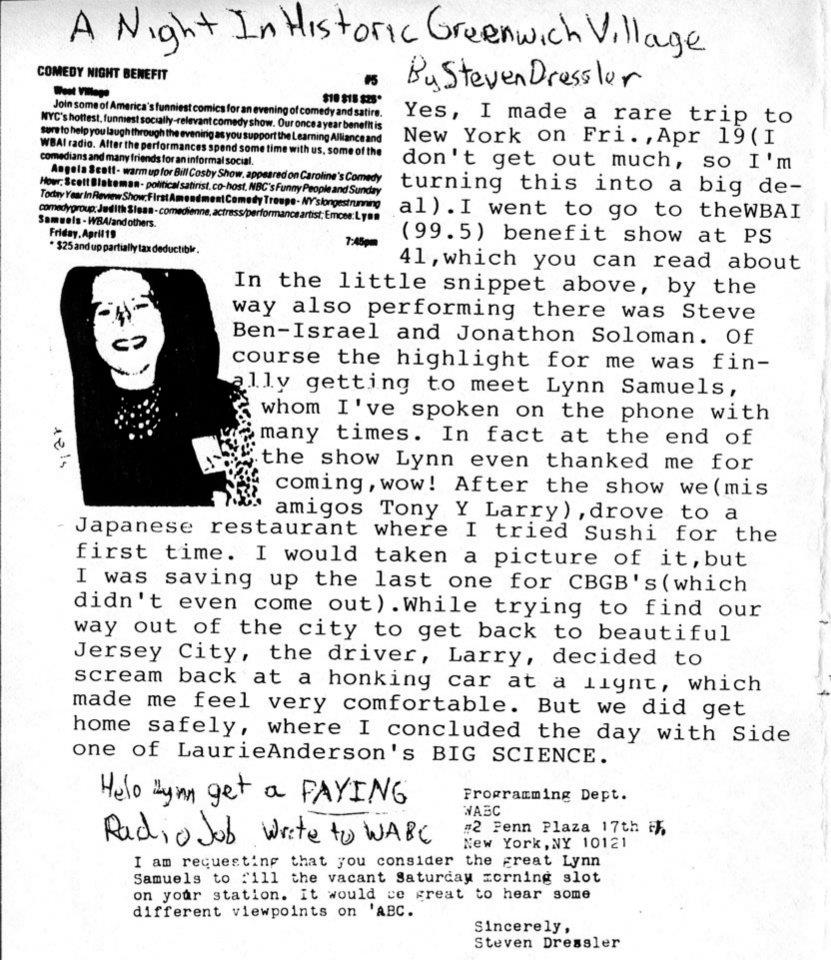 Steven's article about our NYC adventure from the pages of Trash Fanzine



I was only 14 years old, so CBGB was pretty exciting. I'd heard plenty of stories about CB's by that time and really had no idea what to expect. Sadly I don't have any blood and guts stories from CBGB's. Even when I went there in the late 1990s there was nothing much in the way of violence or danger. While we were walking down the bowery and coming up to the club, I simply assumed I would be stabbed in the throat while hunkered down in some puke filled bathroom stall and went from there. Luckily for everyone, nothing happened and nobody got hit in the face with a bottle or a chain, so we were now survivors: Survivors of both freshman year and the bathroom at CBGB's.
I don't remember much about that night but I do remember bits and pieces. I can't even remember what bands were playing, but it doesn't matter. We weren't there to see bands; we were there to witness a spectacle. Earlier that spring my stepbrother had taken me to the Knitting Factory and honestly it made more of an impression on me than CB's. But I digress. It was fun getting to check it out and hear how loud the PA was and how many drunk weirdo's were hanging out there. In photos, CBGB's looked like the Mos Eisley Cantina brought to life. It seemed otherworldly in terms of its grime and it's infamous reputation spoke for itself. It took going there to understand it.

WPST Broadcast in 1991. Dat reverb tho. Why?



Pt. 2 – My first time on the radio
In fall 1990, Steven and I had talked our way onto WTSR, which was the radio station for Trenton State College. We befriended a radio host named Tom and we established a kind of repertoire with him. Eventually he invited us into his studio on we were guests on his show one Friday evening. But before that breakthrough experience as a welcome guest on-air, I had gotten on the air by calling into a radio show when I was a young teenager. My first time on the radio was sometime during summer 1988 on WPST radio in Princeton New Jersey.
I was in junior high and I was obsessed with radio. At the risk of sounding like some 90 year old, the radio was everything to me in my early teenage years. I had a real stereo receiver and had installed my own sound system in my room, comprised of four different silver speakers from the 70s. I learned how to install my own circuit breaker inside the chassis of the receiver by taking it apart and eventually figured out how to replace the fuses, which seemed to go out once a month.
WPST had a morning show that I always listened to. You know the kind. They are all practically the same: bad sound effects and fart jokes, that kind of thing. One morning they announced a giveaway contest and I quickly decided to enter. The trivia was too easy. They played a snippet of "Surrender" by Cheap Trick and a voiceover took over the song.
"First caller to correctly name every member of Cheap Trick" gets their new LP Lap of Luxury and is entered to win tickets to their upcoming concert at Madison Square Garden" the radio DJ shouted.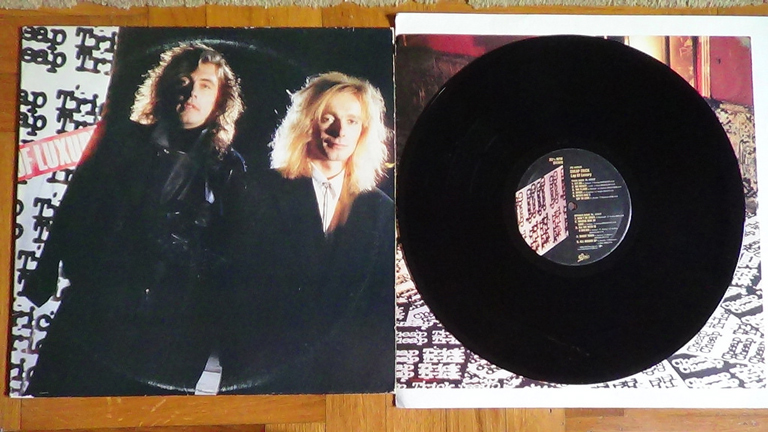 Lap Of Luxury by Cheap Trick, an underwhelming record if there ever was one



The show was Cheap Trick and Robert Plant. And the show was the day after my birthday. Needless to say I was psyched and I didn't want to let this opportunity pass me by.
I didn't really like the music on WPST. It was a lot of pop nonsense like Expose and The Escape Club and they seemed to play "Red Red Wine" by UB40 at least eight times a day. But WPST was the most lively and youth-oriented of all of the local radio stations; therefore it was default station for both my alarm clock and my morning routine.
The contest on this particular day was easy. Perhaps too easy. I knew every member of Cheap Trick. That's how cool I was in junior high school: I could identify Bun E. Carlos in a police lineup. So I walked the 15 steps down into my kitchen and picked up our telephone. The cord for our telephone had been stretched out to its maximum capacity. It was so long and haggard that I was able to pick it up in the kitchen and carry it with me all the way back to my room upstairs. It was a common occurrence in our house to duck under stretched out telephone cords.
So I took the telephone with the stretched out cord and headed back upstairs and called the phone number for the station by memory. An operator picked up at the other end immediately. I was shocked that it only rang once or twice. The operator was a hurried old guy; I could tell by his voice that he wasn't in the mood for games. But I was.
"97 point 5 WPST!" The voice on the other end said when I called.
"Awesome." I said as I rattled off all the name all of the band members. "Robin Zander, Tom Petersson and uh…Rick Neilsen and Bun E. Carlos." I said.
The radio station employee was impressed and told me I won. I could hardly believe it. I had never won anything and here I was, winning.
"OK Anthony, well I'm the call screener, my name is Samuel. We're gonna put you live on the air in just a sec, ok?" The man said.
"Sure." I said. "Uh…no problem."
"While we're waiting let me get your name and number." The man said, shuffling some papers that rustled over the phone. I told him my name and address and heard him jot down the information with a scratchy pencil.
"And your age sir?" The man asked.
"13" I said.
"Wait. Hang on. You're only 13?" He asked.
"Yeah. So what?" I said quickly.
"So you can't win the contest if you're 13." Samuel said.
"Why? I can't win the contest?" I asked.
"Why don't you put your parents on the phone." Samuel said.
"Wait…wait – why can't I win the contest?" I asked.
"Because of legal reasons. Didn't you hear our disclaimer? You can only enter the station contests if you are over 18. Now put your mother and father on the phone or else I'm hanging up." This guy was getting angry. It was only 6:30 in the morning, way too early to be that kind of angry.
"OK." I said. "OK."
So I had to put my mom on the phone, who verified my age and then later that week drove me up to their station in Princeton to pick up my record. I walked into their office, which was decorated with lots of leather chairs, fake plants and gold records. I couldn't wait to meet the DJ's in person and was curious to see if they would change their attitude or their intonation when they went off the air. But they never came out of their booths.
When I got there, a silent secretary handed me my shrink-wrapped prize and hardly said a word. I asked if I could meet the DJ's or see the studio, but she said they were too busy. They didn't have time in their schedule to meet with me.
Standing there in the lobby of WPST, I opened the record in front of the secretary as she rolled her eyes; the pristine black vinyl spilled out into my hands. They quickly rushed me out of their sight and told me not to call again, citing more of their fabulous internal rules. That record by Cheap Trick had their AOR pop hit, "The Flame" on it, which is still in the running for most watery 80s ballad ever conceived. However I was proud that I upset their system (even just for five minutes) and that I challenged their notions of who their audience was. That was enough for me. I had won. I had proved myself right: the people on the radio possessed no inhuman talent or discernible magic. The people who got paid to talk about music were just average people like the rest of us. Maybe they were better looking with better haircuts and better cars. Maybe.