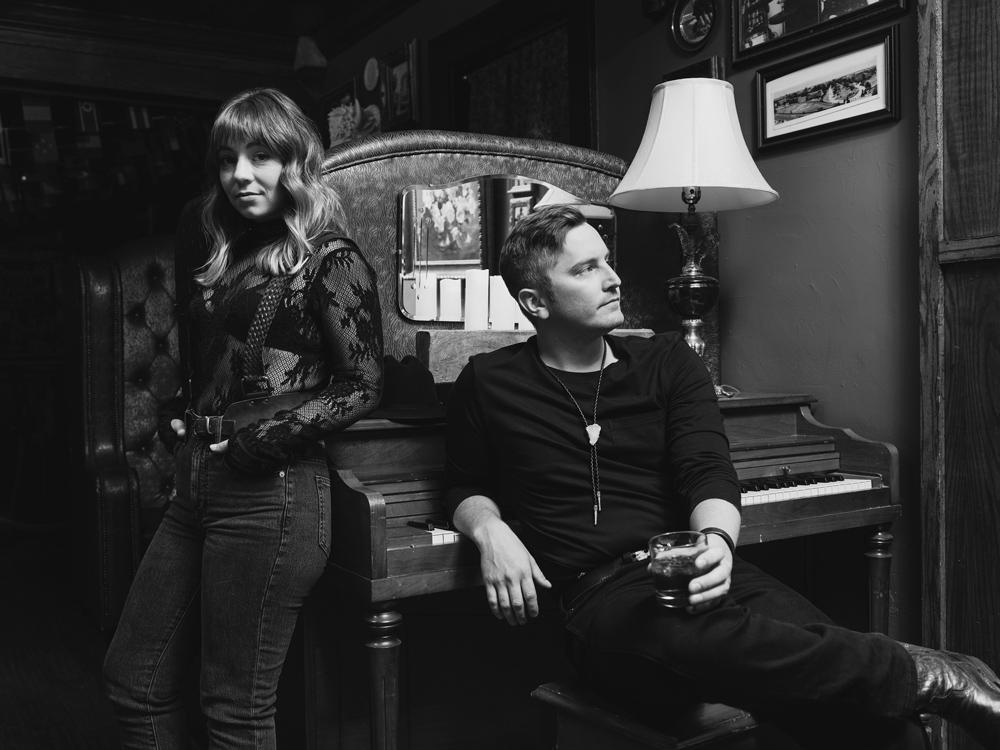 7 March 2022
Can we start with a little bit of background. How did Wood Willow come to be and what was the music path that brought you together?
Becca: Joel (Parks) and I met in the Fall of 2018 at Oklahoma's International Bluegrass Festival, one of our favorites. Shortly after meeting, we were playing music together all the time. One day Joel called me up and told me he had a dream about seeing a lady band t-shirt on and on the front, it said "Wood", and on the back, it said "Willow". He asked what I thought about that being our band name and I loved it. Almost immediately we made all the social media pages and got a gig as Wood Willow at a local bar, Saint's, and never looked back.
The first single from the album, Southern Intentions, "So Much Runnin'" seems to capture both folk traditions and a modern sound, is this a conscious choice or just the way things come out
Joel: I think our goal has always been to blend traditional and modern sounds. We both grew up playing bluegrass music, which definitely brims with tradition. We also have our individual tastes being young adults in this world. I wouldn't say that was necessarily the intention with this song but it's something that sort of happens in all of our writing in one way or another.
And with this first single acting as a taste of what's to come, what can we expect from the full-length record? More of the same or is this just one of many musical areas to be explored?
Becca: One of the things I am most proud of with the full album is that no two songs sound alike. Sure, we use the same instruments on most of them (with some piano thrown in here and there), but every song has its own distinct sound. I think that's a skill we have, pulling inspiration from different genres depending on what we think the song needs, and that's why no two sound alike.
Are there any overriding themes or messages running through the music, anything that you are trying to discuss or draw attention to?
Joel: As most people will probably be able to pick up on, our songs cover a lot of ground lyrically and sonically. To be honest, there isn't really an overarching theme, but each song has its own message, whether it's love and heartbreak, loss, or realizing the grass isn't always greener.
I saw you described as "Gillian Welch and the White Stripes had a baby," which sounds like a perfect handle for your music but what other influences, musical and otherwise help you create your sound?
Becca: The list of influential artists in our lives is endless. People like Tom Waits and John Prine are songwriters that we look up to. Regina Spektor is a big vocal influence for me. Joel knows a million artists across all genres and is able to pull inspiration from the best parts of them, one of his favorites being Frank Zappa.
I take it that this is an album that was recorded surrounded by issues of lockdown and enforced isolation, how hard did that make things and what were some of the silver linings?
Joel: The process wasn't really affected by the pandemic, fortunately. Wes Sharon at 115 Recording made it super easy on us in every way. The main issues have been on the back end. Things like ordering merch/cds/vinyls have taken quite a bit longer because everything was so backed up. The best silver lining about recording during the pandemic was all of the unrestricted time we suddenly had available to complete the project.
And where next for Wood Willow both as a band and maybe as individuals too?
Becca: As a band, we plan on going on short tours in the summer months and playing bigger shows and festivals all over Oklahoma and surrounding states. We won't limit ourselves though and would love to take our music internationally. We don't really have any musical plans as individuals other than always perfecting our craft as musicians in songwriters. We do have plans in the works to start our own businesses. Joel makes leather goods and I make rings and necklaces out of copper and silver. You can check out our work at woodwillowmusic.com/goods
website
twitter
facebook
Instagram