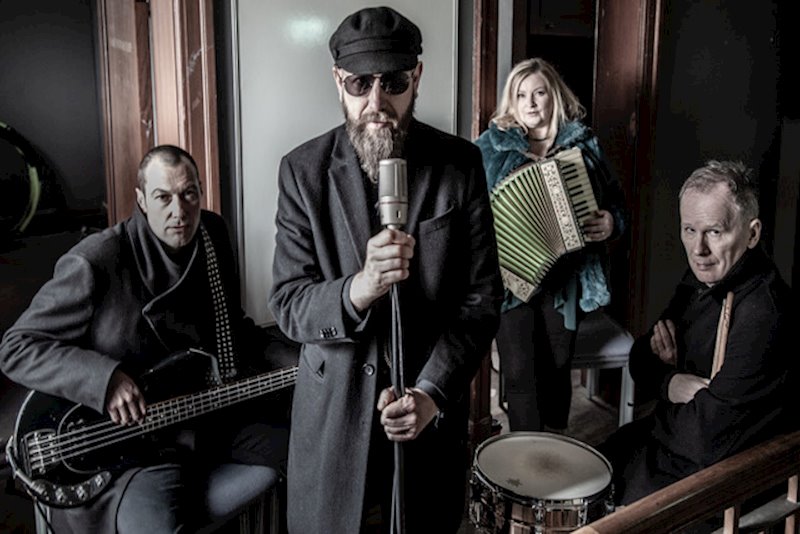 28 November 2019
With the unexpected re-issue of Goodbye Mr. Mackenzie's debut album to mark it's thirtieth anniversary and the band reconvening for a run of live shows, it seemed the perfect time to sit down with frontman Martin Metcalfe to find out just how the world has turned for them in the three decades between then and now.
And thirty years may have passed in the blink of an eye, and the world may have changed in many ways, but Good Deeds and Dirty Rags still proves to be surprisingly relevant, dealing with issues such as how the media peddle their wares, the rise of the Christian Right in the USA, and even addressing ideas that we would now call fake news.
Whilst they may have been somewhat overlooked by pop-pickers seeking more obvious and more easily accessible music at the time, some of their tracks, "The Rattler" and their namesake song "Goodbye Mr. Mackenzie," did have the ability to be massive. However, in keeping with the hand of fate's poor cards, even these never seemed to have received the traction that they deserved. Perhaps this time around, the Gods of Music might address that situation.
The reissue of Good Deeds and Dirty Rags and the news that you would be touring seemed to come out of the blue. Did you ever think that that you would find yourself leading GMM through these songs live again?
MARTIN METCALFE :The simple answer is no. It never crossed our mind that the old band could do it. Rona (Scobie) had moved into computer programming and into a good family life, I only ever bumped into her in the park when she was out with the kids & was walking the dog. Big John (Duncan) lives in Amsterdam and although I'd stayed in touch through social media there wasn't any chance of him playing (I thought) because he has MS and told me he couldn't play guitar any more.
Given that everyone has done so much post-GMM, and particularly thinking of John's health issues, how hard was it to get the band back up and running?
MARTIN METCALFE : Yes, John had said he couldn't play guitar 'as we knew it'. I imagined him drifting off into some kind of ambient guitar effected nirvana, avoiding the old way of playing because of his affected left hand. But he rose to the occasion, after many false starts and stops he eventually said he could do it. We were all blown away that he'd recovered so well. It was something of a miracle.
This wasn't the only hurdle. The next one was to persuade Rona to join in. She was really nervous as she hadn't played for well over 20 years. Once she said yes then there was the issue of creating all the Mackenzie's sounds. The old keyboard had been lying in a cupboard for years and was barely functional THEN there was the issue that Shirley (Manson) had played plenty keyboards live and obviously Rona hadn't grown and extra pair of arms in the interim. These were issues all amazingly handled by Rona and her husband Stuart who has been a major help over the last few months.
Was it a process which came easy once you were in the rehearsal room?
MARTIN METCALFE : Well, it felt pretty natural but I think everyone we got on board did their homework. We have an extra guitarist to cover some of the parts that John can't manage but Jim Brady (ex-Rezillos) is a really old and good friend of John's so that was a natural situation. Our backing vocalist Marie Claire was a friend already too, so yes the new members are working well and the old members fit like an old pair of slippers!
Are you disappointed that Shirley didn't complete the line up this time around or was that never on the cards?
MARTIN METCALFE : It was always highly unlikely but of course it was disappointing that she couldn't manage. Our band was a dysfunctional mess at the end of its original life so it would have been nice to get together on a happier note.
One of the big problems would have been that Shirley is absolutely not a backing vocalist any more so it would have been weird for her fans to see her in that role. I thought we could have included some Angelfish songs in the set (Angelfish was a side project where Shirley Manson sang lead vocals and was the springboard to her career in Garbage) but that's a bit odd too. Shirley and I did a few duets in our time so that would have been an option. We could have worked something out I'm sure but she's still touring with Garbage so it's really not a likely thing to happen.
On Good Deeds and Dirty Rags you covered many themes which are still at the heart of political debate today, the media, the far-right…how do you feel that your songs are just as relevant in those terms as they were thirty years ago?
MARTIN METCALFE : We looked at the psychology behind politics more. More like states of mind so in those terms the lyrical content can never be dated. It's not really got a place in history, unlike the Clash who sang about The Spanish Civil War, The Sandinistas, The World Wars, etc. Sometimes those songs were about the goings on in a solitary person's mind so those thought processes are still pretty much what they were 30 years ago.
"Good Deeds" in particular is seeing inside the mind of a psychopath who could be compared to Joaquin Phoenix's take on the Joker in the new movie. The guy in "Good Deeds" is just confused and hurt and the messages he's getting from society are exacerbating his damage. These kind of relational conflicts with society are eternal whether you live with a tribe in the Amazon or are in a bedsit in Mexico City.
And musically how do you feel that the album has held up over three decades?
MARTIN METCALFE : I think all music that is attentively constructed holds up. What I mean is if the band care about the music enough then even if it's badly recorded (which ours wasn't) then it will hold up. It may not appeal to hip-hop fans or R&B fans but it will appeal to someone. It's well conceived 80's rock/pop. It could have been better of course but we think it stands up fairly well. 


How did you feel when you got to play those songs live again?
MARTIN METCALFE : Myself, Derek Kelly and Fin Wilson have been playing a lot of those songs in our new band The Filthy Tongues so for us it was less about how those songs felt for us to play and more about how great it was to play them to an excited audience. The audience seemed to be in a rapture, re-living their mad 20's and having a great time singing all the words. Thank God they knew the words because I had laryngitis and could only sing 2 (mostly WRONG) notes. Those gigs were amazing. They were astonishing, it was so unexpected & thrilling for us
Is the plan just to tour for this thirtieth celebration or is more that you want to do now that you have everyone back together?
MARTIN METCALFE : There is a strong temptation to do more but I think we'd have to record a new album to justify that. Personally I'd love to do more but this is a band & everyone needs to want it. We'll have to wait & see.
Thank you very much for your time.
Upcoming dates
Dec. 13 Dunfermline – PJ Molloys
Dec. 14 Cumbernauld – Submarine Club
Dec. 15 Dundee – Beat Generator
Dec. 20 Glasgow, Scotland – Barrowlands SOLD OUT
Dec. 29 Edinburgh – Liquid Rooms
Mar. 21 Dundee, Scotland – Church (as The Filthy Tongues)