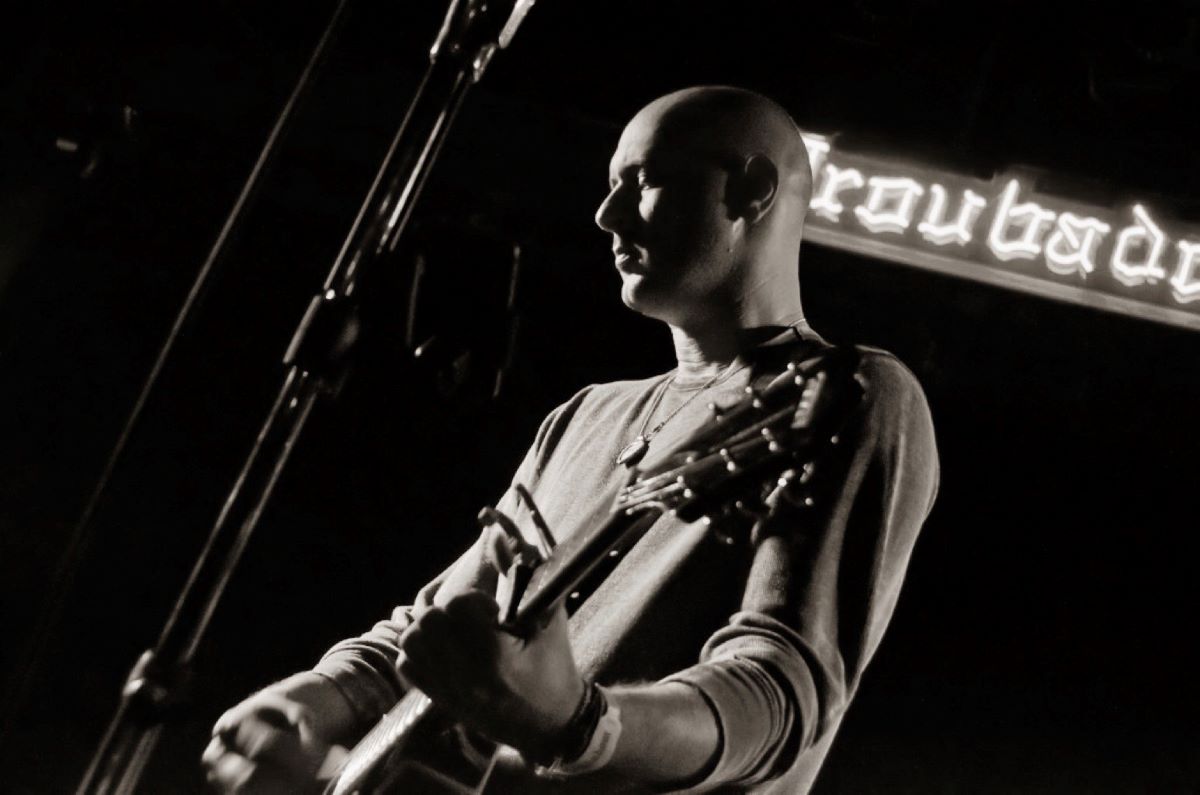 23 November 2019
Photo by Allan Spong
Atmospheric post-punk band Black Swan Lane hold an utterly unique position: the Georgia-based group features contributions (on separate occasions) from different members of the iconic and influential Manchester band The Chameleons. Vocalist/guitarist Jack Sobel and lead guitarist John Kolbeck founded BSL in Atlanta in 2007 along with Chameleons singer/bassist Mark Burgess, who appeared on three of their albums before departing to form ChameleonsVox. After receiving much critical acclaim for several more albums, Black Swan Lane have just released their 8th studio album, Vita Eterna – and it features extensive contributions from Chameleons guitarist Dave Fielding. Here, Jack Sobel and Dave Fielding discuss the new album and explain how their bands became so enmeshed.
Jack, how did you first come to know the members of The Chameleons?
JACK SOBEL: I sang and played guitar in The Messengers, but after our [1996] album Queen Today we quit and I got married and started managing restaurants in Atlanta, but I was still writing music and writing lyrics on the side. In the early 2000s, one of the restaurant servers came up to me and said, "The Chameleons are playing in Atlanta," and I was like, "No, they're not, there's no way, they broke up. It's got to be The Charlatans or something." But I looked it up and saw they were reunited. I was like, "This has been my favorite band since I was a junior in high school!" I invited the band to eat with me – I said, "I'm the biggest fan in the world and I want to buy you guys dinner." I didn't think they'd say yes!
DAVE FIELDING: Jack took the band, crew, and tour managers to his Mexican restaurant for a great meal after the first sound check. I was unaware Jack was a musician at the time.
JACK SOBEL: I gave them my albums, thinking, "They're never going to listen to this stuff." I never thought I'd see them again. Then they broke up again, but I got a call that Mark Burgess was doing a solo tour, and asked me to open for him. Mark sat in the front row and watched us, and when he played, he called me up to play on drums on "Happy New Life," which is one of my favorite songs. One thing led to another, and we did some Chameleons songs with Mark live in Atlanta. While we were doing that, we decided to go in the studio and record the first Black Swan Lane album, A Long Way from Home. Having the name Mark Burgess associated with the band helped quite a bit, but by the third album, Mark had started ChameleonsVox, and Black Swan Lane did a nationwide tour with them. We borrowed [Chameleons drummer] John Lever for the tour. John was just the nicest fellow. I mean, we really hit it off. We'd have our morning coffee together and talk about his coin collecting. We stayed friends until the end [Lever passed away in 2017].
And now Dave is the third Chameleons member to work with BSL. How did that happen?
JACK SOBEL: This album was about done, but this is the kicker which I haven't publicized yet: after a quarter of a century, John Kolbeck just quit. He played on three songs on the new album: "Happy," "Tears," and "Sea of Me." On the last album [2017's Under My Fallen Sky], he was more into the editing and engineering part of it, and I was more into the creativity part of it, so we banged heads a little bit. But the guy is phenomenal. I'm not gonna say that John is gone forever – who knows? But right now, we're auditioning guitarists, which sucks, because he's been like my brother. So it's kind of depressing. But getting back to Dave Fielding, I did as much as I could do since John quit before the album was done, but it definitely needed more lead guitar parts. Then our manager and a buddy of his who's friends with Dave Fielding called me up and said, "You know Dave Fielding's a big fan of Black Swan Lane?" I was like, "No!" [laughs] They said, "Dave wants to play on your new album." I was like, "Oh, my gosh, this is crazy!"
DAVE FIELDING: Every time me and a mate of mine went up to Manchester in his car we would listen to lots of music I had never heard before. I'm not really up on the new music scene and my musical tastes are very dated. Walker Brothers, The Shadows, Jimi Hendrix, whatever, and my mate was playing this great music by what turned out to be Black Swan Lane. Earlier in the year I commented to another friend who I knew was a BSL fan that I would love to collaborate with them.
JACK SOBEL: But I had to think about it for a while, because Dave offered to pay for his own flights [to Georgia to come record], but I was like, "No, you can't do that – you're coming to play on the album, so Wanderland Music [Sobel's music company] is gonna pay for it." But when you book a flight a week out, it's a couple thousand bucks, so it added to the final cost of the production. Also, he told me that he's real spontaneous, and he really didn't want to plan too much in advance, he likes to just feel it – so I didn't want to be put in the position where you've got one of your rock star idols in your house and you have to say, "I don't know about that [guitar part]." And there was one time where that happened where he played something and I was like, "Oh, shit – this is where it happens, I gotta say I don't like that." Up to that point, I liked everything, I was like, "That's brilliant!" But it worked at the end, I'm just so happy, and he was just so pleasant to be with – it was a great experience.
DAVE FIELDING: Me and Jack had a great rapport in the studio and therefore it seemed like an easy and natural mix of styles. Jack's music has a very Manchester influence, especially The Chameleons, so we were like strawberries and cream if you know what I mean? Prior to flying out to Atlanta I received the album as it stood at that point and found it quite linear, flat almost but the main stay of the great songs were there. I felt my job was to add something special, which is my unique guitar style. As I listened to these songs I could hear tunes coming to me so once I was in the studio in Jack's house it was just a matter of playing the tunes in my head and hoping Jack liked it. My friend who generally accompanies me when I do session work also knows me and my style and also contributed with his valuable opinion. Jack is a great guy to work with and I found the process of recording quite easy, although I had to work quickly as we set off from Lincoln, UK on a Wednesday and returned the following Wednesday.
Besides Dave's contribution, how else is this album different from BSL's previous ones?
JACK SOBEL: There's a lot of firsts on this album. We had three female [backup] vocalists. And we made it an Italian-themed album. My mom is Sicilian, so it's kind of an ode to my mom. And our new manager, Alex Dematteis, did some lyrics for me; he's from Italy. And I tried to mix things up a little bit: I put a shocking song on there that's not typical Black Swan Lane, which is "Happy," which is a rocking song. It's my kid's favorite song, so I'm like, "Screw it, I'm gonna put it on!" [laughs] Luckily, he's into my kind of music, he's not listening to Kanye West, so he's a 15-year-old and we have the same taste in music, thank God. We just went to the Ride concert, and he was singing along, so it was pretty cool to see. When I was his age, I was into all those bands, Bauhaus and Joy Division and Echo & the Bunnymen and Ride – and especially The Chameleons – they were just so unique with the guitars, and I was a fan ever since.
Is there any particular song on this album that you hope people will notice?
DAVE FIELDING: Not really. I love all of it. Jack is a very talented all-around musician and songwriter and puts his heart and soul into his fabulous lyrics and melodies. He is a master of emotion and mystery within his beautiful songs. I'm well aware that this album is a big departure from his previous work. It was a pleasure to work with a major talent [like] Jack Sobel and hope I did a good job. I think I did. I would also like fans of Black Swan Lane new and old to buy physical copies as this downloading is killing the music industry. Also, in my opinion, as a complete piece of work this is Jack's finest achievement and [I] hope he reaches a bigger audience that he well deserves.
Black Swan Lane's latest album, Vita Eterna, is available at the usual streaming/download sites, and also via their official website: blackswanlane.com.