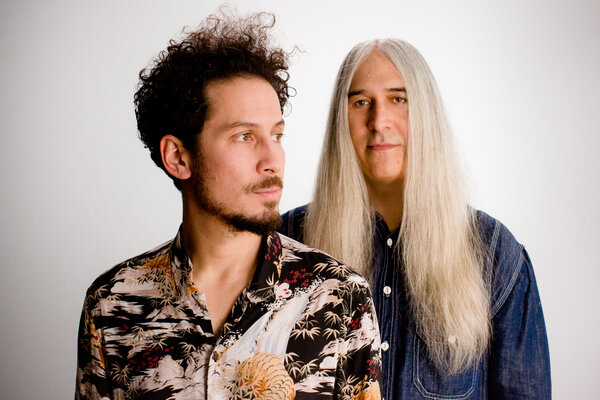 5 October 2020
Photo by Dan Massie
You know it when you hear it – it's soft rock with touches of smooth R&B – but the term "yacht rock" wasn't around when the bands most commonly associated with the genre were scoring chart-topping hits in the mid-to-late-70s and early 80s. And while there are satellite radio stations and YouTube channels dedicated to playing hits by Ambrosia ("How Much I Feel"), Rupert Holmes ("Escape (The Pina Colada Song)"), Christopher Cross ("Sailin'") and Paul Davis ("Cool Night"), there aren't a lot of new bands recording yacht rock. Enter the dynamic duo – singer/multi-instrumentalist Andy Platts and bassist/multi-instrumentalist Shawn Lee – better known as Young Gun Silver Fox who are keeping the "yacht rock" genre alive.
The two artists have lengthy resumes – Platt as the vocalist for UK's Mamas Gun and Lee as the primary talent behind Shawn Lee's Ping Pong Orchestra – that they pull from when collaborating on Young Gun Silver Fox jams, something they've been doing since 2015's West End Girls.
With international distribution handled by Légère Recordings (Europe) and P-Vine Records (Japan), Young Gun Silver Fox's third album, released earlier this year, found U.S. distribution through Colemine Records, best known as the home to artists such as Durand Jones & The Indications, Black Pumas, Rudy De Anda and Ikebe Shakedown. It's a perfect match as the label was founded with "the simple idea of putting out quality music with soul on vinyl."
Released in February, Canyons had barely hit store shelves and streaming services before the world was shut down by the pandemic. For the UK duo, it couldn't have come at a worse time as they were just about to hit the road to promote the brand new release.
Through an email interview, Platts and Lee talked about Canyons, how the pandemic ruined their 2020 plans, and where the band's "yacht rock" influence comes from.
Truth be told, I only became aware of Mamas Gun and Shawn Lee's Ping Pong Orchestra after "discovering" Young Gun Silver Fox a few weeks ago. I've been playing catch up on those two bands to try to get an understanding of the elements of those two projects that you bring to Young Gun Silver Fox and to my somewhat untrained ears, I'd say, sound wise, YGSF leans more towards Mamas Gun's soul sound. When referencing Mamas Gun and Shawn Lee's Ping Pong Orchestra, what elements of those two would you say are part of the YGSF recipe?
SHAWN LEE: I'd say that my PPO records are exploring other musical territories for the most part.
However, my love for funk & soul underpin everything I do musically, pretty much, whether it's obvious or not. I have done a lot of other records that might be more relevant to YGSF but, to be honest, this group is a calm harbour to make this kind of West Coast music. It's a rarified space.
ANDY PLATTS: PPO has given Shawn the chance to explore his knowledge and breadth and depth of music as a fan and a musician. As a result, he has an incredibly deep mastery of making records which is equal only to his passion for music and is why YGSF's sound is so well dialed in. MG has also been kind of a lab for me to explore genres and styles but underpinned by elements of classic soul and groove – I guess I've always been trying to fuse concise, classic, melodic pop writing with traditional soul, gospel and R&B. But ultimately the songwriting – the vocal melodies and lyrics etc – is what I really care about the most.
Can you tell me about how you prioritize projects? Are you all in on whatever it is you're currently working on or are you multi-tasking and writing for your other bands, other artists, etc?
SHAWN LEE: I am constantly juggling my own various projects with production work, live gigs, sessions and whatever else the world is throwing at me at any given moment. YGSF is a real labour of love and it hits a really powerful unique spot for me.
Whenever I find a window, I dive in!
ANDY PLATTS: Aside from juggling two bands, I do production work and songwriting for, and with, artists in the UK, Europe and South East Asia and also stuff like creating songs for the latest anime series on Netflix Japan called 'Carole & Tuesday', which is a fun contrast and diversion.
Thanks to Spotify, I was able to go back and listen to your previous two albums which I didn't know existed. All three sound like the same band, there's a consistency in the music. With each album, is there something new you try to introduce (lyrically, musically, production, etc) or have you found a comfortable template to follow?
SHAWN LEE: Every album should build organically and logically on its predecessor. On our latest album, Canyons, I made an effort to push horns more prominently into the mix.
"All This Love," which closes the album out, is a glorious ballad and is a nice new addition to our sound too.
ANDY PLATTS: As I said previously, the song is the thing I really care about the most. I try to never write the same song twice or rest on my laurels, so I'm constantly looking for new lenses with which to view subjects and songwriting. Songwriting is so many things to me – the best confidante and catharsis.
I'm 49 years old. I wouldn't necessarily say I grew up surrounded by music. We had a stereo in the family room and my parents had maybe two dozen LPs and a dozen cassettes but they were common artists (ie – the Beatles, Billy Joel, Chicago, the Bee Gees, Hall & Oates, Alan Parsons Project). In my pre-teen years, if I was listening to music in the early '80s, it likely was Casey Kasem's American Top 40 on AM radio. So, when I heard "Who Needs Words" for the first time it felt SO FAMILIAR and made me smile. What were your earliest music listening experiences? Did you have parents/siblings/friends who got you into certain artists or did you discover things on your own?
SHAWN LEE: I'm pushing 60 now so this kind of music is a real part of my life. Like you, I also grew up listening to Casey Kasem too! Those long-distance dedications were something else, right? The radio was a portal into another world for me. The '60s & '70s were magical times, and I still find these eras highly inspirational. I love it.
ANDY PLATTS: I'm 41 but my parents had a real mix of everything from classic late '70s rock like The Doors, Beatles, Pink Floyd, and Queen down to the real squeaky clean ABBA, Carpenters and stuff in between. Growing up in Hong Kong in the '80s also filtered some other stuff my way – a lot of cheesy Asian balladeers who liked using expensive sounding jazz chords and turnarounds which really made my ears perk up and pay attention! The craft of the chords and harmony in songwriting is something which is almost as important to me as the melody and lyrics. If they're telling a story, then you're giving the listener layers to discover upon repeated listens. Ultimately, the music you make has to bear repeated listens and be put under a microscope – it's your duty to make it interesting!
Along those same lines, who was the first band/artist that you called your very own, an artist that you felt like you discovered and tried to turn your friends on to?
SHAWN LEE: I turned a lot of people on to Shuggie Otis over the years. A real cult genius!
ANDY PLATTS: I didn't discover Lewis Taylor until 1999 (3 years after his 1996 self-titled debut) and I was pretty wild about him and his work for a long time and turned a lot of people into lifelong fans. It was especially cool since he was a North London soul boy. Amazing that so many people still don't know who he is.
I shared a link to the "Baby Girl" video with a friend without any sort of prompts other than, "Adding to my 'Favorites of 2020 … and 1978 …' list". He responded and said, "This is done without a hint of irony. It sounds genuine." I agree but thought I'd ask you, when collaborating on this material, were you trying to recreate a '70s aura or are the songs the result of your collective songwriting and music listening histories?
SHAWN LEE: Hahaha brilliant! Me and Andy are both very genuine and there is absolutely no post-ironic hipness going on here! Being authentic is something that I really value in the music I make.
ANDY PLATTS: There are a lot of people trying to climb ladders and jump through hoops but, to be honest, me and Shawn are just doing exactly what we've always done! 25 years ago putting out YGSF albums out – there might not have been an appetite for it, so we're both really happy to have found audiences who resonate with us. We just want to write great songs and records that will last forever.
Colemine Records in the U.S. might be one of the most consistent labels in terms of releasing quality albums – I haven't heard everything they've released but I like everything I've heard. How did that partnership come about?
SHAWN LEE: Yes, Colemine is quality and doing great things. I'm a big fan of the label and the music they release. I know my buddy Kelly Finnigan from the Monophonics was talking to Terry from the label about us, but, I'm not exactly 100% sure how the deal fell into place to be honest.
ANDY PLATTS: Yes, our connection there is Kelly (who is a heavy heavy dude)…somewhere between someone on our team, Kelly and the Bermuda Triangle a deal was made and carved out on a stone tablet!
Canyons is currently available digitally in the U.S. but physically, if I'm not mistaken, only in the UK. I have to imagine that sometime this year I'll be able to purchase a vinyl copy from Colemine, is that fair to say?
SHAWN LEE: Really? I hadn't realised that was the case. I'm sure the vinyl is forthcoming.
ANDY PLATTS: Yes, I think Colemine is staggering releases to catch up with the backlog, but, also to navigate as best it can the post-Covid music industry world in which we now find ourselves – no easy feat.
Without the benefit of liner notes, are there other musicians performing on Canyons or is it just the two of you? If there are other musicians, are they official members of the band or hired guns?
SHAWN LEE: There are definitely liner notes and credits in the album artwork. Me and Andy are the band and handle all the playing on the album. Nichol Thomson plays trombone and does the fabulous horn arrangements. We are also joined by Tom Walsh on trumpet & Andy Ross on sax. That's the long and short of it anyways.
ANDY PLATTS: What the silver fox said!
The songs on Canyons are joyous – from timeless lyrics to impeccable melodies – from start to end, such a fun listen. Not so much a question as a comment – at a time in history where we're dealing with a pandemic, where we're dealing with racial inequalities, where politics are nasty, it's so nice to be able to throw in some ear buds and get lost in your songs.
SHAWN LEE: This music is a place of solace. I'm so thankful for it especially in the times we find ourselves living in!
ANDY PLATTS: That's a really wonderful thing to hear, thank you so much. We work so hard on making something worthwhile to add to music history. Getting lost in music is one of my favourite things of all time!!!
Do you think current world events will ever work their way into your lyrics or will you stick to tried-and-true subject matter?
SHAWN LEE: That's really a question for Andy, but I believe his lyrics are very personal and thoughtful.
ANDY PLATTS: The best and most successful art, whatever the reason for its genesis, also has a way of reflecting the world around you but not necessarily in the most obvious ways. Since lockdown, a lot of material I have created has been tinged by our current universal struggle. Whether literal or cryptic, I don't doubt that it will fail to leave an indelible print on the songs I write at this time.
Scrolling through your Instagram feed, it looks like your last live show was March 12 and, from the looks of it, it was a fun (and packed) show. Your next photo is of the two of you with sad faces announcing the postponement of a show. At the time, did you think we'd be here 5 months later with the world shut down?
SHAWN LEE: No, we never could have imagined the magnitude of this Pandemic. The last show was a great release and I really wished we could have finished the tour before lockdown, but, alas, Covid19 had other ideas!
ANDY PLATTS: That was show one of a tour in Europe and then the whole thing was cancelled until April 2021. I have no idea what I imagined would happen and I still don't, if I'm honest.
Did you have big touring plans for the rest of 2020? Are those on hold or will you wind up canceling the promotional plans around Canyons and move on to whatever is next, either with Young Gun Silver Fox or another project?
SHAWN LEE: No gigs in the remainder of 2020, sadly. We are looking at spring 2021 for the next run of shows hopefully. We'll see… We have started working on YGSF album 4 during lockdown however!
ANDY PLATTS: Yes, 2021 is where it's at. Until then, we continue to make music and harness the power of the internet to do it! Album 4 bring it on ;-)
Do you have a footprint in the U.S.? As I keep mentioning (sorry!), I was unfamiliar with YGSF until recently so I don't know if you've spent time touring here. If the U.S. hasn't been a focus, if/when things start to recover, is there any thought into trying to build up the U.S. following?
SHAWN LEE: We have not toured in the U.S. as of yet, sadly. We were in talks with a big agency in the States before lockdown happened, so we'll have to hurry up and wait at this point.
ANDY PLATTS: Before the shit hit the fan, there was talk of hitting both East and West Coasts, but they fell apart when Covid turned up. We'll just have to see, but I think we'd make a lot of friends in the US for sure.
Any parting words of wisdom as people are stuck in their houses and just needing to hear something to get them through the day?
SHAWN LEE: Hold on to what really matters to you and slow and steady as she goes. It's a very uncertain future for the world so who knows? It's a daily pursuit!
ANDY PLATTS: You learn a lot as you get older, but the one thing that doesn't get any easier is losing people, so get your head out of the clouds from time to time and make a real connection with someone you care about.