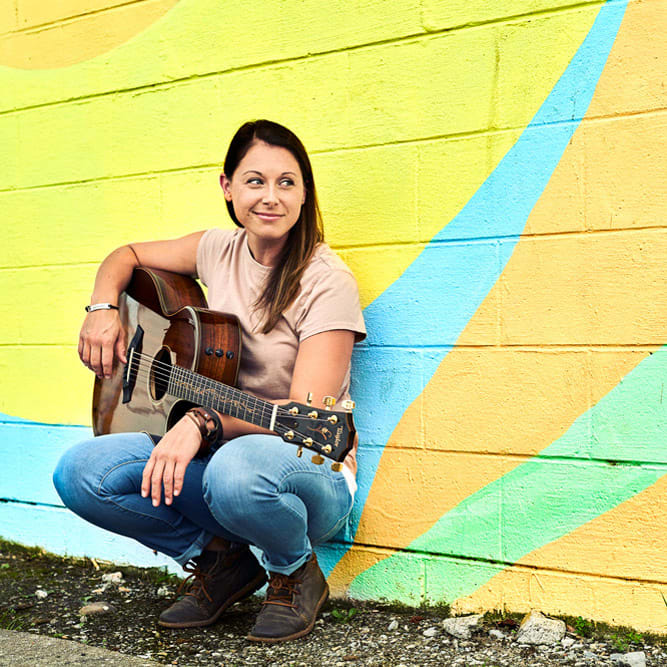 30 September 2020
I guess the best place to start is with your recent cover of "Higher Love". Can you explain how you came to record the song and the significance behind it, especially in the current climate?
Beth: Our local Pride organization (TriPride) honored me by asking if I would produce a cover for their community music video (a video that stood as a substitute for the cancelled Pride Festival for 2020…ack, COVID). They wanted a song that called for a community to come together…for the acknowledgement that times are tough right now, and we all need to band together for something greater. We need to love one another, and call upon a higher love if we are to survive this odd season. I don't think they could have picked a better song.
And it is a song with a long history, one linking with Kygo, Whitney Houston and ultimately back to the original Steve Winwood song. How much of a bearing did all of that music history have on you when developing your own take on the classic tune?


Beth: TriPride had the Kygo remix in mind when they asked me to cover the song, so we really tried to keep the tempo and style closely to that. I think there are moments vocally that nod to the original Steve Winwood version, but I think the biggest commonality is that there is this vibe of a pleading nature in the original track. I had that in mind when I was recording. I wanted to capture that same honest pleading that we need this notion of higher love in our lives.
Although your songs have always leant towards a pop vibe, I think the appeal for many is that you seem to be able weave in plenty of other, often quite unexpected genres. Is this a conscious move or does the music seem to just evolve that way naturally?


Beth: I think the question became, as an artist who floats more in the Americana pool, how to we take this EDM remix, and give it an Americana flair that sounds believable? How do we represent our musical heritage and regional culture while honoring all of these amazing versions at the same time? I am multi genre, and I used to think it was to my detriment. However, I've recently decided that maybe it's a strength. I want to glean what I can from so many genres I respect so greatly. I want to serve songs individually with the best tools I can.
You seem to have built a neat bridge for yourself which goes between the Tri-Cities in East Tennessee (Kingsport, Johnson City, Bristol) and England, Leicestershire's Long Road Festival in particular, can you explain the connection?
Beth: Well, I love the Great British Bake-Off, so… kidding… actually I'm not kidding lol. To be honest, I would love to explore playing in England more. I got a lovely taste of it at the Long Road Festival in Leicestershire in 2019, and if COVID had not put such a damper on the situation, I would be currently trying to tour there more! The Long Road Festival is linked to another Festival in Bristol (TN, VA) called Rhythm and Roots Reunion, which has how I found out about the Long Road and made it a goal to perform there. I found both the English landscape and listeners to be so lovely, and I think they at times may have a little looser definition of what Americana music is (which was great for me!). I felt very at home.
With the current lockdown meaning that most artists are still separated from live gigs, how have you kept busy, kept creative and kept promoting your music?
Beth: I have mostly kept busy by being an occupational therapist at a local hospital. I have been essential working lol. To be honest, it wasn't the best creatively… nothing against my profession, but being surrounded by a lack of music, wondering how stable my job was, wondering if I'm going to get sick… I don't know, it wasn't great for tunes. However, there became a motivational factor – I knew if I wasn't touring, I wanted to stay relevant and release some good tunes. There was no live music to pay for recording. SO – maybe I wasn't writing as much, but I was sitting on some good material, and to release it, I was fortunate enough to have a job to help me fund it. And let's be honest, I work in a profession where I get to help others, and that is a rewarding thing any time.
The Appalachians, where you were raised, have a very strong and distinctive music tradition, one which seems to seep into every aspect of life. Do you still feel a connection to such a rich history and what did that environment instil in you whilst growing up there?
Beth: We are so blessed to be steeped in tradition that goes as far back as our Scotch-Irish ancestors (a term I'm sure not everyone loves lol), roots in bluegrass, a strong faith and the gospel music born from it. Where I grew up, everybody sang… some better than others, mostly at church and family events. I knew 3 part harmonies by the time I was 5 or 6. Everybody had a somebody who could play some sort of instrument. Then, you have the Carter Family Fold down the road in Hiltons, VA, the Birthplace of Country Music in Bristol, VA/TN, fiddle conventions, amazing songwriters holed up in the mountains… man, it's everywhere…how lucky was/am I?
And finally, what's next for Beth Snapp both musically and personally?
Beth: Be on the lookout for a series of singles! I'm working with some great artists and producers, and I'm excited to share a song at a time! Some will hit more pop ears, others more Americana or Folk (or even a little Bluegrass?) I'm just going to keep sharing what I can, until I can book that UK tour :). Personally, I'm gonna be taking more time for hiking, resting, and evaluating who I want to be when we are past the chaos. I want to know in my heart, and tell folks later on, that I didn't spend this time in vain. And I'm gonna can some beets and salsa.