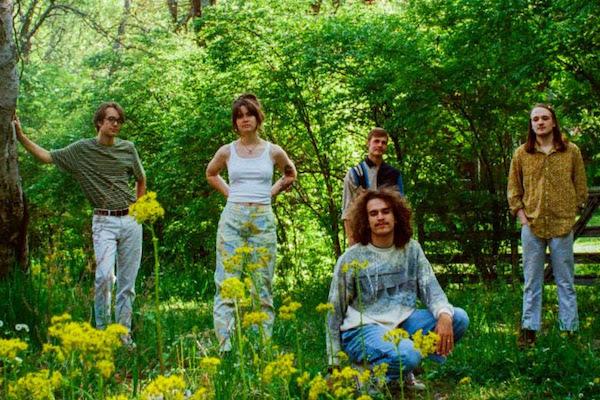 26 September 2021
Boise's Treefort Music Fest 9 comes to a close today — but it ain't over yet, not if Nashville luminaries Future Crib have anything to say about it. After whetting some whistles at the Woodland Empire Brewery's Hideout stage on Saturday afternoon, the psych-folk quintet will deliver its feature performance tonight at 8:30 p.m. at Western Proper. For fans of Built to Spill, Future Crib — who cite Boise's best-known band as an influence — are not to be missed.
The band recorded their fourth record, the just-released Full Time Smile, in December near Atlanta, with contributions from new singer and guitarist George Rezek. Future Crib's lineup is rounded out by singer and multi-instrumentalist Johnny Hopson, singer and drummer Noah Pope, singer and bassist Julia Anderson, and multi-instrumentalist Bryce DuBray.
Full Time Smile just dropped September 10, so Future Crib's excitement about the record and ensuing tour was palpable when we spoke with the bulk of the band earlier this month. Post-Treefort , Future Crib will venture through more states in the West to drum up even more attention for the record.
During the interview, Future Crib discussed why playing Treefort is a dream come true for the band, how they'd flip out if they met Doug Martsch, and why they think their new album is Future Crib's best one to date.
So, are you prepared to kick off the tour next week?
JOHNNY HOPSON: We just had a meeting with everyone who will be on the tour, to get our safety protocols down. We've been navigating some [COVID] exposure stuff, and it's been crazy. We recently did a weeklong run of gigs, but when some of us started to feel ill toward the end of it, we decided to cancel a tour date, come home and get tested. Some of us were indeed infected, so it was a really big wake-up call to us. We've been quarantining.
Many people are aware of the federal government guidelines about social distancing and wearing masks, but what sort of additional precautions does a band have to take, especially on tour?
HOPSON: We're making sure our touring party remains masked the entire time. If we're going to have a conversation with someone, ask if we can do it outside and ask them to wear a mask. People handling our merch table are also required to wear masks. Everyone in our touring party, though, is vaccinated.
NOAH POPE: I think it's much more worth it to be super-safe and do what you gotta do [play music live] instead of risking any disruptions to the tour. It's a little daunting, but we'll do the best we can do. If any of us gets sick, the tour will have to be canceled, which I think is the wisest thing.
BRYCE DUBRAY: We have to make some compromises on how much we hang with people we don't know. We're trying to find new ways to connect with our audience. Johnny suggested we set up a discourse online where we can chat with people after shows and the next morning to establish a second connection.
Have any of you been to Idaho before?
HOPSON: [Rezek]'s long-time girlfriend is from Boise, so he spends a lot of time there. I don't think any of the other people in the band have been.
Are your Boise accommodations all set?
HOPSON: Yeah. [Boise-bred and Nashville-based musician] Sophie Griffin — she does some play-listing work for us and is George's girlfriend — her family is from Boise, and we're staying with them.
What did you hear about Treefort that drew you to wanting to perform at it?
POPE: How ginormous it is. I didn't know anything about it, but when I saw the tour poster, it was the biggest festival lineup poster I'd ever seen. It seems like a more DIY, indie-rock style festival than, say, South by Southwest.
Boise's optometrists actually mandate that Treefort attendees be able to read the tour poster down where the print is impossibly tiny.
[The band laughs.]
DUBRAY: What got me most excited is not only that it's full of amazing music but the fact that it has so many other arts-driven forts and branches of creativity. It's also certified B Corp [which means the festival meets rigorous social and environmental standards of sustainability and ethical practices]. That's really important to us too.
HOPSON: One more reason we're excited to play Treefort is because Built to Spill is a band I grew up on, and one of my dad's favorite bands, so I grew up following them and the Boise music since I was a kid. This is a childhood dream of mine come true. [Treefort co-founder] Eric Gilbert had a really big role in getting us on the lineup. He used to tour-manage Built to Spill. One of our tour managers talked with him about getting us on the bill. We got added late, so it was pretty awesome.
Are you planning to revolve your performances around your new album?
DUBRAY: We'll probably play about half old songs and half new songs.
How do you distinguish the new LP from your other albums?
HOPSON: We recorded Smile in December. We all isolated for as long as we had to, to say safe. We then recorded in my girlfriend's parents' house, taking all of the equipment we needed. We only had six days to record 11 songs. But since we had spent so much time with this batch of songs on tour before, there was something magical about how we all could come together so well. When I listen to the record all the way through, it feels like all the songs live together in the same space. We got really lucky that it worked out so well.
POPE: We hadn't all been together for nearly a year [when we recorded Smile], because some of us live in different cities, so it felt cool to bring all our equipment somewhere we hadn't recorded before and play altogether.
HOPSON: This is a very emotional record, and we all unpacked a lot of stuff during the process of recording. We also got to have a lot of meaningful conversations and get closer to each other as a band and as friends.
DUBRAY: Smile reflects those personal and physical experiences we had in the recording process. I think we're all most proud of this release among what we've done so far, so it's exciting to bring it to people who are coming to see us live.