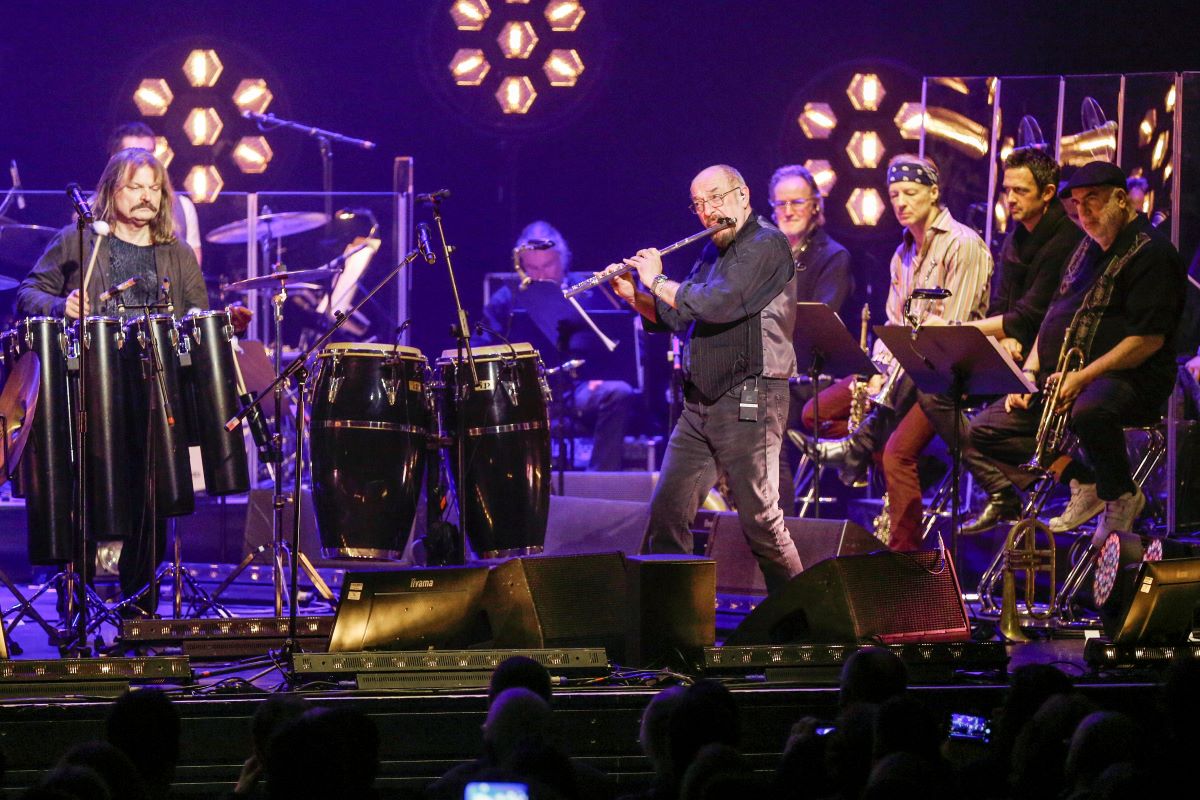 25 May 2020
Photo by Red Rock
Jethro Tull frontman Ian Anderson and his longtime friend and musical collaborator Leslie Mandoki have released a new single, "We Say Thank You," to show their thanks and appreciation to frontline workers and first responders around the world during the current COVID-19 crisis. Anderson and the Hungarian-born Mandoki, who is a producer and bandleader of the jazz rock group Soulmates, first met nearly three decades ago. Years later, they remain close friends who are committed to working together – even if creating "We Say Thank You" meant they had to do it remotely, with Anderson in England and Mandoki in Germany. Here, they discuss how and why they created this song, and their thoughts on how this pandemic will permanently change our world.
How did you come to actually decide to go ahead and do this song for COVID-19 frontline workers?
LESLIE MANDOKI: As songwriters, we know that the best songs of our life are copies of us. We have composed and written the lyrics. Those songs are written by our lives and we just wrote them down, and added melodies, and made them sound like they sound. My wife is a physical doctor working at the frontline as a first responder, so it was an obvious feeling in my heart to focus on our society and what is really relevant and what is definitely not. We have to reset and fine tune our value system. All of a sudden and as morning has broken, we were facing challenges we never expected before. No one defines who is "we" – we must be the group that stands together, making new and necessary connection. Our fight against COVID-19 is in sharp contrast – the heroic versus the rushed and restless people. Our heroes are maintaining the public order, saving lives, and taking care of the healthcare system for all of us, just as an example. Those are the people who cannot work from home. They are risking their own health and the health of their families to ensure our system´s stability and security of supply. Petrol officers, nurses, doctors, medical staff, bus drivers, grocery clerks and many more. For a songwriter, this is enough inspiration of course, because we have a specific responsibility. Our voice is just as strong as our audience is allowing us; that´s why we had to do this song. We had to pay tribute to the everyday heroes, who keep the world turning.
IAN ANDERSON: I listened to it a second time while reading the lyrics. Some things got my attention – like the "supermarket workers" and "the big short." So, I decided to do it and three hours later after the session I was quite pleased with it.
Ian, in the song, you call out people who are using this pandemic for nefarious purposes (profiting off the death and destruction). Was there any particular thing that compelled you to choose that part to sing?
IAN ANDERSON: Leslie asked me to do that part to camera to give it more force and theatricality. The next day, a financial advisor (not mine) called me to suggest ways of investing in other things to make money off the crisis. So, I made polite excuses and fed the chickens instead.
What was the writing and recording process like for this song?
LESLIE MANDOKI: I love to be together in the same recording room with the other artists I work with. It is a craftsmanship to create and record analog music together. This is kind of a handwritten love letter to our audience, but this time we all have been in our own isolation. Unlike normal times, we had to find a way to digitally gather in a virtual recording studio without the engineers and staff around us. I had to do everything on my own and after I recorded this song, I sent it to my dear pal Ian Anderson, mastermind of Jethro Tull. With his musicality and his intellectual leadership, Ian always was a heroic guiding light for countless generations of rock musicians around the world. I was pleased and honored as he was sending back his vocal and flute track to me. We ended up with this wonderful piece of work. After sending it around I have received wonderful resonance on this and so, additional tracks by Supertramp*´s *John Helliwell on tenor saxophone, multi Grammy winner and jazz-icon Randy Brecker on trumpet, Chair of the Berklee Bass department from Boston Steve Bailey on bass, and many more were sent to us. I mixed this all together.
Leslie, your wife is a doctor, and that gives this song particularly special meaning for you. Does having such a personal connection to a song's meaning make it easier or harder for you to write?
LESLIE MANDOKI: Of course, this makes it much more personal. But each and every song of mine is personal. My first-born daughter, Lara, is a very talented actress, and my youngest daughter, Julia, has become a great singer-songwriter, and not able to go on tour with her band now. My son is not able to work on his project in Barcelona as multimedia designer at the moment. So, this is very personal to me. Usually musicians like us are in very close touch with each other in New York, in London, or Los Angeles. But now, we are able to gather digitally, which is not what we normally do.
The two of you have collaborated for so long, and covered so much musical ground – but how did you meet, and know you'd work well together?
LESLIE MANDOKI: Ian Anderson was in my life long before we got to know each other. His Jethro Tull album Aqualung – on a fourth-generation mono-tape – reached me on the other side of the iron curtain at the end of 1971, I was 18 years old. This moment had a huge influence on me, as from that moment on I had to have a flute player in my own band. About 28 years ago, I had the chance to be introduced to Ian by late legendary promoter Fritz Rau. In our industry, the terminology "friends" is used too often, but Ian and I became real friends. I feel very honored and privileged to have the chance to collaborate with him on our albums and to exchange reflections of the world and our families and about life itself. It is rare to find someone, who´s sharing the same dedication to perfection and the same musical ambition and at the same time, is such a warm and welcoming person. I'm lucky to have the privilege to play with Ian throughout the years on stages and in the studio.
What are your post-pandemic plans? Specifically, what do you think the post-pandemic world will look like for artistic people whose careers have been particularly damaged by this situation?
LESLIE MANDOKI: Ian has his path and I have mine and whenever our paths are crossing, we are sharing wonderful moments of music and life. The post-pandemic world will look totally different. I think. This shutdown and our individual isolations give us the chance to learn. That opens space for fresh and new thinking. The Chinese people use the same word or character for crisis and opportunities, and they do so for a reason. Yes, this crisis is huge and overwhelms all of us. However, the economic rat race and political conflicts are frozen at the moment; so, we have a rare opportunity to step back and gain new perspectives. We should now set our focus on human beings and mindfulness instead of differences and greed for power and profit. We should not pass on this chance to reevaluate who and what are systematically relevant and important. We should evaluate new criteria on who creates an added value to society and solidarity. At the same time, we must take a hard look back to those who just make profits at society´s expense. As an artist, I feel it is my duty to contemplate ideas for a better world now. Wouldn´t it be wonderful if we all would learn our lesson from this drama and could chart a course towards the post-Corona world.
IAN ANDERSON: Leslie and I have a surfeit of projects going currently and other commitments that take priority. I am nervous about talking in terms of "post-pandemic plans," as I don't think that in my professional lifetime, that everything will be back to how it was. The SARS2-COV-2 virus will be endemic in the background long-term but many later-infected countries have to work through much pain and possible worse scenarios to come than even the USA or the UK before there can be normal travel without immigration restrictions and quarantine. The battle between reducing lockdown restrictions for the benefit of the economy versus tens of thousands or more people dying, is the dilemma that all nations will face. Some will get it right, some will not. Using these terrible choices as a political tool is abhorrent. It is a world-wide disease that is here to stay, hopefully in the background. We must face reality and manage it as best we can. I have practised safe hygiene for years since I suffer from a lung disease, and have to avoid picking up viruses generally. In the last 14 months, I have not had a single infection from the cold viruses or flu. Washing hands and using wipes and sprays is my usual routine anyway. Has been for many years. And I have travelled with face masks in my hand luggage for three years just in case of being stuck next to coughers and sneezers. Not because I am clever; just because I am scared. My biggest concern is resuming at some point the concert touring schedule now being postponed into 2021 is the risk to our audiences. Many are elderly or obese. and may have underlying health conditions. It would break my heart to know that someone lost their life as a result of showing up to watch me fool around for a couple of hours. We all have to think long and hard about our responsibilities and safety of others as well as ourselves. But the upside is the huge reduction in travel and carbon emissions in general. Time to learn the lessons of connectivity. Population size, food, water and energy resources and manic degree of flesh-eating all have direct effect on each other. Our loss of connection to our planet and each other in a spiritual dimension is to blame for a lot of the bad stuff out there. Go out when you can. Sit alone in a park, a green wood, a church, temple or mosque and come to terms with Gaia – the living planet. And, if you can't do that, then stay home and listen to "Smoke on the Water" or "Whole Lotta Love" while sipping a Jack and Zero…