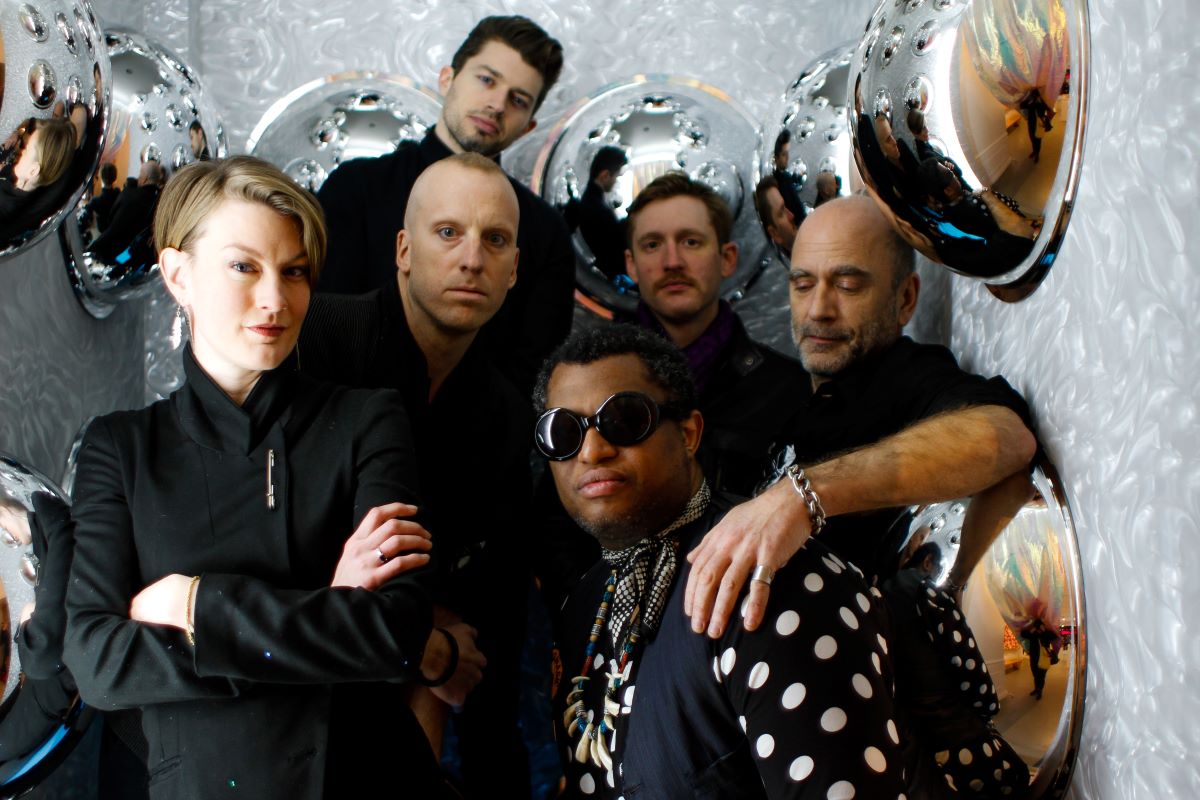 15 May 2020
Photo by Alice Teeple
Perhaps no music scene is more competitive than New York City's, where aspiring musicians must contend with the usual rivalry amongst bands, but also the sky-high cost of living and difficulty in finding adequate rehearsal space. Then there's also the city's legacy as a breeding ground for innovative music during the past 50 years, leading the way in everything from punk, hip-hop, and indie rock. And yet, Brooklyn-based darkwave ensemble London Plane are thriving in this most challenging musical setting, earning increasing attention for their jagged, danceable post-punk. Sounding like an amalgamation of Bauhaus, Gang of Four, and The Damned (but with dance beats), they manage to pay homage to those formidable forerunners while also expanding dark music's boundaries. They will release their debut album, Bright Black, in June, giving listeners outside of New York a chance to check them out. In the meantime, they've been releasing several videos – the latest of which, "Francesco" (posted below), features baritone vocals from principal songwriter/guitarist David Mosey (Jessica Cole, blessed with an emotive soprano voice, shares singing duties). As the city languishes in lockdown during the COVID-19 pandemic, Mosey discusses his unique lyrical approach, the band's history, and what he thinks the future holds for the post-pandemic music scene.
_During this pandemic, are you able to do any writing or other band work?
DAVID MOSEY: There's always a rudiment there waiting to be let out, but the songwriting process doesn't exist like it did when we were all together. For now, song ideas exist in the form of a single word or a photograph — something simple that will eventually be wound into a musical idea. When forming the Bright Black album, we were reacting to the antagonistic political and cultural climate – once we're in the same room, there's obviously a lot more of that these days to respond to.
So many bands come out of NYC – what sets yours apart from all the others?
DAVID MOSEY: How many bands have a disco-punk song about money laundering and 57th Street? What we're doing has very specific intent and purpose. To us, responding to the ascension of villains is vital, and when you listen to the album it should be clear that we're taking up the fight. But I hope it's also obvious that we're hopeful that we'll endure despite the dark skies ahead. We approach this project as a mission, ego free, filling a void, no inward looks or self-involved sentiments. We're angry, but not so angry that we can't eloquently take the piss out of the criminals who are running the country. Musically, it's a study of contradictions — snarling while disco, ruminative while dancey, cerebral while demented, venom turning to sweetness, melancholy becoming hope, bass-bruising grooves over lush textures.
With _Bright Black coming out in June, how are you feeling as you approach the release date?_
DAVID MOSEY: Focused. We're confident that we've accomplished what we set out to do, that is, create meaningful songs that demand you dance to them. And we've tested them. We've played the album live a few times in clubs — it works, they danced.
What was your songwriting process like for this album? Did you have any particular themes or ideas that you put into this material?
DAVID MOSEY: Though the intricacies of the album were developed methodically over most of 2019, the identity and frame of the songs came quickly during short, intense sessions which followed listening bursts, just a few seconds from songs that I hoped would serve to form the mood for the evening. Obvious players like Bauhaus, The Clash, Iggy Pop, but then also perhaps less direct influences like reggae dub poet Linton Kwesi Johnson, drummer Mark Guiliana, even Stravinsky would play for ten seconds, then off we'd go. If our song didn't seem vital, dangerous, the group would move on. I think the method was effective – Bright Black captures that initial energy. The songs are as willful, barbed, sardonic and hopeful as they were in minute one when the spirit first showed up.
Is there any track on the album that you hope people will notice, in particular?
DAVID MOSEY: We released what I'd describe as a haunted house dance party anthem in March. It's not one of the topical songs, but funny enough it has been called prescient since it addresses the state of being isolated. Anyway, "Francesco" is about Catholic Saint, stigmatist and mystic Padre Pio as a young man. He was said to bleed continuously from his hands and feet, levitate, bi-locate and perform miracles. Supposedly, the scent of roses trailed him everywhere he went, and, mind you, this is all happening in the early and mid-20th century which to us makes it all the more legitimate, if you believe in that sort of thing. "Francesco" – the London Plane song – imagines him as a young man, known through Italy as a miracle worker with the wounds of Christ, yet tortured, isolated, and lonely because of this affliction. Levitating, bleeding all the time I imagine has a way of making sure you're never alone but you can probably forget a night at the disco. So, we bring it to him. But I wouldn't say that there is any one song in particular that will resonate more than any other. As the main writer of lyrics, I approached this album as if it would be the last I ever write and release for public consumption, which is a possibility especially given the current state of things. So, I forced myself to write now about those topics which I felt compelled to approach eventually, but are admittedly challenging to condense into a three-and-a-half minute rock song. Everything was fair game then. For example, while imminent ecological devastation might be referenced in one song, the following song would be about escapism. "Homocosmicus" is based on an idea formed in Russia following the revolution that mankind would eventually meld technology with spirit and become space traveling light beings – seems like a pretty good way to get away from it all when shit finally goes down.
Once concerts can resume, what can people expect from your live shows? And will you tour to support the album?
DAVID MOSEY: Live shows are like an exorcism. In fact, they're not a show at all — no one is acting, putting it on. We approach concerts as if they're our last, and I'm especially thankful for that given the current situation. Our last live set was at Union Pool [in Brooklyn] – if there aren't to be any more packed concerts, I can look back upon it fondly. Regarding touring, if there is demand, and if it's possible, we'll be there.
What made you want to become musicians in the first place?
DAVID MOSEY: My first concert was Peter Murphy touring for Cascade, I think. It seemed important, like a way of communicating that was easier than what I'm doing now. The directness, the danger, the accuracy of the incision, like musical surgery, removing the unnecessary sentiments, the self-created obstacles, the dross, and getting to the point in dramatic and sonically dazzling fashion appealed to me. It isn't easy — I've been writing songs for many years now and I'm still trying to figure out how to do it well, but there are times when I know we've done it, and the process is ceremonial, purifying to me.
Your music seems like a mix of darkwave and post-punk – would you say that's accurate?
DAVID MOSEY: I think that's probably fair, for this album at least. When people have asked me that question in the past, I've said that we're at once dancey and cerebral, which is to say that the lyrics aren't just some rubbish that reads like they're from a diary, which a lot of pop and folk music seems to do. Every word is curated, carefully placed, and the songs aren't contingent upon one's point of view — they're very direct. Angular, punky, disco-ey, dancey, gothy sounds I think serve the directness of the narrative. Now, will I dip into whimsy next time? Maybe, but probably not so long as madmen are running the world. I'll leave it to someone else to provide you sacchariney tunes. There's already plenty of it around anyway.
How did your band form – and how did you know you'd work well together?
DAVID MOSEY: I met Jessica – who sings lead on a few songs on the album – backstage at a tribute to Lou Reed after he died a few years ago. We were both singing in the show, and I thought her voice sounded a bit like Ronnie Spector, so I asked her if she'd do some vocals on the songs that I couldn't – or shouldn't – sing. Most of London Plane has been rippin' around NYC for quite a while; we knew one another from seeing each other play in other bands, that kind of thing. We didn't in fact work all that well together at first. We needed time to come to an understanding, me especially, that it would only be cool if we trusted one another when we have our hit-or-miss rock n' roll seances, conjuring up a song. It didn't work as well when I'd bring a song I'd written alone on acoustic guitar in my apartment. This band is the antithesis of the self-indulgent songwriter, for the better.
What was your musical history before London Plane?
DAVID MOSEY: We've all been in other bands over the years. I had a band called Padre Pio – which just shows you how long the idea of "Francesco" has been brewing – working with my friend Joe McGinty who was in Psychedelic Furs. For me, London Plane is the culmination of a lot of experience, a lot of failure, and figuring out that the rewarding part is finding the synergy to make something powerful.
What do you predict the New York City music scene will look like after the worst of this pandemic is over? How do you see your band fitting into that?
DAVID MOSEY: I fear that concerts as we know them may never be the same, but I think a vaccine, when it comes, will assuage the worst fears of the public. Eventually, the kids are going to find a way. It will be a real gash to the creative heart of the city, but I expect a few essential music venues may close. When they do, I think you'll see an increase in underground – or perhaps open air – clubs and parties. When it starts, we'll be slinking around downtown, ready for it.