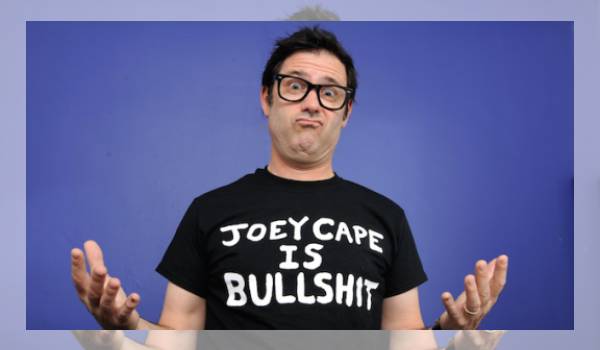 2 November 2021
(Photo by Rudy De Doncker)
Playing Favorites is an interview series where creative people pick a topic and tell us their five favorite things about it. Opinions expressed in this series are those of the interviewees and do not reflect the opinions of S.W. Lauden or The Big Takeover.
Veteran SoCal punk outfit Lagwagon is hitting the road this November and December. They'll be performing two of their fan-favorite albums, Double Plaidinum and Blaze, on alternating nights across the U.S. and parts of Canada (before heading to Europe next summer). Lagwagon frontman, Joey Cape, has toured relentlessly for three decades, with the band—currently including Chris Flippin (guitar), Chris Rest (guitar), Joe Raposo (bass) and Dave Raun (drums)—and as a solo artist. Cape has enjoyed some delicious food and well-crafted cocktails along the way. I asked him to share five of his favorite North American restaurants to visit while on the road.
Playing Favorites: Joey Cape's Top 5 Tour Restaurants
S.W. Lauden chose the cities, Joey Cape chose the restaurants. He gave us four favorites and one he's looking forward to trying on this upcoming tour.
5. San Francisco, California: Gentilly
There are, of course, many great places to eat in S.F., but I chose Gentilly for a number of reasons. It's in the neighborhood I have lived in for over a decade, within walking distance of my house and the brunch on Saturday and Sunday has become a regular meet for me and my closest local friends. It is Creole-inspired food and they have great cocktails.
4. Vancouver, British Columbia: Phnom Penh
My food experience in Vancouver, BC has always led to Southeast Asian cuisine or, more specifically, Vietnamese food. My pick is Phnom Penh. It is simply great.
3. Austin, Texas: Punch Bowl Social
I used to always look for BBQ in Austin, but I am off the beef these days. That said, there is a place called Punch Bowl Social that looks great. The food and cocktails come highly recommended and they have gaming, including classic video games, bowling and life-sized Scrabble. Old-school nerd time!
2. Cleveland, Ohio: Melt Bar and Grilled
I admittedly do not know Cleveland as well as I could, but I always end up at Melt Bar and Grilled. It's really fun. Crazy tasty, clog-your-arteries sandwiches, big enough for the second meal as takeaway. It's rock 'n roll themed as well. They even have fake band merch with their label incorporated. I still have a KISS-Melt shirt from my first visit.
1. New York City: Joe's Pizza
Pizza perfection is completely subjective, especially in NYC where it's an ongoing quest. My initial reaction is Joe's Pizza. Not only is it classic, true New York pizza (not Sicilian or Neapolitan), but we share an easy-to-remember name.
Previously on Playing Favorites:
Jason Cutthroat's Top 5 Favorite Zombie Movies