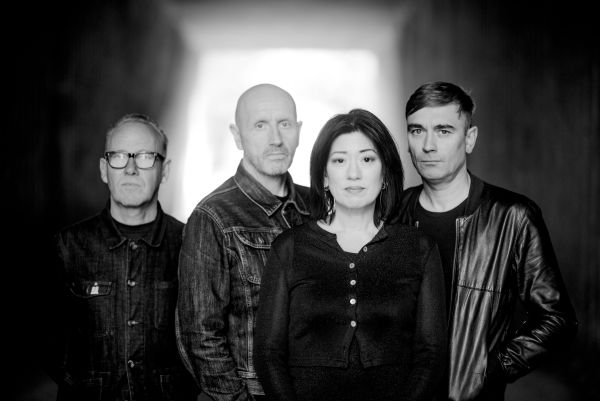 6 November 2018
L to R: Mick Conroy, Moose, Miki Berenyi, Justin Welch of Piroshka – Photo Credit: Neil Stewart
It's been a spectacular several years for bands of a certain era (1990s), location (England), and subgenre (ahem, the once-derided and now fashionable shoegaze tag) reforming. The list is lengthy and includes My Bloody Valentine, Slowdive, Ride, and of course, Lush.
Reluctant to jump on the reunion bandwagon, with hectic schedules full of the usual business of living their lives (family, jobs, etc…), Lush's members finally did reunite, producing the acclaimed Blindspot EP that hit the aural sweet spot and touring to enthusiastic raves.
The sudden split of Lush while on a successful tour in 2016 hit the band members and their fans hard and made concerned music writers scratch their heads in befuddlement.
But from out of the wild and tangled musical forest now comes an intrepid and triumphant Red Riding Hood in the form of Piroshka, Miki Berenyi's (Lush) new band with her life partner Moose (AKA KJ McKillop of the 1990s indie rock band Moose), Mick Conroy (Modern English), and Justin Welch (Elastica).
I had the pleasure and privilege of touching base with all four members of Piroshka for an engaging and revealing Q&A interview about their new music (ad)venture.
This interview will also be updated in the (near) future with more intriguing Q&A once more information about Brickbat has been officially released.
It's early days for Piroshka, but they just officially announced their arrival and released the dreamy symphonic-pop spiked with bittersweet lyrics lead single "Everlastingly Yours". They also stated that their debut album Brickbat would hit on February 15th, 2019 via Bella Union.
Tour dates have already been announced, with more on the way, so stay up to date at Piroshka's socials, which are listed below.
Hello everyone! I'm so thrilled to have the opportunity to touch base with you all about your new band Piroshka. I can only imagine the excitement you're experiencing – and the stress you are under – as you juggle family and work life with being in a band. Where are you at this moment, what are the vibes like, and how are preparations going for launching Piroshka into the world?
JUSTIN: Things are good, really exciting. There's already been an overwhelming response from social media. We announced our first gig earlier in the week and it sold out within a few hours! This is without anybody hearing any music. So yeah, pretty good at the moment, thanks! We start rehearsing in the next couple of weeks for the Lexington gig. The diary is starting to fill up and the record is going to radio, so kind of trepidatious about that too.
MIKI: I'm on my lunch break at work. As I write, we're getting emails confirming gigs for next year which is making me feel simultaneously excited and nervous.
For those who don't know your musical lineage (and also if anyone in the band has taken on new duties), what instruments do you each play and who is the vocalist?
JUSTIN: I play drums. I was the drummer in Elastica. I've also played in many bands over the years, and more recently played drums for Lush when they reformed.
The writing process was very organic and initially done almost entirely remotely. This gave us all the opportunity to write with whatever instruments were available at the time. For me, it could be a guitar or my dogs bowl for percussion!
MIKI: Justin is on drums, Mick is bass, Moose is guitar, and I am guitar and vocals. During the recording, we all piled in on the programming and keyboards, although Mick is the only one who can properly play – like, with both hands and everything. He played keyboards in Stereolab before.
Is there a main lyricist in the band or are you sharing this part of the creative effort?
MIKI: The finished song lyrics have been written by me and Moose, but Justin set the tone on some. For example, he came up with the drums and chords for "This Must Be Bedlam" and had his backing vocal on there already, and he sent certain songs with working titles, which then provided a starting point for the lyrics I wrote.
MOOSE: Lyric-writing is a solitary task. Miki has done most of the lyrics and I've done two or three.
Did you decide to sign on to a new band in general, and specifically in Piroshka? Who initially brought the thought up?
JUSTIN: I just knew how much Miki was enjoying playing live, and again with the Lush reunion, she'd surprised herself. I think about how much she was enjoying it. I could feel something exciting and it was making me think! If everyone is into to this, well maybe we could start something completely new; have a fresh start.
I knew Miki would be cautious at first, but at the same time I also knew she was really vibed about how we'd sounded in rehearsals. We saw the rest of that year out and then I came up with what you could call the icebreaker, which was "This Must Be Bedlam". At the time things just seemed really wrong! Lush had called it a day after having an incredible reunion in my eyes. Those shows were wonderful to play; their fans were something else.
Myself and a bunch of colleagues who were working with kids in a music college had all been made redundant, my wife and I were in the midst of becoming victims of hideous rogue landlords, so [we] found ourselves living in temporary accommodation. The Americans in the White House were making all sorts of massive mistakes. They just didn't have a clue who would be in office and who wasn't… Laughable, really!
Oh! And we had the insanity of Brexit! What I do know is that I've got morals. I can tell between right and wrong, and everything was definitely moving more towards the latter of the two. So whilst living in that holiday flat, I came up with the foundations to "What's Next" and "This Must Be Bedlam". Those four chords seemed to sum it all up.
There's always a positive when shit like this happens. I guess you could say, just like punk was reaction to what was happening, then I think there will be a load of great music coming along, now we have something that gets our backs up; something to write about again.
[Moose] was a little bit reticent at first, [but] we could tell he'd thought about it long enough to want to get involved. We now just needed some songs.
I tentatively sent Mick and Miki my demo of "This Must Be Bedlam" and left it at that. We hadn't discussed ideas as to how we wanted to sound; we just wrote what came to us.
Lo and behold, Miki sent it back to me and had written and sung lyrics over the demo. Mick was on the phone straightaway saying, "You've cracked it. We have our first song."
Has being in other music groups in the past taught you how to better manage the balance between Piroshka with the rest of life's (important) endeavors (children/other family, jobs, friends/social connections, everyday errands)?
JUSTIN: Years ago I had no responsibilities and I would put all my eggs in one basket, so to speak… band, band, and band!. Now I realise I need variety in my life. It can't just be the music. I want to have a happy home life too. I now know that the two can totally coexist happily!
MIKI: During the Lush reunion, Moose was home looking after the kids and I had a sabbatical from work which made the touring possible. This time, Moose is in the band as well, so it's more tricky and we both have to fit the touring into our normal work holidays. Hopefully we won't end up getting a divorce at the end of this. Actually, we won't because we're not married, but you know what I mean.
MOOSE: Over the next year we'll find out just how successfully Miki and I manage our musician/parent balance. This is a first for us, and our children are at important stages in their education/development (aren't they always!). If it becomes a problem, it will be easy for me to opt out and return to civvy street.
How did you hit upon your band name? Is it a variant of 'little red riding hood' in Hungarian as has been suggested by bloggers online? Was it a unanimous vote for it?
MIKI: Yes, Hungarian for Little Red Riding Hood. The proper spelling is Piroska (no 'h') but it's pronounced Piroshka [and the 'i' isn't really emphasized, but glossed over].
We had a whole list of names. A load of the ones we came up with were already taken. Or one person would hate it. Drove us nuts, really, and it went on FOREVER.
Oh, dear! Did you ever think about taking the first two letters of each of your previous bands' names and combining them? For instance, Luel Momo, or perhaps the rearranged El Moomul? (I guess you could always title you debut album in this manner, like Interpol did with El Pintor…)
JUSTIN: I didn't know they did that.
MICK: …MMMJ.
MIKI: Das Inemura.
What keeps the fire alive inside to continue to create music, despite having full (and fulfilling) lives outside of the music field?
JUSTIN: I don't think any of us have really lost our passion for making or listening to music. If you have made music at some point in your life or played in a band, then you'll know how rewarding and gratifying it can be.
When Elastica split up in 2000, my wife and I both felt like we needed to do something else (other than music) – dig some holes, grow some veg, and get away from the what seem like the glittery lights of the city. So we moved out of London to the countryside, on a cow farm – right in the middle of the foot-and-mouth disease nightmare. It was the most bizarre situation to put ourselves in, I suppose. At the time, no one was brave enough to even think of doing what we had done All of our friends thought we'd gone mad. "Moving to the country!! No one does that, why do you want to go live there?"
After about a year of contemplating and enjoying our new life, I started building a small studio consisting of a drum kit, a couple of keyboards and Pulp's old 4 track, so you can see I'd come full circle and I found myself making music again. It never goes away. I love making music and even more so with friends.
If you're lucky enough to find a bunch of like-minded musician friends, I recommend getting in a room together and making some music. When the magic happens, it's a wonderful thing.
MICK: I'm constantly listening to new music, as well as old music that I have only recently discovered… often thinking, "How did they do that?" or just feeling, "This is great."
When, or these days, if you have downtime, what do you enjoy doing? LOLing at funny cat videos on YouTube? Binge-watching Stranger Things and The Handmaid's Tale? Hitting the record stores (Are there any left standing these days?!)?
JUSTIN: We all have other interests: Mick lives on a boat, so he's probably building sails and tying knots; Miki loves cooking; Moose is an avid follower of his beloved football team Tottenham; and mine is rallying, of which I'm now off to stand in one of my favourite places (Sweet Lamb), a forest in Wales to watch the World rally championship (It's not a big sport in America). I also love trawling through record shops, looking for the next inspiring purchase.
MICK: I live on a boat in Suffolk where we have big skies and beautiful country side… forests and beaches. Perfect for walking my dog… I'm afraid there aren't any record stores near me… Occasionally I do find the odd gem in local charity shops though.
MIKI: I listen to podcasts a lot. I had to stop Dear Joan and Jerica while commuting on a packed Tube because it was so filthy I kept bursting out laughing. I'll often listen to one while I'm doing the housework or cooking. My family often see me brimming with tears while cleaning the bath or kneading pastry because I'm listening to witness testimony from the Grenfell Tower podcast. I do a lot of cooking too. And I used to love playing board games, but the kids have outgrown them now!
MOOSE: Running, reading, music, films. All the antidotes/escapism that enables you to be a reasonably sane father and bearable friend.
If you've recently been to a record store, or made some online purchases, what cool stuff did you pick up?
JUSTIN: The last independent record shop I was in was called Music's Not Dead. The ironic thing was [that] it was unfortunately closing down. They were having a wake for it, which was really cool; bands playing in the shop, free drinks, and the records were being sold off. It was a great day albeit a sad one.
We can't keep allowing this to keep happening. We've got to support our indies. I'm sure you agree. I actually came away this time with a couple of old releases: The National's Trouble Will Find Me and a re-issue of Kraftwerk's Autobahn, both great records and both of which I hadn't got on vinyl until now.
MICK: Recent listening: Hannah Peel, Mary Casio (kind of electronic brass band), the new Spiritualized LP (very good), but I always listen to Bowie, Philip Glass, Talk Talk's Spirit of Eden, and Steve Reich.
MIKI: Moose and Stella (my daughter) generally control the music in the house, so I hear a lot of Shame, Idles, and Goat Girl and everything that Moose has put in his answer [above]. The last stuff I bought myself was Belly, The Breeders, and Courtney Barnett.
MOOSE: Best band of recent times? Protomartyr (both live and recorded). The new Low album is stunning (as always). Tim Hecker's Konoyo is brilliant. His show at the Barbican last week was astonishing.
Lastly, what golden nuggets of wisdom have you learned from your time in prior bands that you can apply to Piroshka?
JUSTIN: There are many. I'd say I have a better understanding of the 'behind the scenes' stuff much more these days. You tend to trust those who say that they are looking out for you in your early bands, but that's not necessarily always true! Most of the time they're learning too, so mistakes are made and decisions are sometimes bad ones and you just accept that's the way it is. At least we are the ones making the decisions these days.
MICK: I try to listen to what the others are playing and think, "Is what I'm playing making it better or worse?" and, "Should I play less?"… and also, "Stretch yourself…"
MOOSE: Try to be a little less precious. By that I mean try to remove your head from your arsehole now and then.
MIKI: Stay calm and don't lose your temper. Not that I'll pay any attention to that.
comments powered by