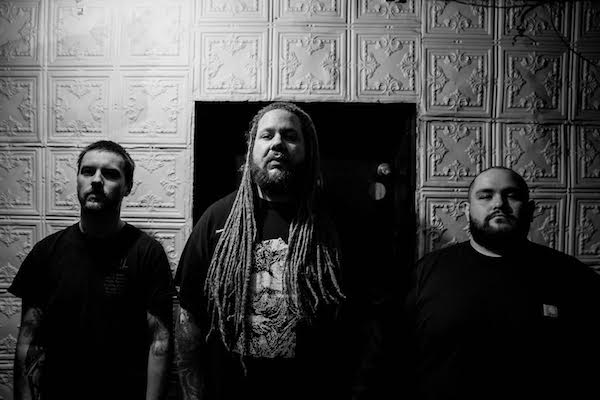 11 July 2019
Photo: Alvino Salcedo
It's been a hell of a ride over a short period for Primitive Man. The blackened-doom trio from Denver issued their first album less than six years ago, but since then they've signed to one of metal's top labels — Relapse; issued a lauded follow-up, 2017's Caustic; put out a split with Unearthly Trance; and toured with Bell Witch, Spectral Voice and Full of Hell.
Primitive Man will add another slab to their pile of accomplishments on August 15 when they perform at Psycho Las Vegas for the second year in a row. The band consisting of guitarist/vocalist Ethan Lee McCarthy, bassist Jonathan Campos and drummer Joe Linden are billed high on the lineup for the daylong pre-party at the Mandalay Bay Resort and Casino's Daylight Beach Club — and anticipated by labelmates Devil Master, among others.
The Big Takeover caught up with McCarthy via telephone about a month ago, when Primitive Man were in the middle of their lengthy tour with Full of Hell and Genocide Pact, and shortly after they played another staple U.S. metal festival: Maryland Deathfest. McCarthy told us what makes Psycho distinct, why you probably won't be seeing him in the pool — and, with some coaxing, what stands as his best Vegas memory (so far).
How's the tour going, Ethan?
MCCARTHY: We're having a good time but have been at it since April.
Primitive Man is one of few bands invited back to Psycho after playing last year. When did the re-invite happen?
MCCARTHY: I think in June, they asked about it, and we were stoked. We were going to go for the fest anyway, and it worked out for us. I'm supposed to DJ some of it too. We're thrilled.
What was your previous Psycho experience like?
MCCARTHY: Last year was fucking awesome. One of the coolest shows we've ever played. The crowd was responsive, and it was an overall really nice weekend. That's what's cool about it: People are there to fully immerse themselves in music for four days. They're sleeping where the shows are.
What else makes the festival special?
MCCARTHY: The size of it is out of control. In five years, it could be America's Hellfest in France: Disneyland for metal. They could do it super-big.
How long are you going to be at the festival?
MCCARTHY: We're gonna be there the whole weekend.
Who are you planning or hoping to hang with in your downtime?
MCCARTHY: Smoking weed and getting drunk, man. Just hanging out.
Who will you be hanging with?
MCCARTHY: We saw a lot of friends from around the country last year, so linking up with them. [Last year we hung out with] Indian — they're good friends of ours — Unearthly Trance and Bell Witch.
What other bands are you most excited to see perform at Psycho?
MCCARTHY: This year's lineup has a lot of variety. Some people are complaining, but Beach House is cool-ass shit. They're not metal, but their music is wonderful. They have Electric Wizard, which is rad. Corrosion of Conformity, I've never seen them.
Do you prefer playing indoors or outdoors? In the cold or the heat?
MCCARTHY: The festival determines when we play, and we roll with it. We're playing the pool party this year. I don't swim. I hate [the heat], but what can you do?
Will you play a similar set list as you performed at Maryland Deathfest?
MCCARTHY: I don't know what we will play at Psycho, cause it's two months after we get home from touring. We might play some unreleased stuff because we've toured on Caustic for two years pretty heavily.
Tell me something that happened to you in Vegas that was supposed to stay in Vegas.
MCCARTHY: I can't break the trust and tell a journalist.
OK, how about your favorite Vegas memory?
MCCARTHY: We met Crunchy Black from Three 6 Mafia on the Strip. We talked to him and took some pictures with him. I love hip-hop. I listen to it every day. My musical taste is very varied — which is why I like Psycho so much.
What can fans and newcomers expect from your performance(s) at the festival?
MCCARTHY: It's gonna be the most depressing pool party you've ever been to in your entire life. The bleakest music you'll hear at a pool. We're gonna punish the shit out of everybody.
For previous installments of the Big Takeover's Psycho Las Vegas preview series, check out our interviews with:
• Colin H. Van Eeckhout, vocalist for Belgian post-metal purveyors Amenra
• Jason Shi and Scott Key, singer/guitarist and drummer, respectively, for melodic hard-rock masters ASG
• Stephen McBean, singer/guitarist of long-running psychedelic-rock project Black Mountain
• Jean-Paul Gaster, drummer for "the quintessential American rock band," Clutch
• Greg Meleney, vocalist/guitarist for Portland psych-rock mainstays Danava
• George Clarke, vocalist for shoegaze/black-metal powerhouses Deafheaven
• L.A.-based metalhead and Judas Priest enthusiast DJ Painkiller, who will be spinning between sets
• Darkest Prince, lead guitarist for black-metal punks Devil Master
• Victor Vicart of Scottish progressive-metal quintet Dvne
• Zack Simmons, drummer of blackened death-metal demigods Goatwhore
• Emil Amos, drummer of experimental post-rock band Grails
• Julien Chanut, guitarist of French sludge-doom band Hangman's Chair
• Tony Campos, guitarist and founder of thrash revivalists Hell Fire
• Nashville cosmic-riff connoisseurs Howling Giant
• Gabriel Franco, vocalist/guitarist for gothy post-punks Idle Hands
• Joshy, drummer for crusty death/doom-metal outfit Ilsa
• Johanna Sadonis, vocalist for "heavy magic rock" band Lucifer
• Stuart Braithwaite, founding guitarist/vocalist for beloved post-rock legends Mogwai
• Thomas Eriksen, centrifugal force behind true Norwegian black-metallers Mork
• All-female Motörhead tribute band Motorbabe
• Tobias Grave, frontman of shimmering post-rock trio Soft Kill
• Derrick Vella, guitarist of death-metal arsonists Tomb Mold
• Niklas Källgren, guitarist of Swedish fuzz fanatics Truckfighters
• Los Angeles Satanic doo-wop duo Twin Temple
• Sean Killian, vocalist for cult-favorite Bay Area thrash band Vio-lence
• Bruce Lamont, frontman of experimental heavy-jazz project Yakuza and Led Zeppelin tribute band Led Zeppelin 2
• Aaron Rieseberg, bassist of Oregon doom-metal dealers Yob
Also, don't miss our special feature in which Deafheaven's Clarke and Mogwai's Braithwaite discuss their mutual affection for each other's bands, whether Deafheaven should play their Mogwai cover at Psycho Las Vegas — and the possibility of a collaboration between the two projects.