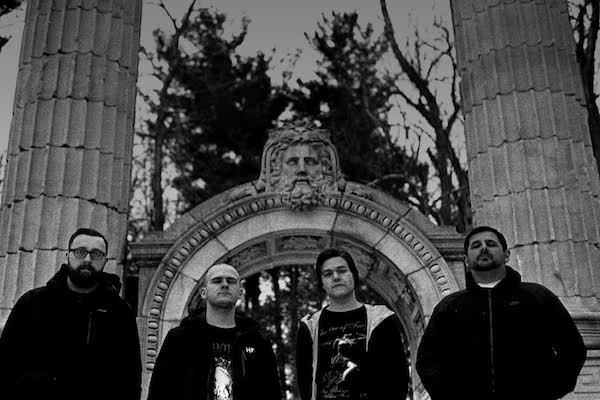 6 June 2019
Photo by Joey Arredondo
Death-metal arsonists Tomb Mold had a banner year in 2018, with their second full-length album, Manor of Infinite Forms, lighting up both devoted and pedestrian fans of the sub-genre. The 20 Buck Spin signees decimated a handful of festivals following the record's June release — Austin Terror Fest, Quebec Deathfest and Maryland Deathfest, among others.
Come July, the Toronto quartet will continue their hot streak with a follow-up album, Planetary Clairvoyance — and then make their mighty entrance at yet another fest, Psycho Las Vegas, on August 17. (Psycho goes down at the Mandalay Bay Resort and Casino from August 15 to 18.)
One of the most brutal acts on a diverse lineup that also features dance-punks the Faint, psychedelic-rock project Tobacco, Afro-beat jam ensemble Polyrhythmics and about 70 other bands, Tomb Mold may give Carcass a run for their extreme-metal money (both onstage and maybe at the casino table too).
Tomb Mold consists of Max Klebanoff (drums, vocals, electronics); Derrick Vella (guitar, classical guitar); Steve Musgrave (bass); and Payson Power (guitar). With instruments in hand, their collective power carries the weight of 10 slot machines dropped off the top of a Vegas skyscraper.
The Big Takeover recently chatted up Vella about burning through wads of cash in Sin City, finding a random hype man for their gig, and Klebanoff's plans to try out his new stand-up material. We think he was being serious about the last point …
Why are you particularly excited to play Psycho?
VELLA: I think we're stoked because it's VEGAS! Vegas is weird af, and we plan to have a lot of fun. It's also always nice to play at fears/travel destinations, it gives us a chance to meet fans from elsewhere and sometimes see familiar faces by surprise.
This is your first time playing the festival. What are your expectations?
VELLA: We expect nothing less than ripping some faces off, since we'll be riding high off our new record and then going buck wild and gambling away our band funds. Payson and I plan to break the bank on this excursion.
Do you have any surprises planned for your Psycho set, whether they be songs you wouldn't normally play, added stage elements, etc.?
VELLA: We're gonna survey who is doing residencies at the hotels and get the most washed-up person to be our hype man. Aside from that, we'll just play whatever strikes our fancy that day. 

Do you prefer playing in the heat or in the cold? Indoors or outdoors? What are the advantages and disadvantages of playing at the time and on the stage where you're scheduled to perform?
VELLA: Heat always! My hands tense up in the cold. Indoors preferably, so all that gross heat can be contained. There's no real pros and cons to when or where we play, we are just happy to be there!

Tell me something that happened to you in Vegas that was supposed to stay in Vegas.
VELLA: Wish I had a story. I will say, I saw my first concert in Las Vegas when I was a kid. It was Tom Jones at the MGM Grand. He brought it harder than most bands these days can. 
What other bands are you most excited to see perform at Psycho?
VELLA: Megadeth and Carcass.
What friends of yours are also playing at the festival? Who are you planning or hoping to hang with in your downtime?

VELLA: We have no friends but we could pretend like we know Dave Mustaine If that helps this interview. Glad to see Devil Master on there! They're good people :) 
What can fans and newcomers expect from your performance(s) at the festival?
VELLA: They can expect a set heavy on our record Planetary Clairvoyance, and Max will have some new stand-up material to try out as well. 
For previous installments of the Big Takeover's Psycho Las Vegas preview series, check out our interviews with:
• Colin H. Van Eeckhout, vocalist of Belgian post-metal purveyors Amenra
• Zack Simmons, drummer of blackened death-metal demigods Goatwhore
• Julien Chanut, guitarist of French sludge-doom band Hangman's Chair
• Nashville cosmic-riff connoisseurs Howling Giant
• Thomas Eriksen, centrifugal force behind true Norwegian black-metallers Mork
• Tobias Grave, frontman of shimmering post-rock trio Soft Kill
• Niklas Källgren, guitarist of Swedish fuzz fanatics Truckfighters
• Bruce Lamont, frontman of experimental heavy-jazz project Yakuza and Led Zeppelin tribute band Led Zeppelin 2