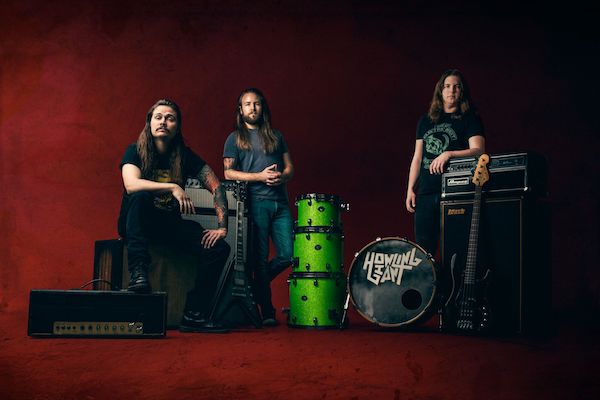 4 June 2019
Photo by Howling Giant
Dear readers of the Big Takeover's ongoing Psycho Las Vegas preview series know by now that this year's edition will feature metal legends Megadeth and Carcass, indie-rock icons Beach House and Mark Lanegan, post-rock powerhouses Mogwai and Godspeed! You Black Emperor, and punk-rock immortals Glassjaw and Bad Religion.
Not to be overlooked, though, is a bevy of fuzz-rock bands that will play at the festival, taking place at the Mandalay Bay Resort and Casino from August 15 to 18. Indeed, many of the acts helped establish Psycho as a go-to stoner event before it relocated from California to Nevada in 2016 and expanded its musical scope.
For example, this year's lineup also includes riff-tastic Swedes Truckfighters (read our interview with them here), festival stalwarts Dead Meadow, 2016 festival participants Fu Manchu — and three gentlemen from Nashville named Howling Giant.
The so-called "cosmic riff" connoisseurs played 2018's shindig, as well as the one-day Psycho SmokeOut on April 20 of this year. The band — which consists of guitarist/vocalist Tom Polzine, drummer/vocalist Zach Wheeler and bassist Sebastian Baltes — will rule the stage again on August 15, at the day-long pre-party show.
While they have self-released three EPs to date, Howling Giant plan to dip into songs from their first full-length, which will drop mere weeks after the festival. (As it turns out, the record will feature a cameo by vocalist/guitarist Jason Shi of ASG, which is slated to perform the same day.)
Howling Giant recently chatted up the Big Takeover about going (for) broke in Las Vegas, floating in gin and tonics in the festival's pool, and the "psych-punk rodeo" they have planned for this year's installment.
Why are you particularly excited to play Psycho? What makes the festival special — both from a performance perspective and as a personal experience?

HOWLING GIANT: It's very rare that the U.S. gets a rock/metal festival of this caliber. People travel from all over the country to this festival in celebration of heavy music. The feeling of full immersion in a festival like this is indescribably beautiful, and you should come hang out with us. 

If you've played the festival before, what memories do you have of it? If you haven't played it before, what are your expectations?
HOWLING GIANT: We played the Vinyl Stage last year when Psycho was hosted by the Hard Rock Hotel. We had an amazing show and worked up a real intense layer of sweat. We then got to wash off in the communal pool while enjoying the dulcet tones of Red Fang, Pallbearer and Zakk Sabbath and floating into a gin and tonic-induced oblivion.
Do you have any surprises planned for your Psycho set, whether they be songs you wouldn't normally play, added stage elements, etc.?

HOWLING GIANT: We're releasing a full-length record later this year, so we will be playing a few new songs from said record!

Do you prefer playing in the heat or in the cold? Indoors or outdoors? What are the advantages and disadvantages of playing at the time and on the stage where you're scheduled to perform?

HOWLING GIANT: We usually prefer to play indoors for the sake of the sound and light show, but the idea of playing a poolside show is very exciting. We're stoked to play the pool party this year because we can cool off in the pool right after we play. Since there is only one stage for the day, we'll be able to catch nearly every band.
Tell me something that happened to you in Vegas that was supposed to stay in Vegas.
HOWLING GIANT: Apparently my money is supposed to stay in Vegas, because I left with none. 
What other bands are you most excited to see perform at Psycho?
HOWLING GIANT: Opeth, ASG, Yob, Truckfighters, Electric Wizard … the list goes on and on. We're not quite sure how we'll make every set. Someone make us a spreadsheet?

What friends of yours are also playing at the festival? Who are you planning or hoping to hang with in your downtime?

HOWLING GIANT: We're excited to hang with everyone behind the scenes. Last year we got to meet a lot of the heavy reviewers, bloggers, photographers and label representatives who keep this scene alive and well. We don't know anyone else on the bill personally, but based off of our experience last year, you make your friends in the casino. Our fill-in bassist last year lost a bunch of money at the blackjack table, and people were donating to his cause to get him back in the game. (Didn't work, he lost their money too.)

What can fans and newcomers expect from your performance(s) at the festival?
HOWLING GIANT: A high-energy, no-holds-barred, psych-punk rodeo. Saddle up.
For previous installments of the Big Takeover's Psycho Las Vegas preview series, check out our interviews with:
• Colin H. Van Eeckhout, vocalist of Belgian post-metal purveyors Amenra
• Julien Chanut, guitarist of French sludge-doom band Hangman's Chair
• Zack Simmons, drummer of blackened death-metal demigods Goatwhore
• Thomas Eriksen, centrifugal force behind true Norwegian black-metallers Mork
• Tobias Grave, frontman of shimmering post-rock trio Soft Kill
• Niklas Källgren, guitarist of Swedish fuzz fanatics Truckfighters
• Bruce Lamont, frontman of experimental heavy-jazz project Yakuza and Led Zeppelin tribute band Led Zeppelin 2