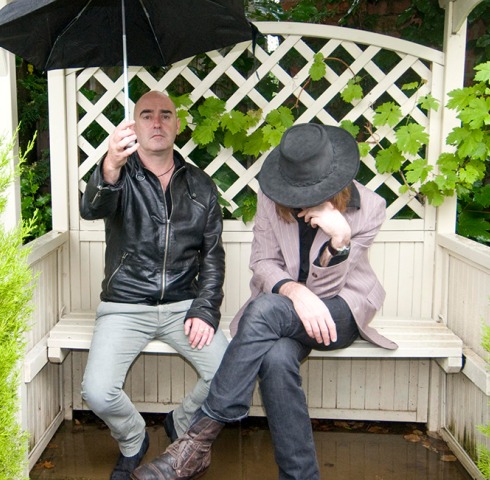 29 May 2013
As debut albums go, the self-titled debut album by Parlour Flames is a satisfying affair, and considering the pedigree of the duo of Vinny Peculiar and Paul "Bonehead" Arthurs, certain expectations might arise-both with what the listener expects, and with what the band themselves may feel. It would be easy to get caught up in comparing them with 's former band, Oasis; considering this is his first major project since leaving the band thirteen years ago, perhaps it's understandable. Thankfully, there's nothing remotely reminiscent of former glories-as he states, those days are way in the past.
But one element carries over; Parlour Flames is very much an English record. With songs about nostalgia, football, and rock and roll, the overall feel of Parlour Flames' debut is one of gentle longing and looking back wistfully.
BIG TAKEOVER: What I like about the album is that it feels immediate without sounding rushed. How did this album come about? From what I've gathered, it wasn't necessarily meant to be an album, it was meant to be an EP. Was Vinny working on a solo album, and it morphed into something else? Did you find yourself writing songs quite quickly once you started?
VINNY: We'd planned to work together back in 2007 after Bonehead plays bass in my band, he also played on the 2010 Vinny Peculiar album Other People Like Me. Fast forward to 2012 and an EP was the plan, and that ultimately led to the Parlour Flames album being made. The recording process was kept straightforward using the computer as a tape machine as we're both more familiar recording to tape —it was very much us learning how to make records which might have contributed to the immediate feel you speak of. Bonehead definitely led on the production side of things. Some of the songs I had already written, but they were not necessarily destined for the next Vinny record, namely "Lonely Girls & Horses'" and "Too Soon the Darkness." "Manchester Rain'" was a Vinny song hanging around for the right moment, and as the session unfolded, he wrote "Pop Music Football & Girls." The remainder of the album was written more collaboratively using and modifying musical structures as the session progressed, and a definite Parlour Flames sound began to emerge.
BT: Paul, this is your first band since Oasis. After leaving, did you intentionally stop making music, or did you just find other interests?
BONEHEAD: Well, I didn't stop making music, I actually built a recording studio at home and recorded some stuff with Mike Joyce on drums and Andy Rourke on bass. I also had a project called The Seers shortly after leaving Oasis, again with Mike on drums. We recorded and played a few gigs around the UK. I also spent time in Thailand working with an artist called Sek Loso, which was really good fun to do. After that I was involved with a band from Manchester called The Vortex, we toured the UK extensively and also Europe, but the band finished a few years ago, the other members going on to start other projects of their own. I also hosted a radio show on BBC Radio Manchester for a while which i really enjoyed. This project with Vinny is the first thing since leaving Oasis that I've been involved with that I've felt comfortable about releasing, so I'm looking forward to getting out on the road and playing it live.
BT: How is it working in a collaborative band setting again?
BONEHEAD: It feels great! There's been no pressure from record companies or management, so we were able to work at our own pace and really let the ideas we had develop. We didn't approach any record companies until the record was near finalised, so it's been a different kind of feel to how it was in Oasis.
Did you feel the spectre of your previous band hanging over you?
BONEHEAD: No, not at all. The record doesn't sound like Oasis; as we progressed with writing and recording, we began to develop a sound that we can call our own. Sure, there are elements of my trademark guitar sound that I developed when I was with them, but I think as a player I've changed in style and sound. My part in Oasis was 13 years ago, and I think I've definitely matured as a player, as you can hear across the record.
BT: What did you learn from working and recording with the Gallagher brothers? Did you find any of that possible influence going on when you worked together?
BONEHEAD: I learnt a lot working in Oasis. I think we all did, because it was a new experience for all of us when we started out in the band. None of us had any experience working in recording studios, going out on tour, or dealing with the record industry and success. As far as recording this album, we really learnt a lot by doing it ourselves. We produced it and played most of the instruments, or as much as we could. I probably learnt more in the process of making this album than I did recording with Oasis. Unlike that band, we had no producer to say do it this way or try that, so it was a kind of huge learning curve for us both. We're both happy with the finished record, and I'm certainly looking forward to recording the next.
What's next on the agenda for Parlour Flames? Was this a one-off, or are you planning for world domination?
VINNY: We hope to make another record this year and we'd like a bash at film sound tracks as well, that would be something.