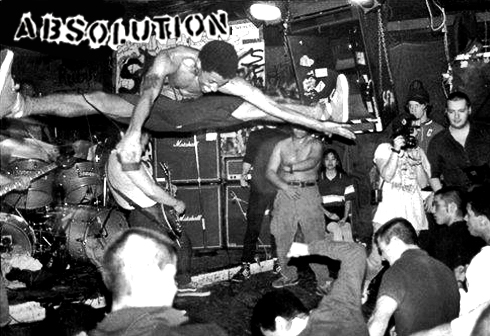 27 February 2013
Absolution is a band from New York City that started playing together in 1987. They played their first show at CBGB's in January of 1988 with Raw Deal, Sick of It All and Krakdown. These were working class guys who played to working class kids. To some extent this relationship gave them everything they could ask for. At that time New York City had one of the most active punk and hardcore scenes on the East Coast, that definitely helped them get exposed to a wide audience. Despite the negative attention that NYC bands often received in national mags like Flipside and MRR during those days, the bands didn't seem to notice or to care. Under the façade of media attention that painted that scene as drunk punks vs. straight edge vs. whatever, there was a whole other layer of bands and clubs forming. Kids that started their own bands and set up their own record labels. New York and its notorious scene at that time was more than just slam dancing and hell raising. The city was a legitimate melting pot of kids of all races, all classes and all religions.
Bands like Absolution, Sick Of It All and Murphy's Law didn't waste their time with empty slogans or geographic semantics. Instead, they were out there playing half-empty dive bars on a Thursday night. They did the thankless work, spent time writing and rehearsing. Years of touring and making records, most of which are still in print today. They learned their lessons. They found out that reward only comes with diligence.
After recording a thirteen-song demo tape with Don Fury at his Demo Demo Studios, Absolution pushed themselves to play as many shows as possible. By the fall of that year they had opened for Underdog, Chain of Strength and Washington DC's Government Issue at CBGB's. But they didn't stop there. They also made time to give back to their scene, playing benefit shows for Amnesty International, the punk fanzine Squat or Rot as well as a benefit show for Agnostic Front at the Pyramid Club that winter.
The original lineup of the band consisted of Gavin Van Vlack on guitar, Alan Peters on bass, Greg Johnston on drums and singer Djinji Brown on vocals. That summer, Johnston was working as an intern at MTV by day and playing drums with Absolution by night. They kept busy recording demo tapes and made a four song EP for Combined Effort records. The EP was released on November 12, 1988 and the band held the record release show at the Lismar Lounge with Judge, SFA, Pressure Release and those pranksters Bugout Society. The lone record by Absolution is still highly prized for it's unique style and intelligent lyrics.
The band also appears on the "Murders Among Us" compilation from 1989 with Nausea, Life's Blood and Born Against. This was their last official release. As 1989 came to a close, the band found themselves at odds with each of their possible futures. Early that year they recruited bass player Sergio Vega from Collapse to take Alan's place. It was around this time that the band was busy recording and rehearsing songs for a planned 7" compilation of New York City bands that was to be released by Combined Effort. The record never actually materialized, like a lot of art and music at that time they band and the record found themselves confined by financial restraints and other obligations. Although the record never came out there are rumors of its early plans. According to Dave Koening from Hardware Fanzine, the abandoned EP was supposed to feature original songs by Absolution, Gorilla Biscuits and Youth Of Today but for some reason never came to fruition. After the compilation fell through and the band went through line up changes, Absolution crumbled. One of their last public appearances was playing live in Central Park with Living Colour in front of a crowd of thousands. People that saw the show said it was unreal. At one point the band even had a Saxophonist join them on stage.
For next six years the band remained happily dissolved. Their EP fell out of print and their tapes became highly sought after, both in underground tape trading circles and by European and Japanese collectors. The bands material remains highly prized, both in its original formatting and on the Internet. In 1997, Temperance Records began work on an Absolution Discography. This is where my one and only Absolution story comes in. In 1997 I was playing in a band in New Jersey and we happened to be recording at a studio outside Philadelphia called Why Me Studios, which is still there and is still run by Joe DeLuca. We made the trip down to Gibbsboro, some uncharted woodsy section of southwestern New Jersey. The kind of place where people have plastic deer on their lawn and framed pictures of Bon Jovi records on their mantles. As we unloaded our gear, the engineer mentioned that he was working on a project for Temperance Records. We found out from DeLuca himself later that he just began remastering the Absolution tapes.
My friends and I contained our collective orgasms until later in the afternoon, at which time we raided the control booth and examined all of the Absolution stuff. Like a lot of young bands in New Jersey, we recorded at Why Me Studios because they offered the best rates and they had prior experience with recording hardcore bands. DeLuca has engineered recording sessions for Mouthpiece, Turning Point, No Escape, Policy of 3 and Four Walls Falling just to name a few. They guy knows how to make hardcore records. The funny thing about that day (and Why Me Studios in general) is that we were already super distracted. We didn't need to get involved with the Absolution tapes to make it any more distracting. The experience of being in the studio can be overwhelming, especially for a bunch of novices like us. As you walked around the inside of the building, it was dizzying. There was so many different ways to loose time and items to distract you from recording – artwork, instruments, weird ancient video games and stacks of dirty magazines. Not to mention the food. The food delivered and the food brought in, presumably from the nearest WaWa. So anyway, in-between deciphering I Hate You and Turning Point graffiti, we talked Absolution and we got the chance to sift through this material.
I can vividly recall handling the Absolution master tapes and being told to drop them immediately. This box of material was just sitting there, taunting us like forbidden candy. It sat on the mixing desk and whenever DeLuca wasn't looking we tried to get into it. Fortunately for DeLuca and us, nobody from Absolution was there that day. The double LP and CD discography came out that spring and contains a remixed version of their Combined Effort EP along with some demo tracks and live songs. Well worth picking it up if you can find it.
Bassist Alan Peters apparently grew up in Ohio and then moved to Pittsburgh. He moved to the city in the mid-80's and played guitar in Agnostic Front for two years during their Liberty & Justice era. He also played in Crawlpappy, who put out one incredible 12" EP on Blackout! Records in 1990. At the end of Absolution, Peters focused his attention on post-rock sludge, moving closer to Helmet in both sound and principle.
Djinji Brown is the son of legendary jazz musician Marion Brown, like his father, he started his music career in New York City. Marion Brown began recording free jazz in Manhattan at Judson Hall in late 1964. While Djinji was growing up in the sixties, his father was playing and recording with John Coltrane and Chick Corea. Marion Brown released over twenty-five albums and maintained a long, successful career touring around the world until the mid 1990's. Absolution guitarist Gavin Van Vlack calls Marion Brown "…one of the greatest woodwind players ever".
Whether Absolution likes it or not, they have a connection to a famous jazz musician, and at the same time they also have this whole father-son thing happening. You can't help but wonder how these two musicians influenced each other, especially when you consider that some songs from both parties may have been written in the same living room. While Absolution was active, so was Marion Brown. Two days after Absolution released their EP, Djinji's father was in Yerres, France, recording an album with pianist Mal Waldron. The father-son paradigm is extremely rare in music. In this case, both Djinji and his father have solo careers that span decades and have even sometimes overlapped. In 2001, Djinji released some recordings that he and his father taped. But this was long after his days hanging out inside sweat filled caves like CBGB's.
Listening to Absolution's demo tape from 1988 it's hard to imagine why a major label didn't pick them up. Whoever passed on this demo deserves whatever homelessness they later incurred when the labels fell apart. Let's leave it at that. With a slightly better production value and some proper mastering, that recording could have been the record that should have been.
Since dissolving in 1989, people have nurtured the mythology of Absolution with a level of dedication that might surprise you. Most of the people who saw them during their two year run had nothing but praise for the young band, many saying that they always played seemed to have an unlimited supply of energy on stage. Others liked to compare them to a young Bad Brains or a supercharged version of Minor Threat. Fans remember his moves as both spastic and highly acrobatic in nature. By all accounts, most of Absolution's shows left the audiences stunned or injured. Or some combination of both.
In 2008, Absolution surprised everyone and announced that they were playing a handful of shows with a new rhythm section. After that, something happened. Some spark was reignited and they collectively decided to reactivate the band. Since then, the newly reborn band has played a slew of shows in and around New York and have an entire recording session under their belts.
Freddy Alva has been closely involved with Absolution since day one. He booked shows at ABC No Rio and still runs his DIY label that began in the late 1980's, Wardance Records. Wardance was an integral part of that late 80's scene, putting out records by Citizens Arrest, Rorschach, 1.6 Band and Hell No. In 1989, Alva and his friend Chaka Malik released a 35-song compilation called "New Breed!" that featured exclusive tracks from twenty New York City bands. There is no way they could have afforded to release this on vinyl at that time, doing so would have surely sent all of them into bankruptcy. During the 1980's, a lot of underground bands in punk and HC suffered under the high cost of pressing vinyl. Earning the capital to press a record proved to be a barrier of entry, especially in New York, which was still recovering from deindustrialization and years of disastrous fiscal policies during the 1970's.
So like the Bad Brains and Cro-Mags before him, Alva did the next best thing. Instead of making a record, he put out the entire thing on cassette tape. The tape is a monochromatic artifact of that time period, complete with dot-matrix computer graphics and hand-drawn logos. The cassette came with a full-page booklet that was packed with lyrics and art; it remains one of the more industrious examples of DIY recording at that time. In 2011, Alva released the compilation on double LP with bonus tracks in a limited pressing of 700 copies. The reissue was expertly packaged and received some great praise, especially online where the cassette compilation is being downloaded by a new generation of kids interested in starting their own bands.
The genius of the New Breed compilation is how inclusive it is. It is an unbiased look at the young underground bands of that time, some of which maintained very different outlooks on life. There is no sugarcoating here folks: the good bands get three songs. The not-so-greats and the younger bands get one. But in the end it all works. The first song on the compilation is an Absolution song, "Never Ending Game", which is also on their demo tape.
Absolution has more unreleased songs than they do released songs, so the better part of their legacy now exists on a medium that is no longer manufactured or supported. Their live cassette tapes and 1988 demo include tracks that they never released (like "Fall Of A Nation" and "Risk") but yet they are songs that people know. If they band played tonight – 100 would kids know the words to these songs. Songs that only exist on frail cassettes or as poorly encoded MP3 files. More than anything, live performances are the legacy of Absolution. They defied so many odds and made personal sacrifices to get what they wanted out of the band. In the end, they refused to play by anyone else's rules but their own. Most importantly, they can still turn heads and ears with their style of offbeat hardcore punk. Freddy Alva has probably seen Absolution more than anyone else. I talked with him a few weeks ago.
AJ: When was the first time you saw Absolution?
FA: A friend of mine told me that Gavin from the NY Hoods had a new band and they were playing at this squat on the Lower East Side, on 11th St & Ave B if I remember correctly. This is late 1987 and right before this there started to be a strict segregation between the Punk and HC scenes. If there was a show, you went, didn't matter if you were a skinhead/punk/metalhead/straight edge or a regular HC kid. So this happened to be Absolution's first show and they were just incredible! They did an amazing cover of Crucifix, "Stop Torture" plus their own originals, that I would soon come know like the back of my hand. The other notable anecdote things that I also remember most from that show: there was a huge hole in the ground floor, where the bands were playing, it seemed like at any time someone was gonna fall into rusty nails & a broken concrete pit of hell, miraculously that didn't happen.
AJ: How did you meet Gavin?
FA: I first met Gavin hanging out at Some records and through a mutual friend named Ed Hush, who was a graffiti writer from Queens. Gavin had started writing graffiti and joined Ed's crew of writers called SPORTS crew. This must have been around late 1986. I 'd also seen him play with the NY Hoods and Side By Side. He had a violent reputation but when you got to know him, you could tell he didn't go out looking for trouble, any fights associated with him were blown out of proportion; he would more than likely be found defending a weaker kid against bullies. I can't count how many times he saved people from serious beat downs. That's always been my first and lasting impression of him: a righteous individual that will always do the right thing. Of course there's also his amazing musical prowess.
AJ: What were your impressions of Greg and Alan and how did they contribute to the band?
FA: I knew Greg and Alan had played in Agnostic Front and on their "Liberty & Justice" LP, they had that pedigree. I was really impressed with how they moved from Pittsburg to NYC just to basically play HC, they lived the music 24/7 with little regard for a safety net or backup plan in case the scene were to collapse around them. This might seem a little bit idealistic looking back, but it was honest & real; HC was a way of life not just a fashion to adopt & change into with whatever the next trend that came along. Alan Peters also had the most incredible tribal tattoo piece across his chest, long before that look became in vogue. They were a tight rhythm section that provided a solid foundation for Gavin's riffs. Look up the band they had in Pittsburgh, prior to moving to NY, called Circus Of Death. Really good stuff as well as Alan's post-Absolution band called Crawlpappy, a severely underrated 90's outfit.
AJ: Let me ask you a hypothetical. If Greg was really interning at MTV, why didn't he just put Absolution on the air? You would think that at some point he would have had the power or the chance to pull some strings. You know. Slip a little something by the management. Maybe he could have accidentally put them onto Headbanger's Ball. Something like that. Slipped them into rotation after Julie Brown. Did you guys ever discuss that as a possibility?
FA: I really don't remember that option coming up. It would have been great if it had happened, history would have been a lot different!
AJ: How did you meet Djinji?
FA: I remember meeting Djinji when I worked at a health food store down in Soho with Sergio Vega, who later played in Quicksand and is now in The Deftones. Djinji dropped by to hang with Sergio, as they were both from the same Bronx neighborhood. He was working as a bike messenger around Tompkins Square Park and seemed a little aloof and reserved at first, but also had a deep & serious spiritual vibe about him, maybe a bit too much for my then teenaged self. Once Absolution got started and I saw him on stage, it all made sense, it still amazes me how a 17-18 year old kid could write those meaningful lyrics that still resonate on such a direct and penetrating level so many years after the fact. He was a natural charismatic front man, our HR, as someone once pointed out.
AJ: When you look back at that era and those people now, what do you remember the most?
FA: Gavin was just like Alan and Greg; he lived and breathed the HC lifestyle. At a time were most of people our age were college or armed forces bound, playing the music was it for him. He was such an incredibly talented musician that he could have really played in more commercially marketable genres and really made a career out of it. His heart has always been rooted in dissonant HC/Metal sounds, while gaining him an appreciative fan base, is not something that will exactly pay the bills. I mentioned before how Djinji was such an incredible front man, it wasn't until years later that I learned his father was legendary 60's free jazz musician. In a way, he was carrying the family torch for uncompromising honest & direct music, updated for our generation. It is to his credit that he went on to make a living out of engineering some classic hip hop releases throughout the 90's without compromising his values or reducing the quality content.
AJ: In May 2005, Jersey Beat Magazine did a special issue on the early days of ABC No Rio. Mike Bullshit from GO! and Charles Maggio from Rorschach both said that you and Gavin were instrumental in helping out with the initial stages of the venue. How did you get involved there?
FA: Gavin helped out at the early shows by providing security, making sure no violent elements ruined the matinees. His next band, Burn would play a couple of their first shows at ABC as well. I and other people like Charles Maggio helped Mike Bullshit run the shows at the beginning when Mike went on a cross-country bike trip; I took over the booking for about a year.
AJ: Ok. Did Absolution ever play ABC?
FA: Absolution were gone by the time ABC No Rio got started.
AJ: If Absolution never broke up and kept going, what would have happened?
FA: If they could have kept the momentum up and recorded a full length that captured their sound properly, who knows? As the 90's started and segregated scenes sprung up with the tough guy NYHC bands on one side, punks in the Squat Or Rot scene on another side plus the ABC No Rio crowd. I'm not naive enough to think that Absolution could have been the great unifier but they did appeal and connect with all 3 camps. One of their last shows was a Rock Against Racism concert at Central Park where they opened up for Living Colour and got a great reaction from people that wouldn't have normally seen them. That's maybe another hypothetical direction they could have gone in: expanding their fan base from the HC/Punk community to appeal to a larger audience, especially as 1991 rolled around & the whole "year that punk broke thing" happened. I could see them getting signed, but this is all speculation and wishful thinking. I always wanted to at least have all their material properly recorded, that's why I'm so excited about their comeback & the proposed recording of all their old and maybe new songs!
AJ: Agreed. Interesting yeah, who knows what would have happened if they signed with a bigger label like Token Entry or 24-7 Spyz did. I couldn't see them getting dressed up for a glossy 8 × 10 photo or playing some national tour out in Corndog Iowa, but you never know. Weirder things have happened. Speaking of Absolution and new songs, let's get right into that. Because they aren't some relic from the past, they are currently playing and recording right now. Have you seen them recently and what do you think about their set?
FA: I thought their first reunion show at The Knitting Factory in 2008 was great emotionally but a little too loose musically; the second one later on that year was a lot tighter. The ones they've done in 2011-2012 with the new rhythm section of Andy Guida and Dan Cav were truly great, like a well-oiled machine that reminded me of when I first saw them. Not too many bands that come back after a twenty year absence can do that, but they are not only on point musically but also in-shape physically. Something that goes a long way when you're in your 40's playing this type of music!
AJ: Agreed. The fact that they are able to pick up exactly where they left off says a lot about them as people and as musicians. What is your all time favorite Absolution song to hear them play live, the one that sends you over the edge?
FA: All of them! Their instrumental intro that would segue into "Take Control" was always a great set starter. They would always finish their set with some minutes of feedback that would go into these martial-like drum beats that signaled the start of "Armed With Anger" and by that time the crowd would just be out control, a great song with slow tension building parts interspersed with faster bits, that encapsulated their sound in a nutshell. Apart from covering Crucifix, they also finished a couple of times with a great cover of "Something Must Be Done" by Antidote and that was a really cool tribute/homage to the old NYHC bands that influenced them.
AJ: Never heard the Crucifix cover but that sounds incredible. You mentioned new recordings from Absolution. The new 7" has been out for a few weeks and people really seem to like it. I read some great reviews online and offline. A few of those people commented that they would rather hear new material than re-recorded old material. What's your take on that? Should they record new songs?
FA: Oh definitely. I've actually heard a new song that sounds like their old stuff and at the same time updates it. Like I stated earlier, I want to see all their old material properly documented. For all intent and purpose, all that material is new to most people, unless one downloads poorly sounding live/demo tracks from some online blog. The current re-recording of their 7"s was meant as way of setting the record straight. The original '89 version had abysmal sound quality that was always a sore point for the band and rabid fans like myself that found the recording sorely lacking. I think the new version finally does those songs justice and by the way things look, we can expect more quality recordings of all their songs sometime soon.
AJ: I hope so too. For the record I don't think the Combined Effort EP sounds THAT bad. Seriously. Kinda like it. There are a thousand punk/hc records that sound far worse. But anyway I'm glad they re-recorded the songs because they deserve to be heard in all their glory. You don't get a lot of second chances in life, so it must be awesome for them to finally hear these songs fully realized. What's your favorite unreleased song from Absolution?
FA: I always loved "By My Side" and "In Thought", both never recorded, only played live. There are some old instrumental parts that have found their way into the song(s) they're working on, also if you listen to Burn closely, you can hear bits of pieces of the later Absolution songs that wound up in there, but that's a whole other interview when it comes to talking anything Burn related!
AJ: There will be some of that. I'm confident that we haven't seen the end of Burn. When the time comes I will definitely take you up on the offer. Final question. Part of Absolution's history is filled with stories about Djinji doing insane backflips and the violence that happened while they played. Tell me about the wildest, craziest shit you saw happen during an Absolution set.
FA: All their shows were pretty wild, as the pit action brought some legendary hard dancers like Chaka, Sergio, Stack, Spanish Mike, Fern, Hugh, AJ and others just completely going crazy in the crowd for them. I do recall the last show they ever played before broke up in '89 as being particularly memorable. It was held at this broken down theater on East Third Street on the Lower East Side. It was really emotional and bittersweet. The band was breaking up, Alan and Greg had left so John Krisciun from Life's Blood and Collapse with Sergio Vega filling in on drums and bass respectively. Looking back on it, there was a sense of things changing at that time: CBGB's had stopped doing HC matinees in '89 due to increasing violence at shows. People were moving on and dropping out of the scene for various reasons, Absolution's breakup seemed to encapsulate that moment perfectly.
In 2011 I spoke with Absolution drummer Andy Guida. Guida was kind enough to be very candid about Absolution and about growing up playing music in New York City. I only met Andy once, back in the mid 90's when he was drumming for Supertouch but I remember him being a really easygoing character and for having great stories. Guida literally grew up at CBGB's, putting in his time by playing in crossover bands like Stillborn when he was still in high school.
AJ: I know you said you were a fan of Absolution long before you joined the bad. What did you think about Absolution while they were active?
AG: When I heard "Dead And Gone" and "Never Ending Game" I thought, hell yeah I can get into this. I wanted something challenging as a drummer and I sure got it. Tempo changes, time changes, odd measures and the riff that repeats three times, or three and a half, not four. Or five, pay attention! It's really fun and fulfilling.
AJ: Were they pretty incredible live?
AG: I don't remember. I have the 7" from when we were Combined Effort label mates but I think Supertouch only played the Tompkins Square Benefit with them. I must have seen them. I smoked boatloads of weed and did lots of drugs back then so some things are hazy. I know that when I heard the music now I was psyched.
AJ: Definitely. How did you meet Gavin?
AG: It's been a long time, but I'm pretty sure it was at a show in Brooklyn at the Rogue Animal Hall in 1986. The Rogue Animals were some sort of motorcycle gang. Maybe they still are. They had shows in their garage. The bill from what I remember was the NY Hoods, Stillborn and Sarcasm. I had already left Stillborn but I went to check them out anyway because we were friends. Incidentally, I met Jay Vento, singer of Altercation, that night as well. Funny, I met a few people who became lifelong friends and band mates that night.
AJ: How do you like playing in Absolution now?
AG: It's great. They are like family.
AJ: Tell about when you joined the band. When you first got together in 2010 and started rehearsing again, did you guys sift through all the old material and decide what to salvage or did you just start from scratch?
AG: They gave me most of the original songs and Gavin and Dan picked which we should start with since I didn't know the songs yet. We worked our way back through the catalog. We did pre production on most of them a few months ago. We started recording drums for the record two weeks ago. At this point we have drums for 13 of 15 old songs. There will be one new one as well. I'll have my drums tracks done in a few days. We'll see how they are all released. They probably won't all be on one record. This is about getting good recordings, performances and the feelings of old songs, not as much focus on new. I think it will progress but one thing at a time. Right now, this is perfect.
AJ: OK. Final question. Some teenagers sneak into bars to drink. Some sneak into bars to play in Altercation, which is what you did. I've always wondered though – how did you get your drums and amps down to CB's or down to the Lismar Lounge without a driver's license or a car? I know you didn't wheel that Marshall stack on the subway.
AG: In Altercation we had friends and family that helped me. But I do remember going on the subway with my cymbals and snare drum for the first Altercation show. After that my friend Jack Johnson used to help me haul my gear around. He ended up doing the cover artwork for the Altercation demo.
AJ: What happened with Stillborn?
AG: I left Stillborn before we ever played a show. I wrote about half of the first demo, recorded it and quit the band. Back then I used a Hondo guitar and Peavey combo.
Bassist Dan Cavaliere joined Absolution in 2010. Prior to working with Gavin, Dan played in Nine Lives and was an early member of Resurrection, a straight edge band from New Jersey widely known (and sometimes reviled) for their outspoken stance on drinking and smoking and other treasured American leisure activities. But Dan is also known to many others as an employee of Curmudgeon Records in Edison, New Jersey. Curmudgeon just so happens to be my all time favorite record store and was a place I frequented every week. Sometimes twice a week. Now sadly gone, the store and its cast of characters (and animals) were a staple of New Jersey in the 90's. Of his time behind the counter, Dan says, "Hey I was spending time there anyway and my friends needed help." There's no shame in that at all.
Gavin Van Vlack plays guitar in Absolution and has been a staple of the New York Hardcore scene since moving to the city from Vermont in the early 80's. He has played in The Young Republicans, NY Hoods, Die 116, Pry, Burn and The Big Collapse, and I'm probably leaving some out. Van Vlack is seen as an intimidating presence in hardcore and punk. Most kids still go out of their way to avoid him on the dance floor, partially because of his reputation as a championship fighter and partially because he looks like he could lift you and all of your friends up off the ground with one hand.
In addition to being an accomplished guitarist, Van Vlack holds a world ranking in Muay Thai Kickboxing and is a celebrated international fighter. Off-stage and outside the recording studio, Van Vlack runs his own business where he specializes in customized strength-and-conditioning training. Muay Thai is an extremely competitive full contact sport that was originally taught to Khmer soldiers in Thailand during the 12th century. That kind of dedication to tradition has brought him full circle with hardcore and punk rock. In a strange way, Muay Thai and hardcore are somewhat similar. Both offer a productive and healthy outlet for contrasting volatile emotions and act as a physical release valve for stress. Van Vlack started Absolution after playing one show with Side By Side in 1987 and then deciding it was time to start his own project.
Not to toot horns or anything, but Van Vlack is likely to be one of the most underrated musicians in hardcore, if not the most often imitated. On record, Van Vlack is fluid and graceful, but he reeks of old New York – obviously growing up seeing Reagan Youth, Antidote and Urban Waste every weekend would have some effect on your playing. His early riffs are filled with lots of down picking and chugging, but the thing that sets Gavin apart from your average player is his ability to improvise and his scale. He also used noise gates and harmonics. This was unheard of in hardcore and was totally progressive playing at time when excessive hammer-ons and dive-bombs were considered edgy. (Read: They're not.) In print Van Vlack has cited bands like Cop Shoot Cop, Unsane and DC's Swiz as major influences on his later style, which can only be described as expansive and disjointed. But it's his tone and that Les Paul that helped shape the beautifully plush landscape that he often rings out on.
His tendency to stray into the minor pentatonic gave Absolution the crushing guitar sound they needed. No other punk scene in America embraced crossover like New York, but its interpretation was still loosely defined on a hyper local level. Bands like NYC Mayhem and Nuclear Assault had shaped the spectrum of metal, pushing hardcore bands to be play faster and faster until the songs turned into mush. But Absolution had something else in mind, both lyrically and musically, something that was both highly personal and yet still political in nature. Gavin's interpretation of crossover is drastically different; instead of playing faster he slowed down, finding a place within the rhythm to deliberately slow his tempo to a crawl, even if just momentarily. Van Vlack's real strength is his internal sense of rhythm; his guitar playing is often wholly locked into place with the bass drum. In those songs his chords become electric, balanced perfectly between sounding soothing and charring. For Absolution, timing became their secret weapon.
Absolution never toured, never played outside of New York except for the occasional weekend trips to Boston or Norwalk Connecticut to play The Anthrax. They played one show at the Safari Club in Washington DC in 1989 right at the tail end of the band which people still fondly recall. But other than that, they were confined to the city and had to make the best of everything it had to offer. In print, Van Vlack has never shy about the band or what drove them apart. In 1989 he told an interviewer for In Memory Of fanzine (later reprinted in Hardware Fanzine #9) that greed may have tore them apart. He also discussed his thoughts on the massive growth of the hardcore scene, predicting with a sage-like wisdom on its eventual and inevitable decline:
"When things get accepted they become watered down. They become generic, they become easy for people to become involved with. That's the problem with the hardcore scene; it became successful with a lot of suckers. It's not misfits anymore…not the kids who are outcasts."
In this same interview Van Vlack mentions that Alan was the first to leave the band and that drummer Greg Johnston saw the bands future as unstable and also began pulling away. Now would be a good time to mention that Johnston is noticeably absent in almost every known photograph of the band. On their 1997 Temperance Records discography CD and double LP, he exists as a mere shadow in a lone black and white photo on the back cover. The interview suggests that Greg had taken over the name of the band without permission. If there was an internal coup de ta with the rhythm section, then it's a sort of tragedy because nobody won the argument. By that time, Gavin was already working on his next project, a band that didn't have a name yet and would later become known as Burn. Before Absolution called it a day they tried to pick up the pieces, playing a handful of final shows that ultimately fizzled out. I spoke with Van Vlack last year about Absolution and what it meant to him.
AJ: Who designed the original Absolution logo?
GVV: It was designed by Veronica Farje who was my girlfriend at the time and is also the mother of my son. She did a lot to help us out by making our first batch of t-shirts, about two dozen of which were given away at our second show at the Lucky 13 squat with Nausea.
AJ: You've mentioned a few times over the years that you're not too thrilled about the Absolution EP that came out on Combined Effort. Have you made you peace with that record?
GVV: No. I hate the mix on that record and it was our own damn fault. Dave Stein is one of the greatest people that I've ever had the privilege to call a friend and he did what he said he would do to get the record out. But at that time in the band, our heads were trying so hard to do something different that we stepped away from what actually made Absolution such a great live act. Add that to inexperience with studio technology and you don't need a calculator to equate the mistakes that we made in the process. Currently we are re-recording the whole catalog of songs and are actually toying with the idea of adding some other things we've written over rehearsing for the BnB show and these recording sessions.
AJ: Every time I saw Burn, you were playing a Les Paul or an SG (once, I think). Who inspired you to play a Gibson guitar?
GVV: I lucked into buying my Les Paul off the street on St. Marks in 1986 for $120 from someone with a nasty drug habit and I still own it today. It was my first guitar. I'd had a bunch of cheaper guitars before that because when you don't have money ANY guitar is better than no guitar, but the Les Paul fits me. I've been playing music since I was about six years old and I've always wanted one. In a way it was a bit of a status symbol at first. Like I said when your poor small things mean a lot and it this guitar meant a lot to me. I'm really glad that through all of the crazy shit I've been through that I still have it. Years later I ended up with a hell of a drug and alcohol problem and in typical and almost cliché form I sold a lot of my gear to support my habit. Let it be stated here and now that being an alcoholic drug addict was hands down the worst full time job I've ever had! I never even considered selling my sunburst Les Paul. Again, thank whatever religious or scientific powers that be on that one.
AJ: Looking back at Absolution and those days now, why do you think the violence at CBGB's escalated the way it did in the late 80's? Those days you had muggers in Central Park, kids with bats on Howard Beach, not to mention needles washing up on shore, rampant homelessness and drug abuse. In your opinion, was the violence of 1989 self created, or was it a just a reaction to living in New York or maybe even something greater?
GVV: It was boredom and lack of creativity. I think it's a cop out to blame it on what society was reflecting upon on. We could have been a vehicle of great change and to some extent we were. I quote Ragunath (Ray Cappo of Youth Of Today and Shelter) on this one: "Hardcore became a hater culture". Meaning that those who could find a way to shine tried to stifle those who could or even those who appreciated those who could. I'll also add here I'm not claiming any exemption from some of the violence that happened but my part in it was reactionary to seeing smaller kids getting jumped by packs of five or ten guys. I'm a sucker for backing the underdog. At one time somebody from Bad Trip was jumped by a bunch of wanna-be gangster kids for supposedly stabbing one of their friends. Alan Cage and I jumped in to the fight to stick up for this kid. Because everyone who knows Bad Trip (and I mean this as a compliment) knows that those cats would feel guilt over into a loaf of bread.
AJ: Speaking of New York City in the 80's, how did you get interested and actively involved with graffiti?
GVV: What's not interesting about something that combines both creativity and danger? It's like sex and death have always been the prime motivation behind most of all human decisions. At that time the graf scene was really firing off a lot of great art and many of the top writers of that era: Smith-Sane, Reas and Ven AOK, Ghost RIS, Sp and Dash, Hush, and many other were launching newer styles that branch away from typical graph. I was never as good as any of those cats but getting the privilege to be around that scene at the time was incredible. It was really vital although in a way it was very much the end of traditional graf and ushered in the more guerilla street style of Revs and Cost (who were both old school writers that felt the scene needed change), Earsnot IRAK, and many newer (though some would argue "less talented") writers.
AJ: This guy who worked for AK Press named Craig O'Hara wrote a book called "The Philosophy of Punk". It's a decent read, a broad overview of all the subgenres of punk. But the funny thing is, if you turn to page 35 there is this full-page photo of the front steps of ABC No Rio. There is graf all over the building, and right above the doorway you can clearly see where someone wrote BURN in huge black letters. Speaking of ABC No Rio, in 2005, Mike Bullshit from GO! And Sam McPheeters from Born Against both said to Jersey Beat Fanzine that you were one of twelve people that crossed over from the CB's scene to ABC No Rio in December 1989. That's a very small group of people. It's also kinda biblical. What are your earliest memories of ABC?
GVV: It was awesome! But when I got involved I didn't see it as a "crossover" thing. I just thought, hey, great, another venue. Sane-Smith, Hush and I had done murals of the rot in back of and on the roof of ABC No Rio prior to them doing shows there. For years and years that venue had been a really off center late-night drag queen cabaret spot. In the beginning it was super fun because there wasn't any violence and the attitude that tended to prevail at other venues. But gradually as a pecking order was established people started pointing fingers and "witch hunting" others and it became no better then what it was originally an escape from. This statement may piss some people off but, hey the truth isn't what's ugly. It's the way people handle the truth that's gets ugly. Complaints can be sent to my Myspace page.
AJ: Was there any overlap between Absolution and Burn?
GVV: Nope. Quit one band, started the other.
AJ: There aren't too many published accounts of Absolution live. One of them is from Adam Nathanson from Born Against. He reviewed your show on May 23rd, 1989; think it was the Squat-Or-Rot animal rights benefit show. In the review, he said Absolution had a recently reorganized. He also says that you had a new drummer, some guy named Big Head. Who was this guy Big Head? We're tackling all the burning ethical questions here if you couldn't tell.
GVV: The drummer was named John Kriksciun; he was a real dynamic drummer. Adam Nathanson, wait? Didn't he move to Santa Monica to become a plastic surgeon?
AJ: When was the last Absolution show with the original lineup?
GVV: Our last show was at The Anthrax in Connecticut. We had decided to take a chance and start trying to write new stuff with Sergio and Jon and slowly reintegrate old material as we saw what would fit with the new stuff. Obviously it didn't happen.
AJ: Let's shift gears and talk about what's happening right now. Are there any current hardcore or punk bands that you're psyched on?
GVV: I really like Trash Talk. There are a few things I've heard that I dig but my musical tastes are kind of spastic. Since I'm in the process of recording and writing I tend to not listen to much genre specific music because I would really hate some young kid hearing his idea on something I've done. If I'm going to find an influence at this current time I'd rather get it from Peter Gabriel or Howling Wolf than some newer hardcore or punk. It stops things from becoming homogenous or inbred, for a lack of a better word!
AJ: On a personal level, what has been the most challenging part of getting Absolution back up and running after a twenty-year hiatus?
GVV: Keeping it what it was not trying to make it Absolution 2.0. We needed to stick to what made our particular concept work for us.
AJ: We have to discuss the lyrics. Absolution lyrics could be it's own separate piece. I know that you and Djinji both wrote the lyrics for the band. How did that work? How did you decide who did what and when?
GVV: Simple, whoever had the idea that fit best. Brown and I work very well together.
AJ: When you're on stage with Absolution now and you look out onto a crowd made up of new kids and you meet and talk with them, is the experience the same for you? What is the biggest difference between hardcore kids in 1989 and 2013?
GVV: The kids who came to see us are now old and are no longer kids. The kids now aren't old and are currently still kids. I think the common bond is that they all wanted something different and were bored with what they were being offered.
AJ: Is that progress for hardcore?
GVV: There will always be those who want to relive what's already happened but thankfully there will also be those who loo to expand on what's going on and make it different. I'll be found with the latter group.
AJ: You've done a lot for music in New York City. What do you think about all the sweeping changes and current attempts at gentrification going on?
GVV: I'm not at all against New York growing up but I fear that the suburbanization of it will make the art and music scene suffer. So far we've done OK. There are still a lot of venues in the five boroughs. Honestly if you don't like the venues that are available then here's a three part recipe to make your own. Step one: find a neighborhood where the police and local community boards are apathetic. Step two: find a loft, a storefront, a basement, back alley or whatever. And three: start doing your own show, Bucko!
Thanks to everyone in Absolution for taking part in this interview and for having the courage to make such powerful music. Thanks also to Freddy Alva, Jersey Beat and Hardware Fanzine. Thanks to John Krisciun because everyone spells his name differently and this is the second interview I've done where he's involved in the story and not the interview so he's probably worried. I don't even know the guy.
Andy Guida's band Altercation is playing their first show in decades this May at the Black N Blue Bowl at Webster Hall in New York with Breakdown and Judge.
Absolution is still playing shows and recently returned from playing a show in Miami Florida. Earlier this year they released a four song 7" EP which is currently available through Lush Life NYC and has national distribution. To order a copy of the record, check out the label on Facebook or on their website, lushlifenewyorkcity.com