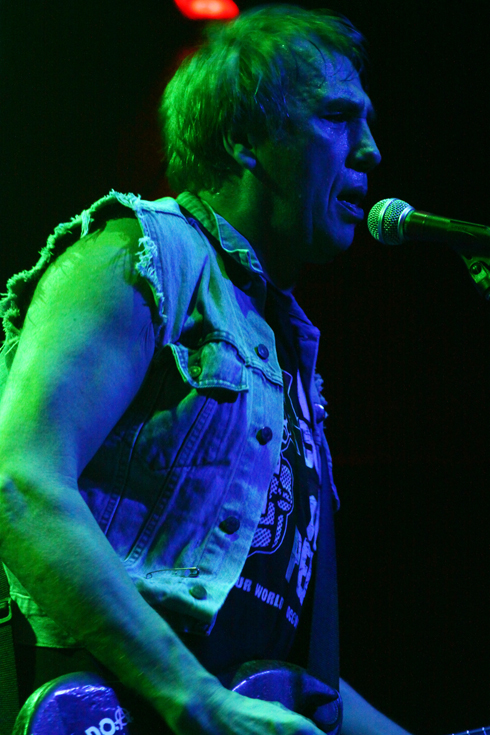 31 January 2013
Note: the following interview is made up of outtakes from an article I did for Vancouver's Georgia Straight. It's still kinda not bad, though, eh? Thanks to bev.davies for photographs from DOA's Vancouver farewell gig, January 18th, at the Rickshaw; all pictures are copyright by bev.davies, except for the photo with Randy Rampage, from a DOA concert in 2007, which is copyright by Cindy Metherel.
Also note: the FINAL FOUR American shows for DOA will take place starting tonight, at the Phoenix Theatre in Petaluma, California. More DOA farewell tour dates here!
There's a lot that inexhaustible DOA frontman Joey "Shithead" Keithley will miss about playing in DOA. "It's sort of a bit like being on a hockey team," he tells me. "You have the camaraderie, that's probably the best part of the band. To be in a band, I always thought it was really pertinent for the people in the band to be friends. That was the key element – you didn't necessarily have to be best friends, but you had to kind of have a 'like' point of view on the world, at least similar enough to be on the same page. You can't have somebody in band XYZ and the guitarist is an avowed Marxist/Leninist and the bass player is a Baptist, right? I mean, I guess you could, but to me it wouldn't work. To me you have to have a little bit of the political sentiment the same, to be together at the right time, the right age, that kind of thing…"
We're sitting at Joe's kitchen table in his family's townhouse in Burnaby. Joe has picked me up at the nearest train station, giving an ironic "welcome to the suburbs" as he brought me back to his home – a comfortable, entirely normal suburban house, with few visible signifiers of punk rock (at least not in the kitchen). Our chat on the drive had focused on former members of DOA who would not be joining the band onstage for its Vancouver reunion: Dave Gregg was busy being a tourist in Machu Picchu – not a bad excuse for being absent! Chuck Biscuits would also not be there. But Randy Rampage would, as would Subhumans vocalist and former DOA bassist Brian "Wimpy Roy" Goble, and guitarist Ford Pier, and at least a few of the rotating cast of drummers that DOA has seen in the 21st century, including JJ Heath and Jesse Pinner.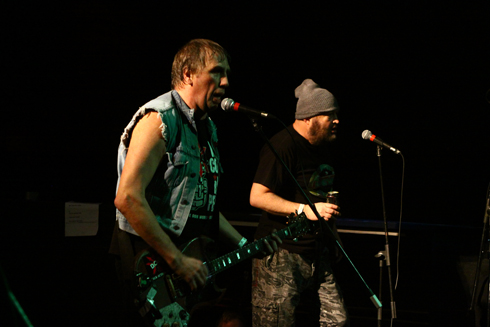 "Camaraderie is a big part of why DOA always really succeeded," Joe continues, "and it's also a big reason why we had the ever-changing lineup, too: if the camaraderie is not there, or the viewpoint changes, then y'know, it's not a matter that I don't like the people who are not in the band anymore, it's just like, okay, it's time for them to move on, or for me to move on and do something different."
Surely the most difficult relationship in DOA has been with original bassist Randy Rampage, who has been in the band, then out again, several times. I was on hand when then-bassist Dan Yaremko – AKA "Dirty Dan Sedan" – handed bass duties over to Rampage at the storied 2005 Vancouver Complication gig, which also saw performances by the Dishrags, No Fun, the Shades, and pre-official-reunion get togethers by members of the Pointed Sticks and Subhumans. After that, I caught two gigs with Rampage in the lineup, in 2007 and 2008. Both were delightful shows – to see 2/3rds of the very first lineup of DOA was 1/3 more impressive than seeing Joe with any two new recruits, and even Joe acknowledged, when I spoke to him for Razorcake, that Rampage's presence onstage at the Complication was like "a bomb went off."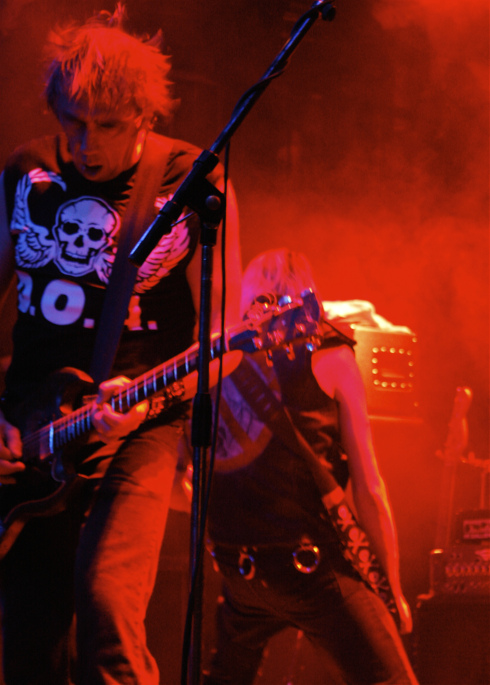 Alas, things went south between Joe and Randy shortly before the band's 2008 30th anniversary show at the Commodore – something I wrote about here. Neither man would say anything too hurtful about the other in print, even though their working relationship had soured. (The two have reconciled to the extent that Rampage's new band, Rampage, opened for the first of two DOA farewell shows – see the live review linked above for more on that).
While his in-again, out-again status as DOA bassist must have been frustrating for Rampage, it also does a bit of a disservice to Dan Yaremko, a solid bassist and apparently nice guy, who has neither Rampage's history with DOA, nor his excessive rockstar charisma (Rampage is as close as Vancouver punk gets to David Lee Roth). People wanting to see the original lineup of DOA aren't likely to cut the guy a break, regardless of his skills. I ask Joe about Dan – surely the two of them must get along fairly well.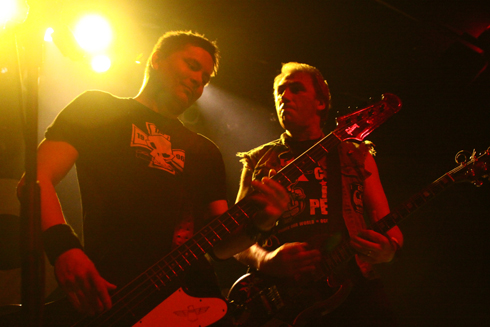 "Dan's a really good guy – he's a really excellent bass player. He's really only got two faults, which is that he's a fan of the Eskimos, and a fan of the Oilers." (Keithley is an avowed hockey fan and is the interview subject most likely to remind me that my name is the same as that of a famed Canadian hockey player). "I can't believe that the guy has lived in Vancouver longer than he lived in Edmonton, which is over twenty years ago, and he's still sticking to his Edmonton roots! Actually, I hand it to him for that – he's not a traitor, right? Dan's a great guy, I enjoy travellin' with him a lot."
The other current member of DOA is FloorTom Jones – also known as James Hayden, who joined DOA in 2007. He was replaced after a few years when, Joe tells me, "he couldn't get any time off from the post office. So then we had Jesse, the young guy from Bowen Island, who was with us for a year – good guy, he played on the latest album. And then he was out, so JJ filled in for the last year starting last spring, but he recently had an accident: he was, like, working on a ladder on a garage door, about fifteen feet up, and a spring broke, hit him in the face, broke his nose, and he fell off the ladder and almost broke his ankle on his right foot. So he can't really play – or he wasn't sure. So just starting last week, Floor Tom is going to be drumming for the next two months…"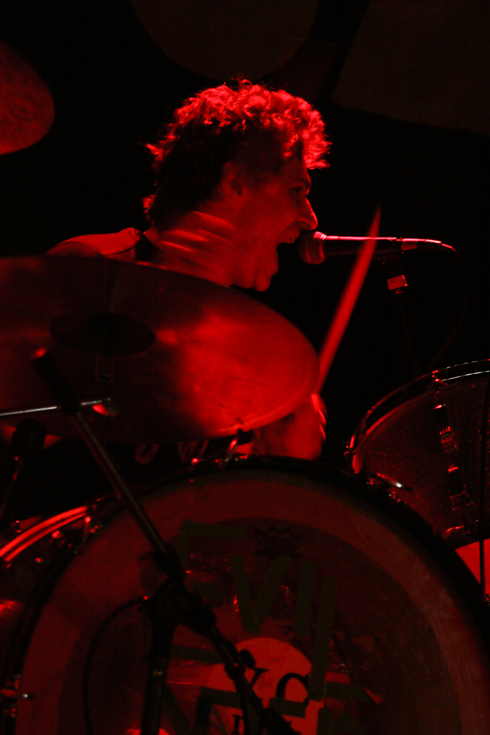 I gave Hayden a little crap in my review of the Vancouver DOA farewell concert for not quite doing justice to the drums in "World War III." It's understandable – the original, with Biscuits, features some of the most intense, exciting drum work in the history of Vancouver punk, added to which the Vancouver gig was both the first show of the tour and, I believe, Hayden's first gig back with the band after a lengthy absence. When I caught DOA for a similarly energetic, lengthy set in Victoria, the next week, however, Hayden slew it – his playing was every bit as shit-hot as Biscuits'. He gave a little tribute to the Clash's "Tommy Gun" both in Victoria and Vancouver, too, at the end of "The Prisoner," which at least for me, brought to mind watching another DOA alumnus, Jon Card, doing the same little machine-gun riff onstage with the Frank Frink Five some years previously. (Card was among the Vancouver no-shows).
Besides the obvious absence of guests – it's too complex trying to haul a bunch of non-members all over the place, Keithley explains – the set for the Victoria farewell was slightly different from what we'd heard in Vancouver: "Unknown" and "Whatcha Gonna Do" both got played, while "Takin' Care of Business" and "Thirteen" were left off the set. Presumably California and Alberta audiences over the next few weeks will hear much the same – almost all of War on 45, obvious classics from Something Better Change and Hardcore 81, and a few songs from recent years, including "He's Got a Gun," "I Live in a Car," and the Northern Avenger reggae number, "Set Them Free" – which gets my vote for the best of DOA's original reggae fare ("War in the East" is a cover).
I had actually found the Vancouver inclusion of "Thirteen," which Rampage took the lead vocal on, to be a bit of a shock – it's a pretty confrontational song, especially considering that Joe is pursuing a career in politics. But Joe didn't seem that worried about sanitizing his image. "Everything that we've recorded has either been serious or in good fun, and I don't think, 'okay, this is the most horrible thing ever and why did I do this.' You know what, this is what happened at the time, and I own all of it – there's no disclaimer. If people want to go back and look at what I did when I was 20, fine. If people want to go back and look at what I did when I was 30 or 40… or if you want to go talk to my elementary school teachers and look at what I did when I was 10, in Lochdale Elementary in Burnaby… I think DOA's done pretty well, we've got a great track record. We've done a lot of things that made sense, and we've done some things that didn't make sense. It's part of life, right?"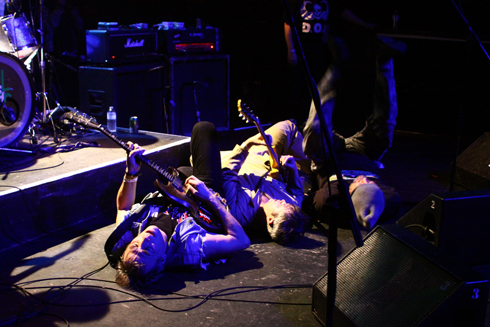 Keithley's political bid is why he's retiring DOA – you can read a bit more about that here. He will be running for office as part of BC's New Democratic Party, Canada's largest left-leaning political party, whose nomination meeting will be held March 3rd. He can't divide himself, he explains – politics is a full-time job, and the people deserve a full-time representative – though he will keep his label, Sudden Death Records, going for the time being. "We've been putting out two records a year for the last five years; previous to that we were probably putting out four of five albums a year," he says. "So it's kind of toned down a little bit – I mean, obviously records don't sell like they used to, right? But we've survived, and I've done pretty well with the label. We keep our heads above water, makin' money, so that's a good thing. Obviously it'll become more of a part-time thing. Perhaps I can train Clayton to do that for me, my guitar playing, filmmaking 16 year old son!"
Clayton Keithley joined DOA onstage during the Vancouver farewell, contributing backup vocals to "The Prisoner," at the end of the main set. Joe's oldest son, Jake, is 25, and living in Toronto, and his daughter Georgia is 23, also living away from home. Clayton is "working on editing" as part of his high school curriculum. "I want him to get him to do a video for the new album (2012's We Come in Peace)," Joe says. "We haven't done anything yet, because I've been so busy with the nomination. It doesn't mean we won't. So yeah, I'm gonna pick out a song and let him go to it, see what he comes up with." Once Clayton finishes his education, Keithley says, his family will move to the riding where he's running, Coquitlam-Burke Mountain. "We're not going to change schools – we've already done that once to him, so we're not going to go, 'okay, it's Grade 12, and you're going to a school in Coquitlam, where you don't know anybody!'"
If Keithley wins the bid – he feels confident that he will – he tells me he'll miss "nothing and everything" about playing in DOA. "Clearly I'm not the firebrand I was when I was 20 years old, but the same ideals I took out of punk rock" still apply. "When we started off playing punk rock, when I was a young man, the world was filled with warmongering, sexism, racism, greed – and it seems to me all these same things are still here. And they need fighting, they need people to rally against issues like that. My ideals are still there," he says, tapping the kitchen table for emphasis. For Joe Keithley, politics is a continuation of punk rock by other means.
And Joe will always keep playing music, even after the DOA farewell wraps up in late February in Banff. "I could never figure it out – I meet guys – former musical colleagues or whatever in other bands and I go, 'you still playing?' 'No, I don't play anymore.' I go 'well, that's – how can you play for like 20 years and then not play anymore?' Even if it's only like, Saturday night down at the Legion, you go down for a couple of beers and play some covers, it's one of those things, I don't think you can take it out of your blood."
The final DOA tour dates can be viewed here.
For photographer bev.davies reminiscences about DOA, and some very early photographs of the band, see here.