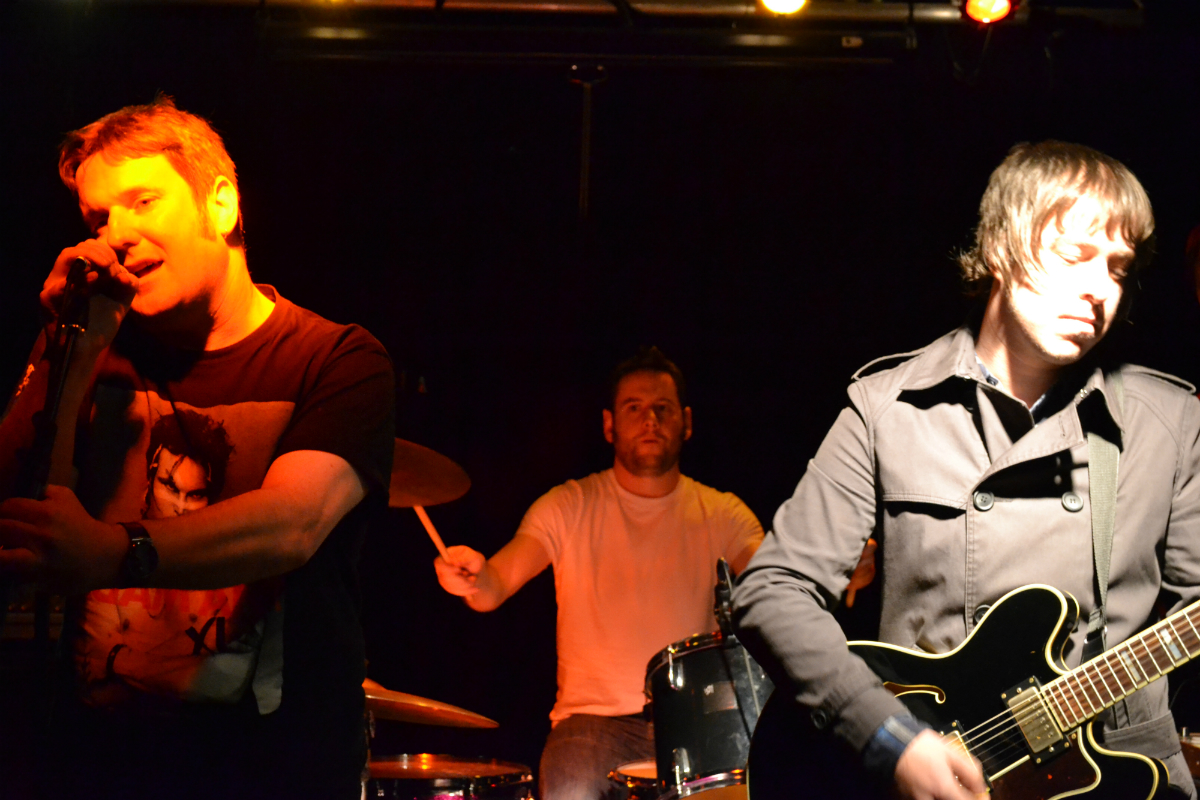 27 June 2015
I got to know Scott Causer from Northern Star Records through various bands he's released on his label. Northern Star is a small label out of England specializing in psychedelia, shoegaze, and other fine music. For ten years now, Scott has released superb psychedelic compilations and albums from artists as diverse as Youngteam and The Carousels, and he was kind enough to take time out to discuss his label as well as upcoming plans. This is the extended version of the short interview that appeared in Big Takeover, Issue 76.
What are your earliest musical memories? We're there family members who influenced you?
SCOTT: I've loved music for as long as I remember. My earliest memories are me being 3 years old dancing 'round the front room with a toy microphone singing along to the Bay City Rollers. I've probably destroyed my rock n roll credentials there, haha! My family was a massive influence. My Mum named me after Scott Walker, and my Dad introduced me to The Rolling Stones and Motown. I had one uncle who introduced me to Jimi Hendrix and another uncle who introduced me to punk. I think I must have been the only 10-year-old in primary school into Killing Joke.
Did you play an instrument at a young age?
SCOTT: Yes, although not seriously. I picked up the usual school instruments and have always been able to get a tune out of anything from a very young age. I didn't start playing seriously 'till I was 17 when I picked up my first bass.
What are your top three bands?
SCOTT: The Stone Roses, Primal Scream, and The Jesus and Mary Chain.
Why did you decide to start a label? Can you tell us the story behind that? Do you still work with Andy Oliver?
SCOTT: I'd come into contact with a lot of great bands courtesy of my band, The Electric Mainline and MySpace. I wanted to get my music out there myself, so I hit on the idea of a compilation. Andy was an old school friend who I'd recently got back in touch with and he was running an online fanzine, so we joined forces. I was in contact with a bunch of bands including The Black Angels, The Stevenson Ranch Davidians, The Dolly Rocker Movement, and The Vandelles, who had no releases and the idea was to join forces to collectively give all these bands wider exposure and create a community and network to enable mutual support. In order to give the project the necessary exposure it deserved, I got The Brian Jonestown Massacre and Telescopes on board and so Psychedelica was born. The series has since gone on to become a modern day Nuggets. The partnership with myself and Andy only lasted for the first 2 Psychedelica compilations; he left to do his thing and I've marched alone since 2008.
How about the Northern Star Weekender? When did that start up?
SCOTT: I started the Weekender in 2012. Our very first ever show took place as a fringe event outside of SXSW in Austin, Texas to launch Psychedelica Vol: 1. This show evolved to become Austin Psych Fest. In 2012, I decided to bring it all back home as it were getting back the original spirit of it all, so I hit on the idea of the Northern Star Weekender, a 3 day party where we showcased the very best upcoming bands. The weekenders have been brilliant fun and the highlight of my time with Northern Star. We have a record called Live Revolution which is a live document of the Northern Star Weekender, and in my opinion is the greatest record Northern Star has ever produced. If Northern Star were to be judged on any one record, I'd want it to be 'Live Revolution.'
Tell us about The Electric Mainline? How far afield have you played live?
SCOTT: The Electric Mainline started life as a band, but quickly became a vehicle for my own songwriting. It's been a band at various points and will be again. The last line-up never appeared on any of the singles. They were recorded by myself and Matty from Head In The Shed, although we can be heard as an actual band on the Live Revolution album. Otherwise, the recordings you hear are mainly me and whomever I choose to work with for that particular project. The furthest afield we've played is Germany where we went on tour towards the tail end of 2011. Otherwise, our shows have mainly been in and around London.
Any upcoming projects you can discuss?
SCOTT: 2015 represents 10 years since I started Northern Star, so I'm currently putting together a compilation featuring bands I've worked with. I didn't want to do a straight down the line 'best of', I really wanted to give people something new. The Sound of Northern Star is currently being compiled and everything permitting, it will be available later on this year.
I am delighted to see you now have a regular podcast on Mixcloud. Tell us a bit more about that.
SCOTT I had a bunch of tracks left over from Live Revolution. There were no plans to release them, and I felt they were way too good to get lost in the ever expanding black hole of free downloads. I wanted people to listen to them and engage with the music, so I made the whole thing into a podcast. It has a real buzz going for it, so I've decided to continue it and expand on the idea. The last few episodes have seen me incorporating music from other bands and other labels. I've also got quite an off the wall sense of humor. Sometimes people take what I say too seriously on social media, but I'd like to think this shows another side to Northern Star and the personality and train of thought behind it.
Check out Northern Star Records here