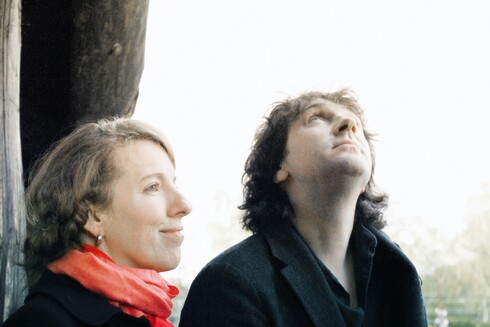 29 June 2014
I've had the opportunity to delve deep into the realms of shoegaze and dreampop and have discovered the many sonic flavors that exist out there. Canadian-Ukrainian duo Ummagma, with their swirls of unearthly synth pop, sound unlike most other bands. If you can imagine the first time you heard Sigur Ros or equally unusual bands, you get a hint of what to expect. This group has experienced hard times in a part of the world that is not conducive to freedom or creativity, and I am happy to let people know about them. Thank you to vocalist/songwriter Shauna McLarnon and her partner in life and work, Alexx Kretov.
How would you describe your music to the uninitiated?
SHAUNA MCLARNON (SM): Ummagma is all over the sky, but in the best dreamy way possible. We are crossing and blending genres to create a sound of our own, which you could definitely not mistake for pretty much any other band out there right now. To make a short list, I think we have our tentacles in indie rock, synth pop, post-punk, ethereal wave, shoegaze, post-rock, ambient, and progressive rock, and that is not a comprehensive list.
When did you first realize you wanted to be a musician? Did it start when you were very young, or was it more when you got out into the world?
SH: For Alexx, I think he always knew. It has always been there – playing music – since grade school. He started composing in university, it seems. For me, I didn't know I could sing until I was 26 or 27. I was always very into music before then, but never played anything. It wasn't until months after I discovered I could sing that I began to compose songs.
Under what circumstances did you and Alexx meet?
SH: We were both flat broke and attending a freebie concert put on by my friends. I had a music project with one of the guys in the band (it was on hiatus as of that date). We met that night and were inseparable for a long while after that. We are both a couple (romantically) and a duo (musically), hence the good number of years Ummagma has been in existence (without ever hearing about us before). We didn't start jamming with each other until the next day (or maybe the next day after that) after making out for the first time. Kissing and then music. That's how it happened. The rest is history.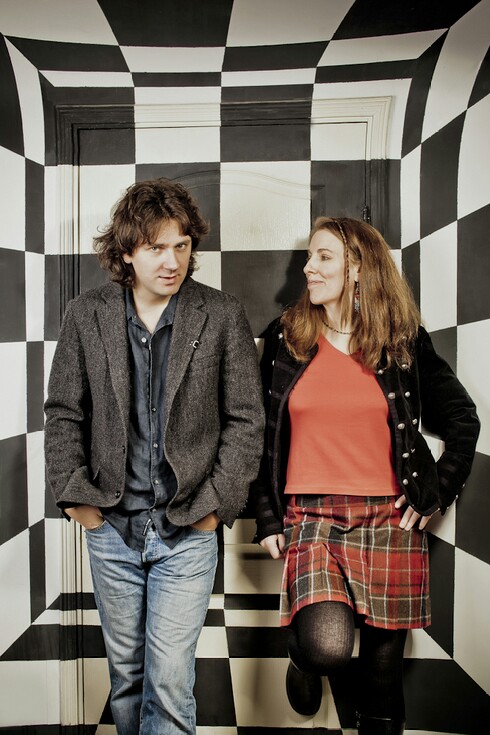 How difficult is it being in Ukraine? Has the current situation stifled your creativity at all? Might you relocate to Canada or the US at some point?
SH: OK – let's start out like this. For most people who have never been here, life would be difficult in Ukraine in general, but I'm rather used to it (under normal circumstances). Of course, as you know, since November of last year, people in Ukraine have been living under conditions that could definitely not be considered normal by any means. Rallies, protests, violence, kidnappings, murders, disappearances, the president's impeachment (and his fleeing the country with billions from the budget), invasion of the Crimea by Russia, occupation, annexation, guerilla warfare by covert Russian officers and Chechen mercenaries in eastern Ukraine, bombing, more shooting, etc. Not fun – in fact, this is very heavy on one's psyche, really bad for free-flowing creativity, and has already resulted in a virtual loss of income for us.
A bad economy means no clients. We will likely return to Canada, but first we are challenged to sell our apartment. Buying real estate is seen as risky when there are prospects of war, not to mention a devastated economy. Ontario is likely where we will end up moving to. Returning to the question about how the situation in Ukraine has affected us, Ummagma began collaborating with our friend Roma in Moscow – his project is called Sounds of Sputnik. We were determined to make it work – in part because we really work well together and make fantastic music, but also in part because this was a Russia-Ukraine-Canada joint project. Such a creative collaboration flies in the face of all the negative crap that has been happening between Ukraine and Russia for the past half-year or so. We wanted to create something beautiful despite a great deal of tragic ugliness.
When you're not composing or running the business of the band or taking care of your daughter, what do you like to do for fun?
*SH:*Well, there is also the not fun stuff, which for me, is Russian translation and editing English texts. For fun, we like to drive around and spend time at various lakes. Alexx is like a merman and my daughter is a mermaid, you can't keep them out of the water. We watch movies (but not enough), and hang out in our yard. It's like a little piece of Canada in the middle of Ukraine. Thank goodness – it is a nice refuge for me. Music jams are fun, as well as live music concerts and DJ sets with our friends. When we happen to have money, we like to travel. We are really fond of Crete and France. That may all sound bland to some, but we do have music and that fills a good portion of our time and interests.
What are the band's greatest influences, both musically and possibly from the realms of literature, film, and art?
SH: Well, both of us come from very different worlds and we are very different types of personalities, so each of us definitely has been influenced by very different things. People are often in awe when they know us personally and admit how incredibly different we are. The point of intersection is definitely music – where we get to create something new that has not existed before, in a way, or at least that we know of. Well, and now our daughter too. Our influences are so wide and varied that I think I could write a chapter on that. Musically, I am very much a product of the 80s, where bands like Cocteau Twins and Talk Talk speak volumes to me, more than any modern band has been able to. And much like Sinead O'Connor and Bjork, I'm not sure where my melodies come from as they don't concretely sound like any of the music I was raised with.
There is a very ancient feel to some of what I'm about. For Alexx, his musical spectrum is much wider because apart from Russian rock, which was popular in the 80s during the Soviet Union, not much else was desirable and Western music was inaccessible. He went through stages of being introduced to and consuming and internalizing different genres of music that neither he nor anyone around him had previously come into contact with. As a musician, it's also a challenge to play interesting music that you've just encountered, and that came naturally to him. Blending these genres has also come into our own Ummagma project and in the remixes he creates for other artists. He's also hugely inspired by what he reads, the art he sees, and the films he watches. Oh yeah, and especially nature – much more so than myself. I gain greater inspiration from conversations I have with people – both loved-ones and strangers – introspection, analysis of the world around me, spirituality and, of course, the other higher 'me' who keeps feeding me these ideas.
Can you describe the creative process for us? 
SH: Well, it's different for every song. There is no format – both fortunately and unfortunately. The plus of this is that no two of our songs sound similar – you know, the way that sometimes you listen to someone's new EP or LP and you think, "My goodness, I feel like I just listened to the same song 8 times". Most of our songs have literally had a different approach. Sometimes Alexx lays down a single track one year, and then trips on it again coincidentally and begins working on it 5 years later. Sometimes I have writer's block for a song that requires my input, and a song gets 'shelved' for 3 years until something finally comes to me, so we finish it off. Sometimes, it happens where the whole song is completed in 1 day, including all instruments and vocals. Sometimes I sing something acapella and it sits there for a while before either of us have an idea of what to do with it. Sometimes we create a song that we trash, but decide to keep one loop from it and then we build an entirely new song based on that loop. Or we record a song and I lay down my version of the melody and Alexx lays down his version and then we make compromises, choosing bits and pieces from both to combine them in one song. Then I write the lyrics. So each song actually has it's own history :) On the down side, imagine how much material we would've put out by now if we had some methodological disciplined approach to composing music? We don't – it only happens when something takes us over. That's why a great song, just missing one or two pieces, can lie dormant for a few years before we finally polish it off, complete with icing and a cherry on top.
What about production and recording? Do you have a home studio?
SH: We do. It has taken the entire 11 years that we've been together to get it to the state it is currently in, which we are really happy with. We've upgraded, acquired, gotten used to new hardware, learned new technologies, and honed our recording, mixing and mastering techniques. Definitely a lot of pro audio equipment in our collection. Alexx also does remixing for other bands. By the way he offers these services for very reasonable money, so anyone is free to make us a pitch about such things ;)
What is the band working on now?
SH: Multiple things – we're always juggling. We are trying to wrap up preparations for several releases at once: 1) The Sounds of Sputnik debut LP featuring Ummagma – this should be available for pre-order on CD and digitally this week via Bandcamp. There is one track there that we collaborated with Graham Bonnar (Swervedriver/ Brian Jonestown Massacre) on, and it also features some nice remixes by Malcolm Holmes from Orchestral Manoeuvres in the Dark, Fran Ashcroft (Damon Albarn('s former producer) and *Mind Movies; 2) The next Ummagma LP (or as I learned people in the 'industry' are calling it – Maxi EP or Maxi single). In short, it's one original track and 9 remixes of that track by different producers and artists in different genres. This is the same idea as our recent Lama release , but with more remixes and a different track. And, of course there is 3) Ummagma's next original release. Likely this will be an LP preceded by several singles and a Robin Guthrie remix, a Malcolm Holmes/OMD remix, and one by Lights That Change.
We always have a few videos in the works and, apart from that, Alexx has been remixing various tracks for one of our labels – Emerald & Doreen Records, as well as for a really great Vancouver band called The Written Years. I'm very excited about all of these forthcoming releases. It seems we have our work cut out for us. For us, it will be a big challenge to take a time-out. We'll also have to work on that sometime this summer with some luck.
Here are some links to "1+1=3" (our most shoegaze song):
And here are some links to "Upsurd" (dreampop a la Massive Attack-ish):
Band links: