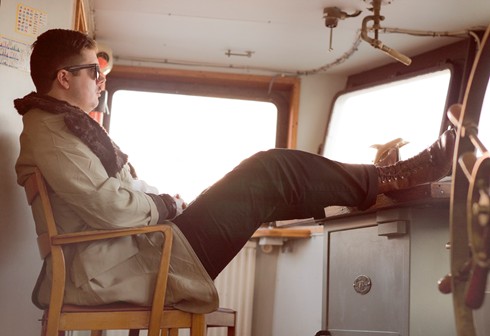 24 September 2012
It's a truism in the arts world that once you release a work of art, it is out of your hands, and what happens next is something that cannot be codified or determined. Many records that are released with great expectations may be ignored or critically panned, while other records released to the world with low or no expectations surprise their labels and their creators by reaping massive success and critical acclaim.
Such is the case with Swedish bandAzure Blue, the newest project of Tobias Isaksson. His previous two projects, Irene and Laurel Music, were lovely, layered, textured Swedish takes on 1960s psychedelic and sunshine pop, full of gorgeous arrangements and lovely harmonies. They were loved by those who heard them, but they didn't reap great commercial success. Azure Blue, however, is something different—a quiet, subdued combination of New Wave and Pop, not unlike Pet Shop Boys or Erasure. You'd be hard-pressed to recognize it as the same man behind the previously mentioned groups. Much to his surprise, though, the band has been both a critical and commercial success, so much so that last year, the lovely little band Azure Blue won a Grammy award in their homeland. It only goes to show that a little patience and perseverance will reap great benefits!
BT: I have to say that Azure Blue is totally different from what I expected it to be. What precipitated the jump from the sounds of Laurel Music and Irene, to the new wave pop sounds?
TOBIAS ISAKSSON: Yes, it was a big leap but there were even bigger changes going on in my life the years preceding the album. I finished university with a bachelor in Media, I had a break up from my girlfriend, I moved to a new city and realized I had to break up my old band. From all the mixed emotions in this experience I have grown very much as a person and as a songwriter. The songs are still the same in their core—melodic and traditionally written—but they have a deep experience in them. At the time as a single I listened to music from a wide area of genres: sunshine pop, AOR, New Romantic, 80's, 90's revivals and new favorite bands. I think it's all in there somehow. You just have to choose your angle. In Sweden people in the music scene know me as a person who lives and breathes music. Besides my own bands I work as a booking agent, run clubs, and I can DJ almost any genre of your preference. I've always been very aware of the contemporary sounds and in their own sense both Laurel Music and Irene reflected very much what the sound of their years was about—Laurel being kind of smooth country tinged and Irene being more live entertainment as a reaction to all the laptop duos. Now I'm the produced studio artist myself, with a laptop and fellow musicians on stage.
My co-producer Midnight Ruler also gave his colors to the sound with his amazing machine park of analog synthesizers and drum machines. We wanted a smooth retro modern sound. My ambition was to make summer pop with electronics without being labeled "chill wave", although I enjoyed that sound and it seemed to be the type of summer pop that got around on the blogs. I wanted something warmer. On the first demos there was some acoustic guitars, but when I entered the studio with a real synth collecting legend it all became clear to me that this was most suitable for analog vintage synths with just some interactions with electric guitars. The studio work was very inspiring and now I've bought some new stuff that I record on at home. The drum machines and synths have become essential in my work. On stage I still play the guitar, though and live Azure Blue has a tendency to sound a bit more like the dream pop they've labeled it as internationally. But as this is a solo project the sounds will probably have to change the setup for the live shows. The new material is the same kind of songs but the production will be even more synth based, more modern and with more focus on the beats.
BT: Also surprising has been the overwhelming critical acclaim in Sweden, and the Grammy award you won. How does it feel to be loved?
TI: As your typical emo in a pseudo stand up comedian's slightly overweight body it feels totally fine to be loved. Joking. I know my advantages and limits I guess and I spend a lot of times telling jokes about being an independent musician. I was expecting some indie buzz but then Swedish media like national TV and radio and the daily newspapers gave it a lot of love. I'm humbled and will work very hard not to let the new listeners down. The indie Grammy gave me some very late teenage angst. I have apologized to the other nominees.
BT: Did you have any grand expectations before releasing it, and how does this success change what you plan to do next?
TI: I wanted this to reach a lot of countries and having two main labels like I've had with Matinée in the USA and Hybris in Scandinavia has helped. We added Japan, The Philippines and a few other countries where we will have local expertise. The European tours are underway—we've already visited Spain, France, Russia and Finland and now we're doing some Swedish summer festivals and we have some gigs in Berlin and London lined up. My plan was not to tour too much, but it's something that sucks you in. I think most musicians are adventurers and the change of plan has been to not hold back on any adventure. I want a US tour, a Japan tour and possibly a gig in a space shuttle taking a spin around the moon. (Laughs)
BT: What are your plans for the near future?
TI: I think the good fortune that this record had will cast a bad spell on anything I choose to take on next, but I really hope that my good indie karma from booking new talents for ten years will save me from a total disaster. Since sophomore albums have become so hard to pull off, maybe I will focus on EP's for awhile until people forget that the album was spoiled with indie glamor.
Apart from the live tours I've mentioned I have some even more unexpected stuff lined up. There are remixes, 12" projects and co-writing plans lined up that make me wonder when I will find the time to do my accounting. But since I'm always the poor cultural worker I guess I don't have to worry about such things. But I plan to stay poor, semi-chubby and happily sad.
comments powered by