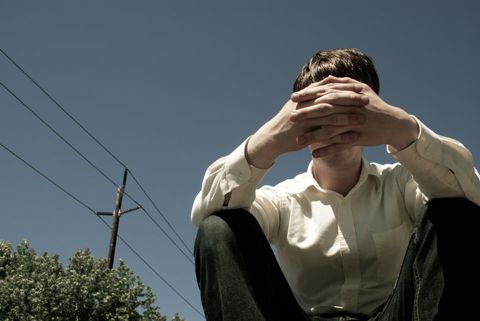 21 October 2010
The quiet, mellow, dreamy music of Benoit Pioulard has been impressing many since 2006, when he released Precis, his debut album for Kranky, Delicate, simple song-writing mixed with hazy, lazy atmospheres are the standard bill of fare; a hint of Durutti Column here, a smattering of New Order there, and a hushed reverence to the sounds of labelmates Windy & Carl, as well as more contemporary bands like Grizzly Bear are all touching points—but the music he makes is much more distinctive, failing to be pigeonholed, and simply requiring its listeners to enjoy with open ears. As you will read below, Thomas Meluch, the one-man behind the band, enjoys making delicate, intricate music, and this intricacy is not just related to his music.
Something I have noticed about Lasted and Temper is that both albums, unlike Precis, rely heavily on the overall continuity of the album. Precis struck me as having more pop-like structure, with songs that could stand individually, whereas the last two albums feel more rigid, in that in order to fully appreciate what you are doing, you have to take the album in as a whole. Is this an aesthetic method that you intentionally employ, or is it simply my interpretation?
Thomas Meluch: I definitely appreciate the experience of listening to a whole album, and would say that that translates into my own sense of structure in what I do.. It seems that most of my favorite musicians make an effort to have a range of dynamics across their records – Boards of Canada, Brian Eno, (early) Tangerine Dream, Godspeed You! Black Emperor – and create a whole that's more than the sum of its parts. I feel that I draw from such a breadth of influences, both musically and in the day-to-day, that it would be difficult to employ only one particular style or mode uniformly. I also do what I can to not to repeat main ideas in songs, so that there is that feeling of completeness when everything is heard together.
One of the best adjectives I can use to describe your music is "intricate." Like the machinations of a clock, or a detailed model ship. Would you agree that this is what your music is like?
TM: I do put an awful lot of time & energy into what I make, when I'm making it. Structure and layering become nearly an obsession for me when I'm in the midst of recording, like even when I leave the house it's all I think about, so my notebook and/or tape recorder are always on hand.  I think the clock analogy is awesome, because I do aim to make everything fit together without becoming cluttered or clogged, but I also enjoy adding a lot of little – sometimes unnoticeable – flourishes, so it can be a delicate balance. I'm happy to read that it seems to work out!
Do you spend a lot of time working on an album, and does this represent a perfectionist nature?
TM: Yeah, it tends to dominate my thoughts once I've started on something. I think part of the reason that 'Lasted' feels to me like the most cohesive record I've made, is that I had half of it written before I began recording, & then picked up the right momentum & finished it in four months as opposed to the 10 or 11 months that each of the others took.  Thankfully this time it was the rainy season in Portland, though, so I had no issues with staying inside & endlessly modifying things all day.  I like the idea of perfect imperfection.
You've also released a cassette album of heavier, more drone-like ambient work—as well as a few Cd-R's of that sort of material, yet your more widespread work doesn't really examine this side. Why?
TM: I think it's there on the Kranky records if you dig for it a bit. Most of the singin' songs have a drone running beneath them that may not even seem like it's there, but the 'Valley' cassette you mention is an effort to bring that to the fore & kind of reverse my usual song construction.  It also arose because I always have my guitar & pedals set up at home & spend many mornings just making loops until I find something I like – one day it seemed right to hit 'record' and start keeping track of the ones that worked best, & that's what a lot of the material is on that album.  As for wide releases, I don't know that there's a huge appeal for absolutely everything I do.. Certainly the jauntier songs get the strongest response but I don't favor those over anything else, so I enjoy putting all my sonic passions out there and have been really flattered and surprised by some of the people who seem to appreciate everything equally as well.
You do a lot of work in the Polaroid medium. Considering what you've said about being intricate in your work, this seems almost contradictory, in the sense that the format is spontaneous. What attracted you to this style, and how do you feel it flows with your music?
TM: There's no contradiction in my mind when it comes to this. The two media work in harmony, and actually—at least the way I work with it—Polaroid requires an incredibly specific set of circumstances to get the right shot and can be very easily messed up. So perhaps it's 'highly calculated' rather than 'intricate', since the motion of snapping the shutter is pretty quick and straightforward.  I would say I typically end up with one shot that I really like for every three that I shoot, but I'm also fairly keyed into what I hope to get out of a particular scene – my Sun660, like most 600 cameras, has the shutter offset by an inch or so from the viewfinder, so if I'm within a small distance from my subject I have to account for that discrepancy by sheer estimation; sometimes it works (like with the cover image of Lasted) and sometimes it doesn't. 
As for the attraction, there is probably a lot of things that did it for me – I always considered it a privilege to use my Grandpa's Polaroid when I was really young, and remember marveling at the richness and saturation of the colors compared to other film.  There's also a beauty in the fact that each shot is totally one-of-a-kind, I'd say.
How do you find film for your camera? Wasn't instant camera film discontinued?
TM: It was, and any actual Polaroid film you find these days (Amazon, etc) is going to be long-since expired. But I'm exceedingly pleased about the The Impossible Project – their films are all variations on the standard Polaroid mode but are all wonderful and idiosyncratic in their own way, in part because I don't think they actually own the technology. 
I understand you are soon to take off on a European adventure with your wife. What's going on?
TM: She makes and restores watches, clocks and music boxes and is getting her PhD in the field of antique automaton restoration—as it happens, most or all of her work that she'll have when she finishes that program is going to be abroad, likely in France or the UK. So we'll be living over there for a long while & I feel privileged to be able to tag along, in that what I do is pretty portable.  I'll miss Portland for sure, but we've already agreed to return to the Northwest when the time is right.  This is one of the mechanical pieces she'll be working on:
What are you looking forward to doing next?
TM: I'm a matter of hours away from embarking on my longest tour so far – 25 shows in a month – which is more than twice the length of any that I've done before.  But the leaves are vibrant, the air is crisp and I'm not getting any readier.. 
Benoit Pioulard tour dates:
10/23 at hott lava [ann arbor, mi]
10/24 at mac's bar [lansing, mi]
10/26 at the practice loft [london, on]
10/27 at korova plus [toronto, on]
10/28 at casa del popolo [montréal, qc]
10/29 at monkeyhouse [burlington, vt]
10/30 at spectacle [boston, ma]
10/31 at the barn [providence, ri]
11/01 at littlefield [brooklyn, ny]
11/02 at inciting hq [philadelphia, pa]
11/03 at ghost print gallery [richmond, va]
11/04 at nightlight [chapel hill, nc]
11/06 at the joanna [houston, tx]
11/07 at salvage vanguard theater [austin, tx]
11/08 at marfa recording co. [marfa, tx]
11/10 at trunkspace [phoenix, az]
11/11 at historical monument 157 [los angeles, ca]
11/12 at tba [san francisco, ca]
11/14 at valentine's [portland, or]
11/15 at nectar [seattle, wa]
11/16 at the business [anacortes, wa]
11/17 at healthy times fun club [seattle, wa]
11/22 at mississippi studios [portland] w/ grouper, lawrence english