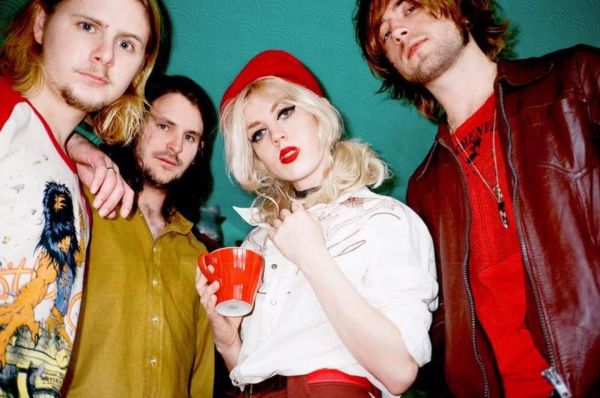 8 February 2017
Black Honey; Photo Credit: Charlotte Patmore
Brighton, England-based indie rock band Black Honey has been driving the music world wild for the past two years of its existence, both online and in live performance form. Izzy Baxter (vocals, guitar), Chris Ostler (guitar), Tommy Taylor (bass), and Tom Dewhurst (drums) steep their brash to reflective indie rock compositions in a heady blend of prismatic psychedelic rock, '60s Girl Group harmonics, energetic surf pop, and Americana twang. Frontwoman Izzy's hypnotically alluring vocals and demeanor has drawn comparisons to Nancy Sinatra and Lana Del Rey.
A retro, faded-glamour vibe radiates from Black Honey's otherwise fresh and electrifying tunes. The band has been building up speed over the past several months, dropping the woozy Headspin EP last year and touring the world. The engaging Izzy spills details about the band's ascendant trajectory, magnetic live show, and what lies ahead.
Hello! I'm so thrilled to be doing this interview with you as I've been intrigued by your music ever since I was blown away by your spectacular "Spinnin' Wheel". You really crashed into the music scene with that single. Did your early success stop you dead in your tracks or did you just roll with the accolades sent your way?
IZZY: To be honest, we're so removed from everything that's it's almost like the accolades are happening to someone else. We are really enjoying all the touring we get to do around the world and we love writing and recording as much as ever.
I'm actually a bit confused about your musical trajectory, before and since that release. You have a clutch of tracks posted at your SoundCloud site, but I only recently read that you dropped your debut EP (maybe titled Bloodlust?) in 2015. There is barely any info about this EP online. Why is it now out of circulation?
IZZY: That's right, this was our first EP. It was actually nameless and had a picture of a TV on the front. We had to take some songs offline due to the sheer volume of songs we have released, as it was becoming more than an album's worth. Don't worry though – These songs may well have been worked into some bigger release ideas we have planned…
Last year you delivered your second EP, titled Headspin. That EP at least has not vanished into the online void and can be found at iTunes. What type of creative progression were you aiming for with this second record?
IZZY: We wanted to create something that felt more like one cohesive piece, so we went to Normandy and lived in a barn in complete isolation and put together a collection of songs to work around a romantic heartbreak theme. The title 'Headspin' conjured imagery of a woozy sort of twisted romance and this idea really spoke to me; also if you listen carefully to the ending of "Mocking Swing", you can hear a little nod to the barn we made it in.
What are you planning to release down the road? Another EP, or full-length album, or maybe more singles?
IZZY: All roads lead towards the album! We went back out to Normandy just last month to start sounding out the record. We have a couple of other little surprises to drop along the way though.
An American, retro-glamour vibe runs strongly through your tunes. Are you enamored with old-school Hollywood, the American West, and…maybe all things vintage? Do you feel like you were born in the wrong decade?
IZZY: Yeah, it just feels like everything now is so hostile and disposable that I crave sincerity. Today's world makes even the obscure, trashy, or weird Hollywood pop culture feel like something more sincere. The characters in cult movies offer me an escapism that the Internet and modern pop world doesn't give me. Yes, I think it is true – I was born in the wrong generation.
Your music also has a fresh, free-wheeling energy that is thoroughly modern and which I'm sure electrifies in the live setting. What excites you in how you approach composing your songs?
IZZY: I'm really excited by tones that reference what to me is iconic, like making a guitar sound like a string section or a drum beat sound like a live Motorik Krautrock band. I'm bored to death of the sound of my voice, so I put it through warped processes to get ideas, like a vintage Leslie speaker cabinet or a spring reverb guitar amp.
Speaking of performing live, you have been on the road and playing gigs more often than not, it seems. How has this transient lifestyle affected you?
IZZY: Well, we spent so many years in a bedroom writing songs that even with the intense two years of touring the world that we have done, it still feels pretty new. I don't think I will ever get used to the crowds we draw. It feels like yesterday when we couldn't even sell about two tickets! Seeing the world has only influenced my writing for the better.
Can you give a little scoop on how a Black Honey show goes down? Are you exhausted by the end, or exhilarated?
IZZY: Only ever exhilarated! Mostly you can expect mad, sweaty mosh pits, crowd surfing, dancing, and singing along. There are plenty of intimate moments too and sometimes we have a massive filament bulb cabaret sign spelling 'Black Honey'. For New Year's Eve, we dressed as A Clockwork Orange -themed Ziggy Stardust characters and sang a song for Bowie to sack off 2016. After every show there is always a huge queue at the merch stand. Our fans are so important to us, so we spend hours meeting and chatting to everyone after. This always ends up with us going to some kind of obscure pub in another country with a load of them!
Black Honey a mysterious presence online. There's really not much info about you, at least at your official sites. Are you socials-phobic or just don't have the time to put into flogging your wares, so to speak?
IZZY: To be honest, we just try and use it to celebrate our creative vision and to keep in touch with all our fans, though at times it still feels like a huge round of shameless flogging compared to how we started this whole thing.
You've hopped around different record labels for your releases, going from Duly Noted Records to FoxFive Records and maybe others. Many artists end up creating their own label to distribute their work. Would you consider doing that too?
IZZY: We have! FoxFive is actually our label. I named it after the female assassin squad Fox Force Five from Pulp Fiction.
You're based in Brighton, England, home of cool breezes, pebbly beaches, the Blood Red Shoes (love 'em!), and you (love you!). What rocks your bobby socks off about this seaside city?
IZZY: Hahaha! I think in Brighton you are celebrated and almost expected to be different. Growing up I was never someone that fitted in, so in Brighton I found a sort of hub of like-minded weirdoes where it was totally OK to be messy and late for everything.
Riffing on your band name, do you have a favorite honey-based product? Mine is baklava – and Honey Smacks cereal! LOL
IZZY: Brilliant! Mine's probably a honey and tequila margarita. Although when I record, I actually drink black coffee with honey in it.
Lastly, can you offer up some sound advice to steady the nerves in our currently topsy-turvy world?
IZZY: Be different, celebrate weird, live fast, love often, and don't let anyone or anything come between you and your dreams.
Official Site – merch
Facebook
Twitter
Instagram
Bandcamp