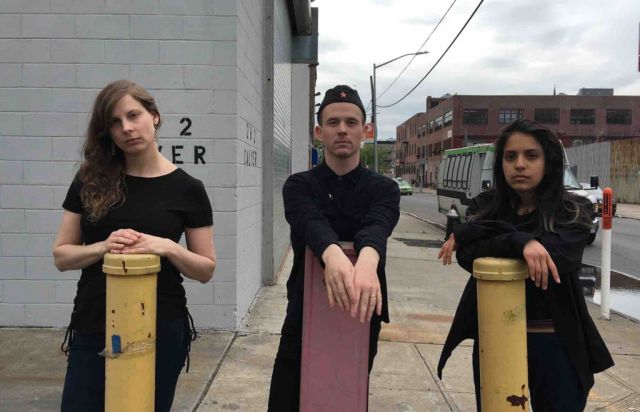 11 July 2016
Brett Sullivan, the founder and core of long-running, NYC-based anti-folk/punk band American Anymen is set to release his 11th album, Start My Center, July 16th. He and his bandmates, Tracy Brooks of Herman Dune and Nova Luz of The Amputees, recently delivered the scathing socio-politico-economic rant "Selectively Stupid" that takes aim at both right-wing and left-wing U.S. political parties, police brutality, and mega-corporations.
American Anymen will be performing at (Le) Poisson Rouge in NYC July 16th in support of Start My Center's release. The band will be joined by renowned indie rock act The Veldt and A Deer A Horse. In this interview, Sullivan discusses his views on the U.S. and capitalism, the nature of art, the provocative video for "Selectively Stupid", and the upcoming album.
Hello Brett! How are you all holding up, and where are you holing up, in the middle of the current politico-socio-economic American nightmare?
BRETT: I'm holding up in NYC and I don't think the nightmare is especially bad in the States. We have very acute problems, like police killing and really expensive healthcare, but compared to other places, we have it pretty good.
Your latest single, the timely and provocative rant, "Selectively Stupid", premiered July 3rd. When will the single be officially released?
BRETT: Yeah, we made that song and put out the video, so it's considered officially released. We do pretty much everything ourselves, so there is no official release after we put the song online.
The raging "Selectively Stupid" is just a taster for what to expect on your upcoming 11th album, Start My Center. When will the album be available for public consumption?
BRETT: The full album comes out July 15th and we'll be sharing it on our Bandcamp site. All of the songs on the album are progressive in ideological content.
You'll be performing at NYC's (Le) Poisson Rouge on July 16th. Is this an official album release event? I've read that renowned indie rock act the Veldt and A Deer A Horse will also be on stage. How did you connect with those bands?
BRETT: Yeah, the LPR show is a big celebration of the past 8 or 9 months playing tons of shows and recording the album, so it's our album release show. We played Palisades with A Deer A Horse about a year ago and they are dead-ass serious when it comes to playing music live. They can kinda kill it, so I wanted to play with a band that'd make us try even harder. The Veldt are legends and for real pioneers in indie music. They are personal friends of mine and share a progressive message like us, so it made sense to say "Hey, wanna play?"
"Selectively Stupid" is a provocative, expletive-spewing anti-folk/punk number that targets both right-wing and liberal left politics, corruption of authority, police brutality, and big corporations that force its minimum wage employees to work harder and longer for less money. Am I missing any other subjects from that song that raise your hackles? And what do you have against the liberal left?
BRETT: Haha, yeah, the lyrics "Work harder, expect less" is for the liberal left; it's for bands in Bushwick; it's for punks and youth that feel like this country doesn't represent them. It's hard work to gather up at Union Square after work to protest something like the recent police killings; it can be hot, or cold, or you can be tired; it's hard work to have a progressive band that organizes DIY music nights and have the nights represent a principled way of presenting art to the world. So our message is "Work harder, and expect less," for yourself. As a punk band in NYC, it's a thankless task to collectively organize art and not be corny.
Your incendiary video for "Selectively Stupid" specifically calls out, via brief footage, polarizing Republicans like George W. Bush, divisive demagogue Donald Trump, and the arrest of citizen Freddie Gray who fell into a coma while in the custody of the police and later died. It's been a sad/bad state of affairs for the U.S. for a while now. In your view, how can we fight for a positive change?
BRETT: We are currently fighting. We are using our organizing skills and artistic efforts to have nights that represent a world and culture that we want. When you come to a show organized by us, you will get a vision of the world that we want. In a city where a major part of the country's art is made, we feel it very important to not just allow culture to be represented by huge production companies run by college-trained artists and business elites. We put on about 2 shows a month where most of what is considered good in the normal organizing of cultural events is not even a factor in ours. This existing in the belly of the beast and doing what we do in an uncompromising way leads to positive changes.
The video also highlights economic inequality with quick clips of the Wal-Mart name, economist Ben Bernanke, and journalist Anderson Cooper. I can understand the symbolism of Wal-Mart, but why is your ire directed at those specific public figures?
BRETT: Economic policies are huge things in our lives. The chairman of the Federal Reserve is one of the most powerful people in the world. They are hyper-technical economists and the brutal architects of economic inequality in our country. I picked Ben Bernanke because he worked for both Bush and Obama, while the current position holder, Janet Yellen, just worked for Obama. So I wanted people to think about Bush and Obama in the same way. They are both presidents of the U.S. and in command of its worldwide economic/military oppression. Anderson Cooper I picked because he is a CNN anchor and they are horribly irresponsible in almost everything they report. It's a disgrace that he is seen as a left-leaning interviewer.
I couldn't ID all the individuals that zip by in your video, but for some reason I think I saw Tom Waits in there. Am I mistaken or is there a reason why he's on your list?
BRETT: Yeah, that was a young Tom Waits. He is such a big thing for so many of art's music people. I feel there is no "art for art's sake" and it all comes from or represents a class. You have people like Jay Z or Tom Waits who means so much to people that, if they were to take responsibility of what they are saying in their music and use it to stand for something, the power they could draw from would be incredible. When I think of Tom Waits, I don't think of anything political. Where is he? I don't know; all I see are pretentious interviews like that one I picked the image from. Say something if you have to opportunity to.
What can we expect from Start My Center? Does each song tackle a different issue or is there a running thematic thread through the whole album?
BRETT: The album is pretty gnarly in its message. It is basically saying that capitalism, and the U.S. as it leader, is destroying the planet and that people should see it for exactly that.
You're a veteran of the anti-folk and punk scenes and formed American Anymen way back in 1999. I know it's hard to encapsulate and generalize, but, in a nutshell, how has the U.S. progressed/regressed during your tenure in American Anymen?
BRETT: I wasn't always a communist, but I was always a punk. I started skateboarding in 1989 and that introduced me to a world which had its own value system where something that had worth in the skate world had literally no worth in the real world. I see this ideology as very important in the anti folk/punk scene. It has gone up and down over the years as people come and go.
What about the landscape of the band itself? You've had various members join and leave over the years. Were any of the departures due to conflicting beliefs on important issues?
BRETT: Some people leave because they moved to a different place; some people have passed away; some people stay close, but start other projects; some have left because of ideological reasons, but not many.
Just for a moment, let's look at the United States of America from a glass-half-full perspective. What do you see that is good, or working, or commendable about the U.S.?
BRETT: I want to use the art I do in the best possible way to influence culture. Culture is very important as it shapes the way we see our society. If we can change music and its overall hideous message to a positive one, we can affect a broad range of people. This is obviously not the most pressing issue that has to be dealt with in the world, but it is what we are doing right now and we are very dedicated to this.
comments powered by