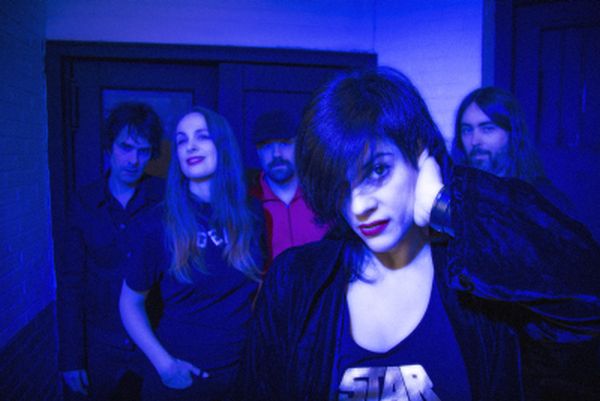 9 March 2017
Boss Hog; Photo Credit: Angel Zayas
New York City denizens, legends, and provocateurs Cristina Martinez (Pussy Galore, The Honeymoon Killers) and Jon Spencer (The Jon Spencer Blues Explosion, Heavy Trash, Pussy Galore, The Honeymoon Killers), the wife and husband duo core of long-standing garage/punk/blues rock band Boss Hog, have returned to center stage. Their upcoming album, Brood X, will be delivered on March 24th via In The Red Records and it's their first full-length in 17 years. Cristina chats about the creation of the new album, her memories of NYC, and the band's European/US tour.
Hello Cristina! It's so cool to have the opportunity to touch base with you and see what the ride's been like. You've been truckin' along on 'n' off as Boss Hog for a goodly number of years and you're putting the pedal to the metal with upcoming album Brood X – your first in 17 years! What did it feel like to rev the engine again for a new album?
CRISTINA: Hey Jen! We've been writing steadily since 2009 when Mickey Finn, our keyboard player, joined the band. But playing live was a completely different matter. I wasn't entirely sure that was something that I would enjoy anymore. But I'm happy to report that it's been great fun thus far. Once the music kicks in, it feels like I'm right back where I left off.
Was it tough to get the gang back together or did the stars align and everything fall into place easily?
CRISTINA: We got back together in 2008/9 to play some shows and just kept the ball rolling from there, albeit quietly. We finally accumulated so much material that we thought we needed to share.
You released the Brood Star EP last May on In The Red Records. Why did you decide to drop an EP before the Brood X album? Is Brood Star a completely different beast from Brood X or are there points of commonality in sound, mood, themes, etc…?
CRISTINA: In typical Boss fashion, we didn't stick to the rules and decided to release the remix record first. In part because we wanted something to promote the brief west coast tour we booked around the In The Red anniversary show, but also because when we were doing the initial rough mixes (just after recording), there were a few snippets of music that leant themselves well to being cut up. The record contains much more straightforward mixes.
I'm assuming that Brood X written/composed during the turmoil of the US Presidential campaigns and shocking (in a very bad way) election results. Do you address the US political issues head-on on the album, or maybe from a more oblique angle?
CRISTINA: Interestingly, the record was written well before the election madness. The songs were meant to be more about personal struggles. In the dim light of the apocalypse, they take on an altogether new significance.
The slowly stalking lead single "17" is a relatively subdued sonic number in your repertoire, but still contains a core of ominous menace. Why did you decide to wrap up your raw lyrics in a low-key bluesy, parched country vibe and not go for an abrasively noisy sound on this one?
CRISTINA: I like to think we're a multi-faceted band that defies easy classification. If you look to some of our other recordings, you'll find pieces in the same vein as "17". It's a waltz, and a waltz calls for a quieter delivery. It's a wolf in sheep's clothing.
What else can we expect from Brood X? I just heard new cut "Formula X" and it's a total 180 from "17" with a pumped-up pace and your exclaimed vocals. Are the rest of the songs on the album as stylistically diverse?
CRISTINA: To the point above, we had the luxury of culling these songs from many years of writing, so there was a good variety of material to choose from. I think it's a pretty good ride, complete with peaks and valleys.
From what I can gather online, you toured as Boss Hog in the US and Europe from 2008 and 2010. I'm assuming that after this time period, the Jon Spencer Blues Explosion duties took over for Jon at least (extensive touring, Meat + Bone and Freedom Tower – No Wave Dance Party albums). What else was brewing for you between 2010 and now?
CRISTINA: I will refer you to the Elvis Presley song "Got a Lot O' Livin' to Do".
Why did you decide to go with In The Red Records again for the US release of Brood X? Was it because of good memories from the distro of Whiteout in 2000?
CRISTINA: We were just finishing the record when the In The Red Anniversary show offer came through. So it came up. Larry Hardy is a good friend and we are happy to be able to work with him again.
In the UK, Brood X comes out on Bronze Rat, with which you also have a solid track record. How did you hook up with that record label?
CRISTINA: Jon met the owner, Andy Zammit, years ago on a Heavy Trash tour, I believe. He released the collaboration record Jon and I did with Solex and did a great job, so no-brainer.
You are a hallmark NYC band that is defiantly indie garage/punk in sound and outlook. What does the cultural landscape of the city look like nowadays compared to decades past?
CRISTINA: Gone are the mean streets; now we have clean streets.
I remember being in college in the early '90s and going to The Limelight to catch Michael Gira of Swans performing. As a music fan and denizen of NYC in the '90s and beyond, what were some of your most memorable moments?
CRISTINA: When we first moved to NYC, we lived on Bleeker Street right around the corner from CB's. We spent many nights hanging out on that sidewalk, seeing bands, and drinking shitty beers. You could squeeze through the fence in the back alley and sneak in the back door of the club if you weren't already on the list that night. Eventually it got to the point where we didn't recognize any of the bands on the roster and stopped going. Max Fish became the place to go; Ulli Rimkus kept good pinball machines.
You've scheduled a European tour for next month. How are you preparing for this run? What are the essentials that you need to take with you? Are you also planning a US tour after that?
CRISTINA: The biggest prep I did for the tour was ramping up my exercise schedule. It takes a lot of energy to do punk rock aerobics for 90 minutes, so I had to build stamina. I take 2 or 3 stage outfits and toiletries. I don't sweat it too much, because it's not like we're going to a desert island… Anything I forget can usually be purchased abroad. My favorite thing to do on tour is to go to the chemist and supermarket, so forgetting toothpaste or tampons just gives me an excuse to go.
Live in the USA:
03/30 – New York, NY at Mercury Lounge
03/31 – Buffalo, NY at The Waiting Room
04/01 – Cleveland, OH at Beachland Ballroom
04/07 – Washington, DC at Rock and Roll Hotel
04/08 – Philadelphia, PA at Underground Arts