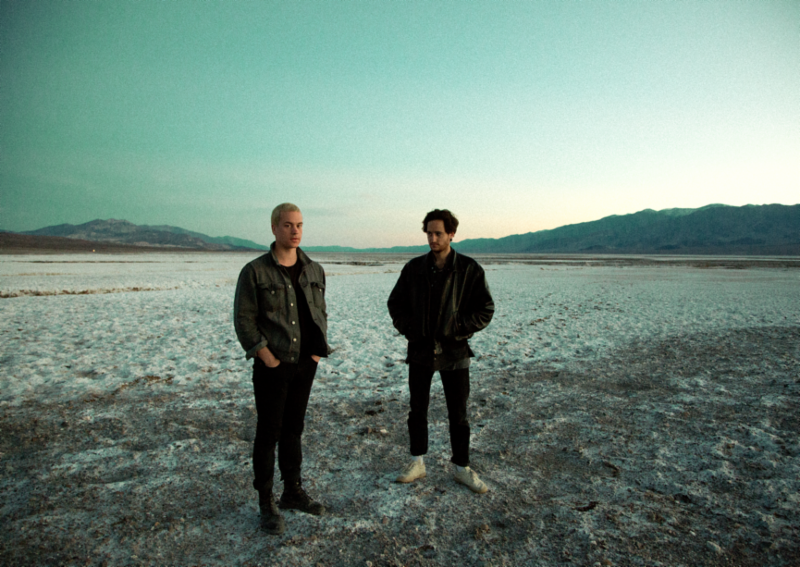 8 October 2017
Photo by Micki Rosi Richter
This Germanic duo from Frankfurt conjure sheer magic on their first LP, "Hymns To The Night" by combining electronic & cold wave post-punk to create a haunting dystopia reminiscent of Factory Records alum. Formed in 2016 by Markus Nikolaus and Julien Bracht, the pair have established a series of residency performances in Berlin, London and Paris to critical acclaim and fan jubilance. Compositionally, the band has garnered comparisons to Joy Division, The Cure, The XX, and U2 but establishes a sonic landscape all its own. Thanks to Bailey Sattler at Grandstand Media and Management for coordinating.
James Broscheid: Congratulations on completing your stunning debut LP, 'Hymns To The Night.' I understand both of you are from Frankfurt but the sessions for this record were done in Berlin. Funkhaus looks like an amazing complex to record in. Did you stay in one studio or did you utilize more of its spaces and can you share some of thoughts on why you chose to record there? My wife and I were married in Berlin so it remains our favorite city of anywhere!
Markus Nikolaus: We didn't just want to record there, we wanted a place to live out our passion and shape our musical vision and foremost – have space to think and create. The Funkhaus fits visually and atmospherically to everything we make and offers these grand spaces. We shoot videos, live performances, give interviews. Basically everything in our universe revolves around the Funkhaus, whereas the album was created in many places, not only one. And almost none of them were as astonishing as this – besides Funkhaus, most of them were studios in basements, our flat in Hackney, Julien's Studio next to the legendary 'Robert Johnson' Club and even a bed and breakfast in Cornwall. 
JB: The record (to my ears) sounds as though a lot of attention to detail went into it, is that what accounted for its completion taking two years? Was there any particular approach to writing/recording this album and how did you decide on which one of you would play which instruments? Also, how did you decide instrumentation for the record? I swear I can make out ukulele, some brass, piano and the ghosts of Funkhaus Berlin while listening … some unconventional selections for crafting atmospheric post-punk!
MN: The department of instrumentation is almost always very clear. Julien is the production and the rhythm section, he does most of the arrangements and and knows what's the right melody for the track. Markus department is the guitar, lyrics and vocal lines, ukulele and the always shouting when a big track comes together. The basic foundations are always done in one night. Everything else comes after, from mixing, other pads or synths or little instrumentation that gives it a decent touch until the master. All this can take months in the make after the actual recording is captured. 
JB: Can you discuss some of the differences/inspirations the two cities have that perhaps influenced this collection of tracks? With such history, it is difficult to not feel some spiritual pull, at least when I was there.
MN: We think it's hard to put a finger on it. Both cities have played this insane part in history and also this hugeness and variety – from people living in freedom to people living caged in the routine of the daily drum. We finished 'Bones' in Berlin and later when we drove around town with our manager in the backseat of the car, he said, this music is the soundtrack of the city.
JB: Speaking of influences, 'Hymns To The Night' captures the expansive atmospherics of the shoe gaze genre and the melancholy of post-punk. When I first heard the album, I immediately thought of Joy Division (especially "Warsaw Street" & "Remember"), and perhaps a direction they would have gone had they continued on. Can you both share some of your musical influences and what bearing, if any, did any of them have on crafting this LP?
MN: They didn't really have an influence on us even though we get this very often. But we can always say that we see the parallel lines of these bands and their sound that create the same feeling that we do. After our gig in the 'Paradiso' in Amsterdam, one of the people in the audience came to us after and said that we are for him what 'New Order' would've been without the death and the 'disorder' that the band has experienced after. This is a major compliment but it's not our intention to be compared to anyone that is legendary in musical history already. We want to be ourselves and no one else and make our own history.
JB: I read in the press release that the two of you met at Frankfurt club 'Robert Johnson'. What initially attracted you to want to collaborate on this project? How did the project's name "Lea Porcelain" come about?
MN: I think we just wanted to work together somehow. We both somehow admired and respected what the other one was doing but we were worlds apart in the music we made and the paths we were on by the time. The name is a creation of the both of us and we selected a name each and wanted to have something that we feel is right for this music that was just created for it and fits perfectly. It's not about the name it's what you make of it.
JB: You have played a handful of tour dates in Europe, are there any future plans to play over here in the states (please!)? How will the two of you bring a record full of depth and unique instrumentation to a live setting? Will there be any other musicians accompanying the two of you or can you utilize looping?
MN: The concerts the two of us played over the past two years were always with looping systems and layering. Since beginning of the year we've been working with two other live musicians that accompany us on stage. A drummer and a guitarist that can play bass and synths as well, fully completed us live – so we don't have to loop anymore. Everything is real, everything is life, nothing is pre-recorded. And we will be heading to the states later this year because we think that America can really understand the grand scheme of our music and understand it's massiveness.
JB: What is the scene like for independent musicians/artists in Germany these days? I ask because the social/political climate here in the states is so vitriolic right now that bands are finding themselves marginalized in urban areas. Lower income members of our country are pushed (due to gentrification, etc.), to play their music or display their art in less safer places.
MN: We have also found the music scene in London as one of little space and the feeling of being caged and living in a rat hole is not a nice feeling. It's motivating and it hardens your shell but there are better places to live and create in this world and it just happens to be that Berlin is one of the best at the moment. We're kind of using both London's creative and Berlin is spacious and we are using both of it. 
JB: I found the flow of the record to be quite extraordinary. How much care was taken in sequencing the album?
MN: A lot. Almost 2 years of visiting studios, doing new mixes, trying different mastering's, and all of that stuff. One cannot believe how much work you can put into 3 1/2 minute track but if the track is good and if the track has every basic element but needs work to be done, then you can always shape it and make it the greatest version it can ever be. And for that you should surround yourself with people who are professional, honest, creative, and that opinion and criticism you can trust and respect. Say no to yes-sayers.
JB: Your video productions dig as deep into emotions just like your music. The aggressive intensity of the video for the album's lead-off track 'Out Is In' is juxtaposed by the incredible natural beauty in the video for 'Bones'.  The band obviously puts a lot of thought into creating art. Were these visuals manifestations of your mind's eye when recording these tracks? If not, how did the ideas for these concepts come to fruition?
MN: The video to a song should resemblance the same tone, beauty and color. The feeling needs to be in the same range. Is the song black and white, is it aggressive, is it melancholic? There are no rules to a picture combined with music but one – it has to create a feeling. All our videos are made by ourselves not by others. We get help by the people we find, respect and that happen to be around us – but we always wanted to do our own films because we are big fans of cinematic soundtracks. And if the feeling is manifested in the picture and the feeling of the song arouses in the viewer's heart – who cares about the storyboard? 
We were at a point last year where we decided to go with a big production, director and crew – and the video slipped out of our hands. After the shoot in a foreign country with a 10 man crew, we got into problems with the director and were fighting over every particle of change we wanted and had no control anymore. The outcome was that the video for 'Bones' didn't resemble the feeling, the mindset and vision of LEA PORCELAIN and we had to trash a £10,000 video. We then replaced it with footage the we shot in sanddunes in Spain on New Years Day – with our dear friend Micki Rosi Richter, who also follows us on tour now, that we loved. The picture looks artistic and bizarre and otherworldly but utterly beautiful and it didn't cost us a penny. Ever since we decided to not let others decide about our own art and career and rather DIY but with heart.
 
JB: Can you elaborate on what the cities of Berlin, Frankfurt and London have on you as far as inspiring your music? 
MN: Frankfurt has this ghetto touch in a city that wants to be a Metropole but it's a village with skyscrapers. London is this megalomania-city where nobody fully understands what is going on and everybody hustles breathless from day to day but it's also stimulating and encouraging because you're living under 24/7 competition against everyone and Berlin is just the spacey, artistic freedom-town that we can call home now. There are people from all over the world and the fact that it's neither English or American but everyone speaks one language and you don't need to be german or anything you don't want to be – you can be yourself – makes it a city of a future  that I would like to live in. All three are just as exciting and inspiring. 
JB: I interviewed one band in London (Breathless) not that long ago and they all agreed melancholy helps craft better songs. It is an aid towards writing songs with more depth, meaning and heart. Do you agree?
MN: Melancholy is a meeting place for strangers, indeed. For some reason it can't be explained, how to write a melancholic song – but if you write one, there is always a certain beauty, a pureness in it and the listener knows and feels, there is something very true about it. Really, a beautiful song has to be melancholic in some way, like a beautiful story always feels nostalgic too, in some way. 
 
JB: Finally, can you share some of your influences with our readers? Not only bands past/present but, also books, movies, art, etc. Can you recommend any bands from Berlin, London or even Frankfurt that may not be as well known? Do you lean on any scene in Berlin/London for support?
MN: Andy Stott definitely always was someone we both loved just as much, when we met each other ('luxury problems'), Boards of Canada (we always play their songs before gigs, it's perfect to get the audience into this otherworldly mood), Velvet Underground (age 16), Anika (when moved to Berlin), Yak (very inspiring live). Read Jimi Hendrix's autobiography 'Starting From Zero' (good to take on tour), Nietzsche's 'Anti Christ' (good for writing lyrics, for some reason) and really surprising and inspiring is Viv Albertine's book "Cloths, Cloths, Cloths, Music, Music, Music, Boys Boys, Boys". Really interesting insight into the london punk scene of the 70's, Clash, west London, Ladbroke Grove. It was super cool to read it during the time in January when we mixed the album in the grove/ Notting Hill.